The (Ongoing) Tale of Three MG Ts, Pt. 6
Body Panels On the Red Car Are In Worse Shape Than Expected. The Hot Rod Is Going to a Gearhead Under 30.
This is the sixth installment tracing different approaches to the restoration of a T Series MG. A red 1952 MG TD is getting a stock frame-up restoration, a yellow 1954 MG TF is undergoing a "rolling restoration"and a once-blue-and-white 1950 MG TD"parts car"is going to be fixed up as a "hotrod." At the end of the series we'll compare the cost and fun factors of each of the three diverse projects.
Stepping Up the Red MG's Body Work
The longer I run my restoration shop the more I realize that the most important part of any project is patience. If you go slowly and don't get easily frustrated, you can do almost anything right the first time—or at least by the second try. I've been patient in putting the red MG TD's bodywork on the back burner, but now the time has come to move it more toward the front of the oven.
Body man John Diermeier of John's Custom Auto Body in Manawa, Wisconsin, also was ready to put the car on the front burner. Deer accident season had ended and new repair work was coming in slowly, so John had time to give the red car (and, as you'll see shortly, the hot rod) the patient attention they need.
So far, I have disassembled the red car's body, fixed a section of the wood body framing and started panel repairs without purchasing a ton of new parts. Moss Motors (mossmotors.com) sells at least 90 percent of thewood parts (called body timbers) and sheet metal panels for the popular MG TC, MG TD and MG TF. Most of the timbers are not that expensive, but the cost of the sheet metal parts can start adding up quickly.
That's not to say that MG restorers are not eternally grateful for the mail-order parts business Al Mossstarted years ago, but avoiding high-dollar panel replacements is a nice thing if you can do it.
As any body man will tell you, it sometimes can cost more to fix an old panel than to buy a new one you think is expensive. Smoothing and rebuilding the proper contour of a fender or running board can be pretty pricey if it takes lots of hours and you're paying a typical hourly labor rate. I found it best to purchase new cowl side/rocker panel sections, while it was relatively economical, at Midwestern rates, to repair the fenders, running boards and splash aprons.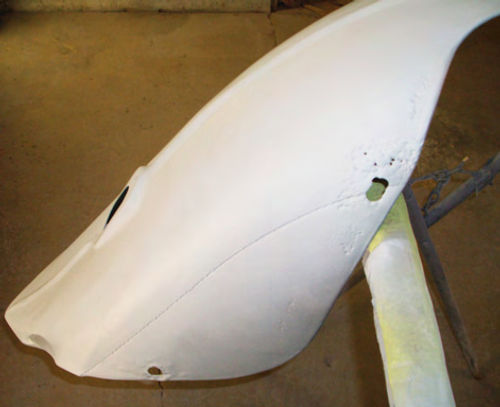 Many body panels had imperfections that had been filled, rather than properly repaired…
When disassembled, the red car was found to have a lot of fiberglass filler in it. I had some of the bolt-on parts dip stripped to see what was under the paint, but the body tub could not be dipped because the sheet metal is nailed to wood framing. So, the body was carefully blasted.
The worst problem that showed up was extensive corrosion in the rocker panels below the center of the doors. On one side the timber below this spot had wood rot caused by moisture. So, John replaced only the one timber and welded on two new cowl side and rocker panel sections. The cowl, doors and rear body sides were all repairable. The inner fender arches, which are typically rotted on TDs, also had to be replaced.
Many body panels had imperfections that had been filled, rather than properly repaired, by previous "restorers" (MG enthusiasts call them DPOs or Dreaded Previous Owners). John welded up many rough spots, slight depressions and stress cracks. He then finished the repairs with a skim coat of Pro Gold Easy Sand filler before sanding, re-sanding and sanding again.
Shifting Parts Between Cars
Strangely enough, while the parts that came on the red car looked pretty good with just the old paint on them, they had a lot of filler that changed the original shapes and contours. The fender edges, for instance, had a flat-sided look to them and had some small cracks in the beads.
Meanwhile, the grille and front fenders from the rusty parts car that I'll be hot rodding actually had more accurate contours. Once they were media blasted, it made sense to use them on the car that is getting a stock restoration. The hot rod is a low bucks, not-so-perfect project.
John Diermeier spent hours sanding the skim coats of green-colored body filler to get things looking as good as possible. Piece by piece the tainted tin began to look like classic car parts again. As each part was finished, it was sprayed with gray primer/filler to add another layer of perfection and to protect the parts from rusting before the time comes to topcoat them with MG Red.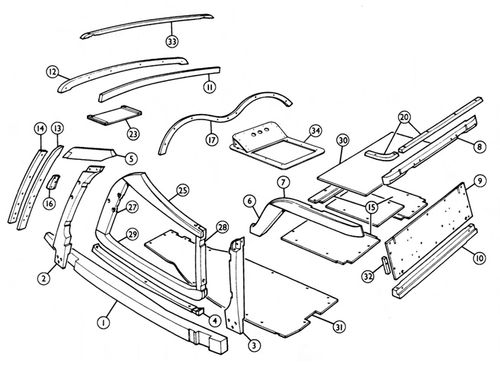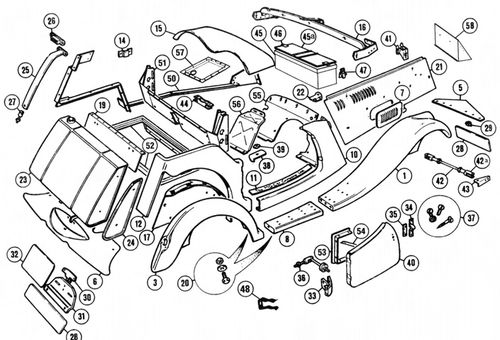 The Yellow Car Glares at Me Daily
The yellow MG fixer-upper has been parked in the heated area of my pole shed at home all winter. I put the '53 Pontiac Catalina on top of the Backyard Buddy lift and the TF is underneath it with a cover to protect it from drips (though I haven't noticed any).
To be honest, I wish the Pontiac was on the bottom so I could drive it now that spring has arrived, but it does not fit under the lift. Each morning the MG TF glares at me as if saying, "When are you going to fix me?"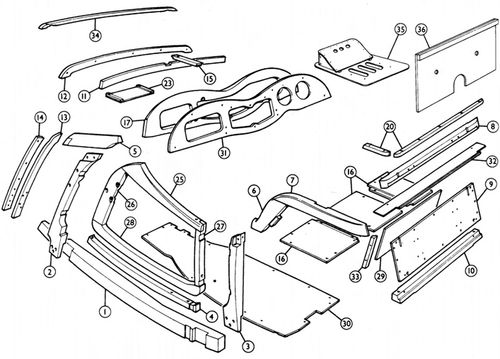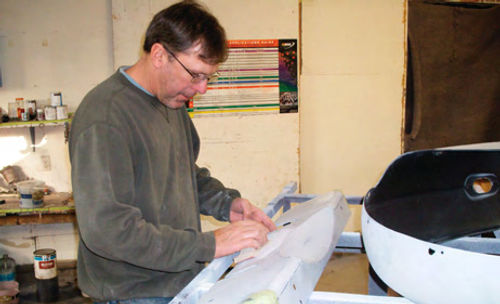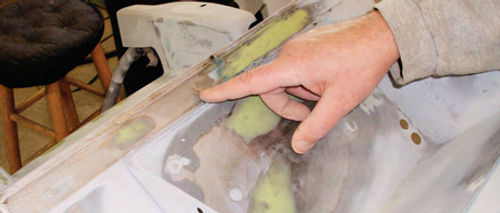 As mentioned last time, after I scraped the TF's exhaust system, I looked underneath and discovered that two important pieces of the wood body framing are damaged. Under the original plans, this car was supposed to get a '60s-style quickie paint job without total disassembly. Now, the body has to be at least lifted up to repair the timbers.
Although this work was not included in the original timetable or budget, with the arrival of spring I realize that some rethinking is in order. Putting off work for lack of immediate cash often means paying more in the long run because parts and labor costs tend to climb each year. Maybe it's time to cash in some chips to invest in this car, while also figuring out the cheapest way to accomplish the job.
Hot Rod Going to Young Gearhead
Though not much is happening with the yellow TF, things are starting to get into gear with my MG TD hot rod project. Or should I say "get into gearhead?" There have been two big questions: What to do for an engine? What to do with the body?
I wanted to use a Ford V8-60 engine. The body (both wood timbers and metal panels) was so badly deteriorated by moisture and corrosion that I even started looking around for fiberglass replicas that had never been built.
The small 60-hp Ford Flathead V-8 was used from 1937-41. The early V8-60s were tin side engines with plates that bolted to the block casting. The later V8- 60s had iron sides. These small V-8s were popular for midget racing cars and other competition models. But over the years, the engines have gotten hard to find. Many enthusiasts have one,but don't want to sell it.
Egge Machine (egge.com) sells a rebuild kit for this motor that will cost something over $1700 depending on what parts are needed. Egge customer service lead Jim Ketchum said, "These prices are for the early 1937-39 engine; the 1940-41 engine has different rod and main bearings." Jim added, "The size selection on the bearings, for any year of this engine, is a little rough."
That didn't sound one hundred percent encouraging. Next, an opportunity came along to trade the hot rod TD's original engine for an early V8- 60. Since I value a TD engine higher, I decided to pass, but I came up with another idea.
Last November, I was offered a disassembled V8-60 by ex-NASCARdriverRich Bickle.Rich runs Muscle Up Performance and Hot Rod Shop in Janesville, Wisconsin (muscleupperformance.com), and his father, Rich Bickle, Sr., is an expert on Ford Flathead V-8s.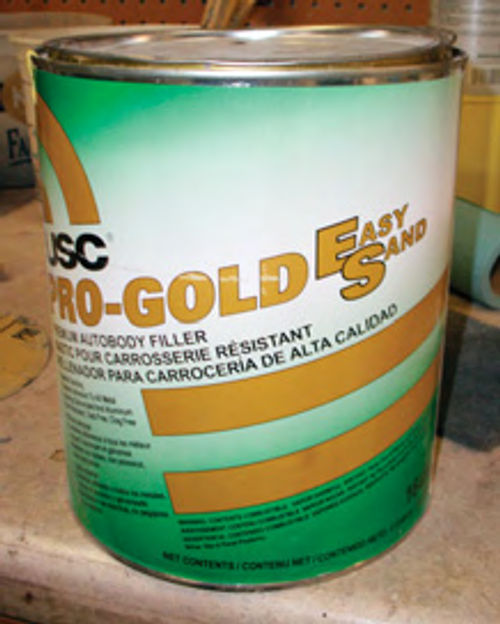 When I visited, he said the parts engine wasn't good but he had a rebuilt one he'd sell for $3500. At that time, I still thought I could buy and rebuild a V8-60 for less than buying a rebuilt one. However, over the past five months, I came to realize that a good parts engine, a rebuild kit and labor would cost more than buying the already rebuilt engine.
Thanks to a tax refund, I'm now ready to purchase Rich's rebuilt motor and I think that I will actually save a few bucks doing so. As noted before, this is a lowbucks project and that means going the cheapest route and not tricking yourself into believing you can always save money by taking the do-it-yourself approach. In any restoration project, you've got to "run the numbers." Sometimes what you perceive as the "cheapest" way winds up costing more—and taking longer, too!
Asfor a fiberglass kit car body, the ones I found for sale on eBay and Craigslist had some pretty steep prices and, to tell you the truth, I had no proof that a fiberglass body made for a Volkswagen platform could even be fitted to a real MG TD chassis. Therefore, I came up with a different approach.
I ripped the original body apart to the point of removing the sheet metal from the underlying wood structure. Then I asked body man John Diermeier to come to my shop. I laid the rotted timbers and rusty metal out on the floor and told him, "I'm going back to the original idea of making this a 'rat rod.' I'll buy all new timbers from the Moss catalog, but I want you to patch the old metal any way you can—it don't have to look pretty—and hang it on the new wood."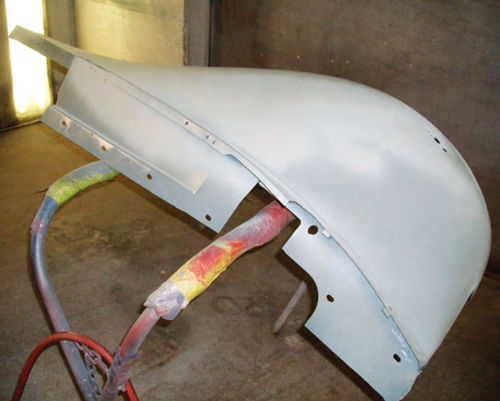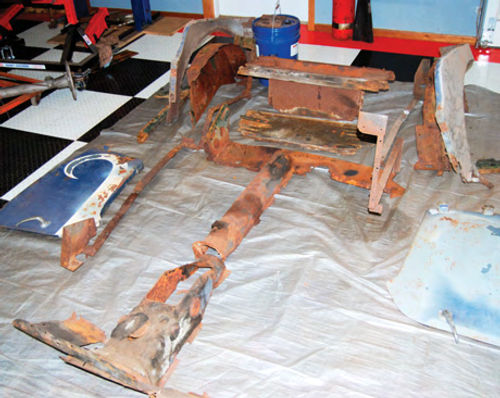 John's face broke into a big smile. He said that this would be a perfect project for his son Ian to work on during his high school summer vacation. Ian had recently painted an ATV and worked on a boat and would like the creative license involved in building a cool-looking rat rod from some rusty T-Series MG pieces.
I told John that the concept of Ian working on the car would also dovetail well with Auto Restorer magazine's "Gearheads Under 30" program. I think we are all going to have fun this summer watching Ian go wild with this car.