1970 Mustang Boss 302: Feature Restoration
He Had a Very Organized Approach to the Restoration of This Car. But History Gave Him a Helping Hand as Well.
While it's unlikely that most of those who were driving in 1973 have fond memories of that year's oil embargo, a fortunate few can cite it as having played a minor role in preserving cars they drive in 2016.
"The first owner owned it for only about a year," said Mike Wood, whose 1970 Mustang Boss 302 is featured here, "so that would get us into sometime in 1971. Then, I understand that the second owner had it and simply turned it in for a family car, so I don't believe it was turned in for the gas crunch. I would say it was probably a couple of years that they had it and then it ended up as a trade-in at the dealership. That's when I understand the gas crunch came in and so they were having a hard time selling it."
That same group of drivers who recall the gas crunch know exactly why a Boss 302 or any other muscle car was not a good vehicle to have on a used car lot at that time. The embargo began in October of that year and was a retaliatory move by Arab members of the Organization of Petroleum Exporting Countries (OPEC) against the United States and several other countries for assisting Israel in the Yom Kippur War. As the embargo dragged on, oil prices climbed from $3 per barrel to about $12 per barrel by the time the embargo was lifted in March of 1974.
Each seems like a bargain now, but in today's dollars, those figures translate to $16.17 and $58.27 respectively, so it's not hard to appreciate that one of the crisis' immediate impacts was a sense among many that the world was coming to an end. While the complete background is complicated, in brief the situation was made worse by the timing of other events ranging from increasing oil consumption to the fall of the stock market. Even after negotiations by President Richard M. Nixon's secretary of state, Henry Kissinger, led to the embargo's end, its shock continued throughout the world. In the muscle car community enthusiasts faced the additional hurdles of climbing insurance premiums and a general phasing-out of performance as horsepower dropped, anti-pollution equipment hurt drivability and fuel economy suddenly became most drivers' overriding concern.
Under those conditions, even a Boss 302 would have generated only moderate interest at best and Wood said that his Mustang ended up on the dealership's satellite used car lot. Looking back from more than four decades later, that was actually a fortunate break as a 15-yearold high school student rode a bus past the lot every day.
"It sat there long enough," Wood said, "that he talked his father into going down and he bought the car before he was 16."
It doesn't take much pondering to guess the effect on a 15-year-old who saw a Boss 302 from his school bus twice each day. Since he was already setting his sights on a performance Mustang, it's a moderately safe bet that Mustangs in general had caught his eye at an early age.
First There Was the Falcon…
Since their April 17, 1964 introduction, Mustangs have been able to draw attention to an extent that even the most visionary optimist at Ford could never have foreseen.
The earlier part of the Mustang story is about the same, as there would have been little to suggest that its immediate W He Had a Very Organized Approach to the Restoration of This Car. But History Gave Him a Helping Hand as Well. By Bob Tomaine 1970 Mustang Boss 302 Despite its growth from the original Mustang, the Boss 302's look shows the continuity that Ford wisely decided to maintain. 8:06 AM AUTO RESTORER NOVEMBER 2016 15 ancestor, the Falcon, could have been the platform for the Mustang's success.
The Falcon bore something of a family resemblance to the full-size 1960 Ford in its overall shape and proportions, although it differed considerably in the details. Its taillights were round while the bigger car's were shaped somewhat like elongated halfcircles and its smooth sides carried coves over their entire length while the full-size Ford used a sharp edge to define the beltline. It had six-cylinder power and the basic configuration and features to which American drivers were accustomed. Buyers responded favorably as the Falcon's first-year sales came in at 435,676.
Continuing popularity vindicated the judgment of the Falcon's champion, Robert S. McNamara, who had been Ford Division general manager when the earliest work on the Falcon began. McNamara left Ford to serve as secretary of defense for President John F. Kennedy and he's remembered in both roles for a pragmatism that tolerated no gray areas, a trait that came through perfectly in the Falcon. His successor, though, took a broader approach as general manager and decided that Ford needed a car that would appeal to young drivers.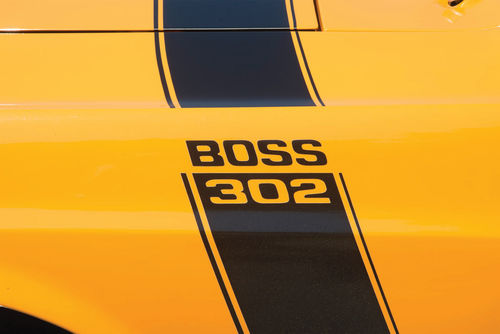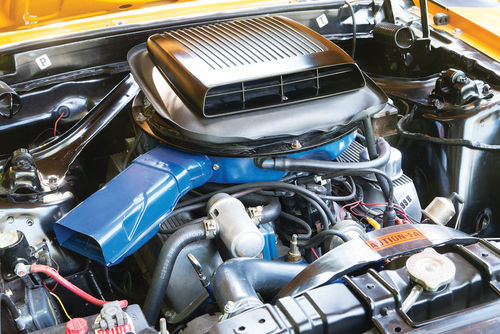 Lee Iacocca would, of course, be proven right when the Mustang became an instant hit, but besides a talent for gauging market direction, he also had a streak of the same practicality that had served McNamara so well. It was that combination that enabled him to see the Falcon—a true everyman's car—as an excellent foundation on which to base the new car that would be anything but run-of-the-mill. Even those who don't consider themselves to be fans of the blue oval will concede that the Mustang's success was effectively a repeat of the Falcon's, but with the bonus that the Mustang created its own niche in the market. Ford knew it wouldn't have that segment to itself for long, so the company quickly began to improve the Mustang by careful steps.
The first full model year, 1965, brought the GT fastback and engines up to a 271-horsepower 289.
Changes for 1966 were minor ones, but 1967 saw a complete restyle that carefully blended continuity and updating into a look that even the most casual observer would easily recognize as a Mustang. It was bigger, but the proportions and lines followed those of its predecessor and most importantly for many, the top engine was now a 315-horsepower 390.
Mustang Flexes Its Muscle
The muscle car era was well underway and the competition was intense, so while the 1968 Mustang didn't look very different, it did offer engines up to a 360-horsepower 428.
Not everybody wanted that much engine, though, and Ford had the answer for those who didn't in the new 302 with 230 horsepower. However, a brochure listed another 302 "for sedan racing, available late in 1967 on special order only." Output was placed at 306 horsepower, thanks to 11:1 compression, solid lifters, dual exhausts and a "special high-performance fuel induction system."
It was easy to see where the Mustang was headed and 1969 introduced another update to the styling and the Boss 302.
A street version built so that it could go Trans-Am racing, the Boss 302 engine with its aluminum intake, performance cam and better breathing was rated at 290 horsepower and the Boss package included heavy-duty suspension, a four-speed, subtly flared wheel-openings and the striping that was used throughout the industry at the time. Available only on the fastback Sportsroof, it wore front and rear spoilers, "Boss" logos within the stripes and quarter panels lacking the Mach 1's high simulated scoops.
Ford didn't tinker much with the Boss 302 for 1970, although new stripes and the switch from four headlights to two make differentiating the model years simple.
The Boss still wasn't an all-out fastat-any-cost monster, but was instead what Ford described in an ad as its "pavement-hugging, corner-chopping, flat-riding, curve-clinging road-lover." The ad suggested that a driver "take it out on the snakiest, windingest track you know, stick it in third and pour on the power. The Boss'll stay with that course like a slot car sticks in its groove, because Boss was born on the winding, twisting Trans-Am circuits, where Mustangs took two championships."
A Restoration Attempt Ended In Storage
All of that probably explains the appeal Wood's car held for the 15-yearold on the school bus—admittedly, the looks might have helped—but even he eventually chose to move on.
In 1980 the car wound up at another dealership, where a member of the dealer's family put the Mustang aside and began to work on it. After pulling the engine to have it rebuilt, he stored the car in a barn and collected whatever parts he could find for it. That changed about 10 years ago, when the owner decided to give it up and called Wood since he knew of his interest in Mustangs.
"I was in the middle of a restoration on a '67 GT that I had," Wood recalled. "They offered it to me and I went down and looked at it and I was restorationexhausted at the time and cash-strapped."
One of his friends—who's handled the more difficult bodywork on cars Wood has restored—pushed him to buy the Boss. But Wood's protests that he couldn't afford it just then seemed to get him off the hook at least for a time. "Lo and behold, the next thing I hear from my friend is 'I've got the Boss,'" Wood laughed. "I said 'what do you mean?' He said 'I've got money on it. I can hold it, but we've got to get it out of the building and so I'm going to move it up to my place.' I thought it was cool, but I still hadn't wrapped my mind around it, so that's when I found out that it had all of this extra stuff, the parts that had been accumulated."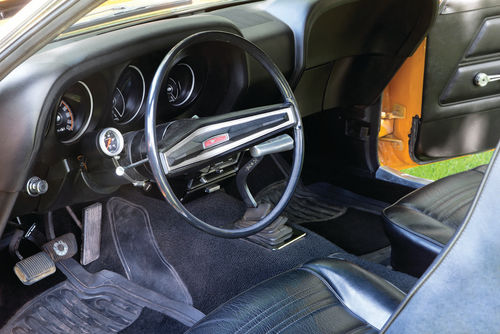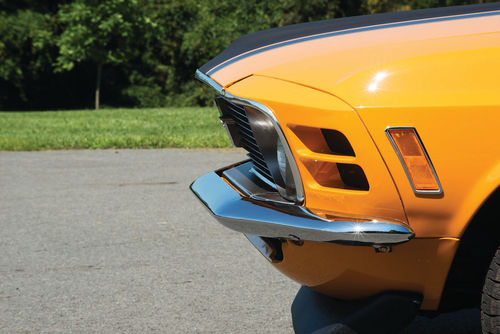 He was finally pushed over the line and when the Boss became his, a record of sorts remained intact as the car had spent its entire life among owners within a 20-mile radius of Wood's Milanville, Pennsylvania, home. Even before that, though, he'd started his own search for the parts still needed, a phase slightly less maddening than might be expected because of previous Mustang-restorations. That experience paid off in another way, too.
Know Your Strong Points and Limitations
"I know people who will take a whole car down by themselves and do the whole thing and they've got the resources," Wood observed. "I just don't do everything like that. I usually take them apart, organize it, get parts, take it to places and the stuff that I can do I do, but there are other things that I just can't. I've learned that if you really want to have a car that you want to have, it's one thing to say that you've got the car and it's sitting in the garage and it's forever not getting done. That's one thing, but if you really want to have a car and enjoy it, you've got to be smart enough to know that you can't (for example) do upholstery. You network with people and you find people who do it. You build a relationship with them, you get it done and you know that you can always get it done.
"And it works both ways because I have people who come to me and they want me to do wiring. For some reason, I became really good at wiring and lost my close eyesight and had to end up with glasses, but I became somebody who could figure out vehicle wiring."
Learn the Details
Wood's approach calls for research, even on something as seemingly simple as the wheels.
"I knew when I was looking for my wheels for that car," Wood explained, "that when they were on the production line, when they were going to take the standard wheels and put them on a Boss, they would mark them with a green spray paint on the back. They'd paint the inside rim on the wheel green and that's how you know you really have a set of Boss steel wheels. So when I went shopping, three out of the five I got had that on them. The other two had the correct part number. I would think probably that somebody spraypainted that off or got it off.
"I would do all of that research and know that and make sure that I had that kind of detail when I was doing this stuff."
Research is key to any collector car's purchase and restoration, but maybe even more so when it comes to a Boss 302. Wood pointed to the cost of a Boss 302 as his first warning and said that since it's the engine that's the important part, a clone might be the better approach for someone who appreciates the look more than the historical accuracy. Whether the goal is a more affordable clone or the genuine article, there's the need to tell them apart.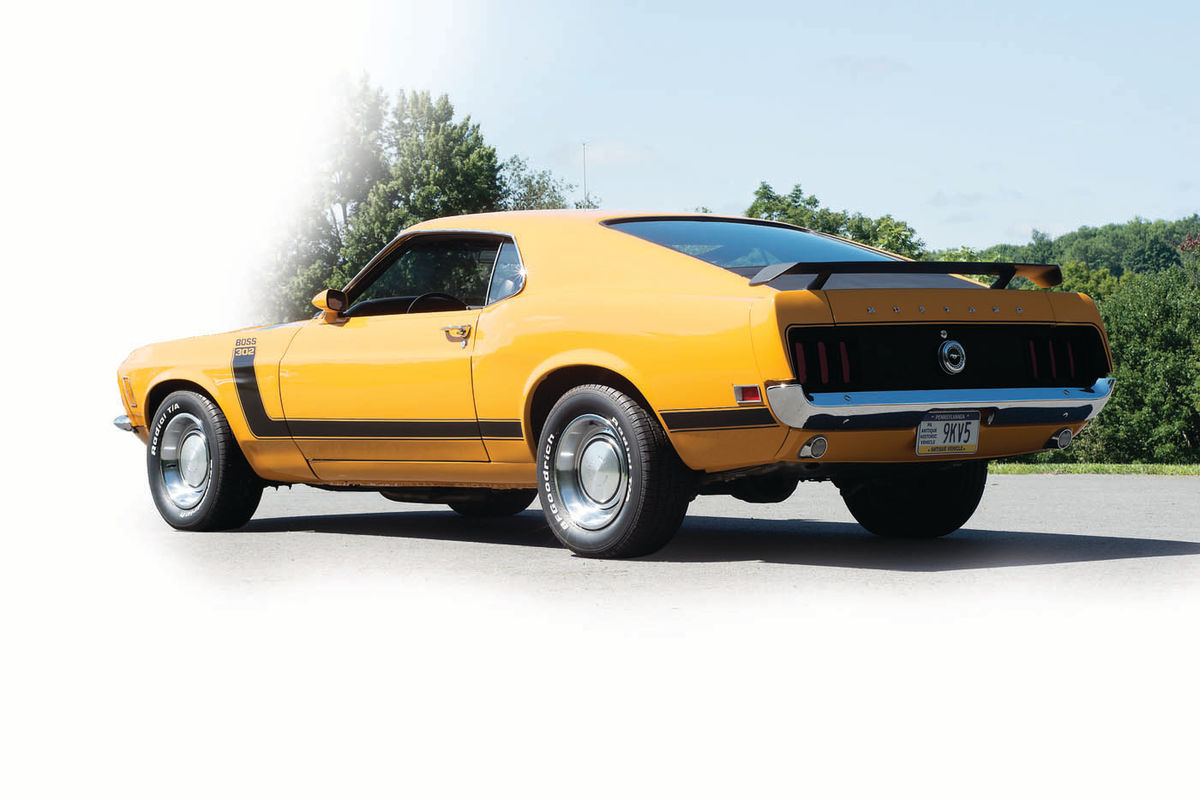 "If you're looking for anything from a project car to one that's completed," Wood said, "the first that you've got to do when you approach it is walk up and look for the VIN number and make sure that the fifth figure in the VIN number is the G."
The Mustang's unending popularity means that there are virtually no unanswerable questions and no shortage of information, as he gave the example of an Internet search for "Ford VIN numbers decoding" for details to determine a car's original equipment.
"No matter what Mustangs they are," he said, "whether they're GTs or Shelbys or Bosses or Mach Is, they'll all have some unique things about them. That's the first step, doing a lot of background, making yourself familiar with what makes them different. Then when you approach a vehicle, the very first thing is that you've got to make sure the numbers match. Know where the VIN number is and know where the tag is. The tag can be removed, but the VIN number where it's planted would be very, very hard to fool with, but you've got to look really closely at it. Then you know you have a body that was a Boss and you've got to take that next step and make sure that that engine is (a Boss). Any of those sources will tell you where the number is on the engine on the back of the block and depending how you can climb around and get a look at it, that's next, to check that.
"I know that over time, it could've gotten a replacement engine, so you want to see that that number is good, but you want to look at it and know that it has the screw-in core plugs and you're looking at Cleveland headers and you want to take a look at the thermostat. These are all things you can find and they're very straightforward and it's simple to see whether they're there. You just go through your checklist and see what you've got. If it's a Boss engine and it's not the VIN number that matches what the car is, you still have something. If it's not (a Boss engine), you still do have something, but then you've got to decide. 'Why am I paying so much for this thing? Why am I buying a body that a Boss engine came in and paying for that when really, it's the engine?' You're back to 'why not just go and get a clone?'"
History Helped to Reduce This Car's Rust
The feature car's authenticity was never in question, but his research was still important. He bought trim rings because he knew the part number and didn't care that they were labeled as being for a Mercury Cougar and he knows that his Boss doesn't have the slatted shade for the rear window because it was sold new in Pennsylvania, where the shade was illegal. And then there are the fenders.
"One thing about the Boss and the fenders," Wood said, "is if the fenders were replaced, they should have that rolled edge on them that the other fenders don't. That's a thing you want to watch and of course, those fenders are still available, but you'll pay out the nose for them, obviously. Once you say to somebody 'I need the Boss fenders,' eyes light up. 'Oh, yeah, we've got them.' And there are people who can professionally roll them."
Ford noted that feature in advertising with the explanation that "wheels are styled-steel seven-inch rims with F60x15 fiberglass belted tires. (These smokers are two inches wider than F70s. We had to flair the wheel wells a bit to get them on.)" Research pays off in more than just knowing about details and equipment, though, and Wood knows where to look on a Mustang to find the rust.
"For me personally," he said, "it's the floorpans. Then you say 'OK, floorpans are just a pain the neck,' but if it's a Boss, is it that much of a pain in the neck? It's a balancing act. But of the typical things that rot in a Mustang, that to me is the thing that's discouraging, just how involved it's going to be."
Like most cars of their time, Mustangs can rust in areas including quarter panels, rockers, fender heels, hoods, deck lids and doors, but Wood said he's never seen problems with the sheet metal around the windshield and backlight as on some of their contemporaries. Front shock towers can present problems he said, although he's had none with either the structure around the rear axle or the rear pan.
His Boss 302's four-year restoration didn't have to deal with any of that, of course, thus illustrating that history can work in strange ways.
"It didn't get a chance to rust," Wood said. "The gas crisis, I think, kept it that way."