Feature Restoration 1969 Pontiac GTO
He Bought It New, Restored It Decades Later and Still Enjoys Seeing His Car's Reflection. It Sounds Like He'll Be Keeping This One.
It's not always a lightning-like flash that inspires the decision to hold onto a car and sometimes it can be difficult to pin down the moment when the decision was made.
"Just from driving it," said Bob Rosiecki, whose 1969 GTO is featured here, "after maybe six months, I said 'boy, this is really neat.'"
Along with recalling those first six months of driving the Pontiac, he also remembers the details of where and why he bought it.
"I graduated college in '69 in June," he recalled, "and I purchased the car from Bradley-Lawless Pontiac in Scranton, (Pennsylvania). That was my gift to myself for graduating."
He was looking at muscle cars, he said, because they were the ones that had captured his interest as well as that of his contemporaries, but the GTO had competition on his list. There was a yellow Boss 429 Mustang and the 396 Chevelle that almost ended up with him.
"I probably would've gotten that one," he admitted, "but the guy said 'a girl put a deposit down on it. If she doesn't come up with money in three days, it's yours.' But apparently she came back. When I returned he said she'd gotten the money."
While he did see the Chevelle around occasionally, he didn't care because he had his GTO and he was happy. It's not hard to figure out why the car quickly proved itself to be "really neat," but looking back 15 or 20 years earlier, the Pontiacs built prior to the horsepower race wouldn't seem to be the ancestors of some of the most highly respected performance packages of the 1960s.
A V-8 Made Pontiac Even More "Finer"
With every other major automaker, Pontiac returned to production after World War II by reviving its 1942 models and introducing them for 1946.
The 1946 Pontiacs were only modestly updated in appearance with trim changes—the Silver Streak still adorned both the trunk and hood— and again offered a choice between a six and an eight. Both were inline flatheads and at 90 and 103 horsepower respectively, they were adequate for what was promoted as the "Finest of The Silver Streaks." Comparable minor changes followed in each of the next two years as Pontiac became a "Fine Car Made Finer" and then a "Fine Car Made Even Finer."
When 1949 brought the majority of the Big Three's fresh postwar designs, General Motors had more to brag about than style alone as Cadillac and Oldsmobile introduced modern overhead-valve V-8s. Developed separately and distinctly different from each other, the new engines were oversquare so that their bores' diameters were larger than their pistons' strokes. They revved higher, were smaller and lighter, and offered great potential.
Flathead eights and straight eights soon started their downhill slide and by 1954 only Packard and Pontiac were holding out. Both finally acknowledged the future by switching to modern V-8s for 1955 and although it was too late for Packard, Pontiac jumped in and never had second thoughts. Its new StratoStreak overhead-valve V-8 developed 180 horsepower from 287 cubic inches, a big difference from Pontiac's first V-8. Based on the Oakland engine, it was a flathead offered only in 1932, produced 85 horsepower from 251 cubic inches and was replaced the next year by the first of Pontiac's straight eights.
The 1955 Pontiac engine did much better. It proved its point and to make up for lost time, it was followed later in the model year by a Power Pack version with 20 additional horsepower. The new engine was even more impressive when compared with the final straight eight's 268 cubic inches and 122 horsepower, but it was only a start. By 1957 Pontiac would offer a fuel-injected 347 good for about 315 horsepower and a three-two-barrel version rated at 317 horsepower. Three years later, when a 389 with as much as 348 horsepower was available, the world of performance cars was about to take a very different direction thanks to the convergence of two almostopposite factors.
You Take a Smaller Car, Add a Bigger Engine and…
The horsepower race had already produced engines that would have been unimaginable in the immediate postwar years and now Detroit was at last taking the threat of imported compacts seriously as 1960 brought the first of the Big Three's small cars.
GM entered the compact market segment with Chevrolet's Corvair and followed up in 1961 with Oldsmobile's F-85, Buick's Special and Pontiac's Tempest.
Even in compacts, buyers had choices and at Pontiac, the Tempest could be ordered in widely divergent configurations. In its simplest form, the 194.5-cubic-inch four that was actually half of the 389 V-8 produced 120 horsepower, but could be bumped up to 140 horsepower or with a fourbarrel and higher compression, 155 horsepower. Those who studied the options list found that there was another way to get 155 horsepower as Pontiac also offered Buick's 215-cubicinch V-8 in the Tempest.
Dropping the Buick engine into the Tempest was a more radical move than it seemed to be in 1961, given that performance cars were then full-size models such as Chrysler 300s and R-code Fords. Nash had tried something similar to Pontiac's approach when it dropped its 255-horsepower 327 V-8 into the compact Rambler body to produce the 1957 Rebel and Buick had created the 1936 Century by placing its 120-horsepower 320 straight eight from the high-end Limited in a somewhat smaller chassis, but this time things were different. The Century went on until World War II and then reappeared in 1954, but it wasn't a compact or even mid-size car while the Rebel was small but lasted just one year.
From a Driver to a Restoration Candidate
Pontiac's plans for the compact Tempest's performance took more of a long-term view as 1962 brought a 166-horsepower four and a 185-horsepower V-8 before 1963 saw Pontiac's own 326 used in place of the Buick V-8 and a jump to 260 horsepower.
Then Pontiac took the real plunge and introduced what would become one of the best-known packages ever offered by an American automaker... the GTO option. With its three-twobarrel Tri-Power, the 389 could return 348 horsepower in that first year. The number rose to 360 in 1965 and it was one of those cars that influenced Rosiecki's decision as he knew a woman who owned one at the time.
"A red one with white seats," he recalled. "She sold it for something like $1400 and it was like brand-new. It was like a family car. The father drove it, the mother drove it and she drove it. Mostly it was the mother because the father drove a pickup."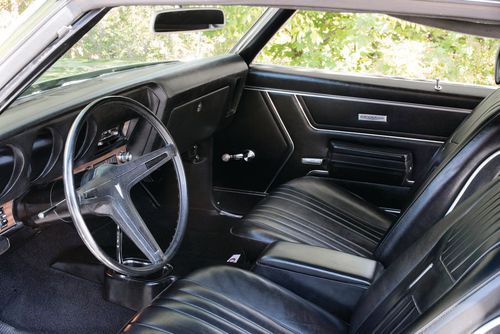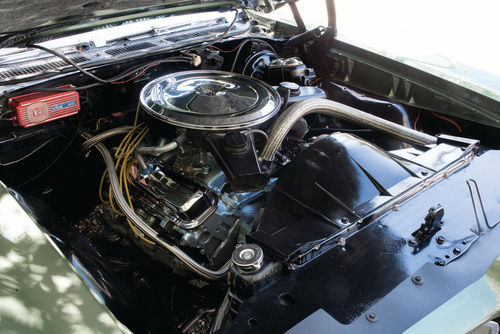 Knowing of that car probably gave GTOs an edge in his search and it might have helped him to overlook the conditions under which he first saw the feature car on a fenced storage lot rather than at the dealership's showroom.
"It was filthy," he said, "total filth. I was looking at that and he had a yellow one in his lot that looked really neat, but it was only a three-speed and it didn't have the big 400 in it, either. A three-speed on the floor and it had nothing else in it, but then I saw this dark green one and I said 'that's really neat. I'm going to take that one.'"
The Verduro Green color and the 400 with a four-speed played their parts in the decision, but the Pontiac's less-obvious equipment includes heavy-duty suspension and rear end as well as an AM/FM radio. Like nearly any collector car, Rosiecki's GTO began its life as transportation, but it gradually showed itself to be more than just an everyday vehicle.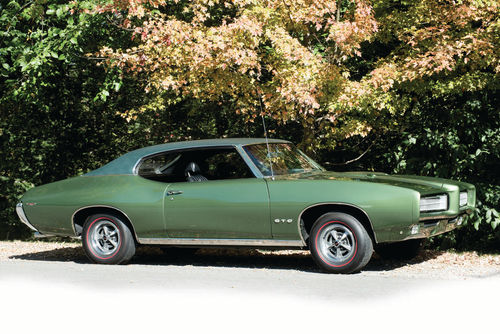 "I drove it through the winter the first couple of years," he said. "It was everything I thought it would be. I loved the sound of it. It was super loud—and it went. It really went—and I loved the looks of it. I never really had to take it back for anything. I don't remember anything major going wrong, nothing at all. It was a good car and that's why I decided I was going to keep this car, and then I started ordering parts that I'd store in boxes for years. I got them for peanuts, next to nothing."
That was in about 1973, when everything was not only affordable, but also available.
"I paid no attention to getting another car," Rosiecki said. "It was just so neat."
Eventually he decided that it was time to stop driving the GTO even though there was nothing wrong with it. It went into his parents' garage—where it was parked on a carpet and taken out for short trips by his father.
"I was going to preserve it," he explained. "I said 'no sense driving it any more in the wintertime.' It wasn't the greatest car in the winter anyway. To get around, I drove it for several winters with the big solid concrete pieces they used to put Christmas trees in. It was all solid concrete and iron inside. They were heavy and I put two of them in the trunk."
Not surprisingly, even two Christmas tree stands didn't help much during northeastern Pennsylvania's serious winters, but the GTO was now safe not only from road salt and potential winter accidents, but also from the weather. Friends occasionally asked whether he still owned it and whether he'd sell it, but his answer was always the same. He told them that he planned to restore it and would someday start the project. That day came in 1981, by which time it had moved to his own garage, said his brother, Mark, who lives in Dickson City and thus keeps the GTO in the Scranton area as today he cares for the car and gets to drive it.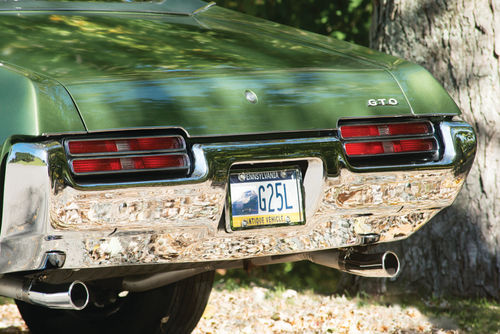 Not Much Rust and the Engine Ran Well, But…
The restoration began with the 400 being rebuilt even though the odometer at the time showed just 46,000 miles. Bob said that there was no indication of problems, so the rebuild was just a matter of being safe and Mark said that when they took the car out of the garage before beginning the work, it started.
"It always started," said Bob. "Pumped your leg off," Mark added, "but it started right up."
The transmission, too, was rebuilt even though it didn't really need it and in the end, both decisions were the right ones.
"When we did the motor over," Mark said, "it wasn't that expensive like it is now."
"It was in the old days," Bob said. "We got the motor done early. I was looking at the prices and they were not expensive at all, not at all. I have every bill from these guys for doing it."
Most of the interior, Bob said, is original. That's a tribute to the incredibly tough vinyl GM used on the seats and while any car from the 1960s with an original dashboard in good condition is unusual, the only replacements in the feature car are the carpets, the window cranks and some bulbs.
"The thing that always broke," Mark said, "was the crank, the little handle. Just that little round knob."
The radio and tachometer needed attention and while the dashboard was out, all of the bulbs for the gauges were replaced.
The body hadn't survived as well as the interior and engine had, but considering that the GTO had seen a few winters in its younger days, it certainly wasn't bad.
"It had some rust on the doors," Bob said, "nothing on the front fenders at all."
Mark said that even the quarter panels were mostly good and despite the moldings that trap dirt, salt and moisture, the rust along the wheelwells was not serious. That undoubtedly was the payoff for two factors, the first of which is that the Pontiac generally was parked outside when it was a daily driver and didn't go in and out of a heated garage where moisture would condense on it. The second is simple cleanliness.
"I always kept it clean," Bob said. "I hate a dirty car...when I used to wash a car, I used to wash a car. Under the wheelwells, hose all of that down, everything, even in the winter. So many times, my hands were ice cold."
But it was worth the occasional unpleasantness.
"If you crawl underneath it," Mark said, "it's all clean."
Since the GTO was being restored, even that small amount of rust needed to be addressed and with the fresh paint, that work fell to Mark Kobierecki and Mark Fallon at Kobierecki Garage & Body Works in Dickson City. It was finished in 2015 and Bob said he was pleased with the result.
"He did it in his spare time," Bob said. "We took it in in May and we didn't get it back until September, but he gave us a pretty decent price on it for what he did. I have no complaints on it. I said 'let it sit there as long as he's doing it.'"
That was the last major step in the project, but completing the Pontiac's restoration in phases was less of a plan than it was something that just happened.
"That's what it was," Bob said, "because you can't afford it all at once. You just can't."
It Was Seldom Out of His Sight
The car has led a mostly sheltered life and thus escaped many of the problems that have impacted its siblings. In any area in which cars rust, a GTO is a good candidate and damage is somewhere between possible and likely on the quarter panels, door bottoms, lower fenders and the edges of the hood and trunklid. Less easily detected are the holes under the carpet, above the rear axle and behind the bumpers and trim. The areas around the backlight and windshield are also prime targets for rust and are difficult to inspect closely because moldings hide the sheet metal, but if the damage is extensive, it can sometimes spread beyond the trim. A slightly bubbled vinyl top is a strong suggestion of such problems.
Mechanically, of course, it's doubtful that any critical part is unavailable and so a GTO like Rosiecki's is a car to be driven and enjoyed.
"It's always fun to drive it," said Mark.
His brother said that it might not be as much fun as it was the first time he drove it, but how could it be?
"The first time, when I picked it up at Bradley Lawless, my father drove me down and they had it ready to go," he recalled. "I just started it and I took off down Wyoming Avenue and I said 'holy cow.' I was working then, too, at a drug store. I drove it there and everybody came out to look at the car."
The store apparently was designed with pharmacists who like their cars in mind.
"In those days they had the pharmacy department as soon as you walked in the door," Bob explained, "so I could see it. I parked it more toward the center of the lot. The other pharmacist had a Lincoln. He had his right next to it. The other guy had a Cadillac Eldorado and he had his right next to it."
There was one more car, the 1965 GTO mentioned above.
"(She) worked there, too," Bob said. "She parked her red GTO there, too."
Checking Out His Reflection
The fact that he remembers looking out at his car in the parking lot at work partially explains how he was able to endure not driving the Pontiac during the roughly 30 years that passed between the restoration's start and its finish.
"I got to see it every day," he said. "I had it in my garage and I walked out there because I had two other cars in the garage, a three-car garage. It was right there, so I would see it every day.
"You want to get into it and just start going. You do, you really do, but then you say 'I have to get this done first. I have to do this' and you keep putting it off and putting it off. Then it has no tags, no inspection."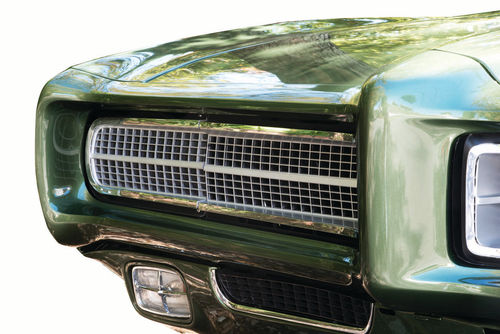 The push came—indirectly—from his brother's 1987 Cadillac at a local cruise.
"I said 'hey, wait a minute,'" Mark recalled. "'The Caddy's not the one to put in here. The one to bring out would be the GTO' and that's how I got it."
"Mark is really, really, a car person," said Bob. "If anyone's going to do it, really make the car look great, all the work that nobody else wants to do, playing around with the little things to make them look great, he'll do it."
The effort that went into the restoration and that still goes into the detailing doesn't go unappreciated.
"When I brought it home," Bob said, "I had five of the guys from when I grew up turn around because they all remembered it. They all came around and 'holy cow, you've got it. You still have that car.'"
And as it was in 1969, the GTO today is anything but low-key.
"The look of the car," Bob observed, "just the way it looks. It's shining like a piece of glass and it looks great going down the road. Everybody looks when you go down the road."
There's only one way to know how your car looks when it's going down the road and that's a secret known to anyone driving an interesting car, but only rarely will most admit to checking out their reflections in store windows.
"Yes," Mark laughed, "I do." It's not something new. "We used to do that in the '60s, too," Bob confessed. "I remember that in the '60s, going by windows."