When Does a Car Become a Classic?
She Spotted a Special Car At a Show, Tracked One Down and Now It's Her Favorite Ride. But Is It a Classic?
Editor's note: A regular topic of discussion in the vintage vehicle world is the idea of what truly can be considered a "classic" car or truck. Some folks have lists they can consult; others have a timeframe cutoff, such as a vehicle must be 20 or 25 years old before it can attain classic status. Still others see it as a state of mind, where a vehicle is a classic because they perceive it that way. This is the story of a woman who searched for and found her ideal vintage vehicle, even though it was built only a decade ago. If you'd like to add your thoughts to the discussion and maybe send us a photo or two of your favorite classic, we'd like to hear from you. In the meantime, let's follow along in her search as recounted here by a friend who also happens to be a vintage vehicle enthusiast.
A bout five years ago I read an article about Ford Broncos becoming classic vehicles and I thought those guys were totally wrong. But then, sure enough, I started to see more and more fully restored Broncos on the road and in car shows. That has raised a question in my mind…just when is a car, truck or SUV a classic? Is it based on the vehicle's age? Rarity? Style? I am sure my 1940 Ford Coupe is a classic, and I am sure the guy who owns a 2015 Corvette will claim his machine is a classic.
I first joined the National Street Rod Association in 1974. At that time, only people who owned pre-1948 vehicles were allowed to join. The NSRA has since raised the "age limit" and at a few of their shows they will allow newer vehicles through the entry gates. Other organizations are doing the same thing. So I wonder, is my friend's recently acquired 2007 Chrysler Crossfire, a car which was built for only four years, a "classic?"
A Chance Meeting
In 2014, my wife and I, with our good friend Elaine Lang and another couple, went to the Rods on the Bluff show in Fresno, California. Afterward, while walking through the parking lot to our cars, Elaine noticed a little red coupe and asked what it was. I didn't know and had to walk around it to see that the little car was a Chrysler Crossfire. Elaine said she liked the paint job and liked the way it looked. That was basically it. Nothing more was said and no one seemed to think much about it. But Elaine kept the thought of that little Crossfire somewhere in the back reaches of her mind.
Suddenly, She Had Time for a Search
Elaine is a flight attendant for a major airline and last Thanksgiving she was working a full flight into Medford, Oregon. She advised the passengers that the ramp was slippery with ice and everyone got safely off the plane, except poor Elaine. She slipped on the ice and fell on her right arm, shattering her elbow.
With the time she now had on her hands, Elaine decided it was time to buy another car. She owned a 2000 Camaro that her deceased husband had bought her brand-new, however it was getting "long in the tooth."
So, during the month of December she and some friends got on their computers looking at dealership sites for cars that might interest her. There were BMWs, Mustangs, Fiats, Ford F-150s (F-150s?), etc. Nothing impressed her. Elaine then started to look at the auto finder web sites and even eBay. She had someone drive her on a weekly basis to check out the offerings at a nearby used car mega-dealership. Twice she almost bought a car there, but backed out.
Then in early January of this year, while perusing the auto web sites, she saw a Crossfire for sale at a dealership in Merced about 50 miles north of us. It was a 2005 yellow pearl Roadster SRT, manual 6-speed, with 85,000 miles on it. We jumped into our SUV to check it out…even though it was pouring rain!
A nice salesman arranged a battery jump to get the Crossfire started for us. According to the salesman, 2005 was the only year the Crossfire was painted a yellow pearl. Elaine loved the car so it was time to go for a test drive, even in the rain. The salesman took Elaine for a ride; then I drove it with her. Funny, the radio was muffled and the knobs were messed up. What else was wrong? According to one car web site the Crossfire was overpriced by $3000. (Later we found out that the car had been damaged, its windshield had been replaced and, maybe, the top wasn't original because it was a dark brown color. Crossfire roadsters have black tops.)
Because it was raining so hard, we parked the car in the dealership's covered area. I told Elaine and the salesman that we needed to see the top work. It didn't come down. It would move eight inches then stop. Soon we had five salesmen and their service manager all trying to get the top down. They couldn't do it.
Still, Elaine told me she had to have the car. I told the finance manager that we would pay them $9000 as is and I would fix the top. They said they would call us when they got it fixed. I gave two salesmen my phone number and headed back to Fresno. Just to add salt on Elaine's hurt feelings, we passed a sliver gray Crossfire coupe on the way home.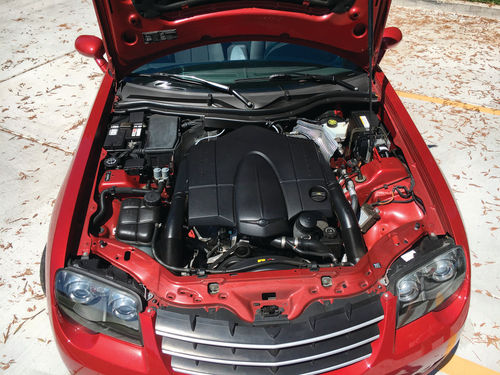 A week later, after no phone call from the dealership, I called them and asked to speak to the salesman. They said he would call me back but there was no phone call. I called the next day and the salesman said the Crossfire was in the dealership's shop. I called their shop and the service manager said, "We don't have any Crossfires here."
Wait, There's One In the Neighborhood
We went back to the computers but found very few Crossfires for sale. Most of them had between 85,000 to 110,000 miles on them and they all seemed to be overpriced from $2000 to $12,000! Yikes!
During the second week of March my wife and I took Elaine out to dinner and on the drive to the restaurant she said she had noticed a Crossfire for sale on a car web site and it was located at a dealership here in Fresno! After our meal, Elaine showed us a red Crossfire on her cell phone along with the location of the dealership. As it turned out, the car was located four blocks from where we had just eaten!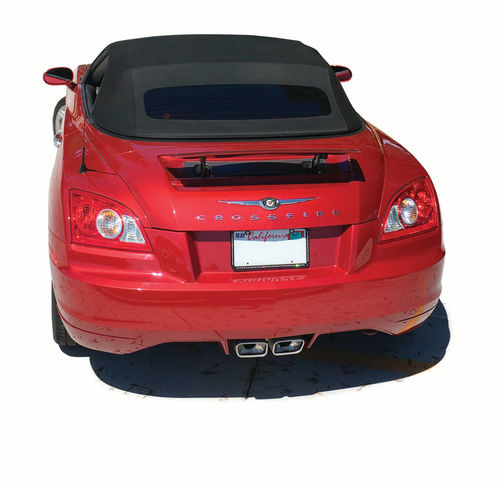 When we pulled into the dealership, there she was, waiting for Elaine. It was a basic 2007 Crossfire roadster with a little over 40,000 miles on the meter. It was Blaze red with a black top and automatic transmission. I told Elaine she should take a test drive with the salesman. He lowered the top (no problem) and away they went. Upon returning to the dealership, the first thing Elaine told me was, "There's no cup holder."
The Previous Owners Lend a Hand
The next day Elaine decided she had to have one more test drive in the Crossfire and this time had me drive the car while she went through the glove box and checked out the radio, etc. The previous owner's registration was still in the glove box, along with a bill for towing service (more about that later). There also was a nice photocopy with lots of pictures showing how one lowers and raises the top. Remember the problem the salesmen at the other dealership had with the top of the 2005 Crossfire? The panel that divides the trunk into two parts (one part to store the top in and the other for Elaine's purse) has to be "clicked" into place and make a nice contact so the top thinks it's OK to continue down into its nice little cubbyhole.
We then sat down with the salesman to hash out the details and were in with the salesman and his finance manager for close to four hours! At one point, while those guys were talking it over by themselves, I went back out to the Crossfire and got the former owners' name and address and asked Elaine to Google them. Sure enough, she was able to get their phone number.
When I called, a 74-year-old woman answered the phone and was so excited to hear that Elaine was getting the car. She said the Crossfire was the nicest car she had ever owned and the only reason she had to sell it was that she and her husband were getting too old to get in and out of it. They had to get a bigger automobile.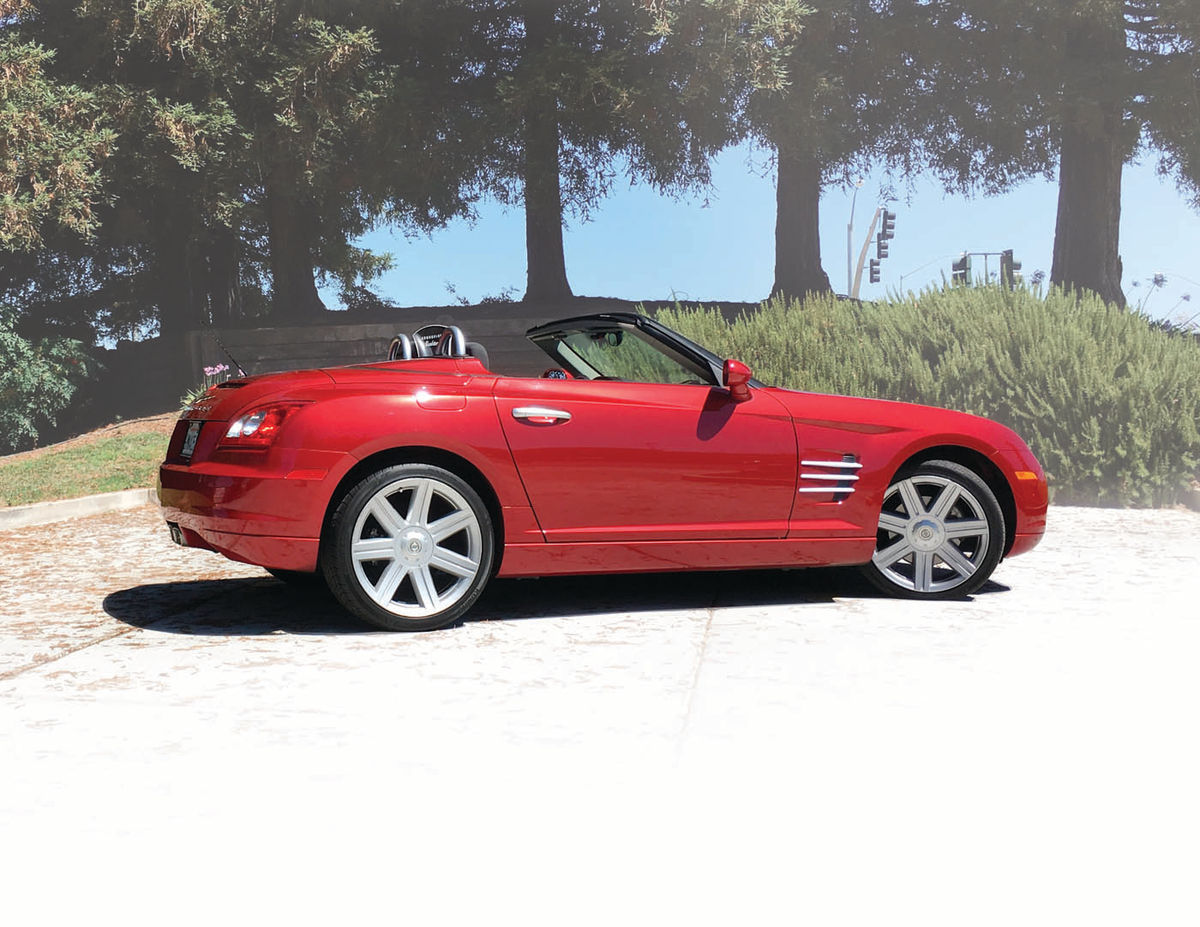 I then gave my cell to Elaine and the lady asked what the dealership was asking for the car. Elaine told her and she said they were asking way too much. The dealership only gave them $8000 toward the car they purchased. I then talked to her husband and asked about the towing charge. He explained the battery had died from them not being able to drive the car and the tow truck driver had jumped it. They said they never had the car in the shop. They had owned it almost seven years and only put about 20,000 miles on the car. What a great phone call and what perfect timing. The former owners were now Elaine's newest best friends.
When the salesman and his finance manager came back to the table, I told them we had talked to the former owners and asked the salesman to drop the price of the car $2000. The finance manager was torqued but he did it.
Entering Her First Show With a Gift
I talked Elaine into driving her newly acquired Crossfire to the first Rods on the Bluff Car Show of the season. She felt her car was not good enough to be entered with all the customs, hot rods and "classics," so I explained to her that she now owned a "classic" car herself and had better get used to being stared at more and more. I also promised her I would drive my '70 Torino Cobra to the show and to make things even more interesting for her, my wife and I got her a special gift.
While I was looking on the net on the Monday before the Rods on the Bluff, I came across a business called The Crossfire Store (thecrossfirestore. com). They sell t-shirts, baseball caps, etc, plus accessories for the Crossfire.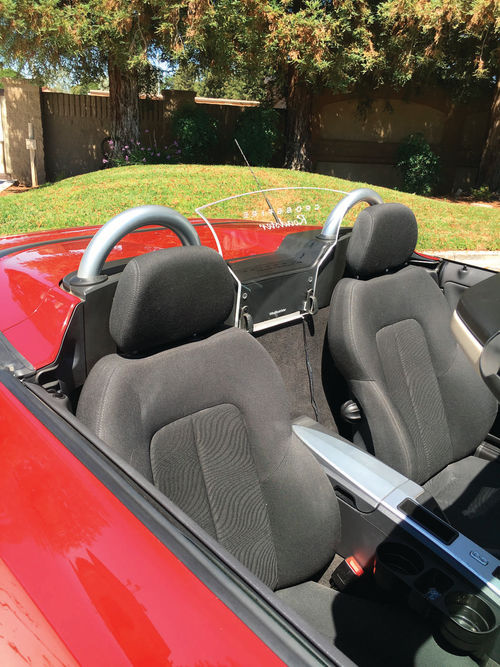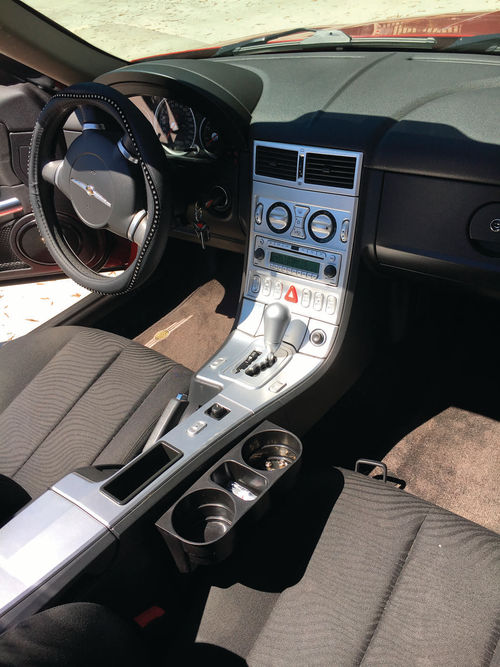 I saw they had something called a Wind Blocker that's designed to be installed between the roll bars in the roadsters. It's a clear piece of plastic that reduces wind turbulence in the vehicle making it quieter for occupants while the top's down and makes for a more comfortable ride as well. The Wind Blocker could even be installed as a third brake light if you wanted to be really fancy or just used with its battery pack and run with the light on, making the plastic glow.
The Wind Blocker arrived within three days and we gave it to Elaine the night before the show. Ten minutes later we had it installed on her car. Elaine could not wait for darkness to arrive and she now wanted to take part in her first show.
The next day, Friday, April 1st, we got our cars ready to cruise. I started to have a funny feeling that this show might draw a large turnout, so I talked Elaine and my wife into leaving an hour earlier than we had planned on. Our friend Eric, in his 1969 Chevelle, met us at my house and we had a little caravan driving through Fresno.
We got to the entrance at 4 p.m.—an hour before the start—and already the parking area for the "show and shine" was almost full.
The people operating the show explained that the first show of the season was the only time all years of cars were allowed in. They said the rest of their shows would only allow pre1974 vehicles. Fair enough for us this time but apparently they had their own idea of what constitutes a "classic."
Around 500 cars gathered there that evening and as luck would have it... the gentleman who owned the red Crossfire that Elaine had seen back in 2014 parked next to us!
On the drive home other cars kept pulling up beside Elaine and my wife to check out the little red roadster they were enjoying. Some wanted to race the ladies; some just wanted to figure out what Elaine was driving.
After that, Elaine drove her Crossfire to a car show held during the Memorial Day weekend at the Central California Blood Center in Fresno. She nestled it in with the other "classic" Prowlers, Challengers, Rams, etc. parking her little "classic" roadster between my "classic" 1970 Torino Cobra Jet and her new boyfriend's "classic" 1960 Jaguar Coupe. During the entire day, she had admirers circle her little roadster like schools of dolphins circling a California surfer.
Getting to Know You Better
Elaine's "classic" red roadster is fast, agile and extremely attractive. It is definitely a summer car to drive and enjoy with the convertible roof down.
Elaine has two things that she especially likes about her Crossfire; well, three if you figure in that she likes to drive all the time with the top down. As for the first two, she loves driving her Crossfire at night with her lighted Wind Blocker turned on and she loves the rear spoiler on the car. Yes, all Crossfires came with a rear spoiler that automatically pops up when the car goes over 60 mph or you can manually hit the rear spoiler switch and raise it anytime you like. Elaine loves driving the car with the spoiler up all of the time. She will even park her Crossfire with the spoiler in the "up" position.
A word of tire advice; based on experience. It is best to drive a Crossfire with bigger tires in the back. All Crossfires have two different wheel sizes. The front wheels are 18 x 7.5 inches with 225-40/18 tires and the rear wheels are 19 x 9 inches with 225-35/19 tires. The Crossfire forum says the car handles differently if you use the samesize tires on all four corners and it is not wise to rotate your tires corner to corner. It's best to only go side to side and keep the fronts on the front and rears on the rear.
While Elaine was at her first car show, her new Crossfire buddy showed her a neat thing about the vehicle… he pushed the hood of the Crossfire straight up in the air like it was a Saturn 5 rocket ready to launch. He called it a "mechanic's dream" because it makes the engine compartment a whole lot easier to work on. He said probably 90% of all Crossfire owners (and most mechanics) do not realize the car has this feature. To lower the hood to its normal position, there is a little lever/ switch that is pushed in to get it past its stop and then you simply raise and lower the hood like you would on any other car.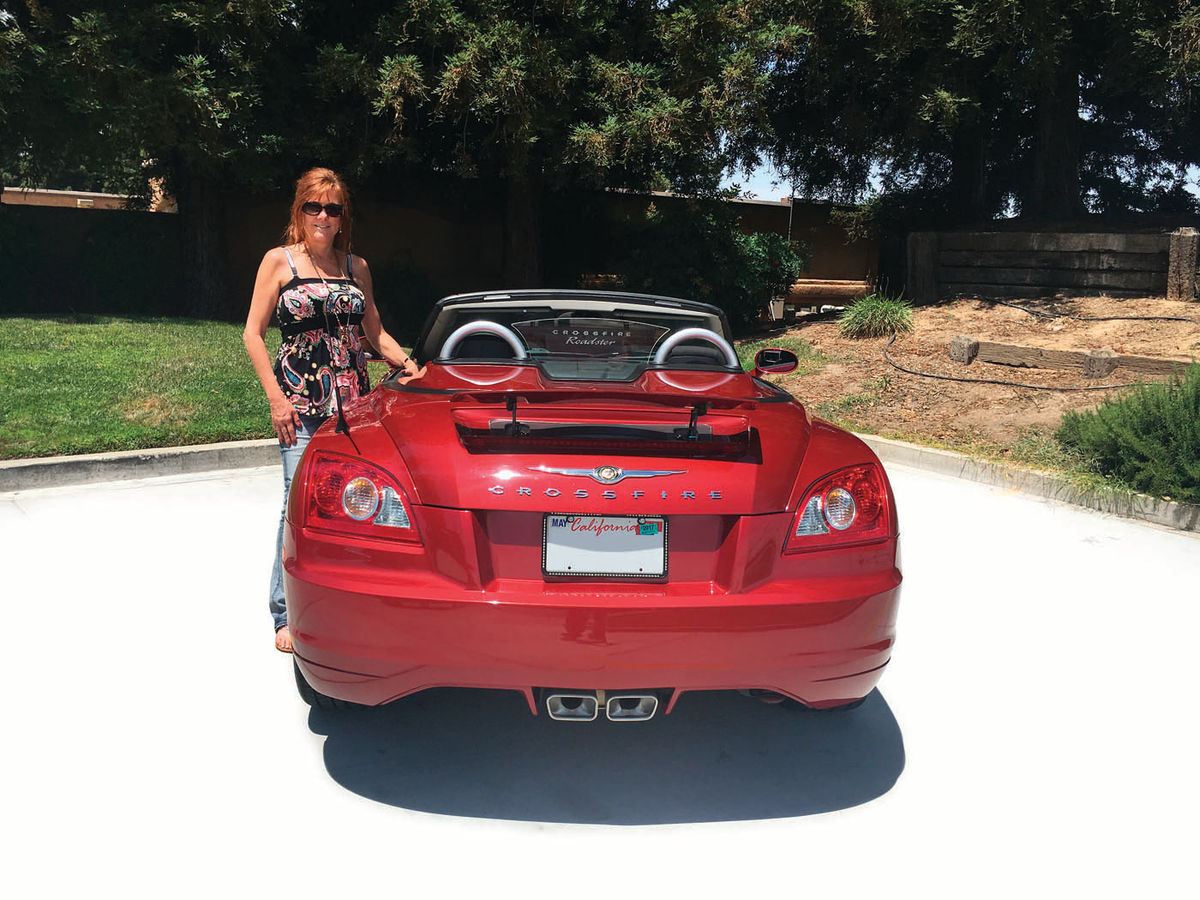 An International Project
In case you aren't familiar with the Crossfire, it was developed during the short-lived corporate union between Daimler and Chrysler and built by Karmann in Germany as a coupe and convertible.
The rear-drive two-seater was based on Daimler's R170 platform and shared some 80 percent of its components with the Mercedes-Benz SLK320 sports car.
Basically, Chrysler came up with the exterior and interior styling while the chassis components, engine and transmission were from Daimler.
The standard transmission was a Mercedes-sourced 6-speed manual while a 5-speed automatic, also from Mercedes, was optional.
The standard engine was a Mercedes 3.2-liter 18-valve single overhead cam V-6 rated at 215 horsepower and 229 lb.-ft. of torque.
A high-performance SRT-6 version of the car featured an AMG supercharged engine that delivered 330 horsepower and 310 lb.-ft. of torque. This car also had modified suspension and brake systems to work with the extra power.
The Crossfire was well-equipped, even in base form, with alloy wheels, performance-rated tires, a keyless entry system, leather-trimmed seating surfaces, power sports bucket seats, a leather-wrapped and stitched steering wheel and air conditioning.
Ironically, unlike most cars of its time, the Crossfire does not include a rack and pinion steering system. Instead it utilizes a recirculating ball system as found on the Mercedes R170 platform.
But despite its many features, the Crossfire never found a niche in the American marketplace and the car was only built for four years, from 2003 to 2007, or model years 2004 through 2008. During that time, a total of 76,014 Chrysler Crossfires were produced.
With low numbers like that, maybe it qualifies as a cult classic… But whatever you call it, there's at least one owner who is very satisfied with her German/ American sports car.
Ask the Woman Who Owns One…
It is now nearly a year since Elaine shattered her elbow and she has owned her Crossfire for more than six months. She has put some 2000 miles on it and LOVES driving the little car. She has even had her Camaro checked out so that she can continue to drive it back and forth to work for another three or four years while she enjoys her Crossfire on special occasions or road trips.
And oh yes, Elaine finally has her cup holder. It is wedged perfectly between the passenger seat and the center console.