Feature Restoration 1964 Chrysler 300K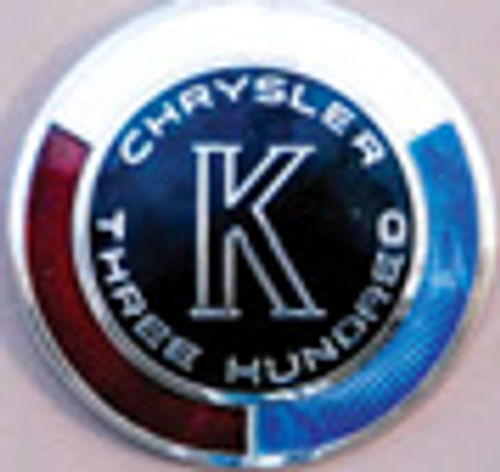 What Do You Get When You Blend Size, Power, Luxury and Fun? …A Rare Mopar That's Relatively Easy to Restore.
THOSE WHO DROVE Chrysler 300 letter cars in the 1950s and '60s when they were modern vehicles would understand in an instant why Jim Barnes bought his 1964 300K.
"I go to a lot of national meets,"Barnes said. "The Chrysler Club and the Plymouth Club that I belong to have a meet usually twice a year. I was just down to Virginia to one. We had one out in Chicago. That's what I got the car for. I like to drive it to these meets and show it."
Who could argue with that?
Surely not the original owners of the feature car and its relatives. While they may not have been taking their new 300s to car shows, it's a certainty that virtually every one of them bought his letter car because he knew just how much fun it would be to drive. A 300 was an excellent choice and perhaps a slightly outrageous one, even if the earliest Chryslers had given no hint that performance would become a focus of the brand.
From Locomotives to Buicks to Willys to…
The Chrysler automobile was introduced in January of 1924 and the distinction is an important one; by that time, Walter P. Chrysler wasn't exactly an unknown in the auto industry. After working his way up through a series of railroad positions, he ended up at American Locomotive Co. before moving to Buick in 1910. By the time he left nine years later, he'd become Buick's president, a role which had enabled him to showcase his talents. That, in turn, took him to Willys in 1919 and while the story begins to become complicated at about that time, his success at returning Willys to solid ground ensured his visibility— and credibility—within the industry. Chrysler put all of that to good use in 1923 by stepping in at Maxwell.
Things there had not been going smoothly for a number of years, despite the fact that the company had had little reason to apologize for its products. Maxwells competed successfully in endurance tests and hillclimbing even before Alice Ramsey made her famous New York-to-San Francisco run in a Maxwell in 1909.
However, everything began unraveling not long after World War I. Sales dropped as the economy adjusted somewhat uncomfortably to peacetime conditions and a 1922 merger with Chalmers Motor Car Co. proved to have been a mistake. Chalmers, like Maxwell, had built a successful record in competition and, again like Maxwell, watched as the postwar recession rolled over its business. The Chalmers name disappeared after the 1924 models were built by the merged company and Maxwell was soon to follow.
Meanwhile, the company's first Chrysler Six brought four-wheel hydraulic brakes and a high-compression engine to the medium-priced field and while 4.7:1 might not seem like high compression today, it helped the 201 to produce 68 horsepower. Available for just $1195 in its least expensive form—a coupe— it sent Chrysler off to a solid start. (The Chrysler Corp. succeeded Maxwell in 1925.)
Through the years, though, Chryslers tended to be extremely conservative cars. Rarely does anyone criticize their quality, but there wasn't much about inline six and eight-cylinder flatheads, semi-automatic transmissions and low-key styling to raise drivers' blood pressure. That was about to change overnight in the post-WWII era.
Cadillac and Oldsmobile had made a forward leap by introducing modern V-8s in 1949. It wasn't their overhead valves that made them modern, but their short-stroke designs that reduced their sizes and increased their efficiency. The proof lies in the fact that the design quickly became the industry standard, but Chrysler took it a step further in 1951. Like Oldsmobile two years earlier, it replaced a flathead straight eight with an overhead-valve V-8 and like Cadillac, its new V-8 displaced 331 cubic inches.
Unlike either, however,Chrysler used heads with hemispherical combustion chambers. It was a complex design that enhanced combustion to improve performance, provided a look unlike any other V-8 and it soon acquired the nickname used by its descendents to this day, the hemi. Chrysler officially called it FirePower and installed it in the larger of its two chasses to power the New Yorker and Saratoga.
The FirePower initially produced 180 horsepower and since what would become known as the horsepower race hadn't yet started, it remained there until 1954 pushed it to 195 in the New Yorker and 235 in the New Yorker Deluxe.It was about then that the race did start and Chrysler was as responsible as anyone; the 1955 New Yorker's hemi was up to 250 horsepower, but there was much more to the story as a new model appeared.
Introducing the "Letter" Cars
The 1955 C-300 was available only as a two-door hardtop, wore an Imperial grille and thanks to a pair of four-barrels, dual exhausts and a racing cam, its 331 returned 300 horsepower. It was, according to Chrysler, "America's greatest performing motor car" and offered "the same flashing performance that won 1st and 2nd places in the 1955 NASCAR Daytona Beach 'Flying Mile' at speeds over 130 mph." Not bad for a two-ton car and despite just 1725 sales that year, the 300 series—that came to be known as the "Beautiful Brutes"—would have a long and mostly happy career.
The 300B followed in 1956 and since the 1955 line had been completely restyled, it was merely an update with the beginnings of serious fins. The real difference was under the hood where what was now a 354 hemi produced up to 355 horsepower. Everything changed in 1957, as 392 cubic inches produced up to 390 horsepower in a body that bore almost no resemblance to its predecessors. Its Fins were high and straight, its body sides were smooth and its slightly protruding grille continued the egg-crate look while giving up the center split.
Going Conventional Under the Hood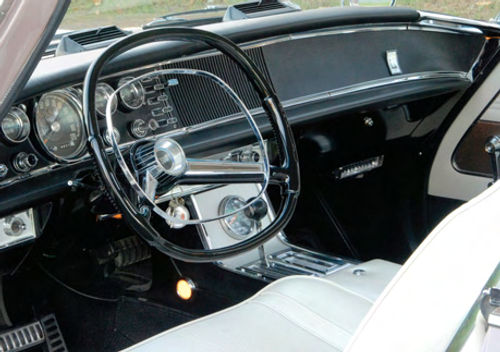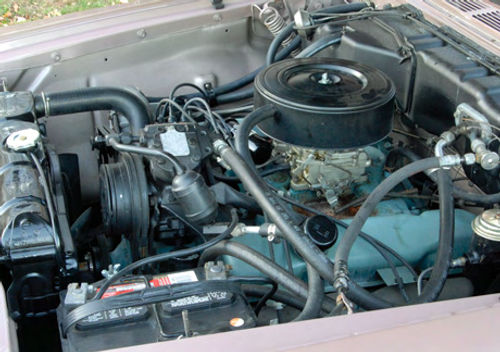 Chrysler minimally freshened the exterior to create the 300D for 1958 and then revised its fins for the 1959 300E, but in a classic example of why books shouldn't be judged by their covers, that car was very different. The hemi was gone, replaced by a conventional 413.At 380 horsepower, Chrysler described it as "robust"and"brilliant" while claiming that "its power reserve is vast" and "proving ground tests show the 300E accelerates approximately 10% faster than the previous model with the former 300 engine."
Putting aside absolute performance, the 413 was still a big change since it marked the end of the first hemi's run in the 300 series and introduction of the wedge combustion chamber.
And while what came next wasn't quite as dramatic, the all-new 1960 300F brought unibody construction to the line. Detractors sometimes sniped that the new Chryslers didn't have frames, which was really a stretch, but the faithful had the last laugh as the Chrysler-like construction that had already been proven by other manufacturers continued to spread throughout the industry. Frames or not, the 1960 and similar 1961 300s were very different from the 1959 models. The fins were now sharply angled, sides were heavily sculpted and grilles simplified with an impossible-to-miss crosshair against a black background.
1964 Chrysler 300K
GENERAL
Front-engine, rear-drive, coupe
ENGINE
Type Overhead-Valve V-8
Displacement 413 cu. in.
Bore Stroke 4.188in.x3.175in.
Compression ratio (:1) 10.1
Carburetor Four-barrel
Power 360hp@4800rpm
Torque 470 lb.-ft.@3200rpm
DRIVETRAIN
Transmission Three-speed automatic
SUSPENSION & BRAKES
Front Independent, torsion bars
Rear Solid axle, leaf springs
Brakes(f/r) Drum/drum,power-assisted
STEERING
Worm and roller, power-assisted
MEASUREMENTS
Wheelbase 122 in.
Length 215.5 in.
Width 80in.
Height 55.1 in.
Track(f/r) 61/59.7 in.
Weight 3965 lb.
Tire Size 8.00x14 in.
That grille would be a theme through the last letter series car in 1965 and would even mark what many feel was a critical wrong turn by Chrysler, the 300 Sport series that appeared in 1962. Chrysler had shaved the fins almost to the point of disappearance that year and the 300H was still running the 380-horsepower 413 and offered an optional 405-horsepower version, but sales fell to a new low of 558 cars. The 300 Sport undoubtedly can claim most of the credit, since it looked like a letter car to all but the knowledgeable and was more than $1500 cheaper, thanks to the fact that several of the performance items found on the letter cars were options for the non-letter Sport version. In a purely business sense, the Sport was a good move and so it returned for 1963, but the letter series continued to slide in spite of a new body. The fresh look was cleaner and less curvy; beyond what had become the signature grille, it barely resembled the earlier 300s. At 390 horsepower, its 413 was a bump in the right direction even if letter car sales reached just 400 units while the Sport topped 20,000.
The decline wasn't completely attributable to the Sport series as things were changing in the high-performance market, where models based on smaller cars were about to take over completely. It's to Chrysler's credit—and that of its competitors that did the same thing—that it continued to try with big, fast cars.
Finding a California Letter Car
The 1964 300K was freshened with new trim and the 413 produced 360 horsepower in base form or 390 hp as an extra-cost option. A four-speed became available, the convertible returned after one year among the missing, the coupe's price was cut by about $1000 from 1963 and with 3647 sales, the letter car seemed to be making a comeback. That might've seemed truer if the Sport hadn't sold 27,000 cars and after 1965,Chrysler gave up. The 300L was totally restyled and was offered with nothing more than the 360-horsepower 413.Chrysler sold 2845 of the L models and closed the book on the letter series.
Given its limited numbers and the fact that it's popular among enthusiasts, a 300 letter car might not be easy to find or acquire. Consider how Barnes, who lives in Pennsylvania, ended up owning the feature car.
"A friend of mine in Minnesota is a Chrysler man and has been into Chryslers for years," Barnes said. "He's the one who spotted this car when it was advertised in one of those magazines that you pick up at convenience stores.He called me because he knew I was looking for a driver and he said 'look, go buy one of those magazines and look on page so and-so.'He didn't tell me what it was and I'm looking and looking and it was'look at that,a 300. That'd make a good driver.'"
His brother-in-law also was hunting, he said, but specifically for a 300K and he decided to buy it. That plan was derailed by an accident in which Barnes' relative was seriously injured.
"I said to him 'if you're not going to buy that car, do you want me to go ahead andbuyitforyou?'"Barnesrecalled."'No,' he said,'if you want it, you buy it.'That's how I wound up with it. Otherwise, he would've bought it, but he's bought two of them since."
That was about three years ago and since the car was in California, he contracted a transporter to make the delivery. The car arrived on the lower level of an enclosed carrier and Barnes noticed immediately that his Chrysler cleared the structure above it by about two inches. A careful inspection once it was outside confirmed his suspicions.
"Sure enough," he said, "two dents— right where the rails of the ramps above the car were—in the molding above the windshield and on the roof. Evidently, the car bounced up or the car above bounced down and that's when they hit."
That touched off a struggle since the carrier's insurance policy had a deductible and the carrier made only a partial payment before going out of business.
Given the limited damage, Barnes hadn't begun with the idea of a complete repaint, but it ended up that way.
"I've done a lot of spot repairs in my life," he said, "so I thought maybe I could spot it and I tried that. It didn't work, I could see a shadow. I said 'well, I'll bring it all the way back, paint the whole roof, try to break it off at the top of the quarter panel."
That didn't work either and when he wasn't satisfied with a third attempt, he decided to paint the entire car. Aside from the damage, he said, the paint had been good.It was, after all, a California car that had been restored several years earlier.
"All of the chrome is just the way I bought it," Barnes said, "and it's nice. The rocker moldings and the wheel opening moldings have no dents, the hood moldings and around the back by the taillights, there's a lot of chrome there and it was all in nice shape."
The interior, though, needed attention. The carpet and padded dash are still the originals, but while the door panels had been replaced, the new ones were not correct and Barnes addressed that. He also took care of problems with the original seats.
"It had felt hard," he said, "like you were sitting on a brick, because it was all dry and there was no give to it. The power seats were binding up. They weren't working right, so while I had them out, I cleaned them up, lubricated them and got them working well."
It was about the same story mechanically, as the Chrysler needed a complete exhaust to replace one that had been spliced together from pieces. The speedometer needed lubrication, the air conditioning needed a valve and the torsion bars needed adjustment.
Those Mid-'60s Bodies Were Better
None of those restoration/repair steps was really a challenge to someone who spent much of his career as a Chrysler service manager. Barnes remembers one car like his passing through the dealership where he worked, but he also remembers something far more important than any particular car.
"That's about the time they were getting the bodies tightened up to where they didn't feel like they were shaking apart," he explained. "They just had that feeling of rigidity and that's when they started to get their body lines a little better. In the '50s and early '60s, the bodies were terrible and I remember when the '63 started to turn it around. The '64 was better and my personal choice is that the '65 is the best one of the bunch."
That's pretty impressive, considering that mid-1960s cars in general weren't of especially high quality and Chrysler by then had just come off of a few years in which its cars might have been politely described as not quite up to par. Barnes said that Chryslers like his showed a noticeable drop in the amount of warranty work dealing with quality-control and fit-and-finish problems. Earlier models, he recalled, sometimes had required as much as two days to adjust panels before delivery while that work dropped to a few hours for the 1964 models.
"Water Leaks and things like that were 100 percent better," he said. "They were better-assembled."
That might seem like historical trivia, but a car that's built better tends to last longer and for a restorer working on it almost 50 years later, that's a good thing. Barnes said that Chryslers like his aren't overly prone to rust and most of the areas where it's likely to be are obvious ones such as the lower rear quarters and lower heels and around the wheel wells. One not-so-obvious area is the trunk floor, he said, since the space between the bottom of the floor and the top of the gas tank can become packed with debris and hold moisture.
Know Your Letters
What could well be the best piece of advice for a would-be owner is to know the difference between a letter car and a non-letter car. The tip-offs are subtle ones—such as badges and trim—to those unfamiliar with both models and can lead to a big disappointment. Data plates will tell the truth and the numbers that identify each series in different years are available, but a simple point to keep in mind is that all letter cars are two-doors.If it's a four-door, it's one of the lesser models, but the non-letter cars in general are something of a bonus in that much of their trim is identical to that of the letter cars and can therefore help in a restoration.
If those are points in favor of the 300K or any other 1964 Chrysler, the drivetrain should add more. Like nearly all of its contemporaries, it relies on an engine and transmission that are durable and reliable. The TorqueFlite needs to be maintained, Barnes said, and when it's properly cared for and driven without abuse, it should be trouble-free. A 413, of course, is seldom referred to as delicate and all of that makes the car attractive today, but there's more.
A 300 letter car in its day was by no stretch an exotic in the same way that a Mercedes Gullwing was an exotic, but it certainly was out of the mainstream of American cars and this is where one of those strange automotive contradictions appears. It was rare, fast and attention getting when new and remains so today, yet Barnes believes that it's nothing that a moderately experienced restorer wouldn't be able to handle.
"You can pick up a shop manual that would have coverage on them most anywhere," he said. "Nothing there that's complicated.
"It'd be ideal (for an inexperienced restorer). It's pretty much straight forward, everything in it.Basically, a plain old simple car. The engine has nothing different about it,it's just routine.Brakes,routine. Drivetrain,same thing. Everything's pretty much normal, nothing out of the ordinary.
"There are all kinds of people who can help you.The Chrysler 300 Club International has a technical adviser for each model year. All you've got to do is call them and they're glad to give you all the information you'll ever need. They're People who are well-versed on the vehicles."
They're not inexpensive cars to restore and their low production means finding one as a project is becoming increasingly difficult, but they do show up occasionally and for the lucky few who find them, they might indeed be the best of all worlds.