Feature Restoration 1983 Hurst/Olds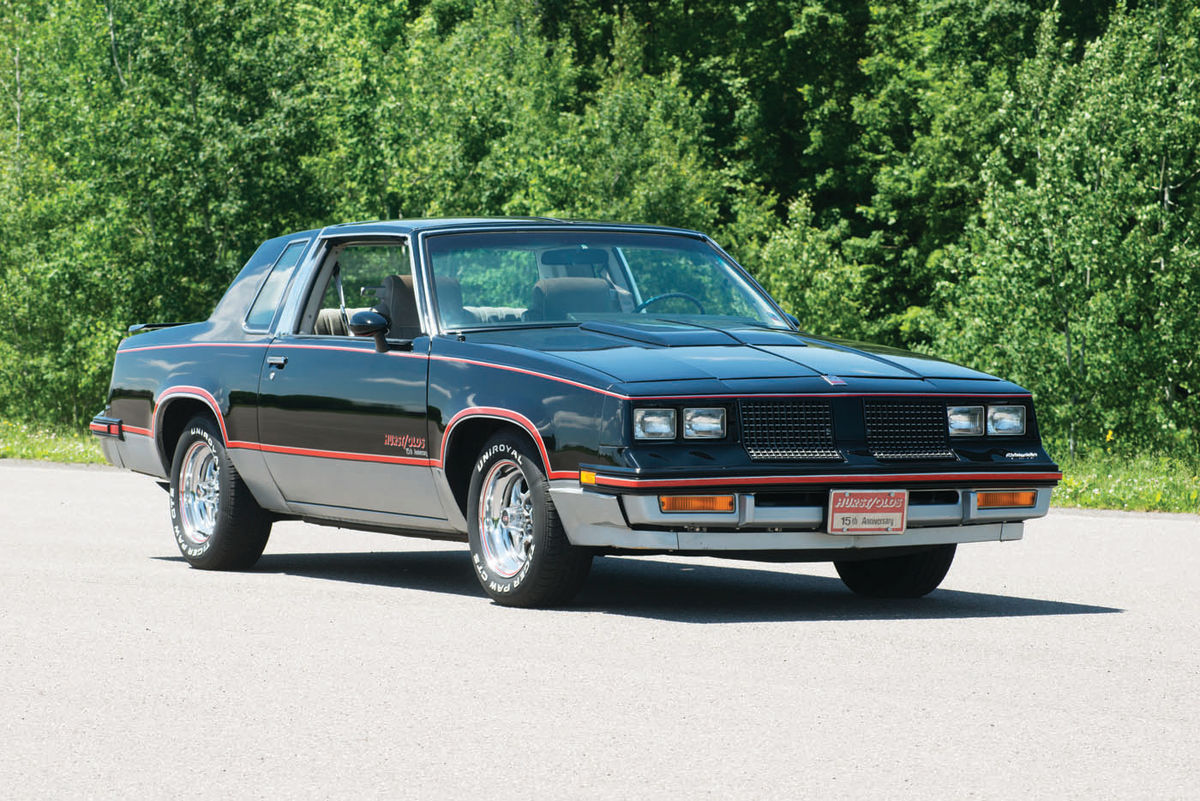 It May Not Be a '60s Muscle Machine, But It Proved That Performance Wasn't a Thing of the Past. And It Also Has Those Three Shift Levers On the Floorr…
Few foresaw any return of automotive performance once muscle cars had faded and while its future by the mid-1970s seemed dismal, those manufacturers who didn't quit found their fans.
"One of the first times I had it out," recalled Frank Cali, whose 1983 Hurst/ Olds is featured here, "my wife and I went through the drive-through at McDonald's and we were just sitting there. Some guy comes rolling up and says 'is that an '83 Hurst/Olds? I haven't seen one of these in years. Mind if I look?' I opened the hood, opened the trunk, he was going nuts over it. He probably was there 15 or 20 minutes just looking at it. He said 'man, I appreciate your showing it to me.'"
A performance car's appeal may be deeply emotional, but Oldsmobile's involvement was coolly logical.
A Time for Higher Octane & New Engines
During World War II, higher-octane gasoline had become a reality and afterward was expected to become widely available. But when that happened, the prewar flathead engines that had powered Oldsmobiles would be unable to take advantage of the improved power and economy it promised.
Moving the valves from their location in the block alongside of the pistons to the head above the pistons was the answer. Higher compression would be possible and while Olds engineers were at it, they decided on a short-stroke or oversquare design in which the cylinders' diameter is greater than the pistons' stroke. As a V-8, its length and weight would be less than the straight eight's, but the real bonus was output. The old 257-cubic-inch straight eight was good for 115 horsepower, but the Rocket V-8 of 1949 was a 135-horsepower 303.
Additionally, the Rocket arrived as the industry was introducing all-new postwar cars. Olds had begun doing so in 1948 with the 98 alongside of the older Dynamic cars and then completed the switch in 1949 and naturally placed the V-8 in the top-of-the-line 98s. But since the new look now extended across the entire range, it also had a slightly smaller 76 powered by the old flathead six. The V-8 was an easy fit and the 88 was born.
The various body styles weighed from 250 to 350 pounds less in the 88 versus the 98, so the performance difference was enough to make the point; while not the first big engine in a not-so-big body, this one was a modern V-8 and thus followed what would become the pattern for muscle cars.
Oldsmobile was just getting started and by 1957 could speak of its J-2 Rocket with 300 horsepower from 377 cubic inches. What would become known as the horsepower race was well underway by then and to remain competitive, Olds had 315 horsepower from 394 cubic inches in 1959. But everything would soon become different, as the Big Three chose to compete with foreign compacts. At GM, Chevrolet was first with the Corvair in 1960, followed by Buick's Special, Pontiac's Tempest and Olds' F-85 in 1961.
The three newest compacts shared a 215-cubic-inch V-8 and as Oldsmobile's Rockette, the base 155 horsepower was nothing to be dismissed in a car weighing just under 3000 pounds, but adding a four-barrel, high compression and dual exhausts boosted the output to 185 horsepower. A brochure headlined that "Oldsmobile presents an all-new model—F-85 Cutlass with exhilarating Rockette 185 engine!"
The days of the full-size performance cars would now begin winding down and Oldsmobile gave those who saw the future another opportunity in 1962 by adding the Jetfire coupe to the F-85 series. While the 185-horsepower version remained available, a turbo added to the V-8 meant 215 horsepower.
The Muscle Era at Olds
The Jetfire returned for 1963, but 1964 brought what would quickly become an Olds icon, the 4-4-2. Olds attributed the name to the four-barrel, four-speed and dual exhaust, all of which added up to 310 horsepower from 330 cubic inches.
Competitors offered their own interpretations and that led to better and faster products, so for 1968 Oldsmobile launched another secret weapon by announcing that the Hurst/Olds would be "the ultimate expression of the American 'Supercar'" with features including a 390-horsepower 455 V-8, heavy duty rear, suspension and cooling, Hurst/Olds badging, silver-and-black paint and the best-remembered of all, a "Hurst dual-gate shifter and console— the most versatile automatic transmission control for the enthusiast."
It had begun as a one-off for George Hurst, according to a sales brochure, but requests for more led to Demmer Engineering handling the modifications for a small run of the "limited production custom special from Oldsmobile and Hurst Performance Research." Just 515 were built, followed by another 906 in 1969 before the H/O disappeared.
The muscle car was still going strong, so the Hurst/Olds returned in 1972 when the end was feared, but not clearly in sight. The H/O's Cutlass platform received a new body for 1973, but that wasn't the only part of the H/O to be different. The 455 was standard and brochures describe it as the "L77 engine" without listing horsepower, probably because horsepower was now reported as a net figure after having been measured with all accessories in place. The previous gross figure had not accounted for accessories and was thus higher, so a net number would be disappointing. Add the fact that early emissions equipment was beginning to take a bite and the situation becomes worse, but while there's no accurate way to convert directly between gross and net, Oldsmobile's own history lists the L77 in 1972 with 300 horsepower and the 455s in 1973 at either 250 or 275. The 250-horsepower version seems most likely as it was available in any Cutlass and as muscle cars were by now sensing the end, the Hurst/Olds brochure focused less on speed and more on handling, and even appearance items.
If the Hurst/Olds had slipped from its go-fast role, its competitors had done so, too. Still, Hurst and Oldsmobile deserve credit for trying to keep it going and must've been doing something right as 1097 were sold. The H/O returned for two more years, selling 1900 in 1974 and 2535 in 1975 before taking time off again and returning for 1979 only.
Then came 1983 and as the Hurst/ Olds' 15-year anniversary, it was logical indeed that the model should return.
New owners were told that "each and every Hurst/Olds edition has continued the original theme of performance, styling and exclusivity that has made these vehicles true collector models. The 1983 Hurst/Olds includes a combination of performance components that provide a level of driver response that is certainly in keeping with today's performance automobiles."
By muscle-car standards the '83 version was modest, but the industry was learning to deal with regulations and mandates without totally eliminating performance and the H/O benefited. An Olds press release explained that it was "reminiscent of the super cars of the late '60s, but offering an alternative option in line with today's more economy-minded customer." It pegged 0-60 at 8.5 seconds and fuel-consumption at 17 miles per gallon city and 28 highway from the 180-horsepower 307 and noted that like the original, the anniversary model would use a black-and-silver theme.
Fortunately, It Had Been Given Good Care
Whether a car promoted as a collector's item works out that way is unpredictable, but Frank Cali's H/O is among those whose easy lives led to their preservation.
A friend told him in 2001 that the feature car was for sale in a business parking lot a short drive from his Old Forge, Pennsylvania, home.
"I got the phone number," Cali recalled. "I called the guy and made arrangements to see it while he was there so I could get in it, drive it, all of that. I said 'how much do you want?'"
The owner's price was exactly what Cali had in mind. As it turned out, the owner needed to sell the car, but not for financial reasons.
"His dad was on him to get it out of the garage where they keep their trucks for their business," he said.
Although not attached to it, the previous owner had treated the Olds well and after it was washed and detailed, it began gathering first- and second-place trophies at local shows and cruises, which suggests its condition even if it wasn't perfect.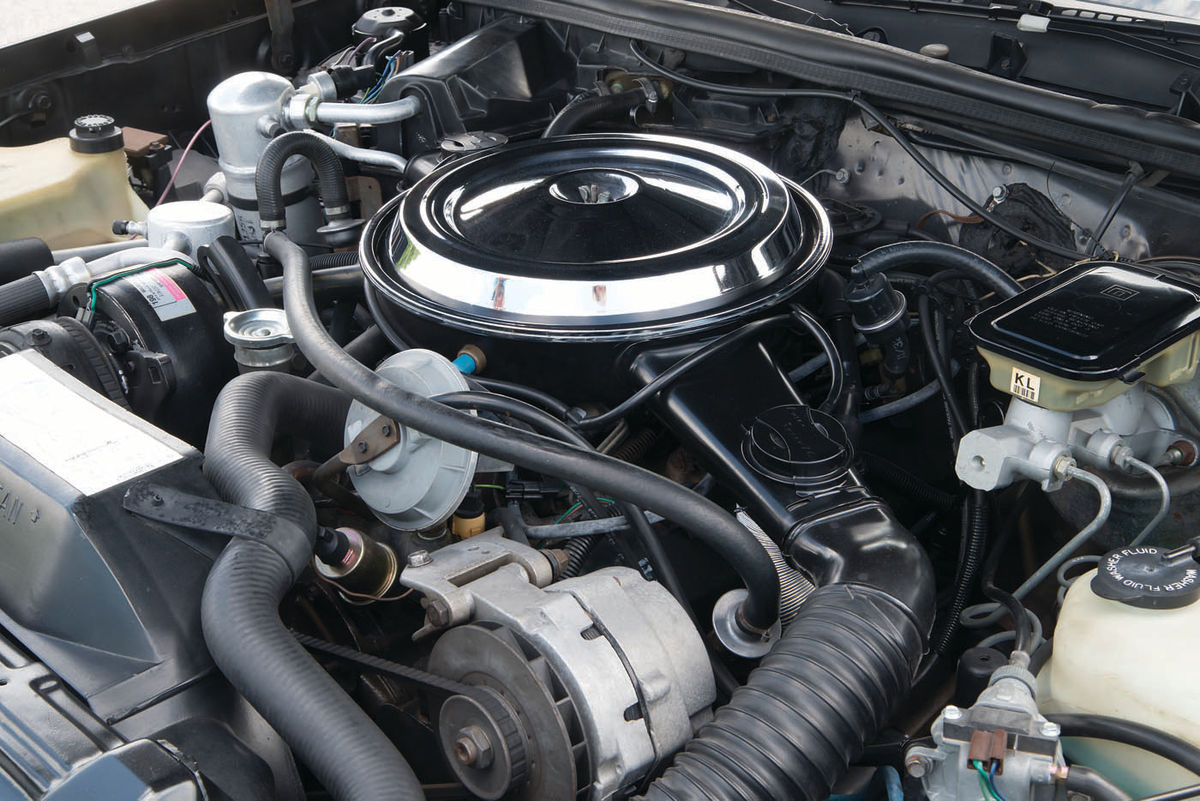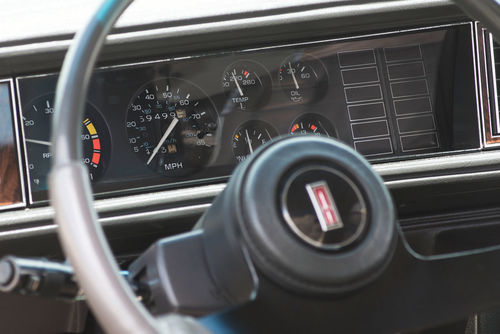 "The hood was fine," Cali said, "but I ended up having to get it repainted. My buddy had said 'the edges, wetsand that spot and it'll be gone.' Well, I wet-sanded right through to the primer. I called him and said 'when can you paint the hood?' That's the only reason that got repainted...I was devastated."
ome minor—but odd—damage eventually needed to be addressed, too.
"The driver's side quarter panel was repainted the year before last," Cali said, "because that had some dents from the inside. Something had rolled around in the trunk. There were two 'out' dents in the quarter panel since the day I had the car and they never bothered me. Just all of a sudden, they started to rust. That had to get taken care of.
"Then I ended up having to paint a little bit of the bumper cover in the back because it got some overspray."
The spoiler was repainted early after he replaced the ends, he said, but now needs to be done again. Making the factory radio work meant repairing damage to the dashboard harness caused by poor installation of an aftermarket stereo, and Cali replaced the broken power antenna.
Overall, a Very Sound Car
Mechanically, he said, the Olds has had no serious problems.
"The water pump went," he said, "the most difficult thing to get at on the car."
The intake gaskets were replaced after a trickle of coolant was noticed while the front end was being aligned. That was not long after Cali bought the car and the gaskets would indirectly come back to haunt him, but having the carburetor rebuilt went smoothly once he found another to provide replacement parts. He installed new rear air shocks because it was time to do so and new front springs for about the same reason. Beyond that, the work has been mostly serious maintenance, such as changing belts and hoses.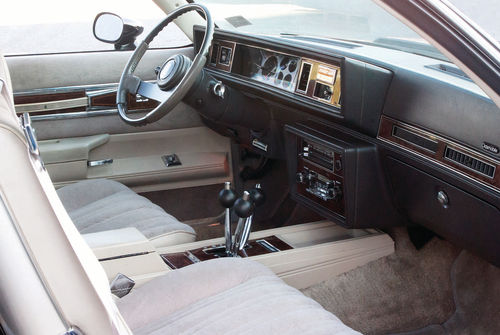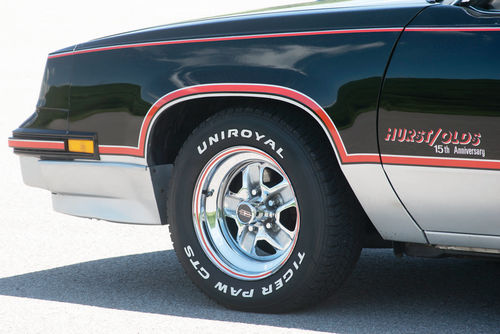 "I just made sure the fluids were fresh," Cali explained, "and I changed all the rubber components, vacuum lines. It took me a while."
Noises that seemed to indicate it was time to replace the rear brake shoes were eliminated with cleaning. A new cruise control transducer was necessary, as were several speedometer cables.
With so few problems, it's not surprising that Cali drove the Hurst to Lansing, Michigan, for an Oldsmobile meet in the company's hometown. During an entire day of driving interrupted only by stops for gas and restrooms, one issue that surfaced along the way proved to be both unexpected and easily corrected.
"I was getting a 'check engine' light," Cali said, "and then it would go off and then it would come back on and then it would go off. I had no idea what was wrong but it was running a little funny."
After a stop to buy spark plugs and wires, he was about to install them when he bumped the distributor and it moved freely.
"I was like 'what the…'" he recalled. "I got my tools, I adjusted it to where I thought it needed to be, I tightened it down and it was fine for the rest of the trip. I had a bagful of parts that I never used."
The cause was clear, he said, as the distributor had not been tightened when he'd had the intake gaskets replaced, but dealing with it on the road didn't change what was otherwise a generally good trip. Cali said the seats have limited lumbar support and by the day's end, he was feeling the results. Even with their shades, he said, the T-tops let heat into the car and after the first gas stop, he switched from open windows to air conditioning.
Those Roofs Are Known to Leak
But what about those T-tops? In their day, owners were used to being asked whether they leaked. The feature car's tops don't, at least now, but Cali said that one leaked when he bought the car.
A friend with long experience in bodywork dealt with a small amount of rust and then reinstalled the gasket, but eventually both tops' gaskets were replaced. Cali saw the need while waiting out a storm during a cruise. Water began dripping onto his leg, he said, and onto the passenger seat.
"I had never done it before," he said of that type of gasket replacement, "so it was a learning curve. But I think if you've done it a couple of times, it's nothing. You've got to basically dive in. When it's time to put the gasket in, you've got to put the adhesive on it and just stick it in. You've got as much time as it takes for the glue to dry to work with it, so if it needs to shift in the channel at all or whatever, you're really only getting one crack, one time, to do it.
"I had started with the adhesive you're supposed to use and it was making a mess. It just wouldn't stick anywhere. I'm trying to put it in and gravity's pulling it all back off. I don't know why, but I have an affinity for RTV (room temperature vulcanization silicone adhesive sealant). It just does what I need it to do, so I got a tube of the RTV that I had and I put it in there. You can pull it back apart if you need to, but that's what I used in the channels."
The gaskets were apparently made to allow for shrinkage, he said, and that presented the challenge of fitting them, but there was more.
"Getting the window to fit into the new gasket channel was probably the biggest challenge," Cali said. "You pull the door panel off and get in there and adjust the track, so the window is at the right angle. The door panel coming off was the worst part (because of) the covers for the screw holes, I couldn't get it. You need something paper-thin to slide in there and pop the clip off and it's still got to be strong enough to get in there and do it. I ended up mangling it just getting it off."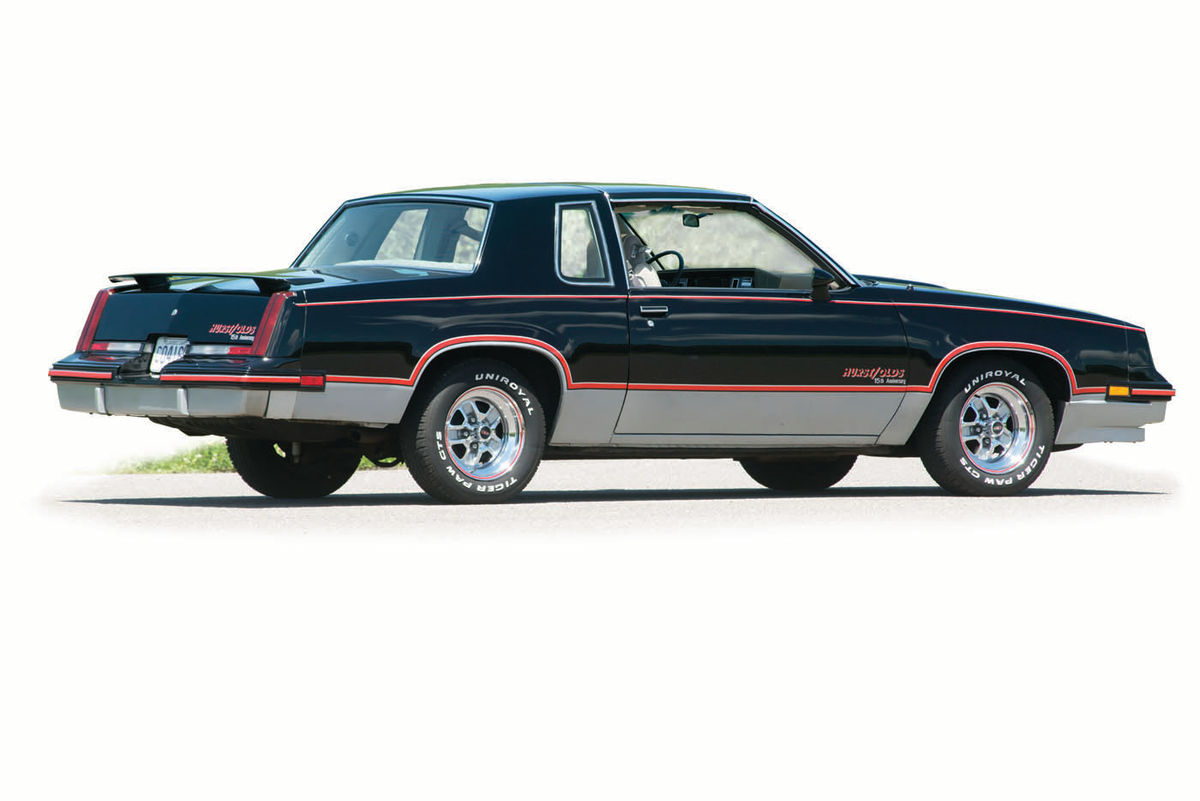 He found replacement covers, and the entire gasket struggle paid off.
"Any time I went to a show," he confessed, "I would always take one T-top off because it never fails that there's another car at the show that has T-tops and it's always disgusting in the channel area... I was thinking 'yours looks like crap and mine doesn't.'"
The T-tops' potential problems are an important consideration when thinking about a Hurst/Olds and Cali said to check carefully for rust along the channels, particularly at the windshield corners. Sunroof cars don't have comparable problems, he said, apparently because they seal more effectively.
Where the Rust Collects
"The biggest thing on those cars is the frame rails," Cali said, "behind the rear wheels. All the dirt gets kicked up into the body mount holes and it just continues to pack in there and the frame rots from the inside out. It's not that bad (to wash out) if you do it all the time. As a matter of fact, on my first Cutlass I was aware of that. I stuck the hose in there to clean it out and it was packed, caked with mud and whatever. I couldn't believe it.
"And the doors, the bottoms of the doors rust. I haven't seen the rockers rust too badly on those cars."
The edges of the wheelwells and of the fenders are rust areas, but he said the heavy plastic inner fenders work well to protect the rest of the sheet metal.
Some Parts are Scarce
Completeness, though, is as important as overall condition and while it's difficult to think of an impossible-to-find mechanical part for a Cutlass, the unique Hurst/Olds items might be another matter.
"Stuff can be hard to find," Cali said. "I haven't had to look for a lot of stuff. It was pretty complete. The only things I can think of offhand that were missing were those end caps for the wing. Apparently, there are supposed to be caps on the underside of the trunklid for where those holes were drilled. There are caps that go in there and they fall out. I don't have them. They're rubber, but they must just shrink and fall out."
Folks Mistake It for Another Car
With everything Hurst/Olds-specific in place, the car is noticeable but unfamiliar to many who see it. He gave the example of others at a gas station while he's filling the tank.
"Are they going to know what it is?" he asked. "Probably not. But if there's a lot of people there, I'll definitely get a couple who look at it; watch me drive in and out. I might get somebody to say 'hey, nice car.'"
Cali said that even at shows and cruises, few identify it correctly and not just because they confuse it with a similar Grand Prix or Monte Carlo.
"The common story that I used to get all the time was 'my grandmother had a car like this,'" he said. 'My grandfather had a car like this.'
"'No, he didn't. My grandmother had a Cordoba. That's the kind of car your grandparents had.'"
Here's Where the "Hurst" Comes In
Those hypothetical grandparents probably would've liked the H/O, as it's an easy driver and doesn't feel very different from a modern car. The Lightning Rod shifters can seem intimidating, but Olds' oversimplified explanation is that they "provide one stick/one gear control over the forward gears, enabling upshift/ downshift precision found heretofore only in real racing vehicles." Without digging in too deeply, the main shifter at left covers Drive, Overdrive, Neutral, Reverse and Park as expected and is the only one truly necessary. For upshifting from a dead start, it's placed in Drive and the far right shifter is next moved forward to make the 1-2 shift. Then the center shifter is moved forward to make the 2-D shift and since it's a fourth-gear-overdrive transmission, the final step is to move the main shifter to OD. Downshifting is the opposite sequence and every move—up or down—requires the driver to push the shifter's thumb button.
Again, most of that's optional, so driving the H/O is straightforward. It's also interesting, as it's from that era when muscle cars were long gone and today's performance cars were doodles in the high school notebooks of those who would later design them.
A Sign of Changing Times
No one expected the H/O to breathe fire and it didn't, but it's adequately fast at the very least, a trait illustrated when Cali chose to push it. It wasn't the acceleration of a 4-4-2 from the golden age, but the Hurst/Olds sits on the timeline at the point where performance was returning.
After we switched seats, I drove it exit-to-exit on a four-lane and then several miles back to where I'd left my Oldsmobile. I didn't stomp on it because it's not my car and I didn't explore the Lightning Rods because the last time I did so suggested that it's no fun unless you're stomping on it, but I did press down enough to show that in 1983, it was one of those cars that provided reason for hope. The stumbling and wheezing common in the early emissions-controls years are absent as are the point-andhope steering and handling that had been acceptable as recently as the late 1960s. That this drive was at (mostly) legal speeds on the road translates well to the real world where most cars are driven anyway.
"Early on when I had the car," Cali recalled, "I would just take the opportunity on a hot summer night or whatever to take a ride down Wyoming Avenue, go over the bridge; come back. I used to do that a lot.
"I don't do it as much anymore, only because I don't have the time."