Recent Articles Have Brought Reader Comments on Service Stations They Have Known, Their Thoughts on Picking a Car's Color and a Discussion of When a Vehicle Attains "Classic" Status.
You Brought Back Some Gas Station Memories
Good morning Ted, Just read your October Rearview Mirror "Paying Tribute To a Place We Miss" (about the demise of the neighborhood service station). Your article sure brought back good memories of my hometown of Benton, Missouri, and Curly Urhahn's Sinclair Service Station. This would have been around 1960-70.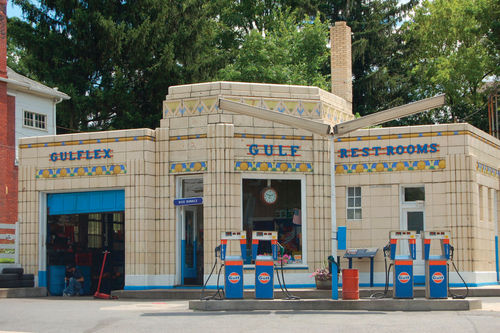 By the way, this service station was located next to old US 61, which ran through Benton, and I-55 was not even thought of until the late '60s. So this was a busy road and a lot of traffic would go through our little town of about 600.
My friend and next-door neighbor Howie and I would ride our (20") bicycles up to Curly's to get a drink of water out of the water fountain. It seemed a challenge then to reach the fountain for a cold drink.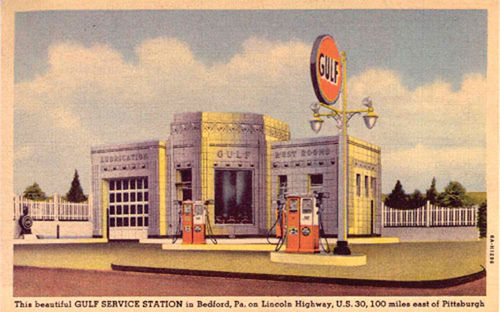 It was always a neat thing to ring the bell at the gas pumps as we rode our bicycles over the small hose that stretched across the driveway next to the pumps. As it would go "ding-ding" it would signal the station attendant that there was a car or truck pulling in for a fill-up of Ethel or Regular gas. Of course, this was with the full service we do not see today.
Anyway, we tried not to ring it too much or we would get in trouble with Curly or his brother Albert who ran the service station together.
It was mesmerizing to watch a car be put up on the rack (hydraulic lift) for service. Howie and I could spend hours as long as we stayed out of the way so Curly and Albert could do their magic on the vehicles that would be in the service bays. It was just your typical two-bay shop with an office to the left and several gas pumps out front.
When Curly and Albert had time they would show us what they were doing on the cars, be it an oil change or some mechanical repair or even a flat repair. These were valuable lessons that planted a seed and sparked an interest in anything automotive.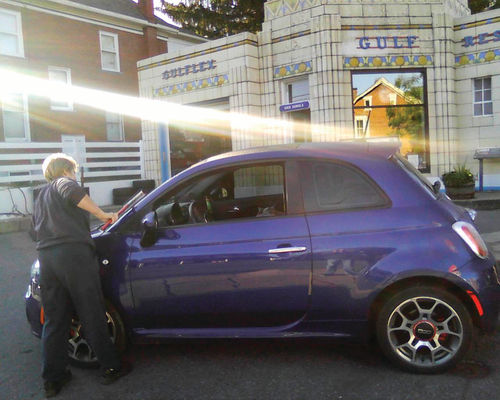 It was always neat to see when a car or truck would come up for gas and hear either Curly or Albert ask the customer, "Filler up?" Then they would pump the gas and clean the windshield, check the oil, and if the customer wanted his tires checked they would do that too. The customer would not even have to get out of his vehicle to pay; they would hand Curly or Albert the money for the gas. What a concept. That was an era of days gone by, now all we do is go to the pump, insert the credit card and pump away and never have any contact with any person unless you need something at the attendant's booth.
Ironically, my old classmate Howie along with his son now owns that old Sinclair Service Station and is using it as an auto repair shop. The gas pumps have since been removed, but the building is pretty much the same as it was back in the day. Howie has added additional shop space in the back.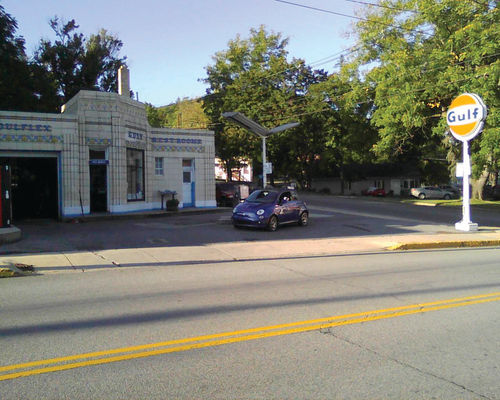 So when I go back to my hometown once in a blue moon, I stop by and see my old classmate Howie and reminisce about old times when he and I as kids would spend a lot of time watching the workings of a small town service station.
I always look forward to reading each issue and the first thing I do is turn the cover page over and read the Rearview Mirror. Keep up the good work.
By the way, I usually learn something new or get some good ideas that can help me with my projects on my toys.
Robert Nebel Clarksville, Tennessee
Hi Ted,
Here's a little Americana for you regarding service stations.
I did a little family history search in Bedford, Pennsylvania, and saw the Dunkle's vintage Gulf station.
I had to stop there but I regret the car I was driving only had a 10-gallon tank. It was a small sale for so much honest work.
Ms. Dunkle pumped the gas and washed the windshield. All for the same price as other stations in the area charge for self-serve.
It's a byway treasure along the Lincoln Hwy—US 30.
Bob Swartz Waterford, Michigan
Editor's note: Dunkle's Gulf station at 300 E. Pitt St. in Bedford was opened in 1933 by Dick Dunkle and has been in the family since then. It's one of the few remaining art deco gas stations in the country and still does repair work along with pumping gas. The station originally was designed as a showplace for Gulf between Pittsburgh and Philadelphia on the Lincoln Highway, a transcontinental road that was dedicated in 1913 and runs between New York City and San Francisco. People are known to go out of their way to visit the station or as one traveler put it, "We practically coasted into town on fumes just so we could fill up at the prettiest art deco gas station I know of…"
Hi Ted
You have gotten me reminiscing when I read the nostalgic story about gas stations. Yes, I worked in one when I was a senior in high school in the 1950s.
The station was named the Triangle Service Station, as it was located on a parcel shaped like a triangle with traffic going all around it. There were six gas pumps as I recall. Three sets of one for regular gas; the other for ethyl. That is exactly how we asked customers for their preference, "regular or ethyl, sir or ma'am?"
Well, we would crank the handle to clear the previous sale numbers. Then lift the hose off the lever-switch and then lift the lever-switch to turn on the pump. Inserting the nozzle at the gas tank filler, we would have to watch the flow. The nozzle did not shut off automatically like current ones. We normally could see the top of the tank filler and stop the flow. We could watch the spinner-bubble, too, on top of the pump housing. Hanging up the hose would automatically shut down the lever-switch and stop the pump. The sale and the gallons would now show on the mechanically-driven numbers. At times I would just cringe when a big Buick or Lincoln would fill up completely for as much as $6! Thirty cents per gallon for ethyl! We would then ask to check the oil level, check the battery, and the air in the tires. Of course, we would wash the windshield.
We attendants would ask "cash or charge," meaning did the customer have a charge account with the station. There were few credit cards then. Normally it was cash. We would take the money and make change at the cash box right there at the pumps. After giving the customer their change along with Green Stamps and a ticket for a chance to win the new car out front on a scaffold, we said goodbye and thank you. I had a great station owner who really treated us high school guys right.
Three of us employed there were buddies from the same school. Sometimes all three of us would wait on a single customer pumping gas and giving service. If a girl drove in, yes, all three of us would go out to wait on her and we three had to rotate times when we washed the windshield so we could look at the girl driver through the glass!
Please note that this was a SERVICE station in name and performance for the customer. There was no store. But a grease rack, yes.
Don Cunningham Ceres, California
Remember the days of old when gasoline contained lead? In the year 1975 new cars were required to use unleaded gasoline because of the mandatory introduction of the catalytic converter that would be damaged by lead. But the lead in the gasoline raised the octane and acted as a lubricant for the valves in our older engines.
I remember in 1973 and 1974 the gas pumps noted that the fuel had been switched to "low lead." Then in the year 2005 here in Pennsylvania we went to an unleaded 10 percent ethanol blend.
Thank heavens we can put additives in our fuel.
Carl Ney, Jr. Ashland, Pennsylvania
Picking a Car's Color
Enjoyed the September Rearview Mirror regarding the selection of a car's color. My wife and I own a '54 Chrysler New Yorker that we especially enjoy during the show season.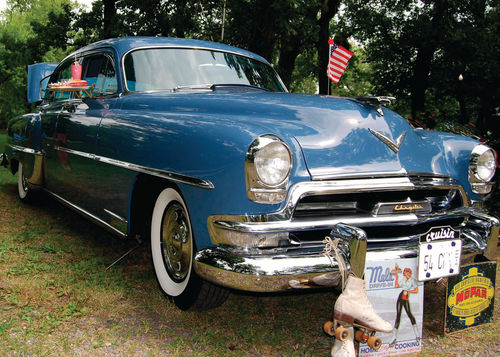 The car itself is one that is not often seen at shows and many folks are surprised to see it. But what we hear more than that is "Look at that color."
The car is an original Chrysler color from 1954 called "Flagship Blue." The color seems to change depending on lighting conditions… at times it looks blue and at others it takes on a grayish tone. The color fits the car very well.
We have had the car for about five years now. It was painted somewhere in New Jersey or Pennsylvania before being brought to the Chicago area through an estate sale.
The car had led a sheltered life as there are no signs of it ever having rusted, the factory undercoating is still intact and the spare tire well still had paint in it!
We bought the car with 26,200 on the clock, a few weeks ago it rolled to 34,000 and it is running strong. We would love to know her history but so far have had no luck in contacting prior owners or caretakers.
Thanks for the great publication.
Thomas Florek Via email
I just finished reading your September Rearview Mirror column ("Who—or What—Really Picks the Color?").
I agree the car or project personality should dictate the color of the vehicle and the general theme and direction that is taken.
My own experience is with a 1950 Ford woody station wagon. I acquired the car after it was in a building fire. It came without a motor or transmission and had been poorly street rodded (photo below).
I am a retired autobody shop owner and have always wanted to do a restoration or restomod. This project is perfect as a restomod street rod.
Your readers may gasp at that thought but the car to me was not restorable but it was asking to be a restomod surfermobile.
I have spent three years undoing what someone else has done and I am doing the build to give the car some dignity. The plan is to upgrade the suspension and powertrain and keep everything pure Ford as much as possible.
I am most likely going to paint the car a ford color, Dark Copper code M133A PPG 9062957. This color or one very close to that looks good with the brown mahogany on the wood kit and tan accents on the interior garnish moldings and upholstery. This is a couple of years away at this time.
I hope to live long enough to finish the project, but if I don't, it will have been an enjoyable and extremely interesting journey.
John Briar Via email
You Answered Your Own Question Regarding "Classics"
Hello Trusty Editor,
Regarding your Editor's note at the beginning of the October article titled, "When does a car become a classic?" It seems to me you may have answered that question just by looking at the wonderful variety in this very issue!
Just look at the cross-section of vehicles covered: A 1948 Ford F-5 Truck, 1955 Ford F-100, 1987 El Camino, 1964 Holman-Moody Ford, 1962 Rolls-Royce, 1963 split-window Vette, 1969 Nova, 1970 Plymouth Superbird, 1987 Buick Park Avenue, 1976 Triumph Spitfire, 1983 HurstOlds. And, finally, the subject of the above-mentioned article, a 2007 Chrysler Crossfire. To each owner, each one is a "classic."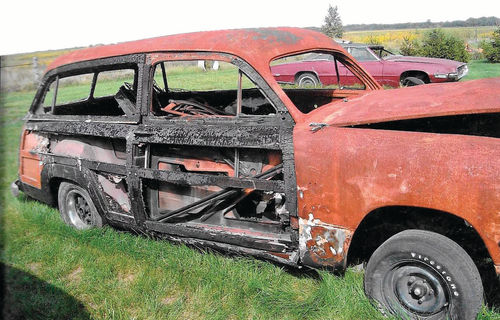 I happen to mostly be an Alfa Romeo guy, but over the years I've touched almost all the American brands, several British, German and several Italian. All different years. My Dad grew up driving a daily driver...V12 Packard! My earliest daily driver was a red 1950 Chevy convertible in late (1962) high school. Most all of these "classics" are cars that we dreamed of in our youth, and finally had the time/situation/ funds to acquire as we aged.
I hope that one thing we keep in mind is today's youth and that they likely consider a 2007 Crossfire as something to dream of, but not practical when raising families... Give them time; the 2007 Crossfires of the world and many others that "came out of the box as a classic" will someday hold that same thrill...
I'd bet good money that all, all, all, the readers of your excellent magazine couldn't walk by any of the "classics" in this issue without a smile forming...
Dave Beach Wilsonville, Oregon
Editor's note: That's Dave pictured with his classic 1957 Chevy in a photo taken in the late '60s.
Let Me Show You a Stock Vintage Bronco
I really enjoy reading your magazine each month, but when I saw your September article on "new" vintage vehicles I noticed your photo of a Bronco showed a vehicle that was modified and not like the other vehicles in the article. That Bronco had been lifted and had front and rear fenders cut and fender flares added.
My wife and I spent a number of years rebuilding a 1970 Bronco and went with the original look that made them so popular in the '60s and '70s. I have included a picture of ours so your readers can see what the Bronco originally looked like. This vehicle came from Michigan so we had to replace almost every piece of sheet metal, but at least the frame was solid with no rust.
Since I keep the top off I drive it during the summer months. We visit car shows and cruise around the neighborhood on weekends. It's fun to drive… I had a '68 many, many years ago when these vehicles weren't outrageously expensive and I felt it was time to re-visit my youth. Also, I worked on a ranch for a number of years and my vehicle back then was a '66 Bronco Roadster (as I recall, the pink slip was dated September 1965). If I knew then what I know now, I would have taken better care of that one and even tried to purchase it!
Jeff Leeds Lancaster, California
My Thoughts on Degreeing a Cam
I want to offer up a couple comments and maybe some resource suggestions regarding the ongoing discussion of the Mechanic on Duty item, "How do I degree a cam?"
Certainly as the MOD advised it is not necessary to degree a cam. And deviating from the stock setting for your cam to gain performance means you are willing to give up some other factors like: your fuel economy, idle quality, easy starting and smooth running. Also, it would be counterproductive to try to accommodate any unknown "machining variances" since all decent cam builders have addressed this very thoroughly. And unique to valvetrains, since valve lash is adjusted (automatically so for hydraulic lifters) to a fixed amount, the only tolerance stack of concern is within the machining of the cam itself and as noted, that's tightly controlled by the cam manufacturer.
Here are a couple of other suggestions to consider:
• The specification sheet (some call it a "cam card") that came with your cam is the bible for that cam. Believe it completely. Use it with total confidence.
• If you do degree your cam/engine be sure to establish the rotational locations of the cam specified by the manufacturer. These are a must in determining the cam's timing. Usually the points are specified at 0.050" of initial/opening lobe lift and 0.050" of lobe lift before valve close and sometimes, "lobe center." Rather than belabor everybody with my own howto details, this is a good time to offer some excellent references easily found on the web, also possibly as part of the instructions that came with your cam, or likely by way of a simple phone call request to a cam manufacturer. Here they are in no particular order and no recommendation implied:
Comp Cams instructions:
http://www.cpgnation.com/forum/ threads/comp-cams-quick-tech-videohow-todegree-your-comp-cams-camshaft.7553/
Lunati instructions:
Isky Racing Cams: by far the most complete and detailed description.
http://www.iskycams.com/cam-degreeing.html
• Next item is one of preventing troubles. If you have hydraulic lifters and the valve train is complete so that the springs are loading the valve and linkage, beware of a soft lifter. A tiny air bubble in a lifter (likely occurring in a new lifter or one that's been unused or run for a while) will definitely make the valve lift reading inaccurate since the air is compressible. It's best to thoroughly bench bleed the lifter/s (keep it vertical, submerge it in clean engine oil and depress the pushrod seat down several times until it becomes "solid" to all the hand/arm pressure you can apply). And I'd definitely recommend that you remove the stock valve spring and replace it during the degree checking process with a very soft spring (one from a hardware store would be fine) that will simply take up all of the lash in the system but not place much load on the lifter. Doing both techniques would definitely be an "ounce of prevention" that pays off.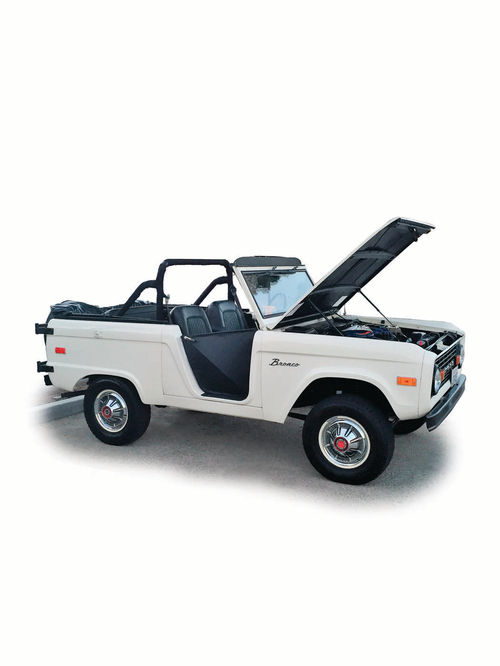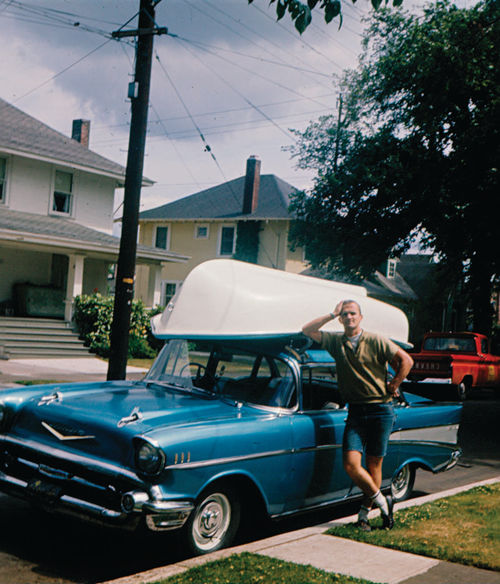 • Two more possible problem areas: First, if the cam is to be adjusted, make note of its drive arrangement. If it's a chain (like most "V" engines are likely to be) or belt drive, turning the cam in the direction of crank rotation will advance it; if it's a direct two-gear drive like many in-line engines, turning the cam in crank rotation direction will retard it. In other, simpler words, moving the cam in THE CAM direction of rotation will advance it, always.
Second, most cam manufacturers have such devices as off-set keys, crank sprockets with multiple key slots providing a selection of advance/retard settings, and even off-set cam timing dowels (these permit you to use the existing hole in the cam sprocket/gear without drilling it out). Use these and do not try to drill out and bush the hole. There is no way even machine tools in a home shop can match the hard tooling cam manufacturers use in conjunction with their in-process and post-process gauging. You will do more damage than good, guaranteed. There has been too much blood, sweat and tears invested in dimensional control of cams over the years to leave this to chance. So have at it, if you wish. It should be an enjoyable and rewarding experience. Plus any deep dive into the tutorials from the cam makers will provide a tremendous wealth of information. Aren't those some of the reasons we play with cars and read Auto Restorer magazine? Fun, experience and learning. Each day in the shop or on the road is a treasure!
Bob Swartz Waterford, Michigan