1964 Rambler Classic 770 Typhoon
The Car Seemed Good Enough for a 1300-Mile Drive to Its New Home. But Then There Were Those "Toot-Toot Grind-Crunch" Shifting Noises.
IN THE MARCH issue Carl wrote about how he had installed an electric fuel pump to augment the mechanical pump on his 1964 Typhoon and we asked him to tell us more about his uncommon Rambler. Here's his story:
I have owned 46 cars…usually three of them at a time. Not all of these cars were vintage vehicles but there are only four on my list that I bought new. Most were daily drivers, old or not. I currently own and operate three cars. Two are young vehicles, but my third car was 50 years old in April, a 1964 Rambler Classic 770 Typhoon and the subject of this story.
For me, this car provides a delightful journey back to the time when I first learned to drive.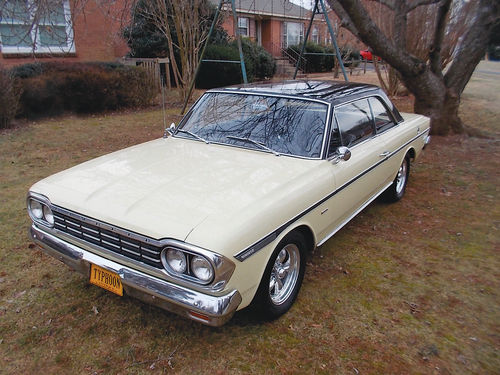 Nash Lineage
My father, his brother and their father were all Nash men. With strong affection and pleasant memories of Nashes, my brother Brian and I each have owned a '50s-era Nash as well. But by 1958 Nash had become American Motors Corporation (AMC) and, sadly, AMC Chairman George Romney (Mitt's father) terminated the proud 40-year-old Nash marque, but retained the equally venerable Rambler which dated from 1902.
By 1964, when I earned my first driver's license, my parents owned two Ramblers, a 1959 Rambler American with a 3-speed and a 196 CID flathead 6, and a beautiful new 1963 Rambler Classic 660 Cross Country with a 3-speed overdrive and a 196 OHV 6, which I acquired in 1968 from my father on the condition that I sell my 1959 Thames Freighter (an English Ford van) with the psychedelic paisley paint job. I was happy to comply as the near-new Rambler seemed like a luxury car to me at the time. My friends and I put a lot of joyful miles on that 660 and I also learned much about maintenance and repairs doing my own work on that wagon.
Rambler…and Volvo Memories
Of all the cars in my past, I particularly miss that vehicle. It was a fine driving, reliable, and practical car. In my opinion, the 6-cylinder cars were the quintessence of Ramblers. They handled better than the nose-heavy V-8 equipped cars and were far more economical, resulting in a Rambler reputation for frugality and value.
My admiration for Ramblers never went away over the years. I did have a very marvelous 1961 Cross Country, again with a 6 and overdrive in 1973, and a very fine 1951 Nash Statesman overdrive, but then I drifted away from American cars and became a European car devotee.
In fact, I've owned 15 Volvos; most were station wagons, which I call "Swedish Ramblers." Volvos of the day were fitted with Dana solid rear axles, full coil springs, dual circuit brake systems, an extremely strong unibody passenger cage, and, most especially, a rugged economy, coupled with good handling, that were all Rambler features.
But since Volvo transitioned to front wheel drive by 1998, and had moved upscale, I have lost interest in "new" Volvos. My daughter and I still run a 1986 Volvo 245 in SCCA SOLO II autocross events. "Buster," as the wagon is named, is so rugged and durable, despite all the abuse hurled at him, that his engine and transmission have never been apart at 270,000 miles. But Buster's is another story.
Along with old Volvos, I continually browse and consider old Nash's and Ramblers for sale. I found the Typhoon on the AMC Rambler Club website, which is a very well-run site.
A Typhoon? Never heard of it!
The special edition Typhoon appeared late in the 1964 model year (April) as a limited production (2520 units) two-door hardtop that served to introduce AMC's newest engine, a 7 main bearing, oversquare, in-line, thin-wall, cast iron six of 232 cubic inches.
All were Solar Yellow with a Classic Black roof and a black vinyl bucket seat interior with a center console. They also carry a script "Typhoon" in place of the usual "Classic" on the rear quarters, a special paint treatment on the grille, a "Typhoon 6" dash badge, and a "232 SIX" emblem on the front fender. Other than color, body type and engine, a Typhoon could have any transmission or options that any Classic 770 could have.
The ad on the AMCRC website had attractive pictures and said the car was located in Hays, Kansas. For several months I kept peeking at the ad to see if the car had sold. I held back because it was quite expensive as Ramblers go.
But then I finally plucked up the courage to call the owner. He said the car was still available and encouraged me to make an offer. He also described the rare car in glowing terms that piqued my interest: no mechanical problems, no rust, good running order, etc. After some deliberation, I made an offer on the car that was accepted.
Do-It-Yourself Car Shipping
I began looking for a shipper and was frustrated. I was not able to get a ballpark pickup or delivery date. The shippers all said that Hays was off the beaten track and they had no idea when a trucker would bid on the delivery. I had bad experiences on the two previous occasions when I had cars shipped, so I finally decided to fly back to Hays and drive the car the 1300 miles to my home in Virginia.
While the seller was a bit hesitant to embrace this idea, he said there was no particular reason why the car would not make the drive. I know it is not normal to buy a car sight unseen, jump in it, and drive halfway across the U.S. But I had just retired and was looking for a car adventure. I had high confidence that I could fix the car on the road. Worse case, I could rent a U-Haul truck and dolly and continue the trip.
My high school buddy, Bill, who also knows and appreciates Ramblers, flew east from Riverside, California, and I flew west from Charlottesville and we met up at the Hays Regional Airport.
The flight into Hays from Denver was made in a tiny six-seat Beechcraft. I could see the pilot's instruments from where I sat. It was certainly an unusual flying experience.
Bill had landed earlier and picked me up in a rental car for the drive "downtown" to see the Typhoon. The weather was perfect in this lovely little prairie town.
A Well-Preserved Example
The hardtop beauty looked as good in person as it did in the photos. The Solar Yellow had been nicely repainted and the Classic Black roof was original. The exterior trim was all excellent and the bumpers were very well cared for.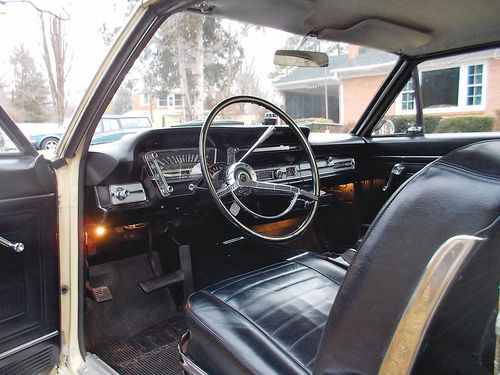 It had the correct grille with the special black-out treatment of some of the slats, and the engine was the correct block that was used only in the Typhoon and is stamped 60 5 L 14 which I believe means that it is a Typhoon engine and was assembled on May 14th.
The engine idled smoothly and quietly. The odometer showed 72,000 miles, and looking at the condition of the car, it was hard to believe it had driven that far. A quick look underneath showed it to be generally rust-free as well, and it sported a set of new tires. The original interior was in very good condition. The trunk was clean and equipped with a spare tire and jack. So far; so good.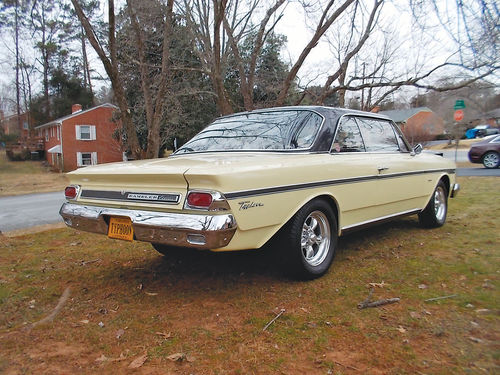 Now For a Drive
I'd forgotten what non-power steering was like on American cars in the 1960s. It took a lot of elbow bending when driving around and around in the neighborhood. The non-power brakes seemed to be good. But uh-oh, what was that noise from under the car that sounds like metal grinding mixed with a steam whistle every time the Borg Warner type 35 Flash O-Matic did an upshift? The engine was misfiring as well.
At this point I could have opted out. The owner was a very nice chap and gave me that choice. But I had an emotional investment that exceeded even the plane fares and was determined to head for Virginia in my new old car.Aside from the toot-toot-grind-crunch noises and shudder during shifts, the car seemed to go down the road OK once it was in top gear.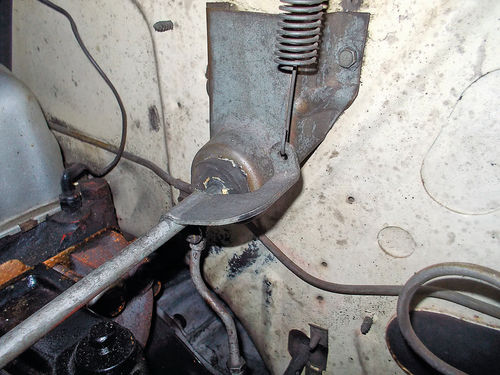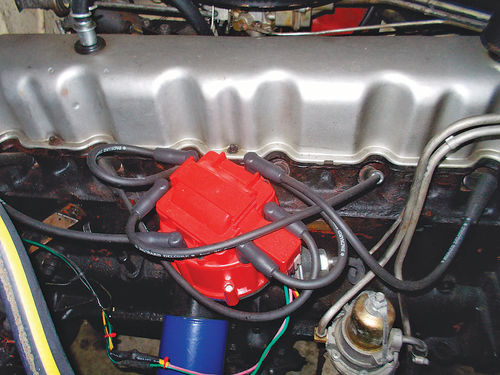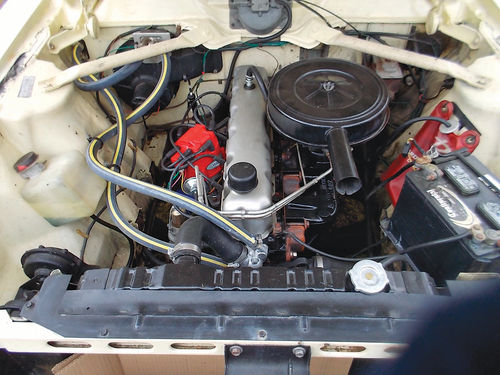 Virginia or Bust
On the way to the hotel we found the engine did not warm up properly. It was April and still chilly, so we stopped at a liquor store to get some cardboard to put in front of the radiator. By blocking off 2 ⁄3 of the opening we were able to get the gauge up into the normal zone. We filled the tank with premium fuel and the next morning at dawn we hit I-70 eastbound.
Now I know a six-cylinder Rambler is no muscle car, but this Typhoon (a mature tropical cyclone) was more like a zephyr (a light west wind). At the first rest stop we looked at the throttle linkage and found a large part of the problem. Mashing the pedal would not open the throttle even halfway.
Rambler used a big rubber grommet as a pivot point to isolate engine noise from the body. The rubber had deteriorated allowing the linkage shaft to flop instead of rotate. We jury-rigged an improvised pivot with electrical wire we had brought along, lubricated with oil from the dipstick. Now we found we could maintain 75 mph in spite of the bad ignition misfire.
We drove all the way to Belleville, Illinois, that first day with no additional problems. One more stop in Lexington, Kentucky, to see my cousin Laura and by the third evening we were back in Charlottesville. We had perfect weather and beautiful scenery the whole way. The Weather Eye heater kept us warm and the car tracked straight and true. Aside from the continuing misfire, the Rambler delivered 18 mpg at 75 mph and drove the distance without any other problems. There were lots of waves and toots from the folks along the roads. I only wish we had each worn a fedora and a ("Mad Men Don Draper") suit with a narrow lapel and tie.
1964 Rambler Typhoon
ENGINE
Type Overhead-valve, 7 main bearing in-line 6
Displacement 232 cu. in.
Bore x stroke 3.75 in. x 3.50 in.
Compression ratio (:1) 8.5
Power 145 hp @ 4300 rpm
Torque 215 lb.-ft. @ 1600 rpm
DRIVETRAIN
Transmission BW type 35 3-speed automatic
Final drive ratio (:1) 3.15
BRAKES
Brakes Drum/drum, tandem master cylinder
MEASUREMENTS
Wheelbase 112 in.
Length 190 in.
Width 71.32 in.
Weight 2990 lb.
Tire size 6.50 x 14
Now For Some Fixin'
At home with my tools, I immediately started to address some of the problems. The first was the throttle linkage. I found that a rubber bushing used as a vibration isolator on Volvo 240 accessory brackets was a perfect replacement for the throttle grommet/pivot. These have a steel sleeve in them with a hole the same size as the flopping shaft. I "turned" the outside of the bushing down a little in my drill press until it was a squeeze fit in the Rambler's grommet hole.
With the throttle now opening all the way, the engine misfire was next. I installed a new set of points and condenser but when I checked the dwell with my meter, it was jumping all over. It turned out that the distributor shaft was loose enough to wobble and cause a real problem. The Typhoon engine, the AMC 232, as well as the 219, the 258 and eventually the 4.0-liter engine, were all used in Jeep vehicles up through 2006. Well over three million of these engines were built over 42 years.
Through CRT Performance, I found a complete new (imported) HEI (High Energy Ignition) distributor for half the price of the original points and coil type. So I resolved that I would install the HEI unit and rebuild the original at some later date. The HEI required fatter plug wires and allowed a larger spark gap in the plugs. The car is extraordinarily smooth now and fires instantly, even when cold.
Opening the cooling system showed that there was a thermostat installed, marked 185 degrees. I replaced it with a new one of 195 degrees. I also flushed that whole system while it was open. The radiator had been weeping a tiny bit on the drive, but not enough that we ever added any coolant. I took it to a radiator shop and they said it would cost $700 to repair and that with a new core they could not guarantee that the 50-year-old tanks would hold up. I could not find a new radiator for the 1964 Rambler, but I could buy an inexpensive import from NAPA that fit a 1978 AMC Matador that was the same dimensions, spout size and locations, and bolted right in. The difference was that the Matador unit necessitated an overflow system and tank which the Typhoon did not use originally. Oddly, an overflow tank had already been installed so by adding a new 13 psi cap designed for the Matador radiator, this Typhoon should have been good to go. Not so. After all this, the engine still does not warm up and the cardboard remains.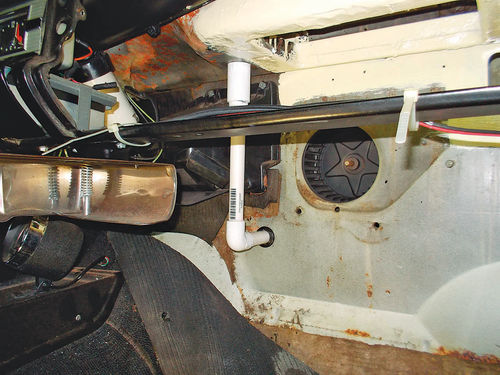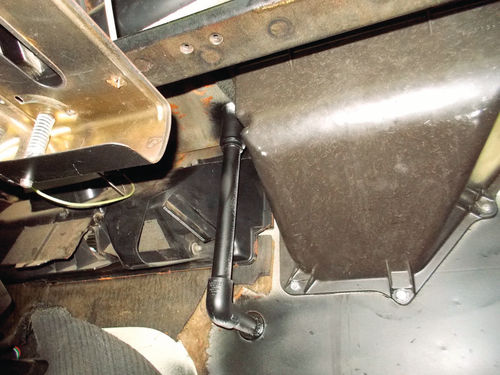 Time Behind the Wheel Led to More Repairs
I began driving the Rambler again around Charlottesville but of course it bothered me that the transmission was making noises when shifting. Also, there was too much noise from the exhaust. I opted to have these two things repaired by specialists. The Charlottesville AAMCO Transmission shop performed a complete rebuild on the Borg-Warner transmission and after I replaced the cracked exhaust manifold with a new one from 1A Auto, I had Meineke install a proper muffler replacing the noisy glass pack with dual tailpipes.
After finding the car needed a lot of cranking to get gas in the carburetor bowl if it had not been driven for a week or more, I added a supplemental electric fuel pump from Auto Zone, (wired through a relay to the no-charge light circuit). For more on this pump, see page 32 of the March issue.
Now For Some More Fixin'
My first real disappointment in the car was discovered after going through a car wash. There were some large rust holes in the plenum and passages that conduct air from the vent screen in front of the windshield to the heater core and the kick-plate ventilators. I think the problem was caused by the lack of paint coverage inside these internal structures, and a bountiful supply of (dirty) water coming through the screen over the years.
My repairs included water dams and new drains for the passages. Any holes were sealed with POR-15 paint with embedded material. This is a very effective and permanent patch that can be used in places that are not normally visible and very hard to reach. The POR patch dries as hard as iron. The surface must be roughed up before painting, but does not have to be entirely free of rust.
The interior received a new carpet kit and some repairs to the passenger seat back due to a bit of sun damage. The courtesy lights appeared never to have worked. Though the car was equipped with the under dash lights and switch, the power wire seemed to be missing from the harness. It's a pigtail off the clock power wire, according to the wiring diagram, that simply was not there.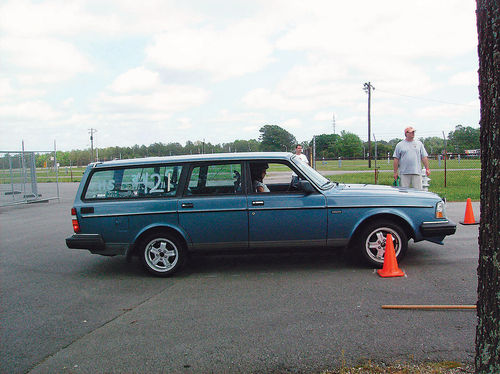 More Work to Be Done… But It's Worth It
So at this point I have a fairly original and unusual Typhoon that drives quite well and turns a lot of heads. This is an on-going project though and I still have lots of cosmetic jobs to do, like cleaning up under the hood. The engine still does not warm up fully or quickly, so I need to try yet another thermostat. The water pump leaks a bit but only in certain positions, not while driving.
Several months ago I added a bumper-mounted trailer hitch and my utility trailer to fetch our Christmas tree, as the Typhoon is the only car I have that can tow.
I look forward to lots of driving as this car makes me feel like a young man again, and I know — from this experience — that I can drive it anywhere!