Special Report "Senior"Compacts Make a Comeback
They're a Bit Bigger Than the Smallest Domestic Cars… …And They Might Be Right for Today's Economy.
ON A RECENT warm Sunday afternoon we were working in our shop with the garage door open when three vintage cars went cruising by on their way to a show: a Dodge Dart, a Chevy II Nova and an early Ford Fairlane. In the '60s, these "senior compacts" were just a little bigger and fancier than a low-buck compact car, but smaller than a big car
Seeing the three "bigger" small vehicles together triggered an awareness that cars such as these could be a logical choice for hobbyists during the current economic "belt-tightening" that many people have experienced.
That doesn't mean all car collectors are going to be turning in their Lincoln Cosmopolitans for Nash Metropolitans, but some collectors are leaning toward the looks, practicality and relatively affordable prices of smaller cars.
It Started "Over There"
The small car evolved in Europe, where travel distances were short, roads were narrow and fuel was expensive. Small cars had long been marketed in the U.S., but their sales were always relatively low. However, by the late '50s, change was in the air. The share of the total market held by foreign cars moved from under one percent in 1955 to more than eight percent in 1958.
Furthermore, foreign car distributors were shooting for 10 percent of the market—about 500,000 sales—by the end of 1959. Suddenly, car magazines were full of stories about small cars under development by U.S. companies. The Chevrolet Corvair, riding on a 108-inch wheelbase, arrived in showrooms on Oct. 2, 1959, the larger Ford Falcon, with a 109.5-inch wheelbase bowed on Oct. 8 and Chrysler's Valiant, on a 106- inch wheelbase, debuted on Oct. 29.
American compacts slowed, but didn't stop, imported car sales and automakers realized that Americans Still liked things large—even their compacts. By mid decade, the compacts had sired senior compacts, as well as a new midsize car segment.
Time to Upsize
Ford was really the first maker to bring out a senior compact with the '62 Ford Fairlane and Mercury Meteor, although with a 115.5-in. wheelbase the company considered them to be midsize cars.
Also arriving in 1962 was the Chevy II/Nova, a boxy, conventional car designed to fight Ford's hot-selling Falcon. This senior compact model was designed to reach buyers that the Corvair missed. Though described as a "new concept," the Chevy II with its 110-in. wheelbase was really not much bigger than a Falcon.
By 1963, the number of truly small cars made in America was shrinking. AMC's Rambler became the Classic, with a longer 112-in. wheelbase. The Buick Special, Olds F-85 and Pontiac Tempest grew into senior compacts using a new 112-in. wheelbase. Dodge transferred its well known Dart name to a Nova-type car with a 111-in. wheelbase. The only U.S. compact cars left with a less-than-110-in. wheelbase were the Rambler American, Chevy Corvair, Plymouth Valiant and the Ford Falcon, which, as we said, was just under that mark at 109.5-in.
In other words, for the most part compacts that survived past the mid-'60s did so by growing larger, faster and fancier.
With that in mind, here are some "smaller" vintage cars to consider.
1963-65 AMC Rambler Classic
The '63 Ramblers were the first AMC products designed by Dick Teague. This meant a complete top-to-bottom redo with an advanced type of unit-body construction with 30 percent fewer parts and welds. Classics and Ambassadors got a longer 112-in. wheelbase.
Sportier styling and a wider range of styles, including hardtops, were seen in 1964. By 1965, the Ambassador was stretched to a 116-in. wheelbase. That made the 112-in.-wheelbase Classic AMC's "new intermediate-size Rambler."
1963 Buick Special
A 1963 Buick ad called the Special the "happy medium-sized Buick Special." That's because it had a four-inch-longer body on the same 112-inch wheelbase. The new body had more of the "Big Buick" look than ever before. Engine choices ranged from the miserly V-6 up to a 190-hp V-8. While Buick's fortunes rose for the year, the popularity of the Special "senior compact" fell off a bit. This wound up bringing changes that turned the Special into a midsized car with a 115-inch wheelbase.
1962-69 Chevy II/Nova
If the Corvair was Chevy's VW, the boxy Chevy II was its Falcon. It represented an entirely new line of cars four inches wider and 3.5 inches higher than a Corvair with a two-inch longer wheelbase.
There were only detail refinements made to the Chevy II in 1963. The 1964 Chevy II got new self-adjusting brakes and bigger engines, including a 283-cid V-8. A Nova SS Sport Coupe Was added.
Completely restyled for '66, the Chevy II had a lower and wider appearance. There were new rooflines for all coupes and sedans, a new aluminum grille and a more massive front bumper.
Patterned after the Chevelle look, the restyled '68 Chevy II is a very popular car. It had a longer 111-in. wheelbase and was longer and wider than ever. Since the restyled Nova shared its front stub frame with the Camaro, the big-block 396-cid 375-hp V-8 could be installed.
Dressed up in new exterior and interior trim, the '69 Chevy II became the Nova. Engine options included one four, two sixes and three V-8s with up to 400 hp.
1963-69 Dodge Dart
The 1963 Dodge Dart was hyped as a "king-size compact" with its 111-in. wheelbase.
New body side moldings made the '64 Dart look longer and fancier, while a new grille with fine vertical lines added to its slightly more upscale image. The rear window was widened by three inches. A 273-cid 180-hp V-8 could be ordered.
Perfectly timed, a brand-new Dart arrived on the scene in fall '66 and it was a winner from the word "go." With wedge-shaped, razor-edged styling that would carry into the '70s, the '67 Dart saw a 68 percent increase in "builds" between its release and the last day of 1966. The boost was enough to turn the Dart into America's best-selling compact car. The '68 Dart had minor changes. Engine options included a 383-cid bigblockV-8 with 300 hp.The one-millionth Dodge Dart was built in 1968. Changes for '69 were again minor.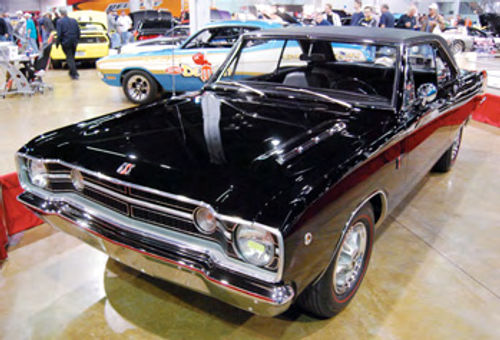 1962-65 Ford Fairlane
Introduced in 1962 was a new type of Fairlane that filled a gap between the compact Falcon and the full-size Galaxie. As noted, it had a 115.5-in. wheelbase and 197-in. overall length. The Fairlane had a unibody frame, but the body incorporated "torque boxes" to absorb road shocks. Two- and four-door sedans were offered. Engines included a 170-cid six, a 221-cid V-8 and, at midyear, a 260-cid V-8 that produced 164 hp. The mid-'62 Sports Coupe featured bucket seats and a mini console.
For 1963, Ford introduced two hardtops (Fairlane 500 and Sports Coupe), plus a Squire wagon and a 289-cid performance V-8. The front end took on more of a Galaxie look, while the rear styling retained the tiny tail fins and large round taillights of 1962.
In 1964, Fairlanes got a new grille and headlight bezels. The tail fins were gone and some chrome side trim was changed. Styling features of 1965 included body color headlight bezels for the deluxe models and rectangular taillight lenses.
1966-69 Ford Falcon
The squared-off Falcon of 1964-65 gave way to a larger compact in 1966. Coupes and sedans rode a 110.9-in. wheelbase, while wagons had a 113-in.stance.Length grew 2.7 in. A hardtop was exclusive to the Futura line. The '67 Falcon had only minor design changes like a new grille and redesigned taillights. Wider engine choices included a 225-hp 289-cid V-8.
Safety was highlighted in 1969 with a new safety steering wheel and new side marker lights.
1960-64 Mercury Comet
Last of the new compacts to appear for 1960 was the Comet. This "Falcon with fins" was for buyers interested in compacts, but not willing to squeeze in the smallest ones. It had first been planned as an Edsel successor and had a 114-in. wheelbase. Still, it was two or three feet shorter than a standard U.S. car and 1250 lbs. lighter.
In 1962, "Mercury Comet" badges appeared. An obvious appearance change was a flatter,squared-off rear deck lid. An upscale Custom line offered a wood trimmed Villager wagon.
Model-year 1963 featured a horizontal-bar grille with three vertical "teeth." A two-door hardtop and a convertible were added to the Custom line. The Comet was Mercury's best seller in 1963 with 44 percent of total sales.
The '64 Comet proved to be a winner in both the looks and sales departments. The look was based on the same forward-thrusting, boxy, truncated body used for the Falcon.
1962-63 Mercury Meteor
In 1962, Mercury placed the Meteor name on a newly proportioned model. This car was a badge-engineered Fairlane and was most like a GM "senior compact," although Mercury called it midsize because it fit between the new Comet compact and the full-sized Monterey.
Riding a slightly stretched Fairlane wheelbase of 116.5 in., the car had Monterey-like rear styling. Only two- and four-door sedans were offered.
The 1963 Meteor got a trim makeover and new models like a hardtop and a station wagon. Still, sales fell short of target and the Meteor was dropped at the end of the model year.
1963 Oldsmobile F-85
On Oct. 4, 1963, Olds launched an upsized F-85 promoted as "something extra." This "senior compact" had more of the look of a big Olds. Although the wheelbase remained at 112 inches, the body was four inches longer.
1963 Pontiac Tempest
Popularity of the Tempest tapered off in 1963, but the production counts showed that 38 percent of the cars were ordered with a V-8 and 47 percent with bucket seats. Such numbers indicated that the Tempest's appeal was trending toward more performance and sporti- ness. Pontiac management read the indicators and used the '64 LeMans as the basis of the first GTO.
1963-66 Valiant
A totally restyled Valiant arrived in 1963. The body was two inches longer and much more conventional with its squared- off styling than its Virgil Exner-designed predecessor, yet it rode on the same 106- in. wheelbase. That didn't change until 1967, when it grew two inches.
The Valiant remained mostly unchanged for '64, but got a higher- mounted front bumper, a reshaped hood lip and a horizontal-bars grille with a protruding center section. Both the 170-cid 101-hp Slant Six and its 225-cid 145-hp big brother had higher compression ratios. Also available was a 273-cid V-8 with 180 hp.
Plymouth cleaned up the Generation II Valiantabit for'65 with a revised deck lid, new taillights and different body side ornamentation. Under the hood, the big news was a four-barrel version of the 273-cid V-8 that served up 235 hp at 5200 rpm.