Feature Restoration 1973 AMC Javelin
With Its Pony Styling, It Was Meant to Be a Mustang Fighter. The Mustang Won, But It Still Can Turn Heads.
ANYONE WHO'S BEEN around collector cars can tell a story of somebody who has gone to great lengths to get that one right vehicle, even if the vehicle happened to be several states away.
"IretiredinJuneof2005,"saidBillVargas, owner of the 1973 Javelin shown here, "and then about a week after that, I started twiddling my thumbs at home and trying to figure out 'what am I going to do now?'
"Hence, I found a hobby, looking for a car that I'd had once before in my life, back when I was in high school."
The car he'd owned while in high school was a 1974 Javelin, which was the end of the line for the model and barely different from the previous year's version. The Javelin was American Motors' interpretation of what a pony car should be and like the Ford Mustang that had created the pony car market in 1964, it could be a very basic six-cylinder coupe that was sufficiently low-key to blend into traffic or a performance-focused V-8 that was hard to ignore.
American Motors introduced the Javelin as a 1968 model and while the car did use the necessary long-hood short-trunk proportions, it's difficult to imagine that anyone could possibly have mistaken it for a Mustang or any of its other competitors. That, of course, was something of a tradition at AMC and its ancestors, where unique or at least out-of-the-ordinary styles were simply business as usual.
A Downsized Approach
American Motors was established in 1954 with the merger of Nash and Hudson during yet another turbulent time in the auto industry when major and minor players alike found themselves in serious trouble.
Then, as once-strong marques such as Studebaker and Packard ceased production in the 1950s and '60s, AMC became the last independent and the company recognized early on that in order to compete successfully, it needed to be different. Its solution was a logical one in that it dropped the full-size Nash and Hudson automobiles after 1957 to focus on the compact Rambler line that Nash had introduced in 1950.
That move was more of a blow to the Nash fans as the Hudson faithful had already been through their disappointment; the Step-Down Hudson had been replaced in 1955 by a Nash-based vehicle and whether it was a good car or a bad car, it simply wasn't a Hudson. The compact Hudson Jet, too, was gone and in its place was a Hudson Rambler that differed from the Nash version mainly in terms of badges.
But while it's easy to criticize AMC for what it did in those years, survival was the goal. It succeeded at that and if full size cars and old names disappeared, the new company made up for it through its willingness to try the unconventional.
Consider just two early examples of landmark Ramblers, the 1956 Custom Cross Country station wagon with its four-door-hardtop styling and the 1957 Rebel. The Rebel is likely the better known of the two thanks to its role as the first modern muscle car. The big-engine small-body formula wasn't new then, but earlier examples had typically combined a full-size car whose wheelbase was a few inches less than the largest car available with that largest car's engine. The 108-inch-wheelbase Rebel, on the other hand, used the 255-horsepower 327 from the 121-inch Ambassador.
The Rebel was fast (obviously), but when it returned with new styling in 1958, it carried a 215-horsepower 250. High-performance cars at AMC would disappear for a time as the company chose the perfect moment to renew its focus on practicality, beginning with the 1958 Rambler American. A descendant of the 1950 Nash Rambler, the American was an update of the "small" Rambler last built in 1955 and rode a 100-inch wheelbase, eight inches less than that of other Ramblers and Rebels and an impressive 17 inches less than that of the Ambassador. Racking up some 30,000 first-year sales, the revived small Rambler was well-timed, arriving as it did between a recession and the launch of other American compacts.
With the American in place, the AMC catalog was set. Styling and drivetrain changes would be made to keep the cars fresh, but it wasn't until 1965 that something really new appeared.
Sending a MarlinAftera Mustang
The 1965 Marlin wasn't the shocker that the Step-Down had been, although the basic fastback shape was surprisingly close to that of the earlier car. Instead, the Marlin was essentially a Rambler Classic from the beltline down topped with a full-length fastback roof.
The Marlin's target, of course, was the Mustang, which had added a fastback for 1965. But the Mustang had one big advantage: for its styling, Ford had begun with a clean sheet. Never mind that there was a lot of Falcon under the skin; the Mustang looked only like a Mustang. It was a smaller car, measuring 181.6 inches on a 108-inch wheelbase and weighing 2500 pounds in fastback form as compared to the 3200-poundMarlin's 112-inch wheelbase and 195-inch length. TheMarlin's elliptical rear side-windows made the car seem even bigger.
On top of all that, the Marlin was a love-it-or-hate-it design. With the possible exception of the Dodge Charger introduced in 1966, the Marlin looked like no other car. That can be a good thing, but in the Marlin's case, it didn't work out that way as the huge sweeping fastback was just too much for most customers. Only 10,327 were sold in 1965 and that was the best tally recorded for the car as sales fell to 4547 in 1966 and to just 2545 in 1967, when the Marlin moved to the larger Ambassador platform for its final year.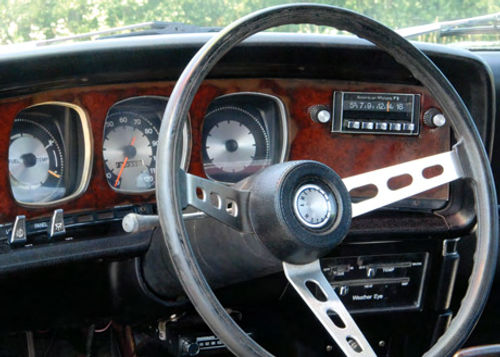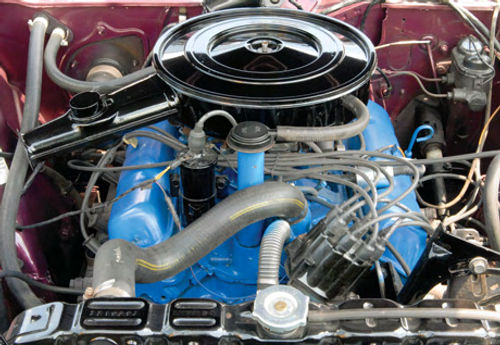 Maybe American Motors had let its penchant for the unusual get slightly out of hand with the Marlin or maybe the Marlin wasn't really the right competition for the Mustang, but whatever the cause of the Marlin's death, AMC clearly had to try again. The company couldn't just walk away from that important market segment and the result this time was the 1968 Javelin. With its 109-inch wheelbase and 189.2-inch overall length, the new Javelin was much closer to the Mustang than the Marlin had been as it was just 5.6 inches longer with one more inch of wheelbase, but it weighed about 200 pounds more than the Mustang notchback. The two were surprisingly well matched in available engines, from the base sixes—a 115-horsepower 200 in the Mustang and a 145-horsepower 232 in the Javelin—to the optional eights which happened to include a pair of 390s. The latter produced 315 horsepower in the Javelin where it was the top engine and 325 in the Mustang where, unfortunately for the Javelin, it was only near the top.
AMC advertised that a Javelin with a 280-horsepower 343 and a four-speed could do 0-60 in 7.86 seconds "and pin your backbone to the bucket in the process." It claimed 15.8 seconds in the quarter-mile and cited a Popular Science Monthly test that found "the Javelin reacts almost the same at high speed as it does during low-speed maneuvers…the ride is excellent—tight and firm, yet comfortable enough for long-distance or everyday driving."
Results and comments such as those are not bad for a car base-priced at about $2500 and if sales didn't even approach Mustang's 317,000 for the year, 56,000 Javelins added up to a success for AMC.
1973 AMC Javelin
GENERAL
Front-engine, rear-drive, coupe
ENGINE
Type Overhead valve V-8
Displacement 304 cu. in.
Bore x stroke 3.75in.x3.44in.
Compression ratio (:1) 8
Carburetor Two-barrel
Power 150 hp @ 4200rpm
Torque 245 lb.-ft. @2500rpm
DRIVETRAIN
Transmission Three-speed automatic
SUSPENSION & BRAKES
Front Independent, coil springs
Rear Live axle, leaf springs
Brakes (f/r) Drum/drum
STEERING
Recirculating Ball
MEASUREMENTS
Wheelbase 110in.
Length 192.3 in.
Track (f/r) 59.3/60 in.
Weight 3104 lb.
Tire Size D78 x 14 in.
Time for Some Bulging Panels
Various packages aside, the Javelin was barely changed for 1969, the biggest difference being a new grille. It was not until 1971, in fact, that styling was seriously modified.While that year's Javelin was still easily identified as such, it now wore slightly sharper lines, a reshaped sail panel and bulges atop the fenders above the wheel wells. The unusual styling cue was repeated at the rear in the form of a less-pronounced stamping in each quarter panel. The Javelin retained those details to the end, which came in 1974 with 27,500 units—including about 5000 with the AMX package—sold.
As noted earlier, the 1974 Javelin was little changed from the previous year's model, so a 1973 version was acceptable to Vargas when he began looking on eBay for a car like his high school ride. What would become the feature car was in Neoga, Illinois, where it had shared garage space with a Pontiac Trans Am. The cars' owner had died and an offer was made on the Pontiac, but the late owner's wife said the Javelin would have to go with it.
"He bought them both," Vargas said. "But he did not change the title on that car (the Javelin) because he was planning to sell it immediately. That being the case, he put it on eBay. I started surfing eBay not long after the car hit it, apparently, and saw the car. I started bidding on it and the next thing I know, I'm biting the fingernails off of my fingers and finding out that I won the car."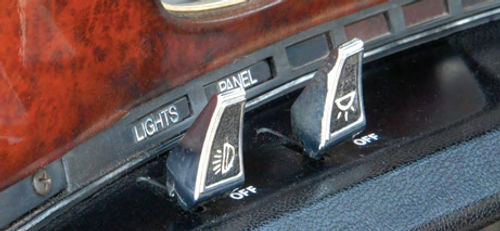 Since Vargas Lives In Peckville, Pennsylvania, he hadn't seen anything but photos of the Javelin. And in the pictures, he said, it did not look good.
"I can understand why there were so few bidding on it," he said, "but I guess you could say the old 'diamond in the rough' kind of thing is what I had my thoughts on. I second-thought that when I saw it in person. Then when I had to drive it back 600 miles, I really started thinking about it."
Driving it home was a calculated risk aimed at saving the expense of having it delivered. Vargas Said that the only transportation he could take from Peckville to Neoga was a bus and he described the trip as an "adventure." Things grew worse when he got his first look at the Javelin with its rust, faded paint and badly deteriorated interior. Mechanically, though, the car seemed to have no significant problems and the drive home was relatively uneventful, although Vargas later found that it could have become much more of an adventure than his earlier bus trip.
Where's All That Gasoline Going?
"I drove the car," he recalled, "and I'd pull into the gas stations, fill it up. I'd go so many miles and it'd suck gas and I'd pull into another gas station. 'Boy, this thing eats gas a lot.'
"At one point, down near Pittsburgh, I took a wrong turn and started going south toward West Virginia. 'Wait a minute. I'm on the wrong road.' I had to turn around and come back. 'What am I doing? Plus I'm running out of gas.' I wound up getting to a gas station and putting in some more. Eventually, I got home and 600 miles was behind me. The car died as soon as I pulled into the driveway and I couldn't get it started."
That turned out to be a good thing as he coasted it into his carport and called a friend to come and see it. After looking it over, the two opened the hood and when Vargas got it started, his friend immediately told him to shut it off. The fuel line, he said, was literally spraying gas, thus accounting for what had seemed to be incredibly high fuel consumption on the trip home.
"'No wonder this thing sucks gas so much,'" Vargas recalled saying. "'And it could've blown up.'
"The weird thing about it is that I never smelled any gas. Maybe the ventilation system in the car is better than I thought. I was very lucky, apparently, and that was the first thing I changed."
On Second Thought, This Car's Not That Bad
The fuel line situation was also representative of the mechanical work that the car required. Nearly all of it was external, ranging from brakes and exhaust to belts and hoses. The 304 needed nothing and even the body, as bad as it had appeared with its faded paint, proved to be less than a nightmare.
The quarter panels and fenders were rusted around the wheel wells, Vargas said, and the sheet metal surrounding the mount for the radio antenna also needed attention. There was no rust in any structural members and he said that even in areas where water had obviously pooled, the damage was minor.
"The floors were not bad," he said. "They didn't rust through, thankfully. I'm under the impression that at some time, there must have been some water on the floor. I don't know if it was just flooded out somehow or maybe snow got in, but something (happened) because when we took the rugs out, we could tell by the major discoloration compared to the rest of the rug. There was a light brown tint to the color of the black carpet."
His car proved to be an excellent one with which to start, but Vargas said that a restorer who wants a Javelin probably isn't going to find one in similar condition. More likely, he said, he'll find a car that's already been restored or needs major work and if it's the latter, he pointed to one big consideration beyond the usual inspections for rust and damage. The car should, he said, be as complete as possible and while some parts interchange with other contemporary AMC vehicles, that's not a guarantee that they can be easily found.
Mechanical parts to keep a Javelin on the road should, in most cases, be readily available from aftermarket suppliers, Vargas said, and there's nothing wrong with a period-appropriate aftermarket accessory, either.
"It only has an AM radio," he said, "but in order to keep it stock—I cannot live with just an AM radio; I just can't do that—I had one of two choices. Either I could put in an eight-track system, an actual deck underneath the dash, or I could find something comparable that would be proper for that period. What I found was a Sparkomatic FM converter. That's what's in the car, turn on the FM and it works fine."
Keep in mind, however, that FM converters and under-dash eight-track tape players aren't exactly common today. (In addition, while you can find eight-track players and aging eight-track tapes at some swap meets and collectibles markets, anyone who experienced the eight track era knows how the tape could tend to break, shred and get stuck in the mechanism, even when the cartridges were brand-new.)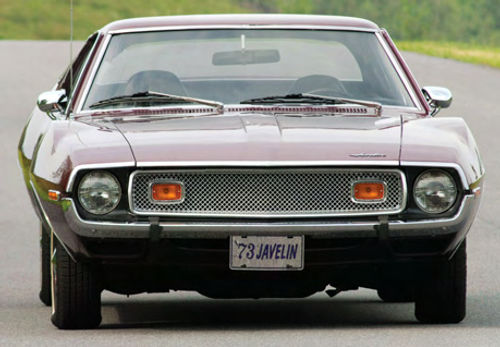 Where Did You Hide the Tank?
Sometimes, though, a small original detail on the car itself serves as a reminder that things really have changed in 38 years. Vargas learned that when he was almost home after driving the Javelin from Illinois.
"I pulled into a gas station not far from my house," he recalled. "The gas tank is behind the license plate on this vehicle. You pull the license plate down and you take the cap off. I pulled into the gas station and some teenage kid came over to the car. 'How much do you want?' I told him how much I wanted, he went over to the pump, picked up the nozzle, set the amount necessary, turned around, looked at the car and he looked at the car. Then he walked around to the other side and he looked at the car.
"He looked at the back of the car and then he came up to the window and said 'excuse me. Where's the gas tank?'"
More recently, Vargas was waiting at a traffic light when a passenger in another car noticed the Javelin.
"He rolled down his window," Vargas said. "'Hey, what kind of car is that?'
"I said 'you've never seen one of these?' He said 'no, what is it?' I told him what it was and he said 'that's pretty nice. What's it got in it?' By that time, I had to leave to go through the light, but that kid didn't know."
He guessed that the fellow at the traffic light was about the same age as the young attendant he had encountered at the gas station.
"I'm going to say 17, maybe 18," he said. "They weren't around in 1973."