It's a Very Nice Driver But Can Be Prone to Rust. Oh, and Most People Won't Know What It Is.
Andy White knows that not everyone has the same view of the Javelin he restored.
"'Nice car. Boy, I haven't seen one of those in a long time,'" he described as a typical reaction, but not the only one.
"This morning," he continued, "somebody here at the show was looking at it and had to look at what I wrote on the sheet because he had no idea that it was an American Motors anything. Everybody knows a Camaro and the R/T, but the Javelin? Sometimes it's like 'what the heck is that?'"
In all probability, the spectator at the Wayne-Pike Region AACA show who couldn't identify a Javelin was not what's loosely called a "car guy." If he were, he'd likely have known that the Javelin has some significant history behind it, history that predates the inception of its builder, American Motors Corp., by more than a half-century.
Ramblers In the Family Tree
The Javelin's oldest ancestor, Rambler, entered production at Kenosha, Wisconsin, in 1902 following construction of various prototypes beginning in 1897. The production model was a fourhorsepower single-cylinder runabout, but a twin followed in 1904 and a four in 1906. Beginning in 1910, all Ramblers would be fours right through to the marque's end in 1913, when the car was replaced for 1914 by one renamed the Jeffery for the company's founding family.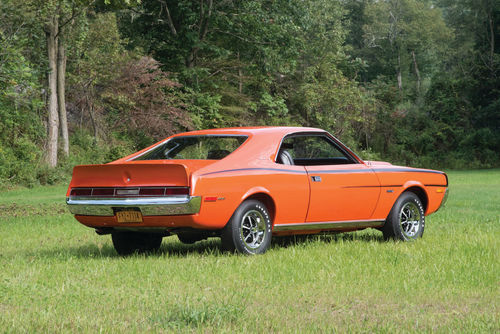 Building fours and sixes—and possibly best remembered for its four-wheel-drive truck, the Quad—Jeffery got off to a solid start, but through no fault of the car, its life was a short one. As the Great War approached, Charles Jeffery was nearly killed when a German submarine torpedoed the Lusitania in the North Atlantic and not long after, he decided to retire. Rather than close the company, he sold it in 1916 to Charles Nash. A former president of General Motors, Nash had worked his way up in the automobile business, so Jeffery would be in good and experienced hands.
Nash was smart enough to refrain from immediately replacing the Jeffery name, opting instead to phase in the car's rebadging as a Nash in 1917. A truly new Nash with a 55-horsepower overhead-valve six followed for 1918 and the company was on its way to long-term success.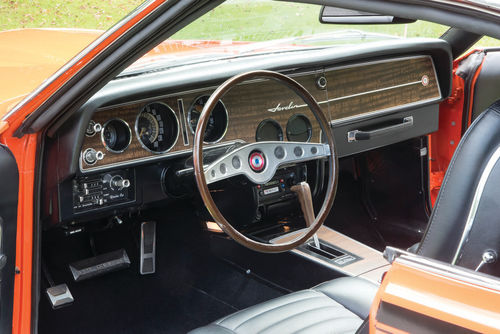 Surviving the Depression & Thriving in WWII
The onset of the Great Depression served as the final blow to many of the weak builders and destroyed others that had seemed to be on solid ground. Nash not only survived but went on to recover strongly via its World War II defense contracts.
Nash, for example, advertised that the U.S. Navy's Corsair fighter plane relied on "a mighty 2000-horsepower Pratt and Whitney engine, supercharged a new way for high-altitude combat—an engine that will be built in quantity by the men of Nash and Kelvinator."
When the war ended, the manufacturers that had survived—and had remained in the automobile business—were quick to resume production of the civilian vehicles that they'd last built in early 1942. Since many cars and trucks had spent the war working hard on the home front, they needed to be replaced and the smoothest way to do that was by what amounted to pretending that the 1942 models had been 1945 models and would receive an update for 1946. Not everything returned and in Nash's case, that meant no more straight eights.
Once demand was close to being met, though, the manufacturers again had to compete for sales. New designs were necessary and Nash revealed its 1949 Airflyte model. It was low, slabsided and with no hint of a family resemblance to its predecessor.
In 1950 Nash introduced its Rambler, a 100-inch-wheelbase convertible created to prove that compact cars could be more than simply basic. Its $1808 price tag actually made it more expensive than several models of the full-size Statesmen line, but the Rambler was such a success that a station wagon followed before the year was out and it eventually succeeded the big Nash.
A Merger, a New Name and a Rebel
By 1954 the Hudson Motor Car Co., a competitor which had been in business since 1909, found that it lacked the finances to develop a replacement for its full-size cars, not to mention a V-8 which had become a key component, and Hudson merged with Nash to form American Motors.
The dominant partner clearly was Nash, which would be the basis for the final Hudsons. Ramblers would be literally badge-engineered as Nash Ramblers and Hudson Ramblers, but something in the DNA of the merger partners surfaced one final time in the last year of their badges' existence when the 1957 Rambler Rebel arrived. Using the 225-horsepower 327-cubic-inch V-8 from the full-size Ambassador in the 108-inch compact Rambler, the result was what later came to be known as a muscle car.
Introducing An AMC Pony
The Rebel was a one-year-only model and AMC took its time returning to that market, but when it did so, it was with a double attack.
The Marlin introduced in 1964 had never really found its niche and so for 1968 it was replaced by the Javelin. With long-hood-short-deck proportions similar to those of a Mustang or a Camaro, there was no doubt as to where it was aimed and although the glory typically goes more to the AMX—a Javelin shortened into an outrageous and undeniably fast two-seater—the Javelin was not necessarily a car to blend into the background.
Like its competitors, a basic Javelin was docile. Its 145-horsepower 232-cubic-inch six and three-speed manual transmission were unlikely to get a driver into trouble, but for those who wanted to do exactly that, a 280-horsepower 343 was the right choice.
AMC claimed 0-60 in 7.86 seconds, but some of Hudson's DNA was apparently still there as in a day when straight-line speed was getting most of the attention, advertising explained that "the Javelin can be equipped with front disc brakes and a special handling suspension that includes a larger diameter sway bar and heavyduty springs and shocks. You'll notice the Javelin's phenomenal control in tight turns and high-speed cornering. Popular Science Monthly wrote that 'the Javelin reacts almost the same at high speed as it does during low-speed maneuvers.'"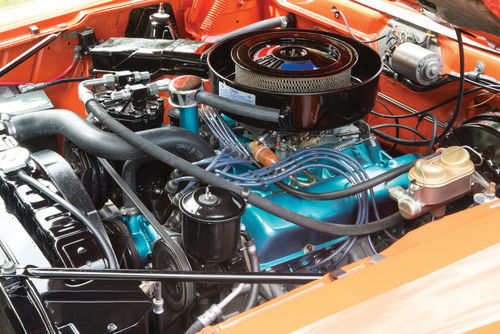 At First the Javelin Was a Success…
Whatever the precise reasons behind the Javelin's appeal to buyers, AMC had to be pleased when first-year sales passed 59,000 and it was cautious with the updates for 1969. A 315-horsepower 390 had become available late in 1968 and advertising now spoke of competition victories and aftermarket performance parts, but sales fell to just under 41,000 probably because the Javelin was no longer a fresh new name and some of the novelty had worn off.
AMC fought back not only with updated styling for 1970, but also with ads that stressed racing. A Javelin prepped for Trans-Am competition, it told readers, had hit 175 miles per hour and could reach 60 in less than five seconds. Impressive, but not a real-world car and so a limited-edition street version of 100 examples was offered with everything from a 325-horsepower 390 and fourspeed to heavy-duty suspension and spoilers at front and rear. Next came the Mark Donahue Javelin with either the 390 or a 290-horsepower 360 and a handling package comparable to the Trans-Am's. But things were not going well for the Javelin as AMC sold only about 28,000 examples that year.
It Started With a Childhood Attraction
Had buyers known what was ahead for muscle cars as horsepower would fall, insurance costs would rise and regulation would intensify, the Javelin and every competitor would probably have sold much better in 1970. Some who looked back in the following years undoubtedly wished they'd seen what was coming and had taken appropriate steps. Others were simply in no position to buy when those cars were seemingly everywhere, but things change.
"I was a kid when I first saw one," White recalled. "A neighbor's relative had one and he wheeled into the driveway and it was orange, so it was sentimental. 'I've got to have one of them.' I've got a feeling now, the more I try to remember it as a five-yearold, it probably was an AMX. But when I saw this one, it was 'let's do it.'"
That was in 2009 and White found the car in a backyard.
"It actually ran," he recalled. "I couldn't believe it. I got it to run on this cold day, got it to run and all the tar and stuff ran out of the transmission. I loaded it onto my trailer and things were oozing out of the transmission and I said 'what did I do?' It's been a challenge ever since."
It needed a lot of help beginning with, not surprisingly, the automatic transmission.
"That's a Shift Command transmission on that," White said, "a Borg-Warner. That seems to throw the tranny shops around here a little. 'Wow, that's old.' The tranny's been rebuilt twice. I've still got a noise in it and I'm not happy about it."
The engine was also rebuilt twice, he said, and spoke of a 500-mile trip to the Rhinebeck, New York, show after the first rebuild. On the return trip, it broke a piston and he had the Javelin towed to his home in Cochecton, New York. When the rebuilder said that it was likely a timing problem and not his fault, White said that he was annoyed enough that the car sat until early last year when he decided that the work had to be done.
"A friend of mine, a young fellow close by, has a machine shop and he did me solid lifters," White explained. "My friends and I pulled it out and I took it up to him to let him look things over. He said 'let's start from scratch and stop fooling around. Do you want to do it right?' I said 'I tried to do it right the first time.'
"So he did me a solid, we put it all back together, I hit the switch and off she fired. I said 'sweet. Let's run her.' It could use a little tinkering, a little carb adjusting, but other than that, she's here today and that's the story."
Some Parts Are Available, Some Aren't
In a sense, his experience with the engine is at least tied to some good news about the car, as he said that maintenance and mechanical parts are available.
"I had no trouble with the mechanical ends of it," he said. "As far as even the engine rebuilds, there were no issues where they couldn't find parts. The 360 AMC motor, they're still building parts. The wiring harness, I had no trouble. They are a little cheesy in the lighting sockets, but that's the nature of the beast and so you're never going to get anything that's OEM spec."
Sheet metal was an entirely different matter and that was a major part of what the Javelin needed due to its badly rusted state when he bought it.
"Both rear quarters were actually removed and replaced," he said. "The left rear was a full, complete panel. I couldn't purchase a pair. I would have loved to, but I had to use patch panels from a company and then fabricate all the patches together off the car.
"I built it on the floor and then put it on the car."
While stripping away the remains of the original quarters, he discovered that despite a deflector built in to direct away water entering through the window opening on each quarter, the design wasn't completely successful and some water had remained to cause the rust. He added sheet metal to narrow a gap and expects that to help reduce the problem.
The inner fenders were completely gone and so he fabricated those pieces, but he was able to find a good used trunkpan to replace what was left of the original. Most of the damage to the floorpan was on the driver's side and he built the pieces to repair that area, but there's more.
"They rust all over," White said, "especially if they have the vinyl top. Some of these have the vinyl half-roof and they rot around the windows. This one had that. It did have it originally and I opted to eliminate that. So around your windowsill areas where the glass sits, the channel, that's a big, big problem on these because all of the water lies in the window channel. They made no drains for it to get out, so it stayed in there and rusted. And the top of the roof across where the vinyl had been was pretty much gone on it, too, so we had to refab that."
The feature car, he continued, also had significant rust problems around the windshield. The glass itself is available both for that and the backlight, White said, but side glass is probably going to be found in a salvage yard and is likely to need buffing.
The Javelin's fenders were dented badly, but like the shock towers, they had surprisingly little rust. The B-pillars on both sides and the bottom corners of the doors didn't do so well and he had to replace them.
White said the rocker panels were not heavily rusted, but the one on the driver's side had been poorly repaired after an accident.
"I had major damage there on one side," he said. "Somebody T-boned it low or they ran over a stump or something and took the rocker on the driver's side and just shoved it right in. So then they filled it with three-quarters to an inch of filler and just trued it up. I'm stripping paint and going 'what the…? Oh, no.' I have a pin tool and I pulled the whole rocker back out."
That rocker panel was the only structural part showing significant accident damage.
"I didn't notice anything up underneath," White said. "I was concerned about that because of the unibody type of frame, but everything just came right out. When I clicked the quarter panel back on once I straightened the rocker panel, it just went right on. 'Look at that. I got one break out of it.'"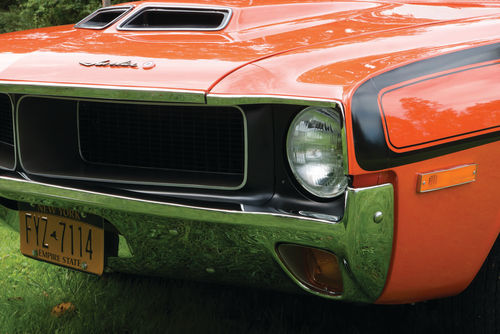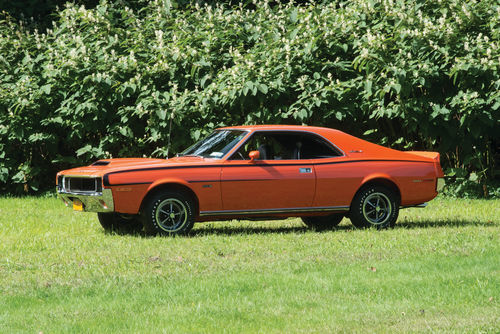 The taillight panel had also been damaged and he located one vendor who had a replacement, but there was a problem.
"He'd sawed off things that shouldn't have been sawed," White explained. "It was something like $400. 'You know,' he said, 'they're one-year-only.' I said 'I understand and I'm not afraid to pay the money.' Well, they cut it off the car when they should've taken the quarter off to take it out correctly, so now I ended up building and remanufacturing it."
He found the trim for the rockers and the bezels for the instruments on eBay, he said, and upholstery material for the interior is available, but new woodgrain for the dashboard looked great until he tried to install it and found that because his car has air conditioning, he had to carefully file it to fit. He still hasn't found the correct AM radio.
"A lot of the pieces that are made for it," he cautioned, "like the spoilers and stuff, are junk. That's the second spoiler I had to buy. The first spoiler I bought had no studs down through it at all. I called them up and asked 'how the heck are you supposed to mount this?' 'You just laminate it in,' they told me. I said 'we're trying to do a nice job here. I don't know what the heck you people in the rest of the country do, but I'm trying to do it right.' I said 'how long before I slam the trunk lid and it goes "crack?"'
He Has a Restoration Advantage
Realistically, his Javelin might not have been the best one to restore, but the fact that he runs a restoration shop does give him an advantage.
"For the average Joe," White said, "if he saw this when I started, he would've walked away from it. But because that doesn't scare me, it was 'bring it home and salvage it.'"
The Javelin doesn't go out on long trips, but he's driven it enough to appreciate its qualities.
"The steering is so easy, the shifting and the braking are all right," He observed. "It's just very comfortable. You can see the dash, the instrumentation. It's not like you're struggling. The handling is surprising; it's very forgiving. Even if you're stupid, it seems to hang right in there.
"The first time I took it out, it was 'holy mackerel, this thing's nice.'"
The Car With An Air of Mystery
Driving the Javelin might be fun, but so is listening to speculation as to its identity.
"I've had people say the Mustang Shelby," White recalled. "The long Shelby nose. One guy told me it looked like an old Nova. Like a Nova? Because of the short tail on it, I guess.
"And honestly to tell you, if you asked me what it looks like, I can't really tell you."