Special Report Vintage Vehicle Exhaust Systems
You Can Stay Stock or Consider an Upgraded "Stock" Setup. Or, Try a Modified System for Some Extra Power.
VINTAGE CAR RESTORERS and special interest car collectors have many choices when it comes to exhaust pipes, mufflers, tailpipes, resonators, tips and—in some cases—exhaust headers. There are pipes made of different metals, different finishes, different installation methods (slip fit or welded, for instance) and, of course, different prices.
The least expensive option is probably the "stock look" exhaust system that fits vehicles with their original engines and chassis. Although the stock look exhaust system follows the original equipment manufacturers (OEM) design, it can be made of stainless steel instead of mild steel, have less restrictive mufflers or be put together by welding, rather than slip fit joints.
A modified exhaust system is the other choice. This is the route you'll probably take if your car has a crate engine, a replacement engine or a custom frame. Some bolt-in resto-mod frames are designed for specific exhaust systems. Owners of modified vehicles may add tuned headers to get a freer flowing exhaust system and, therefore, somewhat higher performance. Even the owners of basically stock vintage vehicles may change to headers for the performance boost. Owners of stock vehicles also have found that in some instances it may be easier to locate new headers in catalogs than it is to locate stock exhaust manifolds for certain engines.
The "Stock Look" Exhaust
Even though the term "stock look" seems self explanatory, there are at least four types of stock-looking systems and the best one for you depends on your personal restoration goals.
There are concours style stock-look systems that are supposedly bent from the same pattern cards that original equipment suppliers used back in the '60s and '70s. These exhausts usually are sold only as complete systems and they are made for collectors who want their cars to be judged as perfect originals. Concours-style systems are the most costly because they are specially made. There is no reason, other than one upmanship, to purchase these for a driver or occasional use car.
Next, there are stock-look systems bent from aftermarket "pattern cards." These can be very close to factory perfect, but sometimes have manufacturing variances, such as indentations caused when the bending machine stretches the metal tubing. Also, many such systems use modern mufflers that are eyeballmatched to originals, but may not be identical to them.
Furthermore, there are reproduction stock-look exhaust system components patterned off one part that fits multiple models. These fit and generally look OEM but they may have small differences. In a hypothetical case, an OEM Ford muffler might originally have matched a Mercury muffler, but used a different part number. Today,an unnumbered reproduction of that muffler might be made and sold for both cars. Such generic parts look stock, but could cost judging points, if that's a concern to you.
Last, there are systems that are manufactured to OEM designs, but made of different materials like stainless steel. These pipes can be exact copies of factory parts, buy stainless steel will last virtually forever. The stock look exhaust system made of stainless steel is a very good option for collector cars that are used seasonally and then sit around for many months each year. Again, if you plan to exhibit your vehicle regularly, a car show judge with a trained eye may be able to spot stainless.
Some Exhaust system Basics
Exhaust systems are designed to aid the smooth flow of spent gases out of an engine and reduce noise. There are three ways to muffle engine sounds: restriction, reflection and absorption. Restriction, just as it sounds, means the flow of exhaust gas is restricted. This makes for quiet exhausts, but chokes off some power. Most factory exhaust systems use restriction to keep cars quiet for the everyday motorist.
Exhaust gas reflection involves splitting the flow path of the exhaust gases within the muffler and using wave-cancellation techniques to help create a pressure drop that reduces sound pressure and, therefore, reduces the noise level at the muffler's outlet. Reflective-type mufflers use a series of baffles and reflectors that the exhaust gases wind around in order to set up wave reflection.
Straight-through "glass-pack" mufflers with one straight tube inside another absorb sound. The inner tube is perforated with louvers. Between the tubes is a packing that is usually made out of fiberglass, hence the name. As the exhaust flows through the muffler, the packing material absorbs the sound. However, the louvers restrict flow and rob power. While the pipe may have a 2 1 ⁄2-inch inlet and outlet, the smaller inner tube and protruding louvers make the interior diameter as tight as 1 3 ⁄8 inches.
Confessions of an Exhaust pipe Bender
In the back shop of an auto parts store on the main drag in Antigo, Wisconsin, Bob Andres uses his Huth bender to make stock-look muscle car exhaust systems that he ships all over the country. If a customer's car isn't covered by Bob's massive collection of pattern cards, they can make a pattern with copper tubing or even hanger wire, mail it to Bob and he'll copy it.
"As long as they bend it to match the approximate center of the pipe, I can make them an exhaust system," says Bob. "The only difference is, if we bend up a stock system from my cards and it doesn't fit, we'll take it back; if a customer's bent wire pattern is off, we make it clear that's not our responsibility."
Bob has been bending pipes with his ancient and scratched-up exhaust pipe bender for over a decade. At one point, his boss went to a trade show in Las Vegas and bought a computerized benderfor $40,000.Bob didn't like it as much as his trusty old Huth and it didn't earn its keep at the auto parts store, either.
"It was designed for production work and could do 10 systems an hour," Bob recalls. "But it wasn't that good for the one sey-twosie custom exhaust system jobs we normally do, so we wound up selling it and going back to the Huth." Bob says it takes him about one-and-a half to two hours to bend a typical stocklook exhaust system. Bob guesses that his stock-style exhaust systems are at least 95 percent factory perfect and 99 percent correct fitting.
Header Exhaust Systems
Some of the earliest custom performance exhaust systems were designed for the Ford Flathead V-8. When hot rodding took off after World War II, the overhead valve V-8 arrived and it became the focus of the performance and racing industries. Early manufacturers didn't think about tuned-length headers, materials other than thin wall tubing, collector boxes or varying the number of tubes in a header.
Drag racing on the strip and street prompted early rodders to build performance mufflers and exhaust pipes. They found good headers use exhaust gases—that normally leave the exhaust as heat—to improve induction efficiency.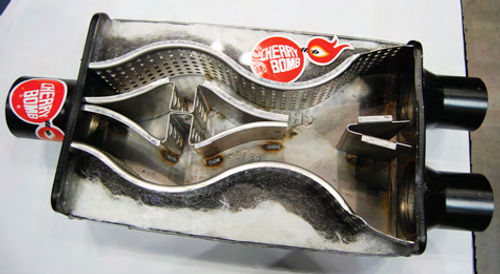 There was a boom in header popularity in the '60s when factory muscle cars arrived.Performance-typefactory cast iron manifolds were the hot ticket. But tube headers of the day tended to flex a lot as they expanded and contracted, causing small cracks around welds.Today you'll find mild steel and stainless steel tube headers that never crack, thanks to improved metallurgy and technology.
As you might expect, there were differences between early competition exhaust headers and street-type exhaust headers. The early competition-style headers, for example, often included a collector box and a collector box block-off plate. Street headers designed for everyday use, on the other hand, must comply with a wide variety of regulations and noise codes.
One thing unchanged from years ago is that the wrong headers—no matter how good they might look—can make a car slower. An engine is basically an air pump, so headers have to be "tuned" to the induction system for the pump to function correctly. If the headers are designed to collect more spent gases than the cold air intake system provides, the engine will gasp or choke. When headers are properly tuned to an engine, power gains of up to 40 percent are possible.
With good headers, the shape and diameter of the tubing has to match the size and shape of the cylinder head openings. You can't bolt a three-inch diameter tube to a larger or smaller opening and expect a smooth flow of spent gases. Likewise, you can't bolt a round tube to a D-shaped port and get good performance or sound due to poor sealing of the exhaust gases. This is important to keep in mind when you are fabricating homemade exhaust systems.
Some Exhaust Systems to Consider
Vic Wood of Hedman Hedders says his new Tight Tube headers are a good choice for Chevy engines. In addition to a standard chrome-metallic finish, the Chevy headers are available with an HTC thermal coating that won't "blue" like chrome does. Hedman offers kits with all the hardware, flanges and gaskets.
Edelbrock is another name famous in racing and hot rodding. Its exhaust products include accessories, Block-Hugger headers, tips, LS Series retro-fit kits, mufflers and Tubular Exhaust system (TES) headers. Most Edelbrock exhaust systems are suitable for the popular Chevy LS Series crate V-8s.
Patrick's Antique Cars & Trucks has a catalog aimed at Chevrolet/GMC trucks. Patrick's is well-known among builders of 1947-55 Chevy Resto-Mod pickups for its stainless steel exhaust system. That system bolts up to Fenton cast iron headers and includes header pipes, a muffler, tailpipes, hangers and clamps made of stainless steel.
Doug Thorley was one of hot rodding's pioneer header manufacturers and today his Doug's Headers brand is part of the Pertronix Performance family that also includes Patriot and JBA exhaust parts. The company markets a wide range of headers for cars including small block Mustangs and makes Model D104 headers for 1968-74 AMC Javelin/AMX cars with 1 7 ⁄8-inch diameter exhausts.
Hooker Headers is now part of the Holley family and offers products like its Super Competition headers for retrofitting a new 5.7-liter Hemi into 1968-74 B-body and 1970-74 E-body Mopars. They utilize lightweight 16 gauge, 32- inch tuned length 1 5 ⁄8-inch primaries merging into a 9-inch long, 3-inch outside diameter smooth transition collectors with a three-bolt flange.
The "Tight Tuck" collectors from Patriot Exhaust provide maximum ground clearance for ground-hugging Resto-Mods with dropped spindles. Thick, 3/8-inch machined flanges give a strong seal against the cylinder heads. All fittings remain for vehicles with emission controls. The headers fit with most manual and automatic Mopar transmissions and use motor mounts that keep the tranny in its original location. All hardware and gaskets are included. Baked-on high-heat-resistant black paint and Metallic Ceramic Thermal Barrier Coating finishes are available.
Flowmaster products fit cars from late model Chrysler 300 sto those with Chevy LS V-8s. Well-suited to limited-space installations isthe Hushpower II, which is four inches thick, 5.5 inches wide and 23 inches overall with an 18-inch case length. Hushpower IIs come in 409 steel and ready-to-polish T304 stainless steel. Several mufflers can fit in one system. The "Flowmaster Magic" design with stainless steel internals and Cool Shell technology controls heat and sound.Flowmaster productsfit cars from late model Chrysler 300 sto those with Chevy LS V-8s. Well-suited to limited-space installations isthe Hushpower II, which is four inches thick, 5.5 inches wide and 23 inches overall with an 18-inch case length. Hushpower IIs come in 409 steel and ready-to-polish T304 stainless steel. Several mufflers can fit in one system. The "Flowmaster Magic" design with stainless steel internals and Cool Shell technology controls heat and sound.
10- Step Exhaust system Installation
If you purchase a quality made ready to-go exhaust system kit for your RestoMod car, you should have no problems installing it. With such kits you probably won't need special exhaust installation tools like a pipe expander or chain-style pipe cutter. You should be able to do it with regular hand or air tools.
1. Safely raise the car on a lift, ramps or sturdy jack stands (not a bumper jack). To keep the car in place, apply the parking brake and block the wheels.
2. If it is on a lift, put on a hard hat and stand under it. If it is not that high off the ground, safely slide under it. Check and inspect your old system and make sure you have all the new parts you need before removing the old. While wearing protective goggles, squirt all nuts, bolts and fasteners with penetrating oil.
3. After letting your penetrating oil soak in, work from the back of the car to the front to unbolt the old stock exhaust system parts. If you are not installing headers, try to remove the studs at the end of the exhaust manifold by hand without breaking them. An impact gun is handy for removing the other rusty fasteners. Don't worry if a couple of these break, as they won't be re-used. Once you have the fasteners loose, remove the old exhaust system parts.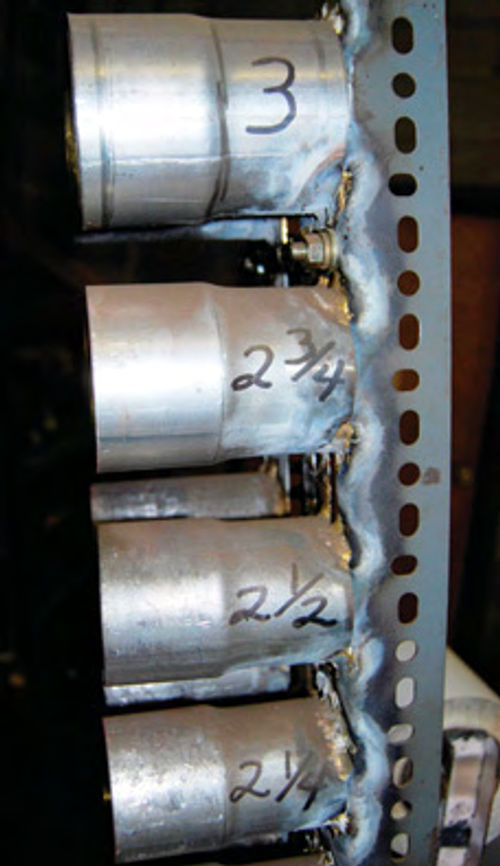 4. Next, remove all the exhaust hangers. It is false economy to try to re-use these as the heat has already affected them. They are relatively cheap and using all new ones will make your new system look better and last longer. Install the new hangers on the new parts before installing the parts on the car.
5. Starting from the engine or exhaust manifold (depending on whether you are installing headers) start bolting the new parts in place. Do not tighten the fasteners completely until you have the whole system hanging on the car. If you are installing headers, you will install the new gaskets first. Hang them on the studs. Sometimes you must use a sealer to hold them in place. Then install your headers over the studs and torque all the bolts properly. You may need a curved exhaust manifold wrench to get at some of the fasteners between the pipes.
6. Gaskets may be required at pipe joints or check out the new Pro Clamp (julianos.com) spin-on header and muffler coupling system.
7. With all parts in place, begin tightening the fasteners and make them snug.
8. For a proper look, you'll want your tailpipes even with your bumper when you are viewing the car from the rear. Make adjustments prior to final torquing.
9. Go over all bolts for tightness.
10. Start the engine and listen for any stubborn exhaust leaks.
Exhaust System Suppliers
Doug Thorley Headers
General Info:
Edelbrock Corp.
Egge Machine
Flowmaster, Inc.
Hedman Hedders
Hooker Headers (Holley Tech Service)
MagnaFlow Performance Exhaust
Mid America Motorworks (Corvette)
Patrick'sAntique Cars & Trucks
Pertronix Performance (Doug's Headers)
Red's Headers (flathead Ford)
Totally Stainless (Hardware)
Waldron's Antique Exhaust
Year One (muscle cars)