Charting the Muscle Car Course
Like Most Vintage Vehicles, They Spent Time as "Used Cars." Here's What Brought Them To Their Current Status.
Editor's note: Ever since our publication got its start 20 years ago, muscle cars have been a favorite topic among readers. So as part of our Anniversary Year salute, we decided to talk with some muscle car experts to get their views on this segment of the hobby with regard both to its past and its future.
Of course, there are a lot of other people with insight into the muscle car phenomenon reading these words and we invite you to share your views on the subject with us and your fellow readers. And if you have a photo of your favorite high performance ride, we invite you to send it along as well. (Just one request, if it's a digital image, set your camera for its highest resolution so it will reproduce well on these pages.) With that, let's start talking some serious muscle.
MUSCLE CARS. WHAT are they? Why do they matter? Why should you care? And, more to the point, why should you be interested in collecting them?
According to one generally accepted definition, muscle cars are mid-size coupes, convertibles and hardtops, made between 1964 and 1974, with engines that make more than 300 hp. They matter because they are an interesting part of America's automotive history. If you're a car collector, the rarity of muscle cars and the high values they bring today are reasons to care about them. If you're a restorer, you'll find muscle cars relatively easy to restore and well worth the investment in time and materials. If you're an enthusiast, you'll find that muscle cars were built to satisfy your "need for speed."
In a nutshell, these are the basics of the muscle car market, but it's not all as simple as "three deuces and a four-speed and a 389." There are "machines" that don't fit the strict definition of muscle car. There are factors to deal with other than history, like fuel prices, fuel quality and insurance costs. While many collectors make money on muscle, some wind up getting burned.
And though sheet metal and interior kits are in good supply, restorers may have to spend a fortune for an air cleaner or wood-grained steering wheel needed for an authentic restoration.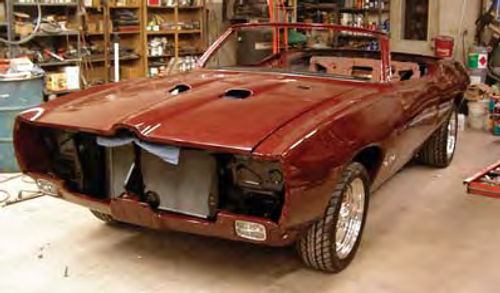 The Meaning of "Muscle"
What is a muscle car? You already read the "official" definition, but it doesn't take a genius to realize that the term now applies to more than a big-engine intermediate with two-doors made in the classic muscle car era. Even in that 10-year period, there were muscular sports compacts— like the Mustang Boss 429—and muscular full-size cars—like the SS 427 Impala. As far as body style, rumor has it that Pontiac even built a handful of GTO four-door station wagons. And we dare you to say that the '58 Chrysler 300D made before 1964 or the 2008 Corvette Z06 made after 1974 aren't "muscle cars" to many enthusiasts.
If you think of cars that accelerate quickly and reach amazingly high top speeds, you can more or less begin with the '49 Oldsmobile Rocket 88, include anything up to a current Viper, and totally ignore the number of doors, to come up with the modern definition of a "muscle car."
In all cases, it's a car with close to—or more than—one horsepower for each cubic inch of engine displacement.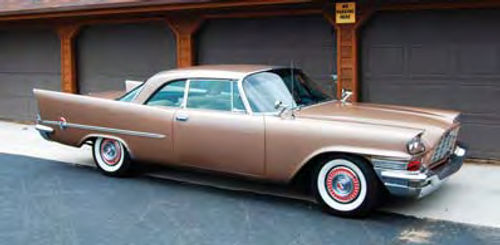 Collecting Muscle Cars
Who started muscle car collecting? In part you could blame writer Michael Lamm of Stockton, California. He was one of the earliest proponents of this pursuit, although he recently told us that the advice he gave back in the '60s and '70s was not muscle car specific. "I was writing in the broader sense of telling people to get away from collecting strictly Classic cars and to look at other types of vehicles—like muscle cars—that had an interesting history, too." Lamm understood the appeal of these models from his magazine work.
Mike became managing editor of Motor Trend in November 1962, at the dawn of the muscle car era. Throughout his career he wrote articles that focused on automotive history and the hobby of collecting automobiles. He wrote about everything from AMC history to the Studebaker story.
Lamm also did informative articles for Motor Trend on swap meets, on the Harrah's Automobile Collection and on early Mustang Clubs. The pony car story, written in July 1965, pointed out that 100 regional Mustang clubs had been formed by that time.
Lamm found the growth of Mustang clubs a motivation toward writing two muscle car books. The first was originally called "The Great Camaro" and is available today, from his Lamm-Morada, Inc., as "The Camaro Book." The second book was titled "The Fabulous Firebird."
"The Firebird and Camaro were interesting muscle cars and no one had done any books about them," Lamm recalls. "They had done the Mustang, but no one had ever gone beyond that. Camaros, Firebirds and other muscle cars were just used cars at the time, stuck in the back of the car lots. I was driving a Camaro then. I decided to do a book on them and it sold well."
In June 1965, Lamm penned an article about used cars and price depreciation for Motor Trend.
Mike pointed out that new cars, at that time, lost half of their value in three years. He explained that his wife was driving a '55 De Soto that had 78,000 original miles. "I figure it's good for another seven years," he said in the article.
From "Used Cars" to Collectibles
Through his writing, Michael Lamm built up a familiarity with some of the top muscle cars.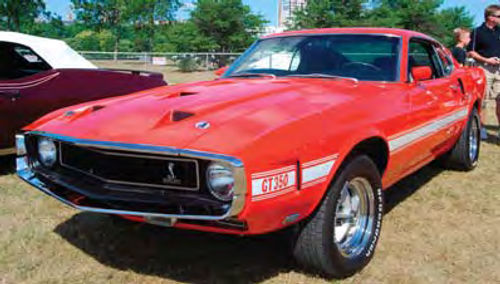 Starting in August 1965, his byline appeared on a number of articles that "leaked" the features of the upcoming '66 models, including some hot machines like the Pontiac Grand Prix, the Comet Cyclone and the Buick Skylark. His September 1965 article "Snap-shooting the '66s" covered the third Mustang and the Fairlane fastback.
Then, effective with the January 1966 issue, Lamm left Motor Trend. Starting in January 1967, he became a regular contributor to Car Life until the demise of that magazine in the early '70s. His articles were usually about automotive history or car collecting.
Around March 1975, Motor Trend added a monthly column by Lamm called "Used Cars." The first column was about depreciation and the second was titled "Used Cars You Won't Lose Money On." Muscle cars were high up on Lamm's list of such vehicles, although he didn't think of them as the classics they've become today.
"I'm talking now only about cars you can drive everyday," Lamm had written. "I'm not talking about antiques, classics and the older special-interest makes." He created a list of cars he called appreciators, which were likely to go up in worth as they aged. The list included muscle cars like the Shelby Mustang, Corvette, GTO, 4-4-2, Superbird, AMX and Studebaker Avanti.
Lamm tried to pick cars that were on their way up in value in 1975.
"Today, for instance, you can probably pick up a pretty decent Superbird for less than $2000," he said. "It's not a tremendously practical car, but I mention it because I see Superbirds becoming the Auburn speedsters of tomorrow. In 10 years or so, a cherry Superbird might well be bringing $10,000."
Lamm thought prices on high-performance models would rise even faster than those on the Studebakers and Hudsons that he personally loved. "I don't doubt that all sorts of muscle cars of the late 1950s and '60s will begin to appreciate in the near future, even despite increases in gasoline prices," Lamm wrote. "Camaro Z-28s, Firebird Trans Ams, etc., will go up. Mustang GT 350s are already on their way up, as are many older Corvettes, two-seat AMXs and others."
Despite the predictive nature of the words that Lamm wrote in the mid1970s, he told Auto Restorer that he feels that "prices have gotten quite outrageous" on muscle cars today.
"Back in the '60s and '70s, when they were new, they were an interesting phenomena and they were fun to drive," Lamm says. "But I never would have guessed they would reach the heights they've hit today; I never would have imagined all of the interest and all of the people willing to pay so much money for them. I only thought of them as good used cars."
Lamm said he worries about things like "counterfeit" cars ruining the muscle car collecting hobby.
Interestingly, he had predicted this future problem in his March 1975 column. "I believe people will be replicating Superbird noses and wings the way they're replicating fiberglass Auburn Speedster bodies today," he said. Once again, he was right.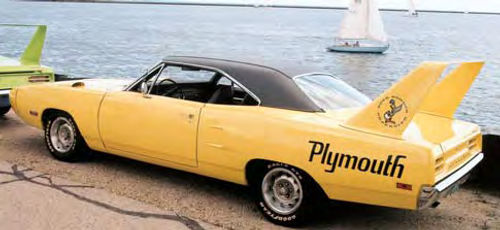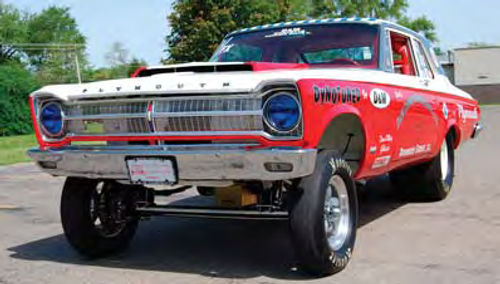 More Voices Heard
Auto Restorer also asked three other muscle car experts to join in on the discussion and talk about their views regarding the muscle car hobby. We asked them to consider the things Michael Lamm had said in the '60s and '70s and add their own advice to the mix of ideas.
Muscle Cars as Modern Classics
"The same things that Classic car owners liked when Mike was writing are the things that muscle car collectors want today," says Steve Bimbi, the owner of Nickey Chicago in St. Charles, Illinois.
"Serious muscle car collectors will pay the top prices for rare cars in nice "used car" condition or for perfect restorations."
Nickey Chevrolet was a dealership that operated in Chicago from 1925 until it closed in 1977. In the '60s, it was the largest Chevy supercar dealer and high performance parts shop in the world. Nickey (with the K reversed in the logo starting in 1958) specialized in stuffing big-block V-8s into cars that never came with them. Steve Bimbi recently bought rights to the Nickey name.
Bimbi holds a business degree from Western Illinois University and has worked selling cars and managing a dealership. He felt his background in retailing could help him engineer the rebirth of Nickey "supercar headquarters."
Steve likes muscle cars like Nickey Camaros and Motion Performance Firebirds. Because so many were raced, these cars can require restoration. A well worn '69 Motion Camaro Z/28 is on Nickey's Web site for $28,000. After restoration, it will be a strong six-figure machine. A very nice, unrestored Yenko Chevelle in Steve's inventory came out of the muscle car collection of the late Otis Chandler, former publisher of the Los Angeles Times. "It definitely has a patina that shouldn't be messed with," Bimbi emphasizes. "This car is a $325,000 piece and restoring it would hurt it."
Bimbi says unrestored vehicles that are in high-quality "survivor" condition generally bring two to three times the value of a similar restored unit.
"There is a very limited number of survivor vehicles available to the public," he points out. "So, real muscle car collectors value them nearly as high as a Classic car collector values an unrestored, but like-new Duesenberg."
When it comes to "production" muscle cars in top original condition, prices are somewhat lower, but still much higher than Mike Lamm ever imagined back in the '70s. Bimbi values a near perfect, unrestored LS6 Chevelle SS 454 Sport Coupe with 16,000 original miles at $156,991. The LS6 is considered to be among the fastest production cars ever built, doing 0 to 60 mph in 5.4 seconds.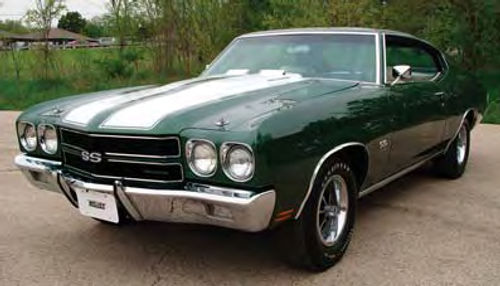 Bimbi stresses that documentation of a car's authenticity is critical. His LS6 comes with four factory broadcast sheets (or "Build Sheets") and its original dealership-issued Protect-O-Plate. The car has a completely documented "chain of ownership" and comes with all of its titles. "The car's original owner is still available to speak about the car and the great care he gave it," says Bimbi.
Some production muscle cars—like a nice-but-not-perfect 1970 Buick GSX— work best as "buy-it-and-drive-it" cars. Bimbi has one that's had only four owners since new. It has all of its original sheet metal and was repainted once in the 1980s. It looks like what vintage collectors used to call an "older restoration." Nickey values the car at $70,000 as is. "Personally, I would not restore this car, even though it has some paint issues if you really look closely," says Bimbi. "This is a really great unit, but it is not an untouched survivor."
Searching for the Duesenberg SJs of Muscle
Colin Comer, author of "Million-Dollar Muscle Cars" and owner of Colin's Classic Automobiles in Milwaukee, Wisconsin, is a well-known muscle car dealer and collector. Like others, Comer has watched muscle cars go from being $1500 beaters that nobody wanted, to in some cases being nearly priceless commodities—and traded as such. Comer's take on the subject is that muscle cars have true historic importance.
"I believe muscle cars are the last true era of collectible American cars," Comer says. "Let's face it; much like other cars such as Model Ts or Tri-Five Chevys, they were never intended to be valuable. Collectability wasn't part of the plan.
"The muscle cars were stripped-down versions of the most utilitarian and basic mass-produced cars Detroit had to offer. They were built to conform to a specific price point, with no regard given to longevity or sophistication. Junk, in other words! The hook is that they were fast junk; they were visually appealing with bright colors, stripes, mag wheels and hood scoops. The youth market couldn't get enough of them.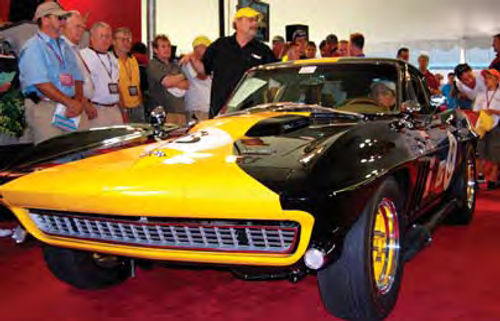 "So, where does the value of muscle cars lie?" Comer continued. "If you look at the collector car world as a whole, one distinct quality is present in every ultra desirable collector car: performance.
"Whether you are looking at a Duesenberg SJ, a 1958 Ferrari 250 Testarossa or a tri-power 1964 Pontiac GTO, performance is the one common thread. And unlike far more exotic cars, the muscle car made incredible performance obtainable. We can't underestimate that. Muscle cars were cheap, easy to maintain and available on every corner. They were true dual-purpose cars, like many European sports racing cars of the 1950s. A guy could drive his Pontiac GTO to work all week and then drive it to the drag strip on the weekend."
What does Comer think of Lamm's comments? "Obviously, Lamm was very aware of what collectors were looking for from other eras—and he saw this theme of performance. It was smart and very forward thinking, but he sure wasn't alone. I have dragged great muscle cars out of garages from people that saw future collectability in them right from the start. There aren't a lot, but there are enough sub-10,000 mile, all-original cars tucked away that you know people saw the muscle era as something special, even in the midst of it.
"As generations of collectors die off and younger collectors move in, the era of the cars they collect changes. A Baby Boomer can't relate to a Model T, but he sure can relate to a '69 Camaro."
So does Comer really think a Hemi 'Cuda is like an SJ Duesy? "No question," he says. "But, unlike an SJ Duesy that was completely unobtainable when new to 99 percent of the population, anybody with a decent job and a couple of bucks down could have bought a Hemi car new. And those are the same guys buying them again today."
As for the future, Comer says, "The muscle market went crazy over the last five years and a lot of cars jumped in value when they shouldn't have. However, I feel the ultra-rare, very low-production, special muscle cars will always be in demand from educated collectors."
Comer also likes the move toward unrestored, untouched original muscle cars. "I feel that this is the best development in muscle car collecting to date," he says. "It's a trend I am happy to push along every chance I get. These are the true treasures and it makes me very happy to see values rising and people finally appreciating these 'time capsule' cars. They are as close as we can get to going back in time and seeing how the cars really were; they weren't 'Pebble Beach' quality cars when they rolled out of Detroit and we need to remember that."
And as for the future of muscle car collecting? "Unlike many other collectibles, such as prewar cars that appeal to one age group, muscle cars have widespread appeal," Comer said. "If they didn't, Detroit wouldn't be bringing back new versions of the Challenger and Camaro. I get calls from all types of people—teenagers up through people in their 70s—wanting to buy muscle cars. So, for at least the next 20-30 years, as these younger buyers hit their peak earning years, I expect to see muscle cars remaining among the most desired collectible cars."
Comer offers one word of caution, though. "Only buy the best," he warns. "The market is adjusting and the great muscle cars are safe investments, while the others are a dangerous proposition. Clone cars, recreations, imposters and undocumented cars are a four-wheel form of Russian Roulette with your pocketbook as the stakes."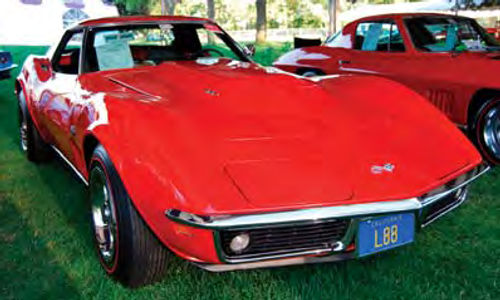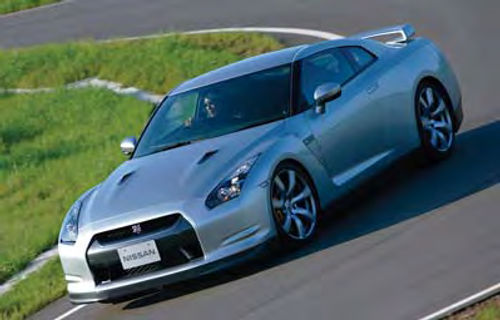 Another Vote for Continued Muscle Popularity
"My assessment of Mike Lamm's influence on muscle car collecting is not as strong as yours," says auctioneer Dana Mecum, of Marengo, Illinois, expressing a view that back's Lamm's personal opinion. "I don't think he was an initiator, but he was very much an awareness factor since he made many people aware that the cars were appreciating."
Mecum feels that American muscle cars fit right in with the "great coach-built Classics of the '30s and the great sports cars of the '50s and '60s" as a category of cars to collect.
"Most automobiles are built for transportation," Mecum said. "They were purchased to drive to work or the grocery store, but Classics, sports cars and muscle cars were different; they were purchased out of personal satisfaction."
Still, Mecum sees an important distinction between the American muscle car and the great Classics and sports cars on another level. "The Classics were built for aristocrats and wealthy people," Mecum feels. "Sports cars like Jaguars, Aston-Martins and Ferraris were made for the rich people's kids; owning one was unimaginable to ordinary people of the day. But the American muscle car, although made for special use, was built and priced for the masses."
Mecum feels the Corvette is a special American muscle car. "The Corvette is a wonderful example," he said. "Many people give a Corvette a year of regular use and then preserve it. Lamm saw into the future and brought the prices of Corvettes and other cars to peoples' attention."
Mecum sees a great future for American muscle. "I have kids in their mid-20s who like Chevelles, Camaros and the GTO. They have no interest in the cars that were new when they were kids.
"That's a strength of the American muscle car; it transcends several generations and has a long shelf life."
For more from author John Gunnell on the subject of muscle cars, watch for next month's review of his book "Muscle Car, the Art of Power."