After Nearly Three Decades, the Jeep Pickup Has Returned to Dealer Showrooms. The Truck Has Quite a Distinguished Heritage, and Its Links to the Past Are Evident In Its Design.
Of all the pickup trucks that have traveled American roads over the decades, perhaps the most recognizable has been the truck wearing the Jeep badge. After all, a Jeep SUV has a very definite look—one that you know at a glance—and a Jeep Pickup has always resembled an SUV with a pickup bed added behind the cabin seats.
Furthermore, that "Jeep" look sticks with you because it gives these trucks an image of a vehicle that's taking care of business.
Other pickups may be just as capable at hauling a load, but the owner may have purchased it just to be a part of the current automotive scene and has no intentions of the truck working for its keep.
But take one look at a Jeep Pickup and you know that the owner uses it for hauling, towing and off-roading. He or she goes camping, hunting, fishing or just exploring and needs a rugged truck that is as much at home on a forest or desert trail as it is on the Interstate or a shopping center parking lot.
At least that's the impression that's built up around Jeep pickups over the years and there's a good deal of truth behind that cultivated heritage.
A Postwar Creation
The Jeep Pickup was born of the military Jeep that became so well-known during World War II for its rugged performance and durability. After the war, WillysOverland, the owner of the Jeep brand and largest manufacturer of all-wheeldrive vehicles at the time, decided to offer a range of Jeep vehicles that included the CJ or civilian version of the military Jeep, a station wagon, a panel delivery and in 1947 it introduced its version of the pickup truck.
During the subsequent 45 years, Jeep pickups were built under several corporate owners of the Jeep brand including Willys, Kaiser, AMC and Chrysler.
The lineup over the years went like this:
• Jeep Pickup: 1947-65
A 118-inch-wheelbase pickup that underwent few product changes during its product run. As noted, it was part of Willys Overland's move to diversify the Jeep brand from the CJ.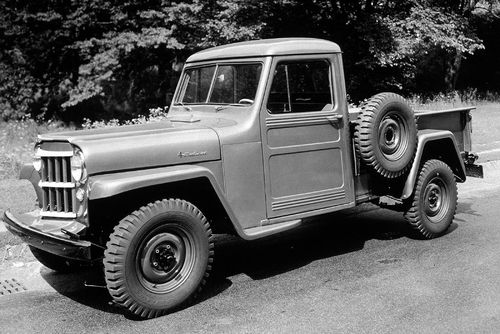 • Jeep FC-150/170 Pickup: 1957-65
These Forward-Control (cab over engine) Jeep vehicles were essentially work trucks—with an 81-inch wheelbase for the FC-150 and 103.5 inches for the FC-170. They received few changes during their lifecycle, though some 1959 and 1960 models featured full-floating front and rear axles, and some FC-170 models included dual rear wheels and a four-speed manual transmission.
• Jeep Gladiator/J-Series Pickup: 1963-87
Resembling the Wagoneer station wagon, Gladiator debuted in 1963 in either 120-inch (J-200) or 126-inch (J-300) form and featured a Dana 20 transfer case and Dana 44 axles front and rear. The Gladiator name was dropped in 1972.
• Jeep CJ-8 Scrambler: 1981-85
Introduced in 1981, the Scrambler was a Jeep similar to the CJ-7, but with a longer wheelbase. Known internationally as the CJ-8, it was available in either hardor soft-top versions. Less than 30,000 Scramblers were built and are popular among vintage vehicle collectors today.
• Jeep Comanche: 1986-92
Based on the Cherokee platform and similarly equipped, the pickup received a six-foot bed in 1987. Later models offered Selec-Trac or Command-Trac four-wheel drive.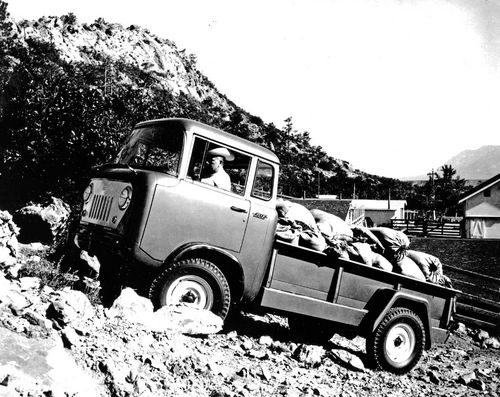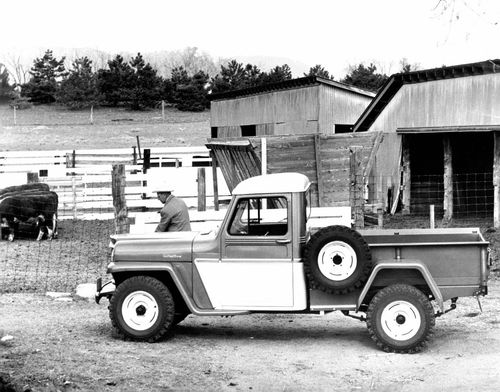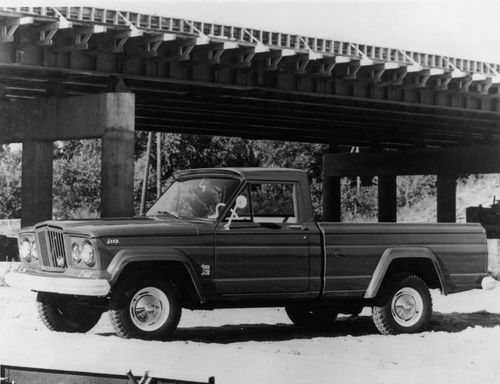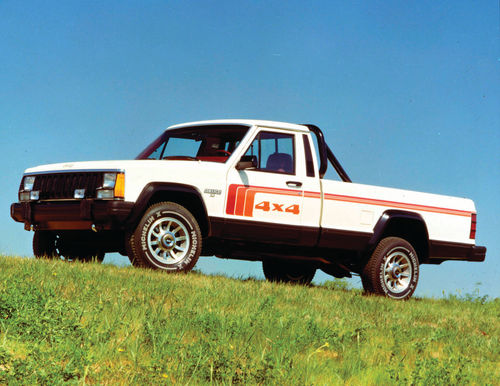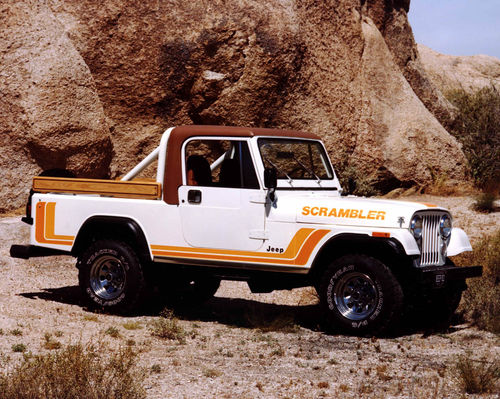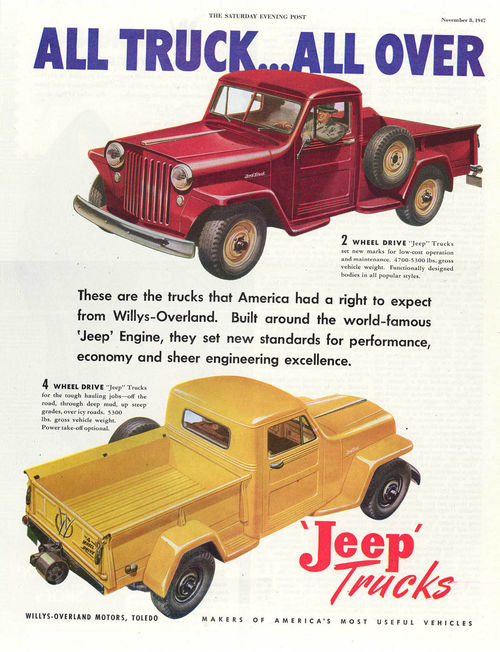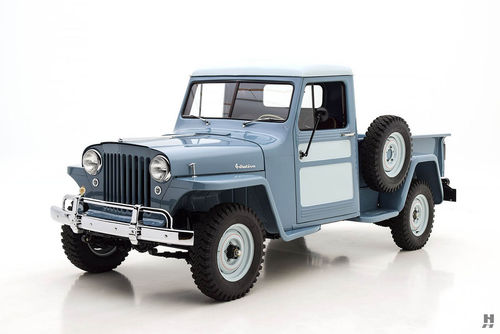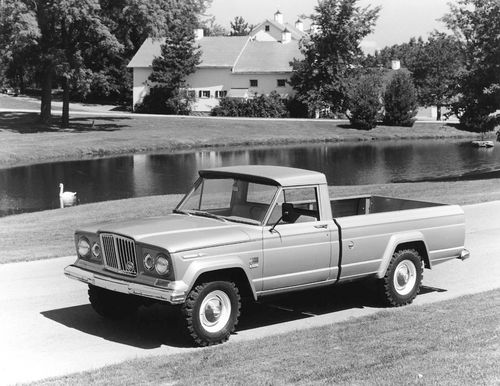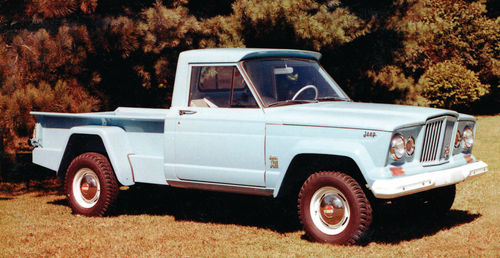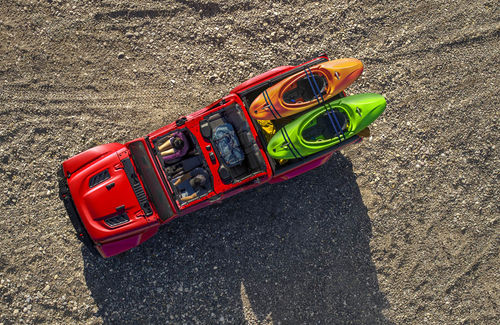 Then the Jeep Pickup Was Dropped
The decision to phase out the Jeep Pickup came about three decades ago after Chrysler bought AMC in 1987, mainly to acquire AMC's Jeep lineup. That is, Chrysler wanted to produce Jeep SUVs but in the Chrysler corporate hierarchy Dodge was the company's truck builder so the Jeep trucks had to go.
The company ended production of the Comanche pickup at its Toledo, Ohio, assembly plant in June 1992.
Times Have Changed…and Yet Stayed the Same (Sort Of)
Chrysler is now part of FCA (Fiat Chrysler Automobiles) and since 2010 FCA has built its pickups under the Ram brand. But given the intense popularity of pickups and SUVS, the company decided it was time to bring another competitor into the marketplace.
So it reached into its corporate heritage and has introduced "the all-new 2020 Jeep Gladiator."
FCA said its new truck "boasts a… distinguished design aesthetic that is immediately recognizable with traditional Jeep design cues" and went on to say that it "builds on a rich heritage of tough, dependable Jeep trucks with an unmatched combination of rugged utility, authentic Jeep design, open-air freedom,
clever functionality and versatility, best-inclass towing and 4x4 payload, advanced fuel-efficient powertrains, superior on- and off-road dynamics and a host of innovative safety and advanced technology features."
Among the items that will show you this is a modern truck are the following:
• Lightweight, high-strength aluminum doors, hinges, hood, fenders, windshield frame and tailgate help to curtail weight and boost fuel economy.
• The suspension is tuned for onroad handling and ride comfort without sacrificing off-road capability, payload or towing capability.
• Advanced fuel-efficient powertrains are part of the picture: A 3.6-liter Pentastar V-6 engine with Engine Stop-Start (ESS) and eight-speed automatic or six-speed manual transmission is now available while a 3.0-liter EcoDiesel V-6 with an eight-speed automatic transmission is to become available next year.
• A choice of 7.0- or 8.4-inch dashboard touchscreens have pinch-and-zoom capability and a forward-facing off-road camera is available on the Rubicon model that allows you to monitor obstructions on the trail via your dashboard screen.
• More than 80 safety and security features are available.
A look inside the cabin also will immediately tell you that this isn't the Jeep truck you drove decades ago. From the bucket seats to the array of dashboard gizmos, this is a vehicle of the 21st century.
Still, a quick look at the exterior is all it takes to realize that this new vehicle definitely is a Jeep, and that was very intentional on the part of the designers.
For example, FCA said: "The Jeep design team kept the legendary seven-slot grille seen on Wrangler, but widened the grille slots for additional air intake to assist with the increased towing capacity. The top of the keystone-shaped grille is gently swept back to enhance aerodynamics." The round headlights and square taillights also are reminiscent of vintage Jeep pickups.
Tim Kuniskis, Head of Jeep BrandNorth America, summed it up this way: "Unquestionably a truck and instantly recognizable as a Jeep, the all-new 2020 Gladiator is the ultimate vehicle for any outdoor adventure. There is tremendous demand for this unique vehicle from our loyal Jeep customers and pickup truck buyers everywhere. Born from a rich and proud heritage of tough, dependable Jeep trucks, Gladiator combines rugged utility, versatility and functionality resulting in the most capable midsize truck ever."
If You Had to Choose…
Perusing the photos on these pages will give you an idea of where Jeep has been and where it's meeting the road today. No doubt there are a number of Jeep owners reading this along with others who have considered the possibility of someday driving a Jeep into their garage.
So given the choice, which one would you want; a vintage Jeep Pickup or a modern version with vintage Jeep styling cues…