A Rolling Oakland Restoration
The plan was to drive my 100-year-old 1917 Oakland over the Wisconsin Section of the Yellowstone Trail to raise money for the Lions Club camp for blind and disabled children in Rosholt, Wisconsin. Why the Yellowstone Trail? Because I own
a building in Waupaca, Wisconsin, that was an Oakland dealer and Yellowstone Garage. Why the Lions Club? Because that organization also turned 100 in 2017.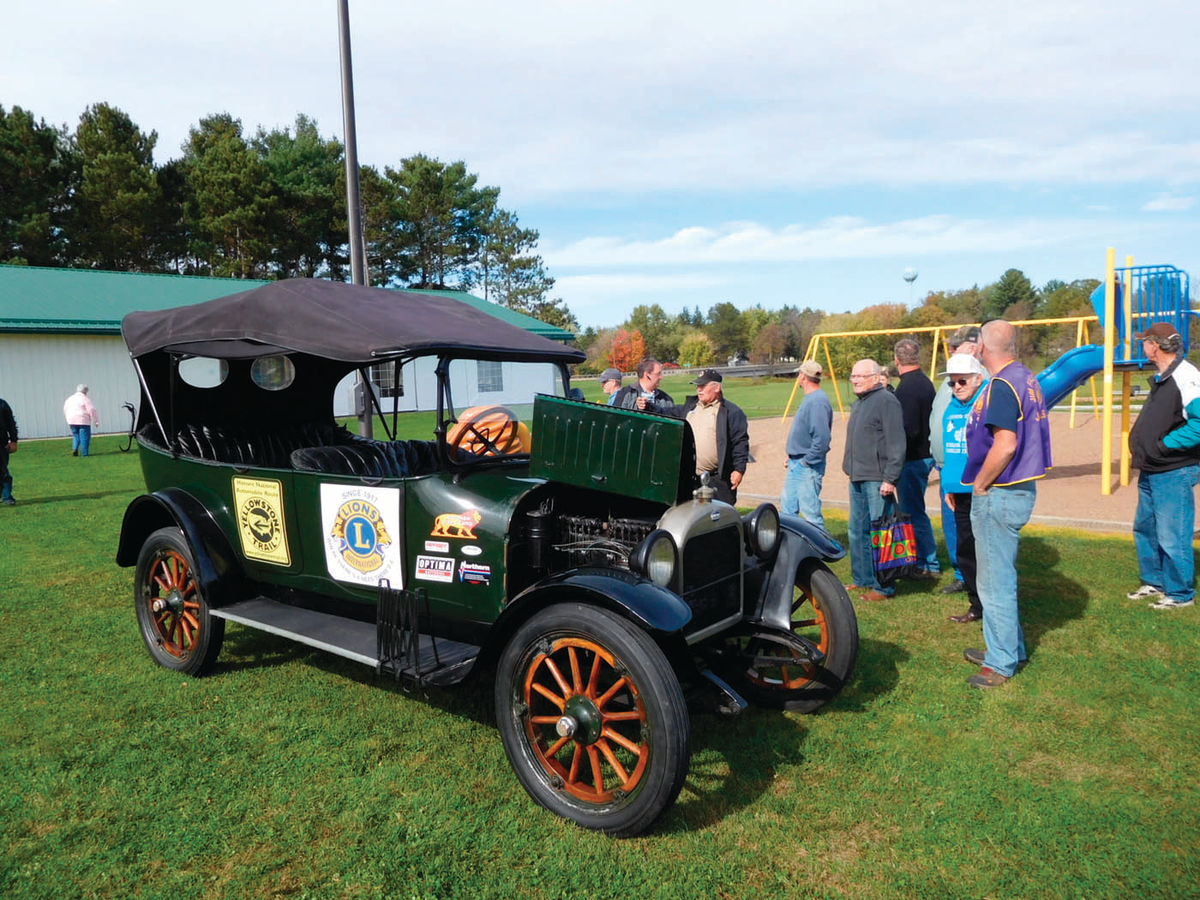 But after one of the Oakland's rod bearings disintegrated on day one of the trip, our "Century For Sight" Yellowstone Trail Tour became a rolling restoration project. Driver and mechanic Dave Sarna refused to give up on the goal of raising funds for a cause he believed in. Even before the tour started, we had spent two weeks redoing the bottom end of the engine and then replacing the clutch at the very last minute. However, Dave was determined to keep fixing the car and keep going.
Day 2 started in Chippewa Falls, Wisconsin. We sent emails to Del Hanson at Del's Auto Repair in Rice Lake and to Bob Marx of Marx Parts in Arpin, both near our route. Del does mechanical restorations and Bob Marx sells parts and gaskets for some very old cars. Unfortunately, he did not have any Oakland parts.
Next we went back to Rick Payton's shop. The car was on the trailer and Dave worked lying on his back. He pulled out another rod and bearing cap. This rod was a little loose, but the bearing wasn't ruined like the No. 3 bearing. The crank and journals looked OK. The other rods seemed OK, but we didn't have any Plastigage to test clearances. Rick Payton had his machine shop clean the oil pan. Dave asked what we owed him and he said, "Don't worry about it; it's OK."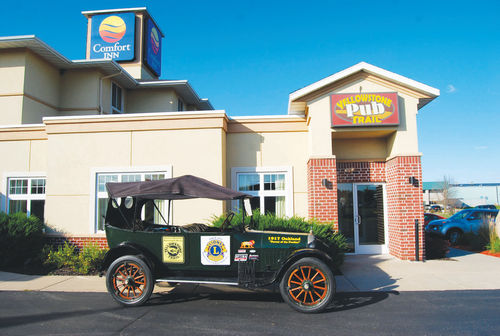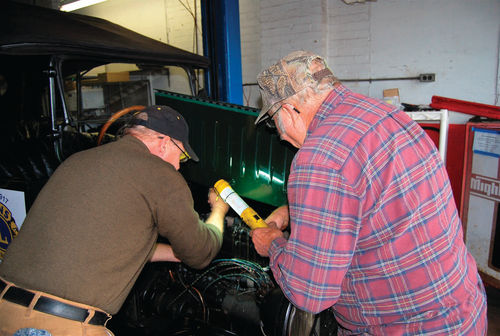 We had to meet Lion's Club members in Cadott, Wisconsin, for lunch so we packed the tools and headed out. The people there treated us like VIPs. We took the car off the trailer for a photo session. Frank and Dennis Gapp of Eagan, Minnesota, came to Cadott to see the Oakland. They have a "barn find" condition 1916 Model 60 Oakland that has been in their family since new. The totally un-restored car is a Hershey show winner and is being worked on by Wayne Koffel, who had helped us with parts and information for my car. Small world!
Our next stop was in Stanley, Wisconsin. They took us to see the Stanley historical museum collection, which includes a 1906 Cadillac and historic photos of old automotive buildings that were in the town. We drove out of Stanley on a section of the original Yellowstone Trail and saw the town's old Yellowstone Garage on the way.
While traveling to Abbotsford, Wisconsin, we phoned car collector Guy Carpenter of Marshfield to see
if we could use a lift there for a few hours. In Abbotsford we stopped at Northside Machine Works and bummed some used hardened rod nuts from a small-block Chevy (the same 3/8-in. size we needed) and some assembly lube. Then we went to Advance Auto Parts for some green Plastigage.
Our plan was to continue to our pre- arranged Lions Club stops in Marshfield and Plover with the car on the trailer.
If we managed to secure use of a lift in Marshfield, we'd do a little more there. Then, with a few friends helping, we'd redo the bottom of the engine at my Yellowstone Garage in Waupaca.
On Wednesday, Guy Carpenter called to tell us that he had arranged for us to use the two-post lift at the home of Al Breau, another Marshfield car collector. Dave Sarna wanted to get at least one or two more bearings re-inspected and properly adjusted so there would be less to do at my shop on Thursday. We could not redo all of the rods because we were still waiting for parts that were coming from Delaware in the overnight mail.
While Dave worked on the car, we got a call from John Julius, a car collector from Greenville, Wisconsin, who told us about a Franklin that broke down on the Yellowstone Trail in Greenville, Wisconsin, in the early '20s. A family had driven the car from New York and ran out of gas and got stuck near the Menning Farm. Members of the Menning family came with a team of horses and pulled the Franklin to their farm. The car owners said they had no money, but were having some wired to them in Stevens Point. The Mennings gave them gas and the travelers left their glass wind wings as collateral for the fuel. They never came back for their wind wings and Tim Menning, a car collector, still has them today.
We made a Marshfield lunch stop with Lions Club members, then headed to the Comfort Inn in Plover, which
has a "beverage center" called The Yellowstone Pub. After checking in, the hotel operator told us that a man with a 1928 Oakland had come to Plover to see us. He turned out to be John Gehrke of Stevens Point, who owns a very original, un-restored Oakland All-American Six. We parked these two rare cars together and compared notes.
A Gathering at the Garage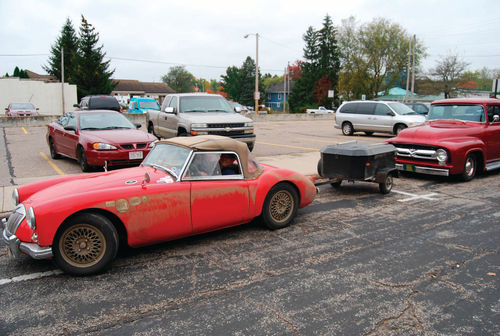 Dave Sarna and I were anxious to get to my Waupaca garage. Bob Hansen (sen) who works there would be ready to help Dave. Car collector Bob Buchman was also meeting us, as was Bob Hanson (son) of WPAK Radio 106.9 AM in Waupaca. Bob owns a couple of AMC Javelins and sells advertising for WPAK Radio which was covering the complete Yellowstone Trail Tour. Things were already hopping by the time we arrived. The Coffee Clutchers—a hot rod group—were having a breakfast and touring an auto collection near the shop. So we invited them to stop by the garage to take part in the lunch that the Waupaca Lions would be putting on at noon. Our plan was to have Dave and the three Bobs work on the car, before and during the Lions lunch. Debbie Sarna had brought us the good used Oakland rod bearings that had come in the mail.
Bob Buchman and Dave re-shimmed and re-gauged five of the rod bearings with a pretty good size crowd watching them. Bob Hansen sanded the used bearings smooth and Bob Hanson organized the rod shims by thickness. The repairs started at 9 a.m. and weren't finished until about 2:45 that afternoon.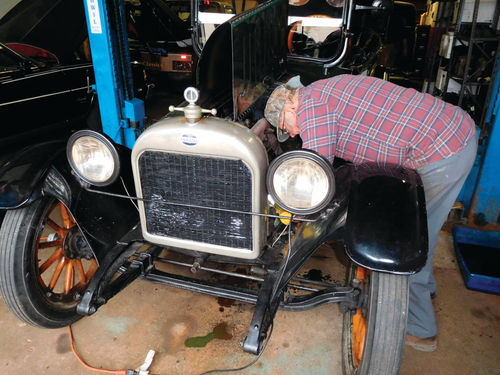 Each crank journal had to be re- shimmed and on most or all of them, this had to be done several times. The goal was to have the rod bearings set just right. If they were too loose, the rod would knock; if they were too tight, the engine would turn hard. The crankshaft had survived the Number 3 bearing failure pretty well. It seemed like it was still nice and round. Dave also pulled down one of the main bearings to check it.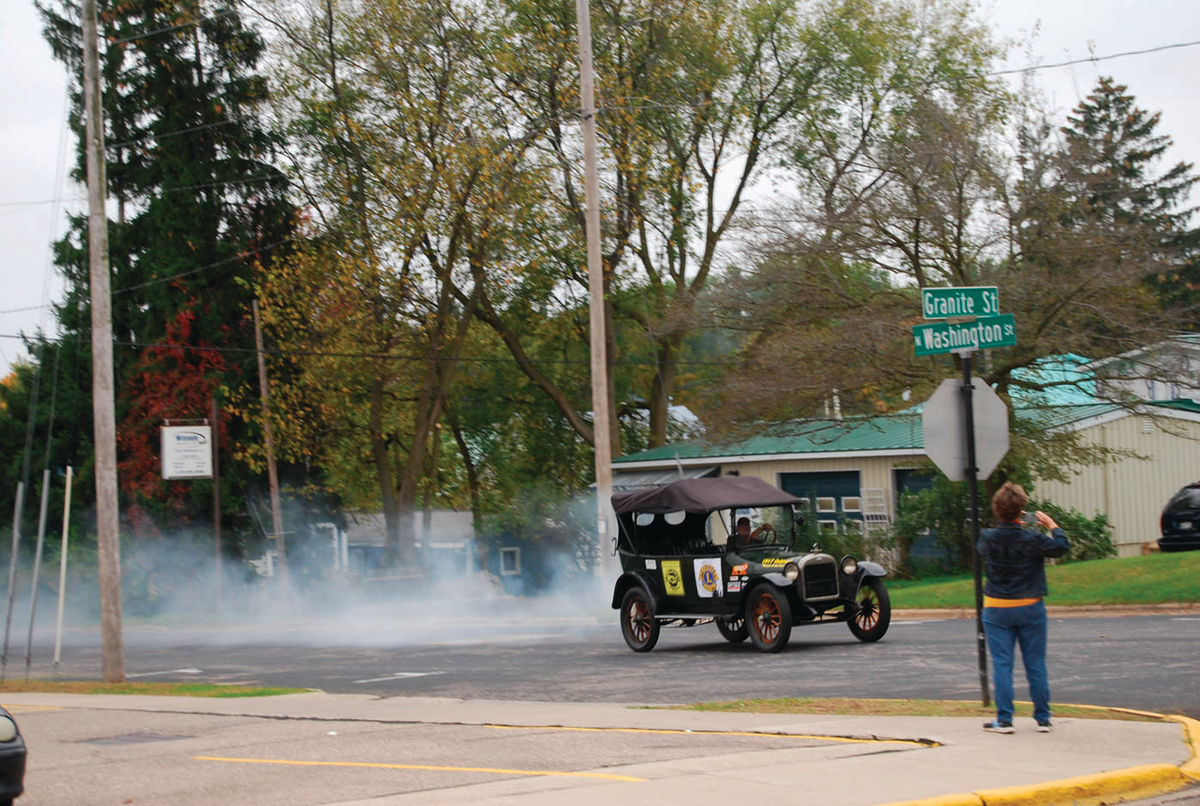 In the middle of all the chaos, we received a surprise phone call from Barney Gaylord of Chicago who is known as the MGA Guru (www.mgaguru.com). Barney drives around the country in a 1958 MGA that has about
a half-million miles on it and is putting together a list of shops that repair British cars. He had stopped at my Gunner's Great Garage in Manawa, Wisconsin. No one was home, so he called me.
We directed Barney to the Waupaca shop. This was around 2 p.m. and Dave and the three Bobs were just about finishing work on the car—at least they thought so. I wasn't sure if the MGA Guru could arrive in time, but I should not have been concerned. Dave attempted to start the Oakland but the battery was low. When a few minutes on the charger didn't do the trick, Dave decided to push-start the Oakland. We had plenty of "helpers" standing around to push it off.
A Smokin' Test Drive
Once pushed, the car started almost immediately and smoked like the mosquito-killing truck that we used
to chase around town when we were kids. (Yes, we survived it!) Dave drove it around the block several times. It was smoking because we had purposely overfilled it with oil...we figured that was the best thing to do with a splash lube system, rather than have too little oil. I'm surprised that no one called the Waupaca Fire Dept. These trips didn't stop the smoking any, but they did give Barney Gaylord a chance to make it from Manawa to the Waupaca shop.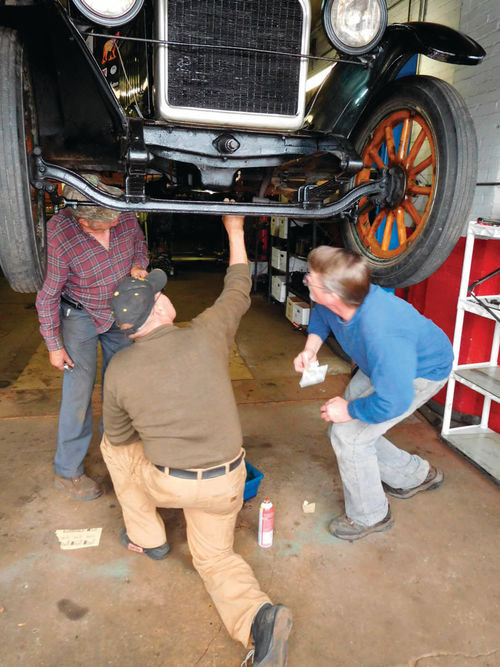 By the time Barney arrived, Dave had backed the Oakland into the shop's service bay because oil was leaking from the oil pan. We think the machine shop that cleaned the pan had pressure washed it, loosened up some rust and created a small hole. Not to worry. Bob Buchman made a gasket patch, used a screw to attach it to the pan and then covered the repair with 5-minute two- part epoxy. Problem solved (for now).
A Nice Cruise to Oshkosh
It was 3 p.m., two hours later than we had wanted to hit the road. We loaded the car on the trailer and took off. The car was still riding well, but we didn't want to drive it on a 4-lane highway. So we towed it to a spot near Fremont, Wisconsin, and offloaded the car there for the ride into Oshkosh. That was a 30- 40 mile run along some of the prettiest country back roads in Wisconsin. This was one of the most enjoyable parts of the trip and another high point was to come in Oshkosh.
When we arrived at Leon's Custard in Oshkosh, a small contingent of Lions was there to greet us. The group included Shirley of the Oshkosh Lakeshore Lions. Shirley, 87, has been blind since she was six months old. Dave took her for a ride in the Oakland and Shirley rewarded him with a $200 donation to the Lions Club camp in Rosholt. What a perfect ending to an upbeat got-the- car-fixed day!
In all, our Yellowstone Trail Tour raised more than $7000 for the Lions Club's Camp. Visit "Century For Sight" on Facebook to learn more about the tour and how you can contribute to this Lions Club charity.
Our next segment will cover the last two days of the trip on the leg from Oshkosh to Kenosha. We'll also provide a list of companies who helped us make the trip successful.