Its Size Makes It Suitable for Today's Small-Car Marketplace. But It Can Carry Family Memories from Decades Ago.
AMERICAN MOTORS VEHICLES generally differ at least a little from their contemporaries,something that struck the owner of the 1961 Rambler American featured here when he saw it for the first time.
"As we're pulling into this low, older brick building," recalled Fran McMullen, "this large, cavernous, single-story building with a roll-up door, at the very far end is the Rambler parked tail facing us, right next to a '59 or '60 Olds 98. Right away, that's an exercise in irony."
The sizes provide the obvious contrast as a 1960 Oldsmobile 98 rides a 126.3- inch wheelbase and covers 220.9 inches from end to end while the 1961 American's corresponding measurements are 100 inches and 173.1 inches. The lightest of the 98s from 1960 is the Holiday two door hardtop at 4312 pounds and McMullen's Custom five-passenger convertibleis1961'sheaviestAmericanat2745 pounds. The comparisons are as startling on paper as they are when looking at the cars and they're indicative of the philosophy that American Motors inherited from the last years of its Nash ancestor.
A 111-Year Rambler History
Nash Motors had come into existence in 1916 when Charles Nash bought the Thomas B. Jeffery Co. which had introduced the Rambler in 1902. Nash had already proven himself during his time as General Motors' president,so it's not surprising that he was able to succeed.
The first Nash-branded cars were badge-engineered continuations of the Jeffery and were in production until the arrival of an all-new Nash—the six-cylinder 680—in 1918. The company did well from the start even as the automotive world began to shake out the weaker firms,so as failures multiplied during the Great Depression, Nash proved strong enough to ride out the storm. World War II's defense spending pushed both the Big Three and most of the remaining Independents solidly into the black and the sellers' market in the immediate postwar years strengthened their positions. But for the Independents, the future was not assured.
Ford, Chrysler and General Motors each had tremendous resources and economies of scale with which any of the Independents would be hard pressed to compete, and industry executives blessed with foresight realized that the Independents' final days were not very far over the horizon.
Like its competitors, Nash had resumed production of civilian vehicles by tweaking its 1942 cars, but itsfirstreal new design of the postwar years went far beyond mere evolution. Its Airflyte styling of 1949 was no gimmick; the smooth sides that met in a rounded fastback and all but eliminated wheel wells were meant to reduce drag and if it looked futuristic, that was fine because advertising boasted that "there's much of Tomorrow in all Nash does Today. Wind tunnel tests of current Nash cars against competing designs again indicate the value of advanced research and engineering. These tests prove that a Nash car has 20.7% less air drag than the average automobile of current design."
It also meant that styling was unmistakable. The Airflyte was a love-it-or hate-it look and remains so today, but while 130,000 sales in the first of its three years seemed promising, that figure was no real match to the Big Three's output and Nash Motors knew it.
In fact, its president and chairman, George Mason, had been thinking about that for several years and was savvy enough to recognize that Nash's best chance would lie in a product having no direct competition from GM, Ford or Chrysler. (Charles Nash had retired in 1936 with Mason as his hand-picked replacement.)
Mason was a fan of the small car and that would be his weapon of choice, as the November 1949 issue of MoToR reported that "current Nash big news is a narrower, lighter weight, lower priced series now being readied for introduction in 1950. On a 100-to-104-in. wheelbase, expected to be around 500 lb. lighter in weight than the current models and considerably narrower, with a three speed transmission and no overdrive, the new car will be offered in seven or eight body styles. First off the line will be a convertible. Sedans will not be available until mid-'50."
MoToR was mostly right.
In 1950, Nash improved its flathead and overhead-valve sixes, renamed the 600 as States man,offered Hydra-Maticin its high-end Ambassador…and introduced the Rambler. The new car's 100- inch wheelbase made it 12 inches shorter than the Statesman and 21 inches shorter than the Ambassador. The Rambler was 400 to 800 pounds lighter than the various full-size Nashes, used an 82-horsepower version of the Statesman's flathead and as MoToR had predicted, arrived as a convertible.
Given that the full-size Nash looked like nothing else on the road, maintaining a visual connection with the Rambler was both important and challenging. Had the Airflyte design simply been scaled down, it might have become too outlandish for most drivers,so Nash carried over the smooth sides, the minimal wheel wells and the general look and details, but swapped the fastback for a conventional trunk area. As if to make up for that concession, it designed the convertible so that the cloth top retracted while the window frames remained in place.
A Rambler Station wagon followed late in the model year and like the convertible, it was far removed from the austerity of an economy car. Either version was available at $1808, which was more than the price tag on half of the Statesman line and included such niceties as a radio, clock and turn signals.
The plan worked and about 11,000 Ramblers were sold in that first short year, so the line added a two-door hardtop for 1951 and sales hit 70,000.
By 1954, the Rambler was enough of a success that a 108-inch-wheelbase series was added and since that year also brought the merger with Hudson to form American Motors, 1955 saw Hudson dealers selling Hudson Ramblers.
The new Hudson compacts were virtually identical to their Nash Rambler counterparts, but from there, the story becomes complicated.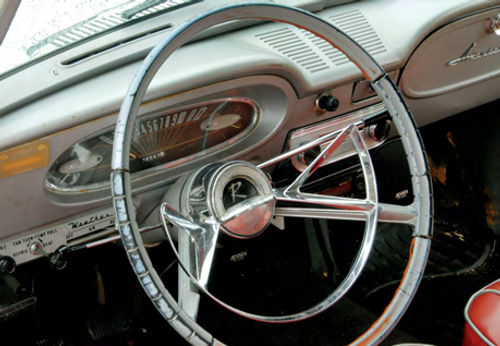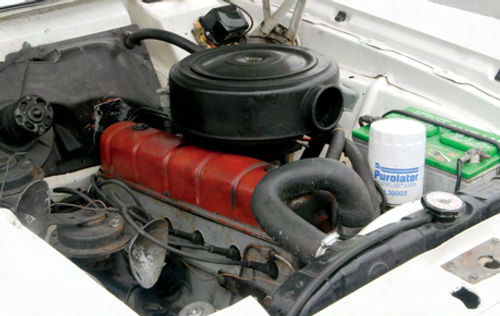 The Rambler Rolls to Center Stage
AMC dropped the small Rambler for 1956 and completely restyled the larger model so that its only real resemblance to the earlier cars was in the oval grille; sharpened lines eliminated all traces of the Airflyte look. The market showed that in general, Mason's instinct had been right as full-size Nash and Hudson sales amounted to 25,000 cars against 79,000 Ramblers. The comparison isn't completely fair because the all-new Rambler was matched against the dated Nash body that was also used by Hudson, but the big cars' sales fell again in 1957.
Just 3561 Nash and 4108 Hudson full size models were sold that year and both were dropped as American Motors focused on the Rambler. Since it now had only its Rambler and its captive import, the Metropolitan, more changes were made to broaden the line for 1958. The basic Rambler was restyled front and rear, the Ambassador name was moved from the late Nash to become a nine inch-longer model at the top of the line and the old 100-inch Rambler returned in slightly updated form as the Rambler American. Dated but not unattractive, the American wore the Airflyte look of the original in sharp contrast to the fins and flash of the other Ramblers and would continue virtually unchanged through 1960. By then, of course, round was out and when the 1961 American was introduced, its only visual connection to the previous version was simplicity.
The new American was boxy with straight lines and crisp edges. Its surfaces were flattened and while the headlights remained separate from the grille, they were lower and better integrated to create a more modern appearance. The rear view was even cleaner, as simple round taillights were mounted near the edges of a fairly flat panel. The most impressive part of the entire package was invisible— under that new sheet metal was the structure of the original 100-inch Rambler.
Replacing the Former Family Car
The new American was a success with sales reaching 136,000 for the year and like many cars from AMC and its ancestors, it could inspire passion among its owners. McMullen understands perfectly, given that long before he was driving, his mother had an American almost identical to his convertible.
"Out of all the cars my family's had," he explained, "it's the only one that my mother expresses regret that we got rid of it. So since then it's always kind of been in the back of my mind that it'd be nice to get another one."
The problem was that until not that many years ago, few crossed his path. That changed in the summer of 2009, when a friend emailed an eBay listing and added a note asking whether the car in the auction was similar to his mother's American. It was, he recalled, and based on the photos, it appeared to be in good condition. He decided to bid on it and was unsuccessful, but the car was relisted. He bid again and was unsuccessful again.
"But a coupleof days later,"McMullen said, "I had an email from eBay saying I had a second-chance offer on this car.
"At that point, I thought 'OK, this is really odd that things are panning out this way.'"
The seller was an Illinois Volvo dealership and after a long discussion with the service manager plus careful study of more photos, McMullen was almost convinced and needed just one key piece of information.
"Finally," he recalled, "I said 'for me to make this work, I'm going to have to fly out there and drive the car back to Pennsylvania. Do you think it is capable of that kind of trip?'
He said 'we believe it is. It has four recent tires, it's been serviced, it starts and runs; it seems to drive OK. We don't see any reason why it shouldn't be able to do that.'"
Kenosha Beckoned…but So Did the Generator
A bus ride from Scranton to New York was followed by a flight from there to Chicago and after looking over the American, he felt that its condition was about what he had expected. So he closed the deal and headed for home, 899 miles to the east. Since he'd flown to Chicago, tools and supplies had been left behind and his first stop was at a big-box store to purchase the necessities that he'd planned on from the start. The most direct route back to Scranton had also been planned, but McMullen made the mistake of looking at a map and deciding that a side trip to Kenosha, Wisconsin, and the home of American Motors was in order.
"I thought it might be neat," he said, "just to drive up there and see whether I could find some extant AMC site, take the car and grab a few pictures. It wouldn't have taken me that far out of my way at that point and I didn't know when I might get out to that part of the world again, so I headed north."
Everything was going well until the American's generator light blinked on late in the afternoon. In heavy traffic. On an expressway. In the rain.
Kenosha was scratched, accessories were turned off and the plan was modified again, this time to find someplace with a roof to provide protection while diagnosing and—with luck—correcting the problem.
"I got out of the car, got under the hood, checked the wiring and I couldn't see any obvious fries or failures," McMullen recalled. "I tried grounding the generator field and that didn't do it,so it looked like I had to pull the generator and open that up. I was hoping it was just something like an oxidized commutator and in spite of spending $250 (on tools and supplies) I did not have any fine sandpaper. I went to the drug store to see whether I could find some sandpaper or short of anything else, a couple of emery boards, which tend to fall apart when they get wet. I tried to buff the commutator down with the emery boards and nothing. Nothing worked."
Continuing without a functioning generator was possible by sticking to daylight driving, he reasoned, so he turned around to pick up the original plan and went as far as Gary, Indiana, before stopping for the night.
The motel was conveniently located near a shopping center where he was able to buy a battery charger. After removing the battery from the car, he placed it in the bathtub of his room, set it up for a slow charge and went to bed. That worked and the next day's idea was to again drive until nightfall, find a motel and charge the battery.
A Few More Automotive Side Trips
Plans, of course, are just guides and since South Bend, Indiana, was on the route, a stop at the Studebaker Museum seemed reasonable and didn't keep McMullen from reaching Milan, Ohio, in daylight.
Finding a room there required several stops and he noticed street rods on the area's roads in unusually high numbers. They packed his motel's parking lot, too, which became less surprising when he learned that there was a street rod event in Norwalk, and the owners were appreciative of the Rambler and its story.
"Nobody said any nasty things about dropping a 454 into it," McMullen explained, "at least while I was there."
That night's charging brought the battery back to life for the final leg of the journey—the detourthistime was to visit the National Packard Museum in Warren, Ohio—and McMullen was finally back in Scranton that evening with the Rambler.
"The one-to-two-day trip home took three days," he said, "and aside from the initial incident with the generator, there were no issues for the rest of the trip. Everything else on the car worked fine. There were no issues with overheating. The oil consumption was a little bit high, but when I got the car, it had about 91,000 miles on it and I think it's not unusual for something like this to use a bit of oil."
Monitor That Head Bolt Torque
The car has since shown itself to have no significant mechanical weaknesses. McMullen said he'll work on the carburetor before summer to address a driveability problem that he suspects is the result of using modern gas in an old fuel system, and although the springs were replaced, he wants to check the frontend components and replace grease fittings as necessary.
"I was almost surprised to find the original Bendix wheel cylinders," he said. "I wound up pulling the wheels this summer to adjust the brakes and also to look at things. They're not in bad shape at all, but the left front wheel cylinder's leaking now and it's just time to go through it. I'm sort of on the fence as to whether I'm going to replace the steel tubing. I think I probably should just to be on the safe side, but I'm definitely replacing the wheel cylinders, the master cylinder and all the flex hoses."
Brakes have long been something to consider on original cars or even old restorations and in recent years, reformulated gas has placed fuel systems in that same category, but McMullen warned of another potential problem— the 196 cid's cylinder head. The owner's manual notes that its retorquing "is particularly important in seasonal tune-up preparations such as spring and fall" and he explained that improper coolant-circulation during warm-up can cause the head to expand quickly and create stresses that loosen the bolts. The head gasket can then leak and the head can crack, meaning a pre-purchase compression test should be a high priority.
"I don't know whether this is also a problem with the flathead Rambler," McMullen said, "but it's definitely an issue with the overhead Ramblers. And word on the street is that finding uncracked 196 heads is getting tough."
He added an observation, though, with which most AMC- and Nash-faithful would likely agree, namely the fact that the overhead-valve 196 in his car and the flathead version are generally tough engines.
A Very Surprising Lack of Rust
Re-torquing as a maintenance step doesn't seem overly burdensome, but the most maintenance-conscious owner in the world would at best only slow the biggest problem facing an American used anywhere but in the desert. The feature car is among the lucky ones, as the body appears to be original other than paint.
"The dealer plate on the trunk lid is from Ned Nastrom Motors in Bismarck and Madan, North Dakota," McMullen said. "If it was driven in the wintertime, it must've been driven sparingly. I don't think it was ever left to sit out in the weather; there's just no sign of that kind of deterioration.
"Aside from road dirt—I think it did travel on some dirt roads—that's it. There's not even surface rust underneath. There are a couple of tiny spots where I'm just starting to see some rust bubble and it's early enough in the game that I'll be able to take care of them."
However, a restorer seeking an American today is more likely to find candidates that need help. Unitary construction makes careful inspection extremely important beginning with the lower quarter panels, rocker panels, door bottoms and fender heels—areas where nearly any car can be expected to show rust—and moving on to cover both the exterior sheet metal and thestructure.
A badly rusted American will often have significant holes around the base of the windshield or the backlight, the tops of the fenders or quarters and the bottoms of the pillars. On a car showing that kind of damage, serious problems are almost guaranteed to be waiting in the passenger compartment or trunk floor, various body seams and the suspension mountings.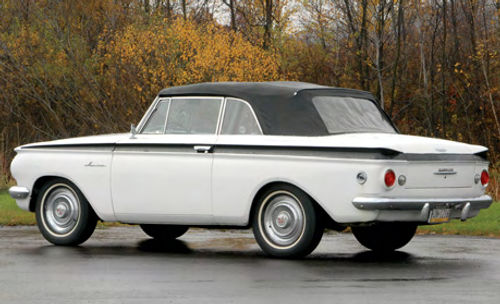 With nothing more than those minor rust spots, a small tear in the convertible top and several cigarette burns in the vinyl upholstery, the feature car is both solid enough and original enough to enjoy asit is. McMullen likes it that way and has a general program in mind to ensure its survival.
"(I'll)try not to drive it in bad weather," he said, "which is kind of ironic in that this photo shoot was on a rainy day. A little rain isn't going to hurt, but I don't even like to think about salt when I'm near the car because that will definitely do it in. That's why we don't see them anymore.
"Basically, it's to conserve what is there, try to address any wear-related deficiencies and, hopefully, to correct any shortcuts that were taken through the years. I'd like to get a better carpet set in there. The front seats are kind of starting to show their age and unfortunately, the foam padding inside is crumbling. It's starting to rain down and sift through the seat frame. They're becoming more uncomfortable to sit in,so if I can get the padding for the seats, at this point I don't know whether it's going to be worth it to try and put the old material back. I'll probably (look for) the correct material. I think they could be fabricated; it's not like there's any dielectric-welded impressions or anything like that.
"The top is faded a little bit,so I'd like to see whether there's some sort of top dressing that can improve the appearance, and there's that one rip in the seam on the left side of the top over the quarter window.
"Unfortunately, it's not a stitching-pop; it's an actual rip in the fabric. It's not bad enough to justify replacing the whole top, as far as I'm concerned."
It Can Bring Back an Inner Child… …Only Now He's Taller
McMullen never mentioned anything about not using it and he did drive it home from Chicago,so riding on a trailer isn't in the Rambler's future and that means things will wear out and break. The parts necessary to keep it on the road might not be '57 Chevy-or Model A common, but they're also not impossible to locate.
"Like on most older cars," McMullen said, "the mechanical parts are relatively readily available, body and trim parts start to get hard to find and then the rubber stuff is particularly challenging, but there are some guys out there making repros."
While an American's simplicity and affordability recommend it as highly today as they did 50 years ago, owning a collector car is about more than practicality. McMullen knew that when he saw the American by the Oldsmobile in that Illinois warehouse.
"Getting up to the car and walking around it," he observed, "was almost like being transported back in time to when I was a little kid and seeing my mother's car except that I was quite a bit taller and that changes the visual perspective a bit. It was just kind of an interesting feeling to be back in touch with something from that early part of your life."