1965 Rambler Cross Country

Sure, It's Conservative, But It's a Driver & It Draws Attention. Lucky for Them They Were Passing That Barn…
HE SECRET TO success in many cases really does lie in the timing, a fact that figures to at least some degree in the postwar Rambler's popularity and in its earliest ancestors' survival.
The Rambler name dates back more than a century to 1902, when the Thomas B. Jeffery Company introduced the single-cylinder Models C and D. Just four years later, Jeffery's seven-horsepower single was gone and the company was producing two- and four-cylinder cars of up to 40 horsepower. Jeffery built its last two cylinder model in 1909 and in 1912 began toying with designations beyond the typical "roadster" and "touring" names. One of these designations was the Cross Country, and although the Rambler became the Jeffery for 1913, both Rambler and Cross Country were destined to return.
The Jeffery Company would last only until 1916, when Charles Nash acquired it and turned it into Nash Motors.
Nash did well enough to persist in the marketplace and even weather the Depression. Then, when it resumed production of civilian models at the close of World War II, it looked ahead to the day when it would introduce its first truly postwar car.
That was about the situation across the industry, as the Big Three and the surviving Independents focused first on building cars to meet the demand that had grown during the war. For the most part, the companies' 1942 models reappeared with generally minor differences and were deemed to be "new."
However, once the market returned to normal, new cars would need to look like new cars and Nash wasn't about to be caught sleeping.
Its 1949 secret weapon was Airflyte styling, a genuine move to enhance aerodynamic efficiency that mixed approximately equal parts of engineering, research, testing, futurism and eccentricity. The result was unlikely to be mistaken for any other American car as the Nash distinguished itself by its extremely smooth sides, tapered fastback shape and almost-complete lack of wheel wells. A love-it-or-hate-it design referred to even today as the bathtub Nash, the Airflyte sold 130,000 examples in 1949 and another 145,000 of the nearly identical 1950 models, but 1950 was most important to Nash for another gamble that paid off well.
Creating a Small-Car Market
The compact 1950 Rambler was the brainchild of George Mason, Nash's president and chairman. Mason had joined the company before World War II and maintained that small cars had an important place in the American market.
Nash had often gone its own way in product and design, so the Rambler was right at home there and since the Big Three had no interest in whatever market existed for compacts, it had no immediate domestic competition.
By arriving at a time when conditions were returning to normal but demand was still strong, the Rambler effectively created its own market.
It didn't hurt a bit that one of the best adjectives to describe the initial Rambler is "cute." The Airflyte look that it shared with the full-size Nash's gave it such features as the smooth lines and minimalist wheel wells from the larger cars, not to mention their gentle roundness. It all translated nicely to the smaller car, which was initially available only as a convertible. That might seem odd, but the Rambler wasn't intended to be an econobox whose primary attribute was a low price. In fact, the Rambler wasn't cheap, as its $1800 price tag placed it in the same ballpark as the Chevrolet, Ford and Plymouth convertibles. In short, it truly was a miniature of the full-size Nash—except for the convertible part that prevented it from receiving the fastback roofline—and included such decidedly non-economy car features as an electric clock, a radio and a heater.
Trim and creature comforts aside, it was a small car and the Rambler's 100- inch wheelbase was a foot shorter than that of the smaller full-size Nash, the Statesman. It was also 25 inches shorter overall and 400 pounds lighter, so a very slightly detuned version of the Statesman's flathead six was more than adequate. As a convertible, the package might've been called "sporty," but the more practical station wagon soon appeared and with about 26,000 first year sales, Nash knew the Rambler was a winner.
A two-door hardtop followed in 1951 and the Rambler was important enough to receive a major restyling for 1953. Once again, the Airflyte look ensured distinction, but the Rambler was about to begin a series of changes that over the next decade would broaden its appeal and its range while transforming the very brand.
Small and Smaller Ramblers
Nash added a slightly larger Rambler on a 108-inch wheelbase for 1954, and then in May of that year it merged with Hudson to form American Motors.
American Motors made things slightly less complicated in 1956 when it dropped the smaller Rambler and abandoned the Airflyte look by completely restyling the larger one.
The company streamlined itself further by retiring the Nash and Hudson badges at the end of the 1957 model year and then introduced a fresh bit of confusion with a new Rambler that really wasn't new at all. That it looked much like the "small" 1955 Rambler right down to the 100-inch wheelbase was more than a coincidence, as the new car was simply the old one brought back to life with some styling updates that toned down the old Airflyte design cues.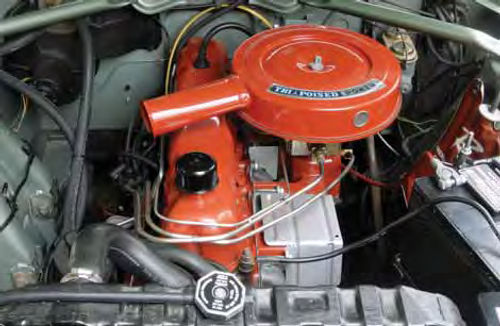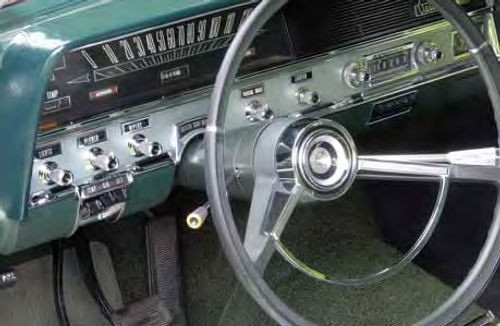 The small Rambler differed enough from its ancestor to be seen by the average motorist as a fresh start—even if it didn't fool those who were more attuned to cars—but the small vehicle's 1958 introduction as the Rambler American was a smart move for several reasons.
Even the name was a plus; besides distinguishing it from the larger Rambler, "American" told buyers in no uncertain terms that this was a domestic car.
Beating the Big Three and going head to head against the foreign compacts was excellent timing and it put the American in a good position to take advantage of 1958's recession, since its roughly $1800 price made it affordable even in rough times. They were important points in the American's favor and in the first body's three-year run, the little car's sales totaled well over 200,000.
Marketing a Conservative Classic
The idea of large, mid-size and small cars had proven itself at American Motors and by 1961, the restyled American was still on its 100-inch wheelbase while the Ambassador measured 117 inches. Between them was the 108-inch Classic, a new name for what had been the Rambler Six and Rebel. AMC would shuffle models and wheelbases, but their relationship would continue and by 1965, the American had grown to 106 inches and the Classic to 112, while the Ambassador had fallen to 116.
After an extensive restyling, the Classic looked all-new that year and only careful study showed that most of the changes were made ahead of and behind the passenger compartment. Overall length grew from 190 to 193 inches on the Classic wagon, but its straight lines and very slight fins made it seem longer. The fins were actually more like extensions of the side panels and they housed wraparound taillights that were visible from the sides. They predated federal requirements by several years and were among the car's few unusual visual features. Even in convertible form, the Classic's look was conservative.
1965 Rambler Cross Country
GENERAL
Front-engine, rear-drive, station wagon
ENGINE
Type Overhead-valve inline six
Displacement 232 cu. in.
Bore x stroke 3.75 in. x 3.50 in.
Compression ratio (:1) 8.5
Carburetor Single-barrel downdraft
Power 145 hp @ 4300 rpm
Torque 215 lb.-ft. @ 1600 rpm
DRIVETRAIN
Transmission Three-speed manual
SUSPENSION & BRAKES
Front Independent, coil springs
Rear Solid axle, torque tube, coil springs
Brakes (f/r) Drum/drum
STEERING
Recirculating ball
MEASUREMENTS
Wheelbase 112 in.
Length 193 in.
Height 54.4 in.
Width 73 in.
Track (f/r) 58.2/57.4 in.
Weight 3155 lb.
Tire size 6.95 x 14
American Motors might've been a bit sensitive about its conservatism as it advertised "five powerful reasons for the new excitement in the Rambler Classic." Those reasons, obviously, were the "spectacular engines" that ranged from the 199-cubic-inch six up to the 327- cubic-inch V-8. Those engines were good ones—although the 327 would forever be confused with Chevy's 327—but they certainly weren't the only reasons to buy a Classic in 1965.
Besides the "new beauty, new bigness," there were the "Shift-Command Flash-O-Matic—you control shifting or let it shift itself and Turbo-Stick (manual with overdrive) with Instant Overtake at a button's touch."
That last option hints at the market that the Classic targeted. In 1965, only a company confident that many of its customers valued practicality would have promoted overdrive in the same ad that mentioned those "spectacular engines."
They Just Happened to Be Passing By…
The featured 1965 Classic 660 Cross Country was probably ordered by just such a practical customer.
"It does have a positraction rear end," said Kirk Benham of Saugerties, New York, "which leads me to believe that that car was special-ordered, probably as a work vehicle.
"It does have a clock in it, it has the heavy duty rear, it came with a work mat in the back of it. Just little things like that make it seem like it was a special car of some sort."
He and his wife, Mary, bought the Rambler in October 2006 and, once again, timing played an important role in the transaction.
"We first saw the car as we were going by it," Kirk recalled. "They had just pulled it out."
"They were pulling it out of the barn," Mary said. "Ten minutes later, we were coming back and the owner was sticking a for-sale sign on it."
"We stopped," Kirk continued, "and the next-door neighbor comes out and says, 'Wow, I didn't think he was ever going to get rid of this thing.'
"I don't think anybody else had looked at it, and Mary went back the next day and bought it."
Initially, It Was Going to the Dogs
The Rambler at first seemed a perfect fit to Mary's plan, but that changed.
"She was looking for a car to drive around, an older car," Kirk said. "Put the dogs in it, go to the store and get groceries. It would've been functional for that, but once we got into it, the more we found, the nicer it got and one thing led to another."
In the end, the dogs do not get to ride in it.
After the purchase, the Rambler went via rollback to its new home, but the hauling rather than driving was primarily done because of the unknowns, as the car had covered 100,000 miles and its last state inspection was from 1985.
Kirk soon found that it ran and drove well, but needed wheel cylinders and brake shoes to be safe. The previous owner, he said, had replaced the brake lines and master cylinder and had rebuilt the carburetor.
Kirk guessed that the rebuild had been done at least 20 years earlier, based on the kit that he found in the car, and while that seems to point to a restoration that barely got off the ground, the actual story is somewhat different.
That owner, Kirk explained, had begun to go through the car so that when his grandson turned 16, the Rambler would be ready for him to drive.
"And he wouldn't be caught dead in it," Mary said. "It's not cool for a kid."
The lack of youth appeal ended the project very quickly and the Rambler went into the barn despite the owner's hopes for it.
"Just seeing the car in the state that it was in and seeing all the parts," Kirk recalled, "plus there was an original shop manual in the car. It had a box full of air filters, air cleaners, receipts, extra belts, extra hoses, and all those things were still in the packages."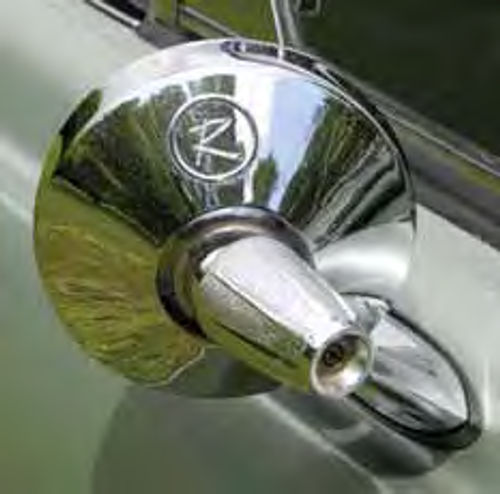 Rust Destroyed My Heater
Two decades of storage explains the exhaust that was just about ready to fall off when the Benhams bought the car, just as it explains something else.
"It was full of dead mice," Kirk said, "dead mice everywhere."
Once that problem was addressed, the Rambler received a carpet set and upholstery. Kirk said that the front seat was in the worst condition, as it required repairs to the springs on the driver's side, but while that's not especially surprising, dealing with other interior matters turned up what he said was the worst damage to the car.
"The major rust issue was in the heater box plenum," Kirk said. "After I took the hood off and the fenders were off of it, I was inside the car with a droplight working on the heater and all this light was coming out in the wiper cowl area. So I took the wiper cowl off. I could look down inside there and I could see the drop light hanging.
"The heater box plenum was completely gone. It wasn't even there."
Mary said that owners of similar Ramblers have called it a common problem and Kirk said that the design traps leaves and other debris—plus mouse nests, in this case—which then block the drains. What was left of the structure served as a starting point for the measurements and design of its replacement, which was fabricated with a minor change to improve its ability to deflect water. The drains, of course, were cleaned.
The firewall required some patch panels, but Kirk said that most of the engine compartment was solid.
"I didn't have to do any rust repair to anything in the strut tower area," he said, "except, I think at one time, it must've had a battery in there that shook and the battery tray was eaten up pretty well.
"I had to restore that with new pieces of metal in the battery tray. And the battery acid had gotten on the paint and stripped it. It didn't eat the metal away, but it stripped it right down to where I put baking soda on it and it was perfectly clean. I was amazed that it didn't eat the tower away.
"The quarters were rusty. I fabricated the bottoms of the quarters and the dogleg areas around the wheels, made all of that hand-formed because there were no panels available."
Calling On His Bodywork Skills
Building the heater box and making the repair panels for the quarters was less difficult for him than it might be for some restorers since he manages a body shop. Besides having the necessary abilities and tools, that meant he was able to work on it there.
"He did it from January to June," Mary said, "every single weekend from January to June."
"I put a solid 16 hours into that car every weekend," Kirk said, "and then once it was finally painted, every night after that, two hours putting it back together, buffing, cleaning, getting things together on it."
Rust is a concern on Ramblers like the feature car, but missing trim is at least as important. And what's the one piece that would least likely be found?
"The front hood molding, right on the very front edge of the hood," Kirk said. "It's the leading edge of the hood and it's right out with the bumper, so that would've been the first to go."
Kirk said that his Rambler was complete, which is a good thing, considering that Mary recalled warnings as to the cost of that hood molding in the rare event that a good replacement actually could be found. Not all of the car's trim was in good condition, though, and at least some required the skills Kirk's learned in his profession.
"Some of the moldings were pitted badly," he said, "and we were able to find some NOS. All of the chrome moldings around the taillights have been replaced.
"All the moldings on the car (are stainless steel) except for the parts around the taillights, the little spears that are on the rear doors. Those are pot metal. All the big moldings are stainless." And what about the little dents that were in them? "I was able to sit there with a little hammer and tap them out and hand-buff them. I was using all kinds of drills, everything to clean up that stainless on it. Fortunately, being a bodyman and a body shop manager, that was the key to getting that car done."

"He's got every tool there is," Mary said. "You've got to have the tools."
Or you've got to make them, as he did with wooden blocks he used in repairing some of the trim.
The Rambler isn't the first car whose restoration required a tool that couldn't be purchased, but if that still seems a little too much; it's a car that offers plenty of positives to offset the inconvenience.
A Turnpike Cruiser
For someone who wants to enjoy a collector car by driving it, a Rambler like this one is an excellent candidate. Its 232- cubic-inch six is unlikely to set performance records, but it's a durable engine that enjoyed a long production life and it's doubtful that any part for it would require serious hunting.
Combined with the three-speed manual transmission, it gives the car a drivetrain that's the very essence of simplicity; there's not much to break and there's not much to complicate repairs.
The feature car gets out on the road and Kirk gave the example of a 2008 trip to Sturbridge, Massachusetts. Avoiding major highways—for a better trip, not for fear of a breakdown—made it about a four-hour drive with estimated fuel-consumption in the mid-20s.
"We could've probably made it quicker if we went on the Mass Pike," Kirk said, "but we were just looking to take our time and get over there, so we took some of the secondary roads to do it."
Does that sound like he's rationalizing?
"When we were coming back," he continued, "we went on the Mass Pike for a while. The car runs fine. It'll cruise right along at 70 or 75 miles an hour."
So much for being unable to keep up with traffic.
Standing Out In a Crowd
American Motors products and their ancestors sometimes don't get the respect they deserve or they are simply ignored by enthusiasts. It's hard to say that an opinion is right or wrong, but luckily, it's no problem to dismiss one. That can become even easier outside of the hobby, where apparently everyone notices the feature car and many have stories involving Ramblers that were in their families.
"I don't know how many times I've heard that," Mary said. "'We used to have one of these when I was a kid.' Everyplace we go, I hear that."
Kirk said that when the car is parked on a street, pedestrians stop to look at it. Kids can rarely identify it, he added, but their parents often recognize it. He agreed that there's little neutrality among those who remember Ramblers.
"There's definitely an opinion," he said, "good or bad."
Either way, it's not a car that blends into the background. Kirk said he sees pedestrians turn to watch the car pass and recalled being paced on a highway as a passenger in the other car yelled a description of the Rambler into a cell phone. And it doesn't have to be on the road to stand out.
"When you go to the car shows," Mary said, "you see millions of GTOs and '57 Chevys."
"Chevelles, Pontiacs, Buicks," Kirk said of a recent show, "there were probably 500 of them there and seven Ramblers.
"To me, that's kind of appealing about it."