Feature Restoration 1973 Jeep Commando
It Was a Pioneer In the Movement Toward the Modern SUV. But It's Still More of an Off-Roader Than a Cruiser.
"There were two AMC dealers in the Tamaqua area," explained Tom Zarosky, who lives in nearby Sugarloaf, Pennsylvania, and owns the 1973 Jeep Commando featured here. "One sold cars and the other was a Jeep dealer. The one who owned the car dealership bought this Jeep brand-new and it was used around the garage. In fact, my friend put a push-bumper on it for him so that if they had disabled vehicles, they could use it to push them in.
"The owner retired in about 1983 or '84 and took the Jeep out to his farm, a 20-acre place several miles out in the woods and, basically, he only used it for hunting."
Fortunately or unfortunately, that's a good example of what most civilian Jeeps have long been meant to do. Jeep didn't invent four-wheel-drive or even the concept of a light, go-anywhere vehicle, but for many, it's what a Jeep has symbolized since its earliest ancestors appeared just before World War II.
From Horses to Horsepower
What would become the Jeep began with the realization in the 1930s American military that winning the next war would require more than horses. Experience gained by the U.S. Army when Gen. John Pershing used Dodge Brothers touring cars and Jeffery Quad trucks going into Mexico after Pancho Villa laid groundwork for mechanized warfare; other early four-wheel-drive trucks such as the FWD and Militor and their use by various armies provided more.
Those trucks were ponderous monsters, able to go just about anywhere, but they were slow, crude and physically exhausting to drive. In fact, in the years leading up to World War II, no military trucks were nimble, a problem the U.S. Army recognized.
Enter American Bantam Car Co., an unlikely player that originated as American Austin Car Company in 1929 to build the tiny English Austin under license. The market was insignificant and by 1934, American Austin was bankrupt. It came back three years later as Bantam and built a mechanically improved and nicely styled car, but it was still tiny and America was still not ready. As Bantam struggled, a few things went right, including the Pennsylvania Army National Guard's use of several Bantam roadsters during exercises. (The cars were produced in Butler, Pennsylvania, which might help to explain their use by the National Guard. For more on the American Bantam, see the September 2011 issue.) When the Army decided to seek bids on a small four-wheel-drive reconnaissance car, the company saw the guard's experience as a valuable qualification.
Combining creativity, drive and maybe some desperation, the Bantam Reconnaissance and Command Car—the essence of everything from mass-produced jeeps of World War II to today's Wranglers— appeared on September 21, 1940. While it suddenly seemed like it might have a future, the truth was that Bantam was in a good news/bad news situation since the Army was asking 135 companies to bid on future production. Furthermore, the Army believed it owned the company's drawings and was therefore sharing them with other potential bidders.
Bantam had met the original deadline, but the company's small size raised doubts about its completing of big orders. Ultimately, it was squeezed out as Willys-Overland and Ford each submitted prototypes—the Quad and Pygmy respectively. Ford's Pygmy became the GP and Willys' Quad evolved into the MA and then the MB. In January 1942, Ford began building the MB under license as standardization took hold. Ford called it the GPW and while interchangeability was virtually universal, the two were not identical.
Besides appearance, the MB and GPW have something else in common in that they weren't called Jeeps. Until Willys trademarked that name in 1950, the vehicle was a jeep and it's no exaggeration to say that the lower-case-j vehicle was loved by those who knew it in war. Dependability, reputation, simplicity and acceptance of tremendous abuse ensured its appeal to civilian users. Willys understood and in July 1945 began mass production of its first civilian jeep, the CJ-2A. At a casual glance, it seemed almost identical to its military ancestor and even upon careful study, the differences were not great.
The CJ-2A was joined by the upgraded CJ-3A in 1948. Nobody had anything like it and Willys built on its fame by adding the station wagon and sedan delivery in 1946, light trucks in 1947 and the jaunty little Jeepster in 1948.
Jeepster production was brief, ending in 1950, while the station wagon and truck continued into 1965 before being retired by their modern replacements, the 1963 Wagoneer and Gladiator, a leap ahead for Jeep and particularly with the Wagoneer, an upward move as well. The Wagoneer blended rugged four-wheel drive capability to car-like comfort so successfully that it had no direct competition; a Chevy or GMC Suburban or an International Travelall was equally tough, but still a truck. There was even less competition at the other end, where the CJ-5 had appeared in 1954 and the CJ-6 in 1955 and would run into the 1980s.
The problem was the gap between the CJ and the Wagoneer, so the solution was the Jeepster Commando. Introduced for 1967, its heritage was obvious despite its having no direct connection to the original. Its basic shape and lines were modernized versions of its ancestor's look, but it was a very different truck and now most closely related to the CJ.
Jeep called it a "4-wheel drive sports convertible," which it was when equipped with a soft top, but a Jeepster could also be a pickup with soft or hard top, a roadster whose top was an option or even a station wagon with full-length hardtop. Moreover, in a further distancing from the original, the Jeepster lost some of its Spartan flavor. Yes, a barebones roadster with a four-cylinder and three-speed was listed, but there was now a substantial options list. The standard-equipment powered front axle was something unavailable on the original, as were an automatic, glass side windows, air conditioning and power brakes. The convertible offered a power top and by 1969, power steering was available.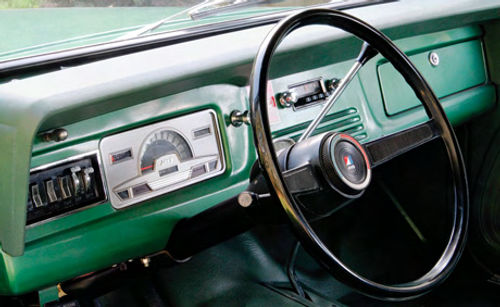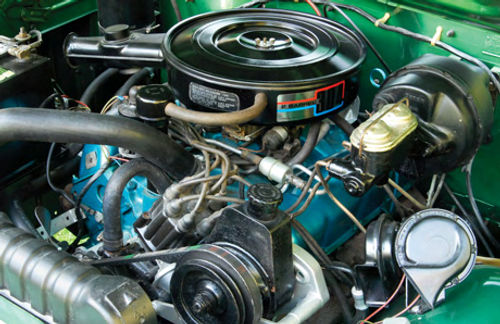 Furthermore, 1969 saw American Motors and Kaiser Jeep (Kaiser had bought Willys in 1953) agree that AMC would buy Jeep. After the sale's completion the following March, changes began showing up across the Jeep line and 1972 brought the Jeepster's turn.
American Motors simplified the name to "Commando," and gave the vehicle a much different front-end appearance. Gone was the CJ-like nose and in its place was a full-width grille foreshadowing the 1974 Wagoneer. Less easily detected was the Commando's increased length; three inches added ahead of the cowl to accommodate a new family of engines.
The new base engine was AMC's 232 straight six—hence the stretch—with its 100 horsepower, but optional were the 110-horsepower 258 six and best of all, the 304-cubic-inch AMC V-8 with 150 horsepower. That was 10 fewer than the V-6 it replaced, but the new engine offered 245 lbs.-ft. of torque compared to the V-6's 235.
The new look and new engines boosted sales from 7900 in 1971 to 10,700 in 1972, but they fell to 9500 sales for 1973. The numbers weren't enough and the Commando's replacement arrived in 1974. The new Cherokee essentially was a two-door Wagoneer with all of that model's relatively genteel personality and as the following years would prove, much of the four-wheel-drive market was heading upscale.
1973 Jeep Commando
GENERAL
Front-engine, four-wheel-drive, station wagon
ENGINE
Type Overhead valve V-8
Displacement 304 cu. in.
Bore x stroke 3.75 in. x 3.44 in.
Compression ratio (:1) 8.4
Carburetor Two-barrel downdraft
Power 150 hp @ 4200 rpm
Torque 245 lb.-ft. @ 2500 rpm
DRIVETRAIN
Transmission Turbo Hydra-Matic 400
Transfer case Spicer two-speed manual
Final drive ratio (:1) 4.27
SUSPENSION & BRAKES
Front/rear Leaf springs
Brakes (f/r) Drum/drum
MEASUREMENTS
Wheelbase 104 in.
Length 174.5 in.
Weight 3100 lb.
Height 62.4 in.
Width 65.2 in.
Fuel capacity 16.5 gal.
Tire size H78 x 15
Life On the Farm
Sales, of course, aren't always the best measure of success and Zarosky's Commando did its job well at that dealership. Why else would it have gone with the owner when he retired? If that doesn't say that he was satisfied with it, consider that he held onto it.
"He had it for a number of years out at his farm," Zarosky said, "and at some point in time, the Jeep became disabled because of leaking transmission fluid, which turned out to be nothing more than a hose."
After the owner died, the Jeep found its way under at least some protection on the farm, but by early 2008, the owner's daughter-in-law was ready to sell.
"I met her at the house, which was abandoned," Zarosky recalled, "and this was in a makeshift garage behind the house. It was attached to the house, but it didn't have a garage door on it.
"I met her there and we talked about it, arrived at a price and I said 'OK, I'll take it.' She couldn't find the title, so she had to apply for a lost title.
"Anyway, I got the Jeep up to my buddy's place and it started."
He guessed that it hadn't run in several years and the leaking transmission fluid—on a vehicle used extensively off-road—seemed to signal bad news. Expecting to find perhaps a cracked transmission case, Zarosky got it to the garage where it would be restored and took a look underneath, specifically at one of the cooling lines.
"There was a hose on it," he said, "but it wasn't all the way onto the one pipe. It was right at the end of it, right at the very edge. All I had to do was locate the hose a little better—it's even the same hose—and retighten the clamp and that was the fix. That worked out well. That was a cheap fix."
That also previewed the type of work the Jeep required. Zarosky said that the body came off and since that simplified access, he replaced the fuel pump on the 304, which needed nothing else. The frame was painted after cleaning and as with the engine, Zarosky said he took advantage of being able to get to everything.
"We replaced all the brake cylinders, all the brake lines, the master cylinder," he said, "all the shock absorbers, the steering stabilizer, the muffler, the tailpipe. That was easy to do without the body. It was wide open. It made sense to do it."
The body had problems, but was generally solid and that was probably the one area in which the years spent in off road use worked in the truck's favor. The rust damage was minimal, but it was found in the typical Commando areas.
"The rocker panels were rotted through," Zarosky said, "the bottom of the tailgate was rotted through and on the rear floor, back by the tailgate, there was a hole on each side…there was one (spot) on the top of the right front fender. There was a little bit of rot, a minor hole there that we had to patch. It was just not much bigger than a pinhole."
A fabricator provided the rocker panels, but replacing some other less-than critical parts wasn't that easy. Zarosky said that he made countless phone calls while trying to find a front bumper suitable for re-plating before the Jeep got another lucky break at a nearby salvage yard.
"Lo and behold," he said, "right up front, there's one sitting there, a Jeep Commando with a decent bumper on it. It had a plow on it, too, so for me to try to get that bumper off was a nightmare, and I paid them to burn it off. I took the front and rear bumpers and had them sent away to be re-chromed."
He's also acquired two extra grilles and a pair of doors because he knows that non-mechanical parts can be tough to find. Some vendors, he said, support Jeepsters and Commandos, but not everything is available.
"On the door windows," Zarosky explained, "the scrapers were bad. I called an outfit down in Florida and I bought brand-new ones. I asked about decals and he said he used to have them, but from lying around for so long, they'd all stuck together."
An exact duplicate of the upholstery material would be difficult to find, he said, and he's now looking at re-plating the brightwork attached to the vent windows.
"I'm not sure how they would do that," he admitted. "You'd have to disassemble it and you've got a rivet where it pivots, so you'd have to take that out. You'd have to get the glass out and my biggest hang-up is that there's a lot of rubber, molded rubber that goes with it. I'm planning to call that fellow down in Florida to see whether, just by chance, he might have that. That's why I bought the two doors when I found them in the yard. I went to take the vent windows out and I got all of the screws out, but there are two at the bottom that hold the whole channel from top to bottom. First off, I couldn't get at them easily to get them out and then I said 'hey, for what they're going to charge me for these, I can buy the whole doors.' "
It was a wise decision. The feature Commando, as Zarosky said, was not badly rusted when he bought it, but this one isn't the first that he's owned and he had no hesitation about naming a Commando's weakest point.
"Obviously," he said, "the rot on the body. That's the biggest thing. The rocker panels, the tailgate, the front fenders; depending on what kind of environment they were in, almost anything on them could rot."
Rust and hard-to-find trim are valid considerations on a relatively unusual vehicle, so the safe way to minimize those problems is to look for an example as complete and solid as possible. It's worth looking, too, at the body and chassis for evidence of off-road adventures. Off-road travel isn't an automatic death sentence, but if inspection shows signs that it rose to the level of abuse by either unskilled or uncaring previous owners, it's time to negotiate the price downward or maybe even walk away.
The drivetrain, though, is another matter. American Motors engines of the time are rugged and nearly every other major component is familiar. The Commando's automatic is a Turbo Hydra-Matic 400 and its sticks are Warners. Transfer cases are from Spicer and axles are Spicer or Dana.
"Mechanically," Zarosky said, "they were pretty good vehicles. I never had any experience with the straight six-cylinder that was in some of them, but having experienced a 304 before—and I drove that one for years—I had no problems with it. The Turbo 400 GM transmission is the best transmission they ever made."
Most basic parts needed to get it on the road should be widely available.
"The wheel cylinders, the master cylinder, the shock absorbers and all," Zarosky said, "but I had a little trouble finding a muffler. I had the old one, so I knew how long it had to be, what the inlet and outlet were, that it had to have certain angles. I went into auto parts stores and couldn't find one, so finally, I got a look at a Cherry Bomb and I found one that was perfect. There's a Cherry Bomb on it. It's not loud."
No Boulevard Cruiser
The exhaust might be quiet, but Zarosky said a long trip could be trying due to the overall noise, the stiff ride and the lack of air conditioning. While he said it hasn't yet covered any great distances since it returned to the road in the spring of 2011, it's ready.
"If I wanted to drive 100 miles with it," he said, "I'd have no qualms about it."
And if he did make that trip, he probably wouldn't meet up with the Jeep's twin.
"In all my years going to car shows," Zarosky said, "I have never seen one of that model. The really old Jeepsters, the '49s or '50s, you'll see some of those, but the type that I have? You'll never see one and I think it's because they did rot away. I was lucky."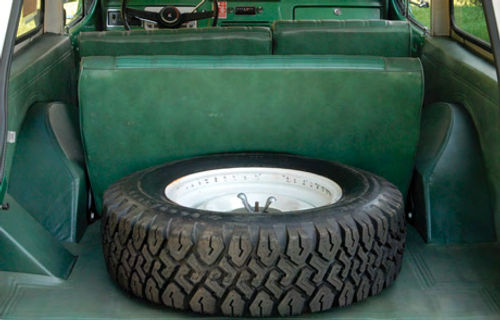 That means, of course, that it draws attention at shows. Zarosky spoke of a local car club member who looks it over at every show because he remembers the Commando his father owned. Others notice it because big lettering identifies it as a Jeep, but it doesn't really look like a Jeep. And then there are those who might just be serious Jeep fans, such as a group he met at a show last summer.
"There were some younger guys looking at it really carefully," he explained,
"marveling at the engine and this and that. Maybe they were into newer Jeeps. There were some up there… You see the decal on some of them: 'You wouldn't understand. It's a Jeep thing.'"
If those younger guys were serious Jeep fans, they'd certainly understand that the Commando's working life was a demanding one, even if it didn't cover a lot of miles, just as they'd understand that that was a different time and the rest of its days should be comparatively easy.
"Ninety percent of the driving it will see," Zarosky said, "will be to and from car shows."