It Was Her Special Car From the Day She Bought It New. And Nothing Could Take It Away From Her… Not Even a Texas Tornado.
Editor's note: Everyone has at least one story of regret about "the one that got away," a car or truck that they sold years ago and now so strongly wish that they'd kept it and could stroll out to the garage and take that special vehicle for a nice drive this afternoon. With that in mind, it's always a pleasure to hear from someone who avoided those regrets because after decades of ownership that special car or truck is still waiting patiently in the garage for another run down the asphalt. So if you have a story about one that didn't get away or regarding the way that you were able to replace a special vehicle that you lost, by all means share it with us. In the meantime, let's follow the story of a woman who held on tightly to her favorite ride.
THIS IS A brief story of how my family became a part of the "AMC Family" and how my wife's love for one particular automobile inspired her to hold onto the car for over 40 years and have the determination and dedication to dream that someday the Javelin would be restored to its youthful appearance and performance that had brought so much joy to her in the past.
The story of Linda and her 1974 Javelin began in April 1974 when my parents bought my younger sister, Debbie, a brand-new 1974 Javelin for her 16th Birthday from Hooker AMC in Sherman, Texas.
Linda immediately fell in love with my sister's Javelin and wanted one herself.
So on May 24, 1974, Linda and my mother visited Hooker AMC, and Linda special-ordered her new Javelin with the same options as my sister's car…except my wife wanted G-4 Plum Metallic exterior paint. Linda loves anything related to the color purple.
That Special Car Becomes Part of Her Life
The Javelin arrived at Hooker AMC on July 11, 1974, and we took delivery of the car five days later.
The window sticker price was $4500.20 and the odometer had six miles on it when Linda drove the Javelin off the dealership lot.
At the time, Linda was 21 and I was 22, and we had just returned from West Germany in January 1974, where I had been serving in the Army.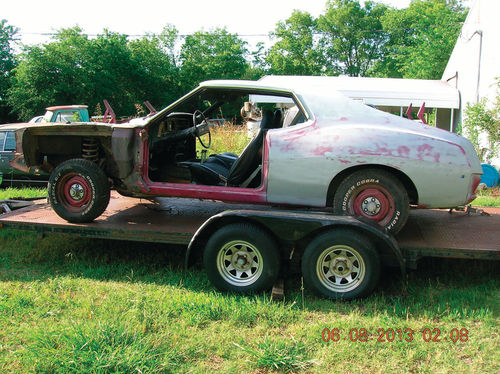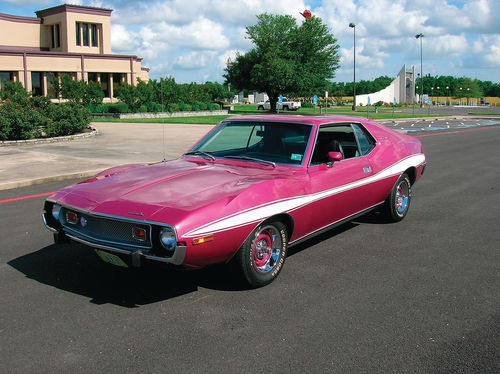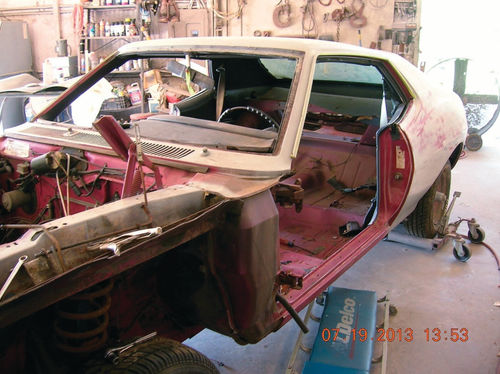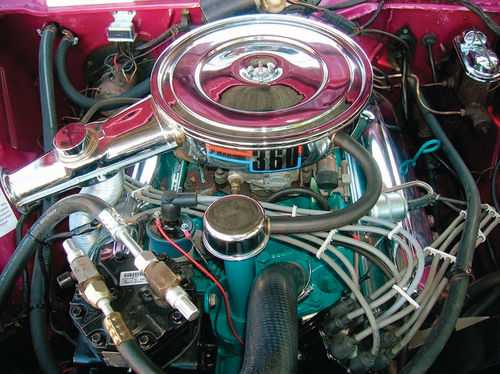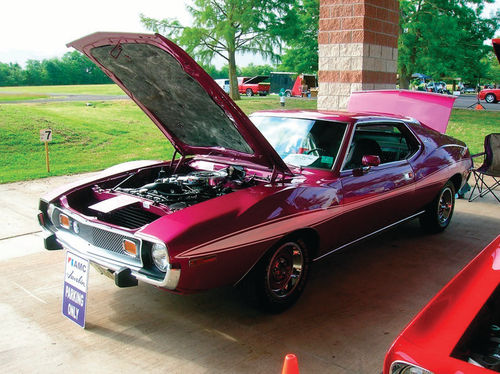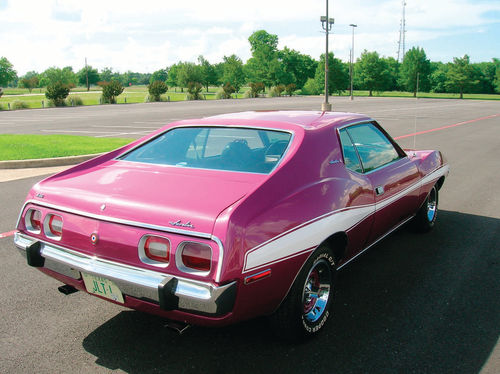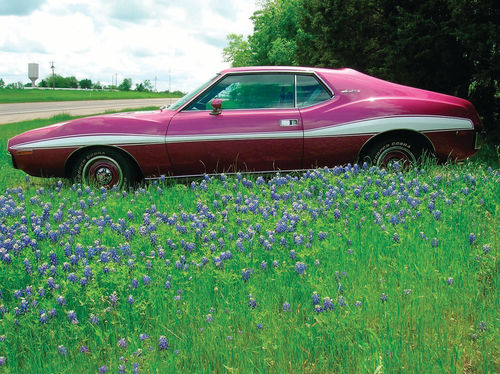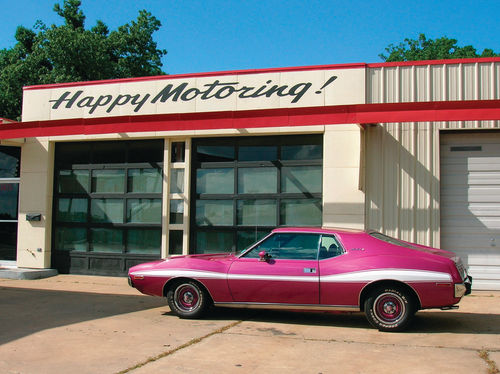 So the Javelin was the first new automobile that we had ever purchased.
From 1974 until 1998, Linda put 118K miles on the Javelin as a daily driver, and along the way something happened that would have caused many owners to part ways with the car, but not Linda.
When You Really Like Something…You Hold Onto It
In 1982, after eight years on the road, the Javelin became a casualty of a massive tornado that devastated Paris, Texas.
The car was parked in our driveway on Ridgeview Road in northeast Paris, and it was severely damaged on the top and passenger rear quarter by falling tree limbs and other flying debris.
The insurance company considered the Javelin a total loss and wanted to total it, but Linda refused to concede that, and instead had the Javelin repaired and drove it for several more years, until early 1998, when we put the Javelin in storage with the goal of having it restored someday.
Should We Restore It, Or…
In May 2010, we decided it was time to get the Javelin out of storage, to assess what shape it was in, and drive it a little. After sitting idle for about 12 years, the automatic transmission would not operate, but with a cleaning of the screen and the addition of new fluid, it worked properly.
Linda drove the Javelin on a limited basis for the next two years.
Then in July 2012 we decided it was time to get the Javelin restored.
But Linda was not interested in making the Javelin a concours-level show car, she just wanted it restored so she could drive it and enjoy it, as she had in the past.
It Took Two Tries to Make Things Right
The first shop that agreed to restore the Javelin did not perform the work as promised, so we had to pick the car up and basically start the project over by finding someone else to finish the job.
Gary Armstrong, of Reno, Texas, agreed to take on the project and complete the restoration.
In mid-July 2013, work again was started on the Javelin, at Mr. Armstrong's Shop.
The Javelin was basically put back as it had originally been equipped from the factory, using Original Equipment Manufacturer (OEM) and New Old Stock (NOS) parts.
Linda did want a little added "bling" under the hood, so a few items on the engine were chromed (the air cleaner and valve covers) and she also wanted the wheels painted to match the Javelin's exterior. Also, the exhaust was changed from a single pipe to a dual exhaust system, still utilizing the factory free-flow manifolds.
The original Motorola Multiplex AM Radio with 8-track stereo player was refurbished.
The original 41-year-old Goodyear F70-14 RWL Polyglas spare tire is still in the trunk and has never been used.
All original data plates/tags on components are still attached.
Linda also has all of the original dealership-provided documentation, including the window sticker, car build order, warranty card and service pamphlets.
As You Might Expect, the Project Went Over Budget…But It Was Worth It
The restoration took about two years, and overall we spent about three times the initial budget we had planned for this project.
But that tear that I saw in Linda's eye on May 16, 2014 when Gary Armstrong handed her the keys to her restored Javelin was priceless.
Linda plans to enjoy the Javelin for many more years, then keep it in the family by passing it on to our daughter Nicole.
I can honestly say that this restoration of a piece of AMC automotive history would have never occurred without the persistence and dedication of Linda, and her sentimental love for this car, and I personally feel that this story needs to be told to provide an inspiration to others interested in keeping the classic car hobby alive.
Editor's note continued: Along with driving her restored Javelin, Linda also has taken to entering it in local shows. Last summer she won Best of Class in the Orphan category at the 8th Annual North East Texas Classic Car Show where her Javelin was up against nearly 30 competitors.