Earning an Automotive Maintenance Merit Badge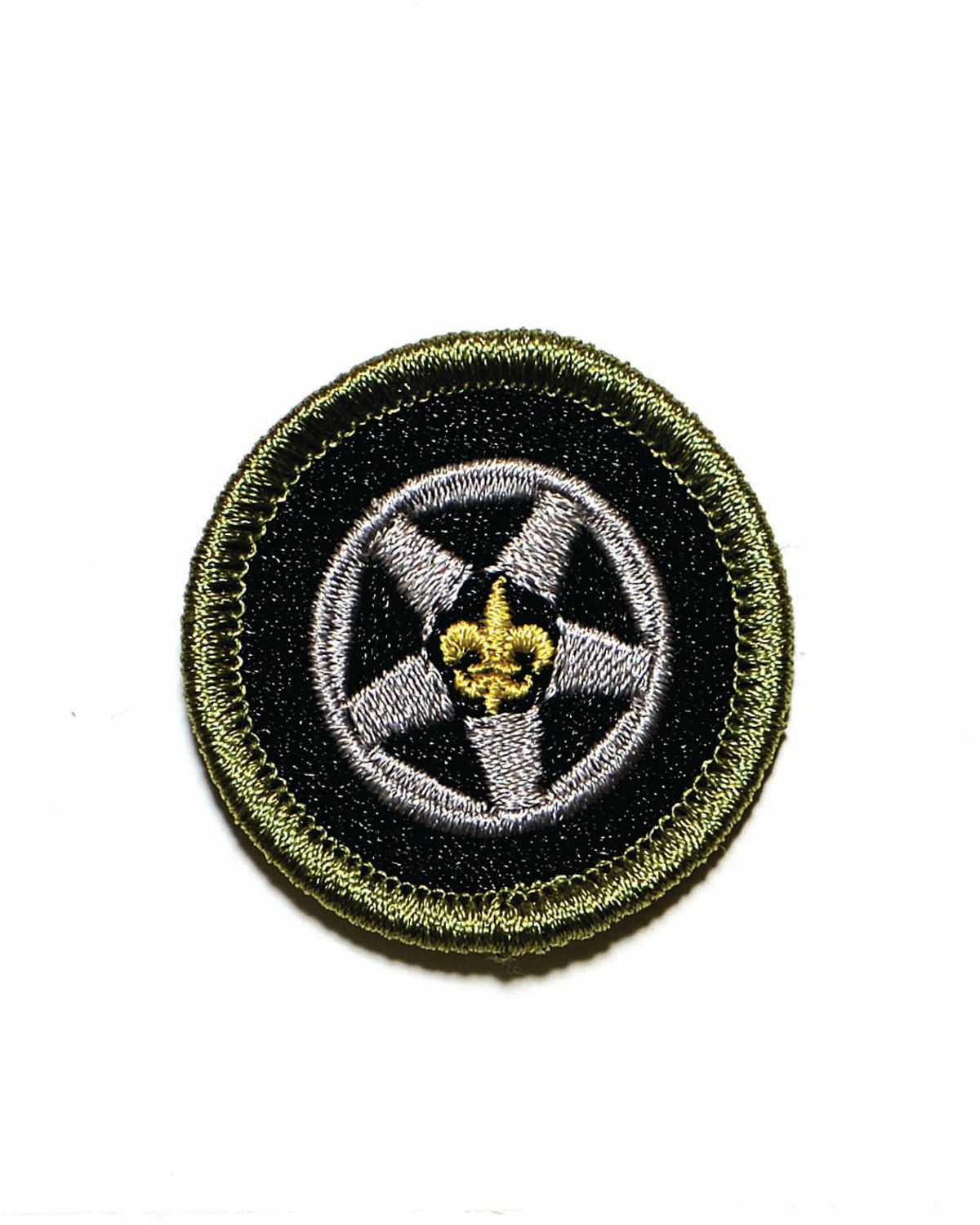 We'd All Like to See More Young People Get Hands-On Involved With Cars and Trucks. So Let's Watch as Some Boy Scouts Get a Taste of Garage Life While Pursuing a Merit Badge.
ELEVEN BOY SCOUTS from Redmond, Washington, gathered at my workshop one drizzly afternoon to work on cars and to earn the Automotive Maintenance Merit Badge.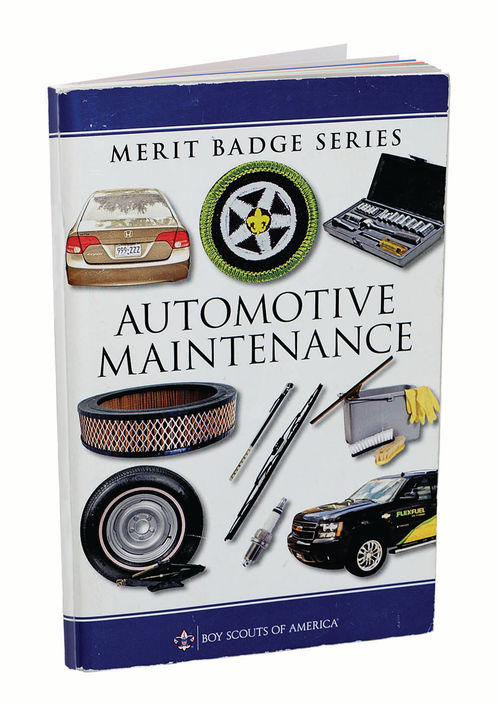 "It was really fascinating to learn about how cars work," proclaimed one scout. Another stated "I always liked cars, but didn't know much about them. This is awesome!" The best comment—as far as I'm concerned—was when one scout said "Sitting in your Bel Air just made my whole day."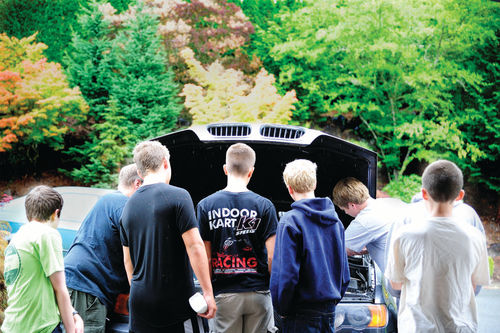 Automobiles are very important to the American lifestyle and our mobile society. The very fabric of the American lifestyle has been woven around the use of cars and trucks. However, as cars have become increasingly more complex, people are less and less inclined to work on them, and many schools don't teach "auto shop" in their curriculum anymore. That is where the Automotive Maintenance Merit Badge can help to fill an important knowledge gap. And besides, it's a very fun way to spend a rainy day with a group of motivated, enthusiastic youths!
History of the Boy Scouts of America and the Automobile
The link between Automobiles and the Boy Scouts of America goes back more than 100 years, to the very beginning of the Boy Scout movement. "Automobiling" was introduced in 1911 as one of the original 57 merit badges. The requirements reflected a much simpler time, when both the BSA and the automobile were coming of age.
The requirements listed in the 1911 Official Handbook for Boys were as follows:
1. Demonstrate how to start a motor, explaining what precautions should be taken.
2. Take off and put on pneumatic tires.
3. Know the functions of the clutch, carburetor, valves, magneto, spark plug, differential cam shaft, and different speed gears, and be able to explain the difference between a two- and four-cycle motor.
4. Know how to put out burning gasoline or oil.
5. Have satisfactorily passed the requirements to receive a license to operate an automobile in the community in which he lives.
Earning the Automotive Maintenance Merit Badge
Today's official BSA Automotive Maintenance Merit Badge Handbook summarizes the current situation as follows:
The merit badge is designed to cover all aspects of automobile ownership, operation and maintenance. It is earned through a combination of classroom learning, hands-on experience in the workshop, and some work at home. The scouts were first educated about general maintenance and about the many systems of a vehicle. This included learning about engine theory, the fuel system, electrical system, cooling systems, transmissions, brakes and tires. In addition, we studied diesels, turbos, hybrid cars, anti-lock braking, traction control, and airbag operation. We also looked at careers in the automotive industry. All told there are about two hours of classroom work included in earning the merit badge.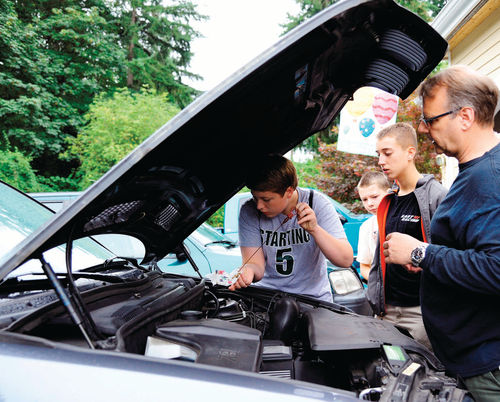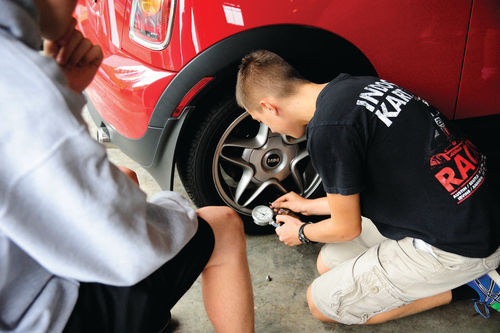 Workshop Day
Obviously, the most important and the most fun part of Automotive Maintenance is working in the shop. We started off the day talking about safety, then jumped into the project and got our hands dirty. The requirements don't dictate what kinds of cars are to be worked on, but I believe it helps to have a combination of modern cars that have systems like airbags and ABS brakes, and classic cars with components that are easier to see and maintain. We brought together an interesting collection of cars to work on, including a BMW X-5, a classic BMW 3-series, a Honda CRV, a modern-era Mini Cooper and a '55 Chevy Bel Air.
Over the course of several hours we checked on four different cars and how to change them. We learned about tire ratings and checked tire pressures, braking systems, and studied all the systems that make a car work. We got to change plugs on a small block Chevrolet V-8 engine on a stand and conducted a full electrical system functional test and light check.
We spent some time studying the rolling chassis of my '54 Chevy project truck, and we also went over changing a tire, how to jumpstart a car, and how to maintain a vehicle's paint and interior. We covered many topics in one very action-packed day.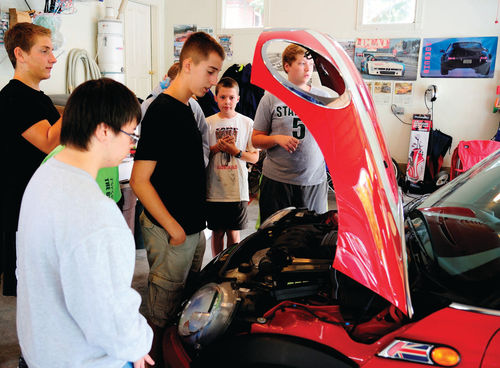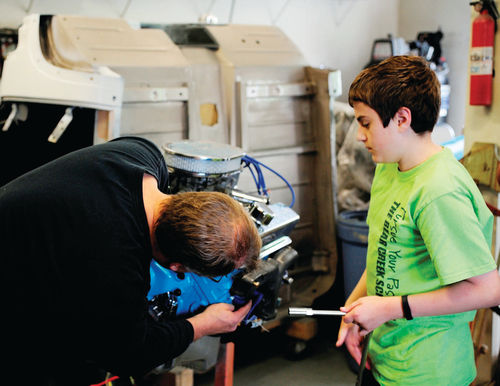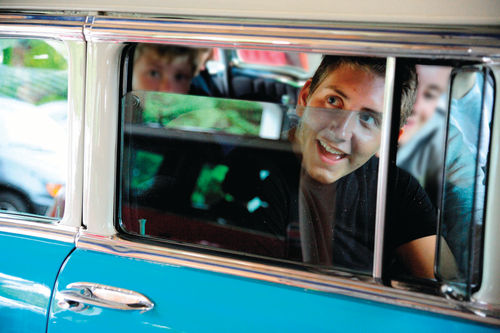 Homework…In the Boy Scouts?
The capstone for the Automotive Merit Badge is for each scout to complete two projects at home. They can choose between doing a complete inside and out car detailing (a favorite of parents!), researching three cars and the cost to purchase and operate them for a year, changing a tire, or performing an oil and filter change.
Once the scouts have completed both of their projects at home, they report on how it went and what they learned. I particularly enjoyed hearing one scout tell about how he detailed his grandparent's car as a present last Christmas, and how thrilled they were. Reportedly their car hadn't looked so good in many years.
Prepping for an Automotive Future
Overall it was a great experience for the Scouts and for me as well. It was fun and rewarding, and a great way to involve the next generation in our hobby. As I tell the Scouts, the cost of operating and maintaining a car over a lifetime is a huge expense, second only to the cost of housing. Knowing how to be a responsible owner and properly maintain their vehicles is an important skill to understand. Only time will tell if there are any future auto restorers in the group, but either way it was a great and worthwhile effort.