We Went After That Car Together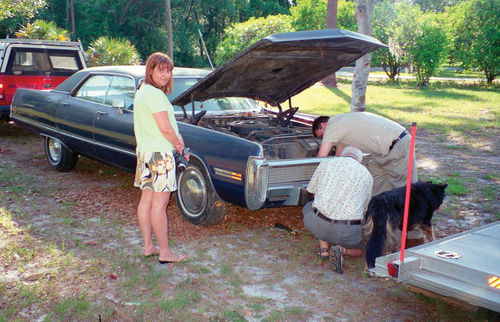 A Husband and Wife Traveled 3000 Miles to Pick Up a Project Car. How Did the Sometimes Difficult Trip Go? Let's Ride Along and Hear What Each of Them Has to Say.
Sometimes the trip to retrieve it becomes the best—or at least the most memorable—part of buying a car.
From a chance encounter at a Lincoln, Nebraska, dog-walking park, I learned from another dog owner that her deceased grandfather's 1973 Imperial was up for sale.
This was in April 2008. Since 1996, the car had been marking time in a cabin carport in central Florida. As evidence that her father, owner of the cabin, was chomping at the bit to sell the car, he was asking just $500 for it.
Financially, I couldn't justify traveling 3000 miles solely to buy this car. But if I were, say, on a driving vacation to Florida with my lovely wife Carolyn and I just happened to have my trailer along…well, now, that's a different matter!
A Leisurely Trip South
So instead of rushing there and back, making it a car-recovery trip and nothing more, I easily talked Carolyn into coming along to see the sights on a leisurely 1550-mile trip from Lincoln to the central Florida lake district.
Our more-or-less diagonal route there took us through Missouri, Arkansas, Tennessee, Mississippi and Alabama, mostly on quiet, often meandering, two-lane back roads.
Along the way we viewed the Captain Meriwether Lewis paddle boat at Brownville, Nebraska, shot up the Jesse James Antique Emporium at St. Joseph, Missouri, bulked up on sassafras drops, pink peppermint lozenges and other candy from the Dutch Bakery and Bulk Foods Store in Tipton, Missouri, and sampled antique stores and a winery near St. Louis at Hermann, Missouri, an old German town on the Missouri River.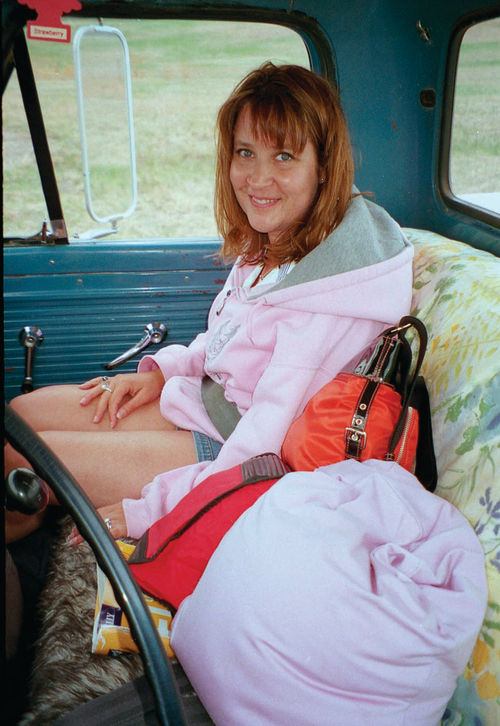 In further travels we dug the Meramec Caverns at Stanton, Missouri (the tour's grand finale—a 1946 recording of Kate Smith singing "God Bless America" in the cave—was spectacular); we braked for Graceland and for Sun Studio in Memphis, Tennessee (where Elvis, Johnny Cash, Jerry Lee Lewis and Carl Perkins made their early recordings) and stopped at any number of roadside stores, eateries and souvenir stands in Alabama and Florida.
If simple pleasures are best, then one of the highlights of the trip down for me came while driving southeast of Tallahassee, Florida. There, on a magical and leisurely 4-lane divided stretch of U.S. 27, we inhaled the heavy, humid aroma of the mostly pine forests and various flowers and greenery that line the road.
Then the Situation Changed…
It was well that we got our fill of sightseeing during our six-day drive to Florida. Detours and diversions were much harder to make on the trip back, we soon learned, thanks to the long, heavy 1970s luxury bomb on our trailer.
When Carolyn and I arrived at the seller's cabin, we were unexpectedly whisked away in his car to visit the county tax commissioner. There the seller produced a death certificate and proof that his wife was executor of the estate, both required to transfer the car title.
Although I favor resolving any paperwork formalities on the spot, the surprise detour made loading the car a rush-rush affair. It was 6:30 p.m. by the time I had the car loaded and strapped down, leaving us about 90 minutes of daylight.
A Rough Patch Ahead
We left immediately so I could negotiate a very difficult 50-mile stretch of narrow, rough, winding and often congested county road before nightfall. I knew we'd have to drive many miles beyond that to find a motel for the night.
The dangerous county road had made for such difficult driving earlier—while I was pulling an empty trailer—that I'd ignored the posted 55 mph signs to drive 45 mph on the open stretches. (The posted speed dropped to 45 or 35 mph for the road's many sharp bends and congested areas.)
My problem while hauling the '73 Imperial was twofold. First, to fit on my 17-foot flatbed car trailer, I'd had to winch the nearly 19-foot-long car all the way up to the air dam. (Photo 3.) This caused my pickup to squat on its rear springs, although not excessively so.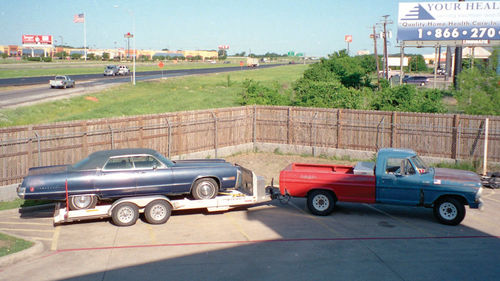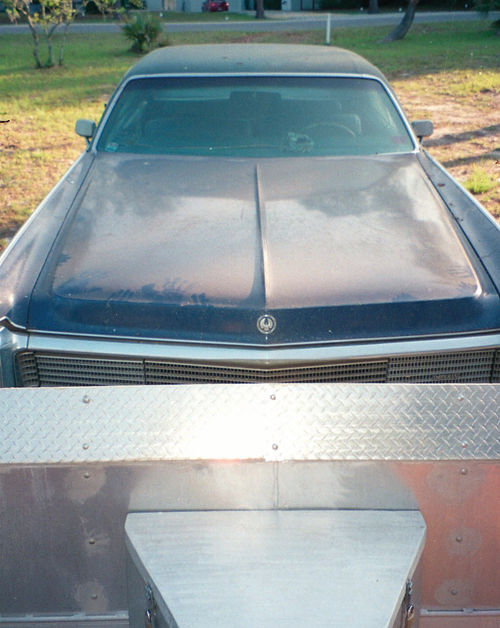 But moving the car back even 6 inches would have exacerbated a problem that existed at the rear of the trailer. Namely, the Imperial's rear wheels were so close to the rear edge of the loading deck—the body overhung that considerably—that the back of the trailer was already riding low. We learned during the trip home that it would scrape the ground at the slightly provocation. (Photo 4.)
The '73 Imperial was apparently among the heaviest cars I've ever hauled. Hmmm. According to my quick calculations, the trailer's carrying capacity is 7000 pounds gross or, subtracting the trailer's weight of 1300 pounds, 5700 pounds net.
Well, I'd never heard of a car weighing more than about 5000 pounds so I figured I had 700 pounds to spare. No worries. It was apparently just the excessive weight on the trailer tongue—causing the truck to squat and its steering to feel light—that conveyed the sensation of excess weight.
The Imperial Strained My Truck…and Me
Old Blue's engine told a different story, however.
At every stoplight when we got off the Interstate or at every ramp when we got back on, my heavy load forced me to start my truck in its ultra-low granny gear to get it moving at 2 or 3 mph so I could shift up to 2nd.
Even then, after each stop Old Blue struggled mightily to reach highway speeds again. But at higher speeds, the truck's steering became squirrely. The excess trailer tongue weight that was pushing down on Old Blue's back end evidently caused a proportional rise in the truck's front end. Its manual steering thereby had become light and uncertain.
The result: under these conditions my safe top speed was 52 or 53 mph.
Consequently, I hastily consulted my road maps to prepare a strictly flatland, nearly exclusively Interstate route back to Nebraska.
That would be I-10 westward to the north of New Orleans, I-12 westward to Lafayette, Louisiana, I-49 northwestward to Shreveport, Louisiana, I-20 westward to DallasFort Worth and I-35/I-135/U.S. 81 north through Texas, Oklahoma and Kansas to Nebraska and home.
This roundabout route (plus three sightseeing diversions we somehow managed to work in) added 250 miles to our 1550-mile trip down, making our return trip 1800 miles.
Covering that distance given our low top speed took five days of the most difficult driving I've ever done.
An Ill-Advised Excursion
Adding to the general misery, Carolyn— at the time my wife of just 14 months— had some trouble appreciating the strain I was under. Why wouldn't she? She wasn't piloting a heavy trailer and battling the truck's steering drift 10 hours a day in heavy traffic.
On the first full day of our long trip back, I gave in to Carolyn's eager urging that we exit I-10 to visit the beach and ocean at Pensacola, Florida.
What followed was 30 miles of traffic choked urban sprawl and, near the beach, traffic lights at every block. At every wide turn I made I was terrified of either sideswiping a car on my left side or of scraping and popping a trailer tire against the curb on my right. I felt as if I were driving a semi truck on a hiking trail.
At the beach, I had to carefully plan every move to avoid pulling off the road into a lot that was too small to allow a truck and trailer to turn around. I still can't image the difficulty of backing a trailer onto such busy roadways as we experienced in Pensacola.
Because the public parking lots were full, we resorted to double-parking the truck and trailer in the lot of a beachside motel, meaning I had to keep a close eye on the truck in case I had to move it. Thus our reward for a two-hour detour was spending about 15 minutes on the beach.
On our trip down to Florida, we'd stopped at one or more attractions per day, which gave our long road trip a leisurely vacation feel. I'd had every intention of doing the same on our return trip. That is, until I discovered I'd bitten off more than I could chew with the unwieldy '73 Imperial.
Cab Climate Turns Chilly
After Pensacola, therefore, we made just two more "fun" detours off the Interstate, one of which we'd previously arranged: an airboat ride in a Florida swamp. I simply refused to increase our risk of a breakdown or other disaster by making additional side trips.
This led to a tiff and some chilly weather inside the cab for a time. And time was something we had plenty of. Eventually, however, we made up and resolved to face the crisis as a team. Carolyn's sardonic final words on the subject: "We've been through a lot together—and it's all been your fault!"
Rest and gas stops nibbled away at our top speed of 53 mph to drop our average forward progress to just 40 to 45 miles for every hour on the road.
At that pace, even by driving 10 or 11 hours we could barely cover 400 miles per day. And when I say "we" I mean "I," for with my nearly 30 years' experience driving Old Blue I was the obvious choice to pilot the rig under such trying conditions.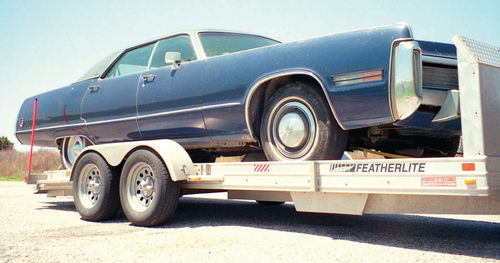 Because we stayed overnight east of Dallas at the end of Day 3, we started Day 4 early and drove right into the Dallas-Fort Worth morning rush hour, the low point of a long, stressful journey.
In Dallas, I encountered so much merging traffic from the right that, despite my laggard's speed, I simply couldn't stay in the far right lane. A solid line of cars to my left prevented me from changing lanes as I needed to.
This forced me to drive in the second-to-the-right lane on one 10- or 12-lane stretch of urban Interstate. As cars and heavy trucks whizzed by on both sides of me, I chugged down the road at 53 mph and struggled to keep the wheels of my trailer—which fit in my lane by mere inches—from crossing the white lane-division line on either side.
A few hours later, we celebrated our narrow escape from Dallas-Fort Worth by canvassing three antique stores in tiny Purcell, Oklahoma, just off I-35, our final sightseeing excursion of the hazardous five-day homeward voyage.
An Ominous Sticker
The final travel day of our 11-day working vacation started early in Newton, Kansas. Given the morning temperature of 38 degrees F. (which would make a boilover unlikely), our general exhaustion and our desire to make it home as quickly as possible, I pushed the truck to 58 mph for the fivehour drive. Amazingly, I have no burst tires or engine breakdowns to report.
Home again and somewhat rested, I took the first opportunity to give the Imperial a close examination. What I found chilled me.
A sticker that I hadn't noticed previously on the rear edge of the driver's door revealed that the car weighs 6690 pounds or nearly 1000 pounds over the trailer's 5700-pound net hauling capacity. (Probably over 1000 pounds, come to think of it, because we'd stashed some of our luggage in the car!)
Our total load (the weight of the car and trailer) of 7990 pounds far exceeded the combined 7280-pound rated carrying capacity of the trailer's four tires (1820 pounds capacity per tire x 4 = 7280). I'm a big believer in avoiding off-brand tires so I thank my Goodyears for tolerating the overload. Even so—my, but weren't we lucky!
The trailer deck, which the Imperial had bowed into the shape of a shallow upside-down U, returned to its normal position once I'd unloaded the car. Elsewhere, the trailer did show permanent damage from five days and 1800 miles of abuse.
Normally a shiny silver color, the four sets of wheel bearings and races— which I had just repacked with fresh grease—had turned gray, a harbinger of failure. I replaced them.
The Trip in Retrospect
Upon reflection, I may have been wiser to have the Imperial shipped to me, although many haulers don't handle non-running cars. Another consideration is that having the Imperial shipped on even an open transport could easily have added $1500 to my $500 purchase price.
That argument is self-canceling, of course, when you consider the expense of food, lodging, gas and the opportunity cost (lost wages and other missed opportunities at home) of our 11-day trip.
To be fair, the trip also produced some positive results. For one, I got the car back safely without having to entrust its handling to a stranger.
Before the nail-biting return trip, Carolyn and I had daily fun playing tourists, in addition to seeing great scenery all day, every day, on lonely highways in a part of the country we'd never explored.
Furthermore, Carolyn saw one of her greatest wishes fulfilled due to our trip. Somewhere between Port Allen, Louisiana, and Terrell, Texas, on Day 3, she planted a seed… Wouldn't it be nice (she mused in a calm, innocuous manner) to have a newer pickup with air conditioning, comfortable seats and a higher top speed than Old Blue can muster?
In the heat of the moment, I had to agree.
Shortly after of our return, Carolyn shopped for and "we" bought a used Hemi-equipped Dodge truck loaded with comforts unavailable in 1967. (Photo right.)
But never fear. Old Blue, retired now from the daily grind, is still providing reliable muscle out here on the farm. (The four-part "This Old Truck" series that ran in Auto Restorer from November 2008 to February 2009 details Old Blue's mini-restoration.)
Best of all, I say there's nothing quite like some hardship to bind a couple. So here we are, a decade later, still as smitten with one another as we were on that fateful day we met.
As with the Imperial, Carolyn and I also recently celebrated 10 joyous years together.
But in the future, I would use my WPC (Walter Percy Chrysler) Club roster to do some research before sallying forth on such a grand adventure. By phoning one or more '73 Imperial owners, I could have easily learned the car's weight and length beforehand.
After all, like a strong marriage, even the sturdiest truck and trailer can stand just so much strain.
Carolyn's Viewpoint
Although our first date—at a speeddating event in February 2006—lasted precisely three minutes, Curt left such a big impression on me that I decided to marry him. Little did I know what adventures he would take me on.
At the time we both owned blue Ford pickups, liked dogs, enjoyed traveling and were compatible in other ways. So far; so good.
One day Curt asked if I wanted to take a mini-vacation to Minnesota, which would include picking up a car and spending some time on a lake, taking in the sun. What's not to like about that? I said sure.
He picked me up in Old Blue, his multi-colored '67 Ford pickup. As I got in the truck with Curt and his two Scottish terriers, I noticed rust holes in the passenger-side floor through which I could see the pavement below.
I don't recall saying anything, either because we were still in the dating stage—or maybe I was in shock!
I endured 500 miles of driving on a hot July day without air conditioning or a working radio, sitting next to two panting dogs who shed ticks, some of which crawled onto me.
Curt has since patched Old Blue's floor and replaced the old bench seat, which had springs poking through. (He was considerate enough during my first drive in his truck to place a furry kind of blanket on the threadbare seat.)
Since that time, Curt and I have made more memorable trips, including a trip down the aisle in February 2007.
Then, excited about a grand driving trip to Florida, and looking forward to lovely scenery and stops at Graceland and elsewhere, I chose my outfits and even bought a portable radio for the truck.
With his way for words, Curt can talk me into things simply by knowing what I like, and he certainly does. Did I even hear him mention that we were picking up a car in Florida? This little detail did not sink in until he attached his Featherlite trailer to Old Blue.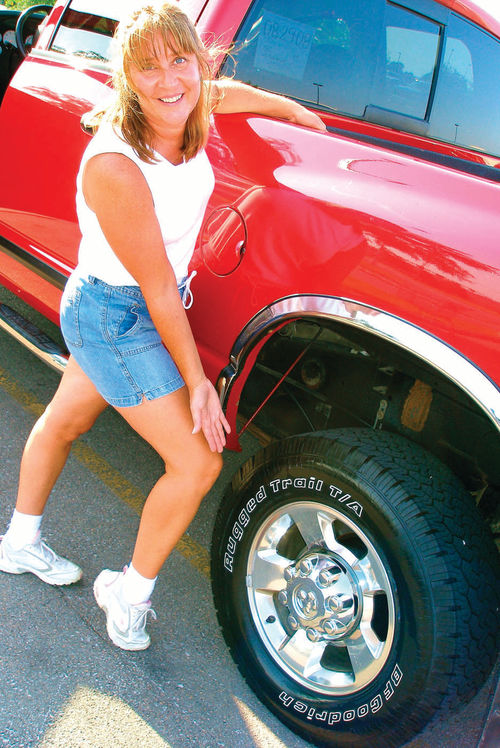 As the days flew by, and after seeing many wonders—and having no cooking or cleaning to do, I might add—we arrived to pick up a huge car. Would it fit on the trailer? What a big disappointment to be unable to bring it home.
When we finished the transaction part, we realized we needed to get a move on because it was going to get dark and we were going to be the size of a semi truck on the itty bitty road out.
Curt got it loaded, but only after the neighbor pointed out that the seller should keep the license plate. Didn't it come with the car? My point is you shouldn't be taking off parts after the transaction.
Back on the road again, you could feel the drag on the truck. But I looked to Curt and he seemed confident.
The next morning, Curt suggested we take a less meandering route home. He also had a couple of stops in mind so it wouldn't be just mindless driving.
"OK, no problem," I replied, because I was looking forward to getting home to my own bed and cooking, too. But in my defense, I felt we couldn't just drive by the ocean without stopping.
Was this our first tiff? Curt didn't let me know that he was having trouble with the truck and trailer. Sometimes, he doesn't let on what he is thinking, either.
I had every confidence in his ability— and he did just fine, I might add. But, as you know, the drive went on and on. Men can be so stubborn!
When we finally got home, everything was fine and dandy. Curt and I were closer than ever after making more memories to cherish and Curt had this wonderful car.
Me, I came home with a new pair of sandals and the experience of riding on an air boat and seeing alligators. I learned I dislike boiled peanuts; love the scenery in Tennessee—and Elvis is still dreamy!
As I always say, "Curt and I have done a lot together, and it's all because of him."
Oh, by the way, the next time we were in town, I told Curt we should look into buying a newer vehicle. He said I could look, so I dropped him off somewhere and went to a usedcar dealer and chose a newer truck to test-drive.
He sure was surprised when I pulled up in a bright-red, extended-cab pickup loaded with comforts. But a girl knows she has a smart guy when he says OK, we can get it.
Editor's note: No doubt you're wondering what has become of that Imperial after Curt and Carolyn went to some trouble to bring it home. You probably won't be totally surprised to hear that it's still a work in progress. Here's Curt to bring you up to date: "Immediately after hauling home the Imperial, I rebuilt its brakes, which included bending and flaring new stainless steel brake lines; cleaned and sealed its gas tank; rebuilt its complicated 4-barrel Thermoquad carburetor, and performed any number of other mechanical repairs. Unfortunately, the project stalled out when I discovered that the Florida heat and humidity had disintegrated the car's many vacuum lines and rubber vacuum-control diaphragms. (On this car, even the parking brake has a vacuum booster.) Other projects have since elbowed out the Imperial, which patiently sits in my pole barn, waiting for me to get back to it." We've asked Curt to let us know when the car is roadworthy once again.