1974 Dodge Ramcharger: Feature Restoration
It's a Rare SUV From the Days When They Were Still Based on Trucks. And No, He Didn't Remove the Top With a Saw.
Some hobbyists discover their project cars in barns, others act on tips from their fellow collectors and a few find that the ad for parts leads to the vehicle that donated them.
"I was sort of looking for one," recalled Paul Schmidt, who found his 1974 Dodge Ramcharger about 10 years ago, "but I was really looking for '74 doors to put on my '80 to make it look like a '74…and then I came across this one."
"This one" is the feature restoration and those who don't know their Ramchargers might well be wondering what makes the doors from a 1974 so special. The difference is simple, in that the doors on early 1974 models lack frames around the windows and when the truck is driven without its top, the effect is that of a traditional convertible.
"It's just a lot nicer," Schmidt said, "not having the door posts in your way."
Today, that's difficult to appreciate, given that the majority of modern sport utility vehicles—like their genteel cousins, the crossovers—wear fixed roofs making top-off or top-down driving nothing more than wishful thinking.
The other big difference is that the Ramcharger and its similar contemporaries are based on light trucks and generally look that way.
The SUV Family Tree
It all goes back to the vehicle that would become the Jeep. In 1940, with the impending arrival of World War II, the Army sought bids for what it called a "scout car," a small, light, four-wheel-drive vehicle suitable for mass-production.
The Army decided that standardization was necessary and the contracts went to Willys and Ford. With the end of the war, Willys was quick to modify the jeep for civilian use and trademark the "Jeep" name.
Through the rest of the 1940s and '50s, no American manufacturer built anything like it and in addition to what had become the Civilian Jeep series, Willys added a station wagon and light trucks.
In 1961 the CJ got its first domestic competitor, the International Scout. Much more modern in styling, it was a four-cylinder available with four-wheel drive and a removable half- or full roof on a 100-inch wheelbase. Despite its being 19 inches longer than that year's CJ-5, it was a good match to the Jeep and the two shared the market until 1966 brought Ford's Bronco. A 90- inch wheelbase placed it in the same group, as did the removable half- and full roof, but there was also a slot for a comparable larger vehicle.
Willys had launched its 104-inch four wheel-drive station wagon in 1949 and International had introduced its four wheel-drive Travelall in 1953. Chevrolet and GMC by then were old hands with their Suburbans (introduced in 1935) and after offering NAPCO four-wheel drive conversions from about 1950 through 1959, switched to a factory package in 1960. All of those shared much of their sheet metal and mechanical components with their light-truck siblings.
Jeep took a giant leap forward when it introduced the Wagoneer for 1963. Now a Kaiser product, the new Jeep was a modern four-wheel-drive station wagon that—despite its connection to the equally new Gladiator pickup—was car-like in every way from style to comfort to handling. GM responded in 1969 with Chevy's Blazer and the GMC version that followed in 1970 called the Jimmy. The two four-wheel-drives were essentially pickups that had been shortened and given removable roofs after their cabs and cargo areas had been joined with continuous interiors.
Dodge and Four-Wheel Drive
So where was Dodge during all of those years?
Dodge built its first four-wheel-drive for the military in 1934 and followed with two- and four-wheel-drive vehicles beginning in 1935. Initially, it did so by militarizing various models of its everyday trucks, but as war approached, the civilian look disappeared. Military four-wheel-drive Dodges wore simple, nearly flat sheet metal and as light-duty trucks ranged from half-ton carryalls and pickups to three-quarter-ton weapons carriers and ambulances to six-wheel one-and-one-half-ton cargo trucks that were actually the four-wheel-drives with third powered axles added at the rear.
By the war's end, those trucks and others had given Dodge a tremendous amount of experience and know-how, so it did what Willys was doing with the Jeep and created a civilian version of one of its military four-wheel-drives. The result was the 1946 Power Wagon, a one-ton sold originally as a pickup or chassis-cab whose heritage was unmistakable. The Power Wagon would go on for decades, remaining a slow but steady seller in the American market through 1968 and selling in different parts of the world as a Dodge, DeSoto or Fargo through 1978. It was incredibly rugged and retained its personality right to the end thanks to features such as a prewar cab and a flathead six. In its final domestic form, it used 5.83 gears, a 3750-pound front axle and 6500-pound rear, eight ply 9.00 x 16-inch tires, a four-speed, and manual steering and brakes.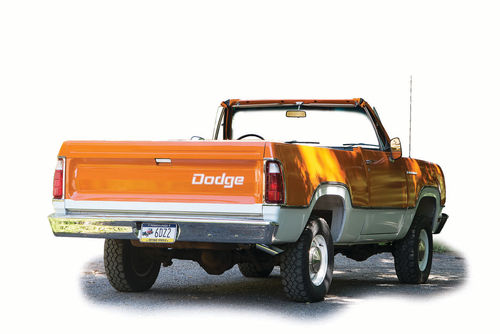 The Power Wagon clearly was a truck for owners who actually needed it rather than those who just liked pickups. Dodge realized that not everyone whose work or activities could benefit from a four-wheel-drive pickup required a Power Wagon and in 1957 it added a conventional pickup with four-wheel-drive to meet those lesser demands. It looked just like the other pickups except for its higher stance and Dodge positioned it to take advantage of the heavier truck's reputation by letting it share the Power Wagon name. At about the same time, its conventional two-wheel-drive truck provided the basics for a station wagon like vehicle, the Town Wagon of 1955.
The Town Wagon was built off of a panel truck and in 1957 it would become available with a four-wheel drive option. The odd part of the story is that the Town Wagon received the same styling updates as the rest of the Dodge line through 1960 and then retained that body after pickups were given a complete makeover for 1961. Dodge then dropped the Town Wagon for 1967 and walked away from that market.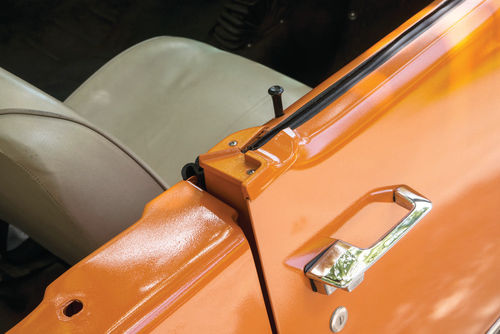 No one was yet calling them sport utility vehicles, but that's what they were and Dodge was now the only manufacturer without one.
Is That a Homemade Dodge?
The situation finally changed for the 1974 model year with the introduction of the Ramcharger and the identical Trailduster, Plymouth's first truck in 32 years. The new Mopars followed the Blazer/Jimmy formula by being modified versions of full-size pickups, right down to the removable roofs. Like the GM twins, early Ramchargers and Traildusters are seldom seen today and not especially well-remembered.
"A lot of people definitely think I built it," Schmidt said. "They always look for the weld marks where they figure I cut the truck cab out to put the pickup bed on and then I have to explain to them that it was originally built with no roof. A lot of people don't even realize that Dodge built anything with a removable roof."
Among those who do realize it, an early Ramcharger like Schmidt's really is significant.
"I kind of knew it right away when I bought it," he explained. "I had been doing a little research ahead of time and didn't see much on the '74 Ramchargers. Probably a little while after I had it, I was on RamchargerCentral saying on the forum that I'd bought it and somebody responded to me with a message saying that 'you're one of the lucky few. You have one of 75 trucks. We're doing a registry on them. There are some that aren't on the registry, but the ones that are (amount to) only about 75 of them and not all of them are driveable, either.' They were only built for the first six months with the no-doorpost configuration."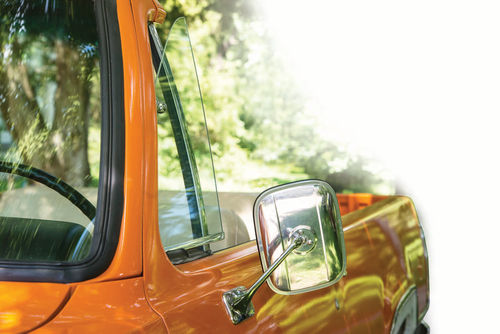 Just a half-year's production more than 40 years ago and only 75 examples on the registry mentioned on RamchargerCentral.Com should make finding one almost impossible, which is why Schmidt initially thought that installing frameless '74 doors on the 1980 Ramcharger he had at the time would be a good compromise. They'd fit his '80 Ramcharger and since they wouldn't mate correctly with the later top, he'd leave it open and enjoy it that way. It was the most realistic solution, assuming that he could actually find a set of doors. And then…
Finding More Than He'd Expected
"I was searching through the Ramcharger Central web site," he recalled, "just going through the for sale ads and I happened to see a set of '74 doors advertised. I called about the doors and the guy said 'when are you going to be coming for them?' I said 'on the weekend' and he said 'well, that'll give me enough time to unbolt them.'
"I said 'what do you mean, "unbolt them?"' He said 'I've got the whole entire truck' and I said 'what do you mean by "the whole entire truck?"' He said 'I've got a complete '74 Ramcharger, but nobody wants it and so I'll just take the doors off it and sell them and part it out.' That's when I said 'well, don't part it out. I'll take the whole thing. I'm going to come down and look at it this weekend.' That's when I bought it."
There was more to his good luck, as the truck was near Reading, Pennsylvania, and when he drove the 75 miles from his home in Normal Square to buy it, he found that it originally had been a Mississippi truck and mostly rust-free. It didn't look very good in the flat black paint it wore and minus its trim, but he was able drive it home and found that aside from some transmission "issues," it ran well.
"When I got it home," he said, "I dropped the transmission. I figured I'd start there. I cleaned it all out, checked the band adjustment and that seemed OK. I put fresh fluid in it and tried driving it, but the transmission was still making noise. So after a little while I just decided that I'd start redoing the whole vehicle because I got tired of looking at it in flat black anyway."
Removing Layers of Paint
"I put it in the garage and started taking it apart," Schmidt said. "I stripped it all down."
The Torque Flite's problem proved to be minor as a plastic spacer had failed and needed to be replaced. That's not surprising with 59,000 miles on the odometer, nor is the fact that the 360 V-8 needed nothing.
The body, while generally solid, was another matter.
"I had to take the layer of flat black off of it, a layer of red off of it and I actually went into most of the orange and the original primer," Schmidt said.
"The worst part was the driver's side door. It was laid in three inches. That was from a deer running into it."
"The front fender on the driver's side had a little minor twist in it and at the rear, the quarter was laid in a little bit. Other than that, the only other work I did was a little patch job on the passenger side floor and it had a second rocker on the passenger side, so I cut both rockers off and put one of them back on."
He'd removed the top before beginning the bodywork, but he said the combination of body-welds and the truck frame meant that holding the structure together was unnecessary. Shimming and adjusting for alignment were minor.
Dealing with the trim, though, didn't go as smoothly as it had been removed before he even saw the truck. Most had somehow stayed with it but at some point in the Ramcharger's life the pins needed for the trim's attachment had been removed and the holes filled.
"I went back through," Schmidt said, "and welded every pin back on, all the way down the entire body, and put the original trim back on. It took me a while. Sometimes I had to grind them back off and weld them back on. Some went on easy; some were 'OK, I got that one in the wrong spot. I'll put that one back on.'"
He was able to find some NOS trim to replace the missing and damaged pieces and straightened what couldn't be replaced. But that wasn't as simple as it sounds.
"The hood emblems where it says 'Dodge' were a real nightmare to find," Schmidt recalled. "Some of them used pins and some of them were glued on. The one you can find the most was the pin-type and I needed the glue-on. Those were almost impossible to find. I scavenged around for a while until I found a complete set. There are pins with clips on the inside or they're stuck on the hood with double-sided tape. The pinned type are probably better, but this is what was on it and I really didn't want to drill any holes in the hood."
A Rigorous Parts Search
The difficulty in locating parts wasn't confined to trim. The photos here show that the Ramcharger has an antenna, but it doesn't have a radio because he can't find a bezel in good condition. The seats are as they were because he's been unable to come up with the correct upholstery materials. But like the missing radio, they don't keep the truck off the road. Fortunately, mechanical parts are no problem and most of the sheet metal for the Ramcharger is available, even if it's intended for a pickup, and that's a good thing because rust was a real problem for Dodge trucks of the era. It's one of the reasons that Schmidt appreciates his Ramcharger.
"It's kind of nice, low production, not many survivors," he said. "Most of them rotted out before they were even sold and the ones that didn't rot out were used for plow trucks and that finished them."
Be Sure to Really Check for Rust
While southern or desert examples are not very likely to be rusted, any Ramcharger or Trailduster needs a close look before being purchased.
"If somebody tells you it's solid," Schmidt said, "just be careful with the mat. You're probably not going to feel whether the floor's solid without crawling underneath. The front floors, they used to have a heavy mat and it had a thick layer of insulation underneath it and it's really hard to tell if somebody patched the floor or anything like that. You have to go underneath and look up. The other thing is the dogleg that's behind the door and in the body; there's a spot there where they rot out."
Other body rust should be easier to detect. Fenders, quarter panels, rocker panels and door bottoms are possible rust areas as they would be on most light trucks of the time, but Schmidt said the bottom of the tailgate and the floor in the cargo area are also potential trouble spots. The radiator support can be inspected from underneath, he said, but becomes much more obvious once it's failed.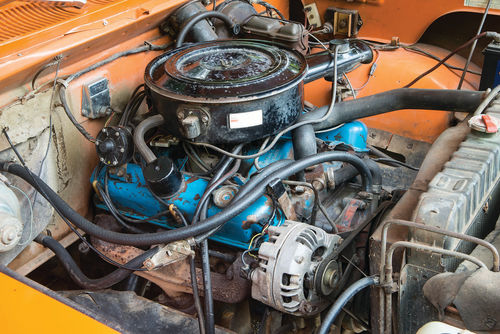 "You won't notice it right away," he explained, "until one day, everything is funny-shaped in the front. It's actually a stamped-steel piece over the top of the core support. What happens is they hold the moisture in there and they just rot out and settle down."
A Pleasant Driver…But Not Easy On Gas
The feature truck's condition when he found it saved him from some of the nastiest jobs, but the work it needed was worth it and Schmidt said that since it returned to the road in 2010, he's heard of two others, but seen neither of them. It attracts attention and starts conversations when he's filling the tank, which happens often on a vehicle good for about 10 miles per gallon around town and—"if you're really lucky"—15 on the highway.
"They'll come over and talk about it," Schmidt said, "or some tell us how they had one like it or know of somebody who might've had one like it. There's a lot of people out there who just think I took a Sawzall to an '80s style and made a removable roof out of it."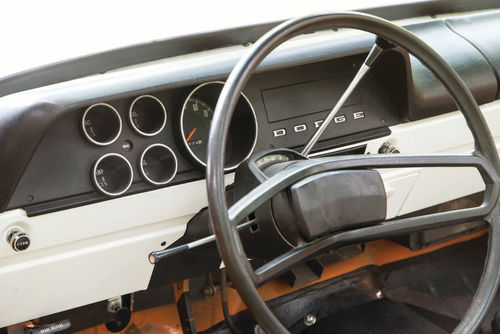 Sometimes on the road it's mistaken for a Blazer, but it rarely blends into the background. Schmidt said the bright colors probably have something to do with that and a half-hour of driving it around the Normal Square area confirmed that whatever the reason, it can't go undetected. Those 20-or-so miles also jogged my own memory of a 1978 Trailduster in the same orange, but with its top never having been removed. The fact that came most quickly to mind from thousands of miles in the Plymouth some 40 years ago is that these trucks feel big for the first few miles, but that sensation disappears quickly. Unlike some of its competitors of the day, the Ramcharger doesn't have that all-over-the-road sensation that seems to demand constant correction. Instead, it's well behaved to the extent that it didn't become a handful on twisting back roads. Totally unsurprising given its size is that there's plenty of room for even a tall driver and, of course, unlimited headroom.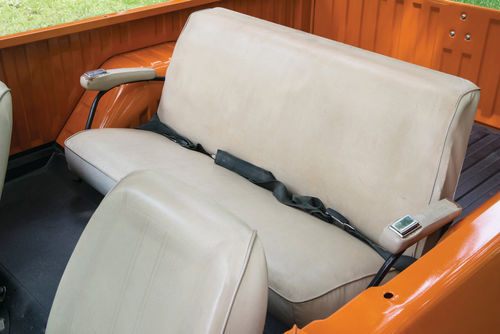 Schmidt had predicted that I'd be used to it in a few minutes and he was right. He said a long drive would call for a good stretch upon stopping, but he's driven it for roughly two hours straight without difficulty.
More importantly, he said the Ramcharger's ready for any trip when the opportunity arises even if the weather might be slightly less than optimum.
"It's kind of fun to drive in the summertime and I've even had it out late in the fall," he said. "It was really cold, I was bundled up and everybody looked at me like I'm crazy."