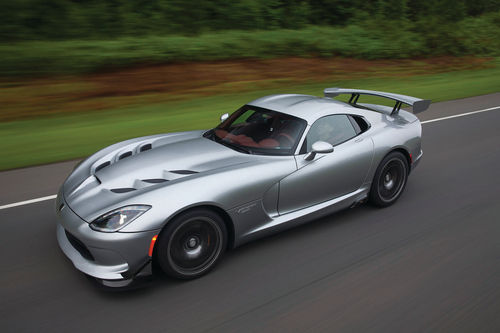 After a Quarter of a Century, Production Will Soon End for This V-10 Sports Car. But Along the Way It Has Gathered a Very Devoted Group of Followers.
Editor's note: While some cars may stand out in a crowd, the Viper has always been one to leap at you instead. Maybe it's the race car styling or the sound the V-10 engine makes as a Viper roars past that commands your attention. More than likely it's a combination of numerous cool car ingredients that have drawn a devoted gathering of owners since the street-legal racer was introduced in 1992.
So when Fiat Chrysler Automobiles said it will end Viper production in August after a 25-year run in the marketplace, we thought it would be interesting to talk with some Viper experts—folks who have owned and driven these uncommon cars for years—and have them discuss the lure of a Viper.
With that in mind, we immediately thought of AR contributor and reader Bob Swartz who has two of the highperformance snakes (a '95 and a '13) in his garage. Bob quickly got involved and gathered several of his Viper-driving friends to take part in this report. So here's Bob…
It Took Several Years and Then…
Thanks, Ted, for this opportunity to provide some voice and visibility for my favorite car, the Viper, and some of my favorite people, fellow Viper owners and club members. It was a treat to ask my friends in the Motor City Viper Owners club to provide photos and stories. And the info and pictures came fast and freely. We all love our cars as well as the fun we have getting together for any of the various club activities. And the range and type of interests these folks represent may reflect the overall car-crazy culture we enjoy: the cars' usage ranges from a pristine cruiser on clean, dry roads to highmileage traveling fun cars, to dual-purpose road and track cars that see severe use and high-adrenaline fun on the occasional race track (and away from public streets).
Also, many of these folks have (or covet) other older classics and cruisers and we couldn't have gotten a much wider cross-section of auto enthusiasts.
Thanks again for this opportunity to contribute to your absolutely great magazine
Let's begin with some of my own Viper hisssstory… (Some snake-flavored language there.) It started unremarkably with the initial rumors around work of this supercar concept from Dodge. (My career was with Chrysler in Engineering and Manufacturing.)
Long story short, by 2007 I couldn't hold out any longer so I started shopping for a used Viper. That's where I also got my first look-see at our local Viper club chapter, Motor City Viper Owners. One of my work buddies was a club member and a recently retired engineer with Team Viper, the group that created the car. He guided me to two excellent examples, both '95s. The first was the one that got away, rats!
Shortly thereafter another club member put a car up for sale…a green roadster! I'd never heard of "green Vipers." But wow, what a beauty! To put it mildly, I was speechless when the owner opened that garage door to reveal the sleek, sumptuous, curving lines of the rich Viper Emerald Green beastly beauty sitting there. It was love, lust, infatuation, awe, a quick (very quick) ride, and purchase at first sight.
After my initial rush had tapered off a bit I got the following reactions from my very much supportive and surprised family:
Wife: "You're nuts but enjoy it."
Son (26-years-old at the time): "Yours? Don't be kidding me! You bought this? It's yours? …Can I drive it?"
Me: "No!" at first. But later that changed to, "Sure you can drive it if you're careful and fill up the gas, premium only."
Now I'm a most happy Viper veteran who tracks the car when I can and just keeps putting on the happy miles. We've been to Charlotte Motor Speedway (with 300 other Vipers, two of them in Emerald Green), GingerMan Raceway and Waterford Hills Road Racing in Michigan, Road Atlanta, Virginia International Raceway, Gatlinburg/Smokey Mountains, and the twisty Tail of the Dragon in North Carolina/Tennessee. (Is that U.S. 129 or a posting of the suggested speed? The Dragon has 318 curves in 11 miles. Hang on and stay inside the yellow lines!) We've also gone touring in Petoskey, Michigan, West Virginia, Kentucky, Tennessee, Georgia and many other fun places.
So old or new, built it or bought it—let's enjoy our favorite cars as many ways as we can and do as much as we can to keep great cars and a great car magazine like Auto Restorer going strong.
Thank you Auto Restorer and all you autoholics out there for some spice in our lives.
Bob Swartz
Richard Jakacki's 2005 Third Generation Race Yellow Viper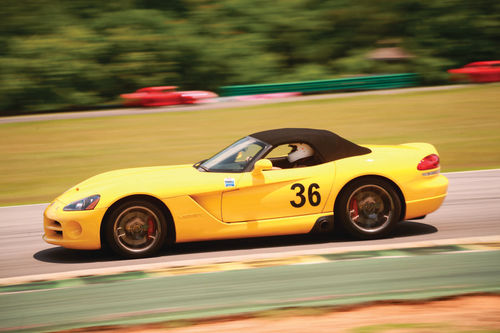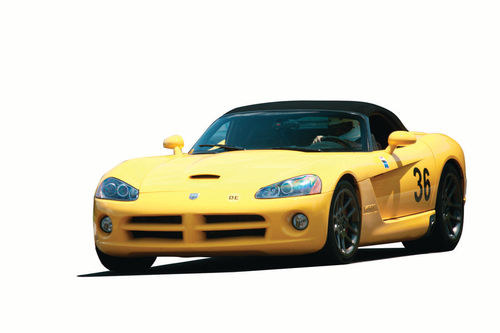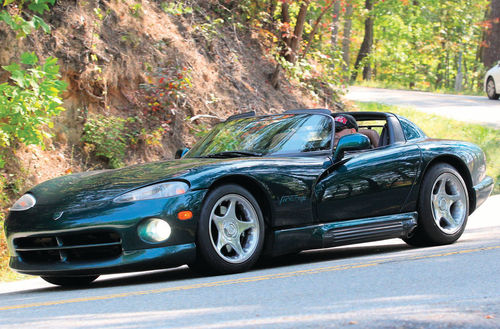 I bought this car in January of '14 and it was an impulse buy. I was looking at Corvettes on eBay just dreaming about owning one when the thought came to me: How much are Vipers?
I typed "Vipers" into the computer and this one came up. It is Race Yellow which is my favorite color. I knew nothing about Vipers at the time or even if I would fit in the car as I had never sat in one. But I was immediately drawn to this one and I bought it from a Maserati dealer in California and had it shipped to Detroit sight unseen except for inspecting a few photos.
I took it to some local shows and met a fellow Viper owner. He suggested I join the Motor City Viper Owners club so we could go to the Chrysler Chelsea Proving Grounds (in Chelsea, Michigan) together. I joined the club and have enjoyed the camaraderie and friendships ever since.
This is one of the best cars I have ever purchased…and it was on a whim!
Ken and Sue Krupansky's 2003 Third Generation Viper Red SRT Convertible
We (Ken and Sue Krupansky of Brighton, Michigan) bought our brand-new Viper SRT "soft top" in July of 2003.
I worked at Chrysler and fell in love at first sight with the original Viper pilot vehicles. Still, it took me seven years to convince Sue that we absolutely needed a Viper and it wasn't merely a mid-life crisis on my part.
The Viper is a fun car to drive and we both love it with the top down. The license plate (KRUSEN) reflects our need to cruise anywhere in our Viper, from a trip to Home Depot to trips with the Viper Club throughout the Midwest. Many summers went by when the top never saw the sun...it was put down in April and stayed that way until the car was put in storage in the fall.
Updates throughout the years have included K&N air filters, a racing "short throw" shifter and black chromed wheels, license surround and fuel cap. Nothing like a few changes to make the car feel new again!
An important element of the Viper experience is the friends and camaraderie we established through the Motor City Viper Owners Club. Without the MCVOC we would just be another fast-vehicle owner without the memories and experiences the club provides.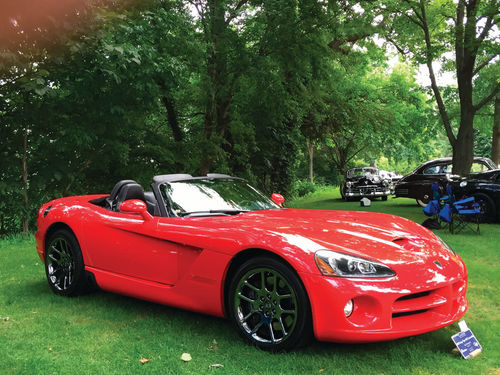 Marty Heitkamp's 2005 Third Generation Bright Silver Metallic Viper
I first fell in love with the Viper at the Detroit Auto Show when it was revealed as a concept car in January 1989. At that show I decided that one day I would own one. However, as time went on and kids came and priorities in life shifted, that dream of ownership just seemed to waft away.
Fast forward to late 2012 (and the approach of my 60th birthday in February 2013) and that suppressed dream of being a Viper owner reemerged. After some discussions with my wonderful and understanding wife, I was given permission to seriously investigate purchasing a Viper with the caveat that the price couldn't exceed $50,000. I knew I wanted a convertible and with the cost cap I settled to search for a nice Gen III Viper.
After a couple of months of searching on various Internet web sites, I found the car we ultimately purchased at a Porsche dealership in Phoenix. I contacted the dealer and asked if some folks that I knew in the Phoenix area could look at it for me. He replied "no problem," so I contacted a fellow Chrysler retiree that lived near the dealer to go look at the car. He drove it and reported back to me that it was in great condition. With that seal of approval, I closed the deal over the phone. I arranged to have it shipped to the Motor City and never saw the car in person until the truck pulled up to our house the afternoon of March 27, 2013. It was like Christmas morning all over again from when I was six years old.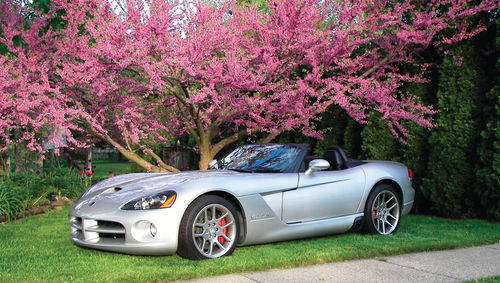 The car we purchased is a 2005 model year Gen III silver Dodge Viper. It had 7300 miles on it (not bad for a car that was almost nine years old). But in the four years we have owned it I have more than doubled the mileage to just under 15,000 miles. I believe in driving the car every chance I can! The car is pretty much stock except for removal of the exhaust system cross-under pipes which were a great source of passenger compartment heat, the installation of a short throw shifter and the installation of a six-point harness for track days. Engine upgrades are on the list of things to do…505 horsepower just doesn't seem to be enough!
Jason Pontello's 2004 Third Generation Viper Red SRT10
The Viper has always been a dream car of mine since I went for my first ride in one! For me, the car is a great stress reliever and I look forward to taking it out for a drive whenever I can! The only mod that I've made so far is a custom exhaust system.
Jack Yeaton's Viper Collection
My 2003 Third Generation SRT10 red convertible was my second Viper following a 1998 GTS. It was a significantly different car, more horsepower, better handling/braking characteristics and greatly improved cockpit ergonomics. What a pleasure to drive. I am in seasonal locations where I can use the Viper, top down, most of the year. I was at the track with it where it tested me but I did not really test it. That's always a great experience.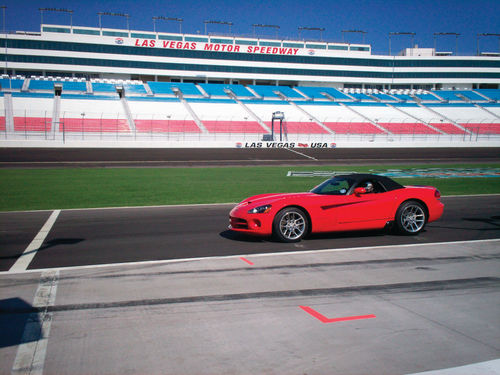 I recently added a 2017 SRT, just a fabulous car. With about 500 miles on it, I headed to the M1 Concourse (a car enthusiast facility in Pontiac, Michigan). As I was getting my helmet, with a stern look my wife said, "Do you know you are 73?" In the Vipers, I feel a lot younger.
Rob Austin's 2004 Third Generation Viper Red SRT10
I remember seeing the first Viper in a magazine in 1992 and I was immediately a big fan of the car. As the years passed, I saw Vipers at the auto show and I would always get pumped up when I saw one on the road. I always said to myself that I would love to own one someday.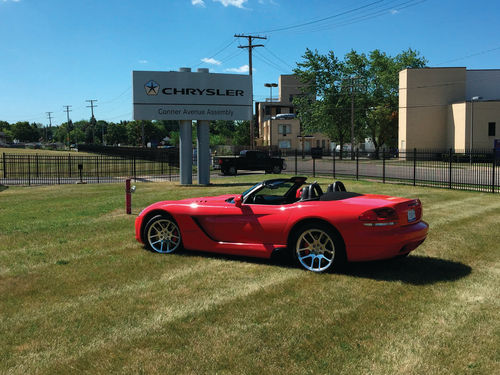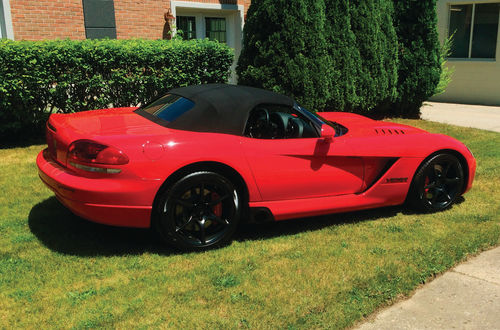 Instead I put my Viper Dream on hold and got married, raised a family and started a business. Some 23 years after first being bitten by the Viper, I finally was in a position financially to own my dream car and made it a reality.
And Now, a Few Comments From the Club President
The Motor City Viper Owners is a club that consists of 122 fanatic Viper owners who enjoy a robust schedule of social and driving activities. One of the unique features of our club is that we have in our membership most of the team that originally designed and developed the car. When we have a breakdown or want to modify something, we don't have to go very far for advice. The spirit of our club is embodied in our saying: "You come for the car, but you stay for the people!"
—Bruce Heckman, President, Motor City Viper Owners
Editor's Note, continued: With Viper production coming to an end, the Dodge Hellcat and Demon will now take the snake's place as the reigning performance kings at Dodge. And with a supercharged 6.2-liter Hemi rated at 707 horsepower in the Hellcat and the Hemi rated at 840 hp in the Demon, they certainly have some impressive credentials.
By comparison, the earliest Vipers put out a "mere" 400 horsepower from an 8-liter powerplant and the current snake pumps 645 hp from its 8.4-liter engine. But there's another aspect to consider here. That naturally aspirated V-10 engine—bolted to the chassis just a few feet ahead of the driver—will always give the Viper its own special place in the automotive hierarchy.