"Help Me Get Started With Auto Restoration"
When a Reader Asked for Advice on Entering the Hobby, an AR Contributor Invited Him to Spend a Day at His Shop and With Local Collectors. Let's Follow Along on the Day's Activities.
A recent Wednesday turned out to be a rather big day for Auto Restorer reader Josef Hladik. Back in April, Josef had written to the magazine saying he was rather new to the vintage vehicle hobby and he wondered if experienced restorers who were reading the publication might supply him with some pointers to help him learn about collecting and restoring cars.
Josef's request, which ran on that month's Letters pages, was engaging and Mechanic on Duty writer Jim Richardson devoted part of that month's MOD column to his advice for the newcomer. The letter also prompted other readers to pen helpful responses. Letters from Bob Swartz of Waterford, Michigan, Duane Matson of Rising City, Nebraska, and Dr. Bradley K. Norwood of Mechanicsville, Virginia, were printed in the September issue of Auto Restorer as "Advice for Young Hobbyists." We also read Josef's letter at our restoration shop—Gunner's Great Garage—in Manawa, Wisconsin, and noticed that he lived not too far away in Milwaukee.
This prompted us to contact Auto Restorer Editor Ted Kade and suggest the idea of inviting Josef to our shop to see some of the restorations we had in progress. The offer was accepted and it wasn't long before we found ourselves talking to Josef Hladik. He told us that he had come to the United States from the Czech Republic and had lived in Chicago before moving to Milwaukee. Josef said he couldn't travel to Manawa immediately, but that he would arrange a future trip.
From Truck Driving to Engineering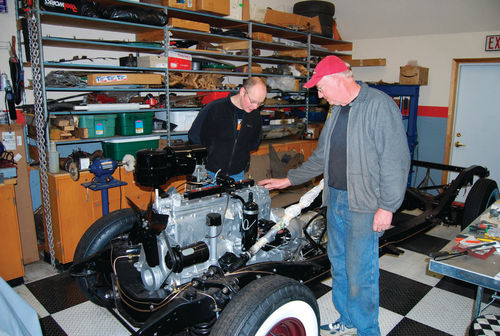 In our talks before his visit, Josef told us he'd had a magazine delivery route before he became a tractortrailer driver. His job took him to all 48 continental states (even though, he admits, he saw some of them only from the road). Josef married an American woman who had been to more European countries than he had, but she'd only visited 10 states. She wasn't keen on being married to an over-the-road trucker who would often be many states away, so Josef went to college in Milwaukee to launch a new career.
Josef Hladik now has an engineering degree and works in Milwaukee as an industrial engineer. He has done mechanical repairs and bodywork on the family Honda and is saving up to buy and restore an older van from the '60s or '70s. He would like to get a sixcylinder van if possible.
Time for a Restoration Tour
A few months ago, plans were made to meet Josef at 10 a.m. at our shop and show him around where we are working on the complete restoration of a 1948 Chrysler Saratoga coupe, the revival of a 1980 Triumph TR8 (with an upgrade to an Edelbrock intake and a Holley four-carrel carburetor) and the repair of a 1975 MGB roadster. We also wanted to take Josef to some other old-car places in our area, as well as to meet a few other people who we knew have links to the Czech Republic. However, we were busy and never made any actual plans for all of this until shortly before his arrival.
Despite our unpreparedness, our day with Josef came off perfectly. We were able to show him the cars we were working on and take him to seven other places, including locations where he saw a 1917 Oakland, a Dusenberg, several Packards, a couple of Cadillacs and a fairly large number of other cars. In addition to all this, we discovered that four of our stops had links to either the Czech Republic or Slovakia. (From 1918 to 1993 the two counties were joined together as Czechoslovakia.) Josef also picked up a couple of gifts along the way.
At Gunner's Great Garage, we talked to Josef about things such as the use of coppernickel brake lines, stainless steel brake cylinder conversions, the rebuilding of engines, classic car tires, straight-eight engines, British sports cars, restoration costs and old-car values. We gave Josef some opinions about which collector vehicles are the best to invest in today. Josef was full of questions and had obviously given a lot of thought to learning more about auto restoration.
From the Garage we headed to John's Custom Auto (also in Manawa). This shop is owned by autobody man and refinisher John Diermeier who has painted most of the author's 1952 MG TD. Josef asked John some questions about how to keep "orange peel" from happening when you paint a car. Diermeier told him that it's practically impossible to completely eliminate orange peel, but suggested that shop temperatures and a painter's choice of reducing agents are huge causes of orange peel. He said that slower reducers will help.
In addition to his knowledge about paints, it turned out that Diermeier also had a good friend who lived in Slovakia. John told Josef that he had visited the country not too long ago, spending a fairly long period of time there.
Following the stop at John's Custom Auto, we took Josef past the Iola Car Show grounds where the largest car show and swap meet in the Midwest is held each year on the second weekend in July. The Iola Car Show is operated through a community corporation. The show has a full-time staff and an office in downtown Iola, Wisconsin, where both paid and volunteer workers organize the annual event.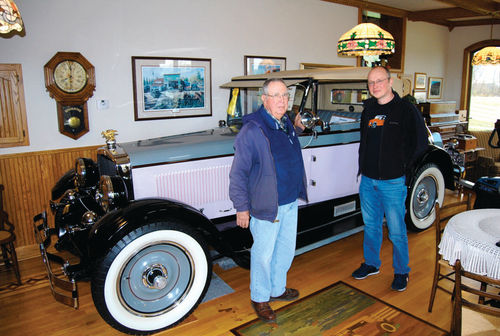 Managing Director Larry Fechter and PR/Marketing Director Joe Opperman were out visiting the staff of Vintage Works in Suamico, Wisconsin, to work on some promotional plans for next year's show, but Executive Director Joan Schultz and Administrative Assistant Mary Schwartz were available to meet with Josef. They gave him a tour of the office and an official Iola Car Show goodie bag that included Iola Car Show flyers, a model of last year's car show poster vehicle (a Chevrolet Cameo Carrier truck) and a book about the show's history.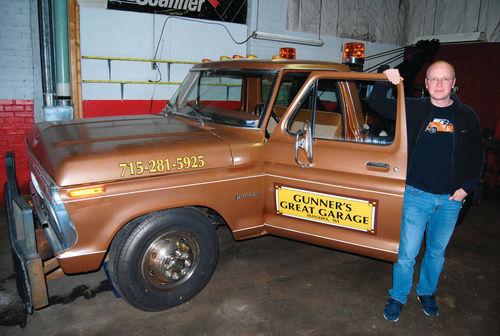 From the Iola Car Show office we headed for Jerry Kopecky's shop. "Hey, that's a Czech name!" said Josef, and it turns out he was right. A restorer in a past life (a DeSoto he did sold for $325,000 at Barrett-Jackson's 2007 Scottsdale auction), Kopecky confirmed his Czech heritage. He told Josef that he is no longer specializing in the restoration of collector vehicles, but instead has returned to doing collision repair work on modern cars and trucks.
However, Kopecky gave his visitor a rundown on the cars he has restored (especially finned Mopar models), as well as some additional advice on reducing orange peel in paint.
From Kopecky's shop, it was off to lunch at the Little Norway tavern in Scandinavia, Wisconsin. There we met with automotive writer Angelo van Bogart and two coin collecting experts, Cliff Mishler and George Cuhaj. George—who has a Czech heritage— was accompanied by his mother. There was more talk about the Czech Republic than there was about cars, but not by much. George, a New York City native, also talked about his Checker car collection.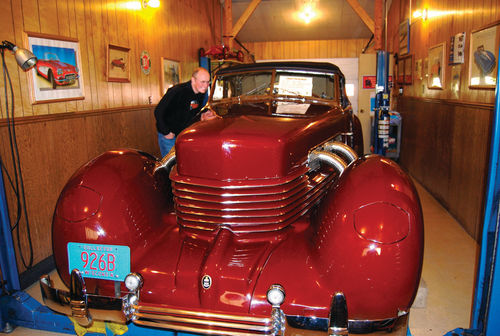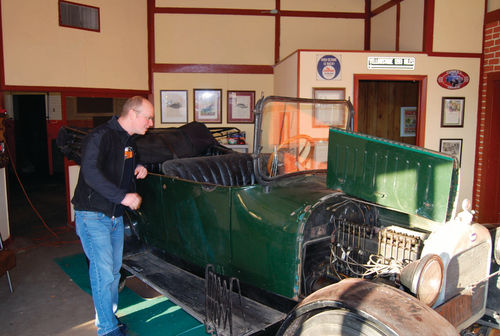 About That Car In the Living Room…
Before meeting Josef in the morning, we had thought about our lack of preparation for his visit and phoned area car collector Dave Lindsay to see if we could bring Josef to see his cars. Dave said it would be fine to come at 1:30, since he was expecting visitors at that time and would have the door open. This dovetailed perfectly with our lunch schedule, so after a couple of sandwiches, we headed to the wellknown Lindsay collection where Josef was in for a real treat!
First, Dave took Josef into his home where a 1926 Gardner Eight-in-Line Roadster was on display in the living room. This was Lindsay's first significant collector car purchased years ago. He told us that his father had disliked his purchase back when he made it. "Dave, you could have bought the neighbor's farm for as much as you paid for that old car," the elder Lindsay pointed out. "That's crazy."
It turned out that Dave Lindsay was "as crazy as a fox." Over the years he created Lindsay Collectables and built an impressive collection of cars, automobilia and antique music machines. At one point Dave sold his classic cars to build a Corvette collection, which he later sold to get back into classic cars.
Today Lindsay Collectables includes a Duesenberg, a Cord, a couple of prewar and postwar Cadillacs and Packards, a Chrysler Town & Country convertible, other cars, memorabilia, petroliana and all kinds of car collectibles.
After seeing the Gardner in Dave Lindsay's home, Josef went across the road to see the rest of the collection. One of the other visitors that day was Fred Beyer, of Hot Rod High USA. A former teacher, Beyer developed the Hot Rod High program to motivate students. Today, he customizes different versions of the program for high schools across the country. Since Josef wanted to learn more about collector cars, Fred was the perfect person to bump into.
Now He's Been Initiated…
Following our look at the Lindsay Collection, we took Josef to a second Gunner's Great Garage location, this one in Waupaca, Wisconsin. It is housed in an old building that used to be an Oakland and Oldsmobile dealership in 1917. On display in the old showroom is a 1917 Oakland Model 34 Sensible Six touring car.
We explained to Josef that the old building is a former Yellowstone Garage—which means that it was an official service center for cars traveling the Yellowstone Trail. By next year, we hope to have this car running for its 100th birthday and drive the Wisconsin section of the Yellowstone Trail in it. That's a 463-mile trip and it will be the Oakland's first trip of any type since about 2003.
Our last stop for the day was at the author's own car collection. This includes a dozen cars and seven motorcycles, most of which require restoration. Hopefully, Josef will learn enough about old cars to come fix up a couple of mine!
In the meantime, he certainly got some of the help he asked for in his April letter to Auto Restorer. He said he plans to keep his subscription to the magazine going forever. Hopefully, he'll also return to Iola for the car show next July. If he does, we'll guide him to the Car Corral, where he might find that van he wants.