This Fastback Pony Lived a Charmed Life…Until It Was Stored Outside for Several Years. Then a Promise to a Terminally-Ill Friend Led to the Car's Restoration.
WHEN ED STEC bought his Mustang in 2003, he promised a restoration that would please the previous owner, a good friend whose declining health was behind his decision to sell it.
"My friend, Dave Dixon, had bought the car in 1975," Stec explained, "and was approached by someone who knew (of his problems) and thought he could get the car cheap. He kind of beat him up and Dave called me and told me about it. I said 'Dave, I didn't realize the car was for sale' and he said 'well, that's the reason I'm calling. I'd like to sell it to you.'"
Stec didn't agree immediately and instead reminded his friend that he already had a 1968 Mustang which sometimes had shared a garage with Dixon's 1967 GTA during winters.
"I was in the kitchen," he continued, "and my wife was there and I said 'gee, Dave, I'm not sure. I was planning on getting my '68 redone.' My wife said 'is Dave selling his Mustang?' I said 'yeah.' She said 'tell Dave we're going to buy it' and he heard it. Dave said 'I guess you bought yourself a Mustang.' So I said 'well, Dave, I guess I have. I've got to figure out what I'm going to do.'"
However, his wife, Cindy, already had the basics in mind.
"My wife," he recalled, "said 'that's easy. I'll take Dave's that has the automatic and the power steering and you can have yours with the no-power steering and the four-speed.' Dave said 'there you go, his and hers Mustangs.'
"I agreed to buy the car and I made him a promise that I would get the car into a shape that he would be happy with. Whether or not he would be alive when this would happen, I made the promise to him and it was a priority to go ahead and follow through with the promise."
Two weeks later, Stec owned the Mustang, but Dixon died about six weeks after that, knowing that the Mustang had gone to a good home.
"His sons told me after that," Stec said, "that I was the one that he wanted the car to go to and he was hoping that I would buy it."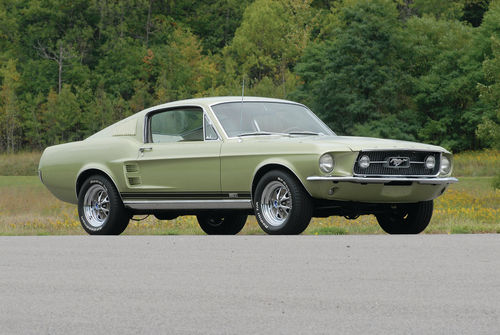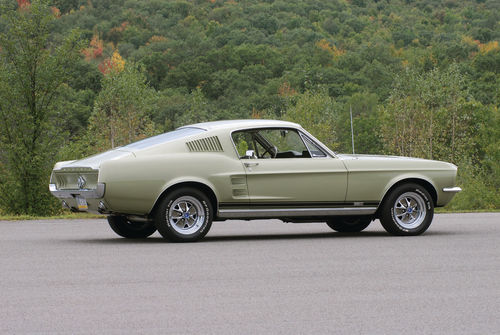 It doesn't take a Ford guy to appreciate Dixon's attachment to the Mustang or to understand why Stec was doubly right to buy it. In fact, Mustangs in general have been the right cars to buy since their introduction on April 17, 1964, a point not without irony given the car's humble roots and the man primarily responsible for the philosophy behind those roots.
A Falcon In the Family Tree
The domestic compact market had undergone a lasting transformation in the 1960 model year as General Motors, Chrysler and Ford finally brought out entries of their own to do battle with imports such as the VW Beetle.
GM took an interesting—if unorthodox—approach with Chevrolet's Corvair whose engine was not only air-cooled, but mounted at the rear. At Chrysler and Ford, on the other hand, the new models were miniature versions of the full-size cars long familiar to American drivers. A six powered Chrysler's Valiant and although noticeably tilted to one side, it was still a water-cooled inline six. Ford's Falcon and its Mercury twin, the Comet, were even less exotic with their sixes mounted as straight as inline engines had been for as long as most drivers could remember. The Valiant, Comet and Falcon proved their point and as other domestic compacts arrived, they followed the front-engine-rear-drive pattern so carefully that Chevrolet's totally conventional Chevy II joined the Corvair in 1962 and the Pontiac Tempest that had appeared in 1961 with a rear transaxle became completely straightforward for 1964.
There was little reason to complain about any of the first-generation compacts, but Ford had done everything about the Falcon so well that it walked away from the others in the marketplace. At $1912 for a two-door post, the Falcon was the most affordable and customers clearly felt that it was a deal, so Ford sold 435,676 Falcons in the 1960 model year. It became more than a one-time success and the Falcon's popularity continued, a wonderfully strange development considering that the genius behind it was Robert S. McNamara.
To be polite, McNamara was a numbers-and-facts man before, during and after his tenure at Ford. He was general manager of the Ford Division when the Falcon was conceived and without question, the Falcon's ultra-practical nature—it was introduced only as a sedan and a wagon—reflected his philosophy of what people should drive. But the proof that history has a sense of humor lies in what happened after McNamara left Ford. A two-door hardtop, a convertible and even a V-8 option for 1963 helped to keep the Falcon fresh and competitive… Moreover, the basic platform was capable of even greater things and another Ford Division general manager definitely saw that potential.
You Start With Practical and Then…
Lee Iacocca recognized that catering to the growing youth market was becoming key to continued success and it called for a car that felt sporty but didn't abandon practicality. Stated differently, it would need to blend sexy appeal with cold realities such as affordability and utility. The Falcon was a near-perfect starting point and when the transition was complete on April 17, 1964, no one could possibly have taken the new vehicle for a Falcon or anything else. Available only as a coupe and a convertible, the Mustang wore long-hood-short-deck proportions to set it apart from its contemporaries and while the Falcon had now lost much of its roundness, it bore no resemblance to the Mustang.
Ford's advertising cited the styling of "the car you never expected from Detroit. Mustang Is so distinctively beautiful it received the Tiffany Award for Excellence in American Design…the first time an automobile has been honored with the Tiffany Gold Medal. Mustang has the look, the fire, the flavor of the great European road cars. Yet it's as American as its name." The ad then became much more interesting as it hinted at the car's multiple personalities by noting features such as "room for four, sensibly sized trunk…a 170-cu. in. Six…and more! The basic Mustang Is an eminently practical and economical car, yet it was designed to be designed by you."
McNamara likely would not have been amused to read about "such options as air conditioning, push button radio, vinyl roof covering, 3-speed Cruise-O-Matic, power brakes, power steering—you name it. Or for sports car performance, add the big 289-cu. in. V-8 engine (the same basic V-8 that powers the famous Cobra!), 4-speed stick shift (synchro in all forward speeds), and Rally Pac (tachometer and clock)." Yes, Ford could have promoted Falcon that way and probably done moderately well at less cost, but the Mustang's look made all the difference in the world. Given the Falcon's ongoing popularity and the 121,538 Mustangs sold from the introduction through the following September, the new approach was making a difference.
Logically, Ford was careful to improve the Mustang while not going wild responding to the competition that was quick to appear in what soon became known as the pony car segment. Instead of tampering with anything that might damage the Mustang's mystique and success, it took gradual steps.
After its short introduction period, the Mustang returned in the fall with the addition of the GT fastback, a wise move as it outsold the convertible. Equally wise and hardly a shock was the decision to drop the 170-cubic-inch six and the 260 V-8 so that engine choices now ran from the 200 six with its 120-horsepower to the K-code 289 V-8 with 271 horsepower.
Still being cautious and smart, Ford again stuck mainly with tinkering when it explained that "the '66 version is enhanced in a dozen subtle, significant ways. A new grille. Gleaming new trim. A great new Safety Package, and a sporty Six, standard."
A Restyled Pony
Sticking with the initial car couldn't go on forever, though, and 1967 brought the Mustang's first real change. Every line was still there and that ensured instant recognition. The tag line in ads read "the original Mustang" and Ford emphasized that point in an advertisement showing the authentication of Wedgwood china and sterling silver by their marks and explaining that "it's not Mustang unless it has this mark," which of course was the running mustang against its red-white-and-blue background. Others might have been pony cars, but they weren't Mustangs.
Making comparisons between competing cars is entering dangerous territory for no genuinely good reason— performance can be measured, appeal can't—so suffice to say that in 1967, Ford stood its ground by continuing its approach and again stating that the Mustang was "the car designed to be designed by you." While it couldn't be all things to all drivers, it could meet plenty of tastes starting from the simplest. If a driver wanted a six with a three-speed manual transmission, a heater and maybe an AM radio, it was merely a matter of checking the right boxes on the order form. Robert S. McNamara would have been proud of such drivers and probably would have tolerated those who splurged for an automatic and the entry-level 289, but it's doubtful that he would have kept quiet when the original owner bought the feature car with its 315-horsepower 390, automatic, AM/FM radio…and even air conditioning.
That first owner was a teacher at a private school less than an hour from Stec's home in Mountaintop, Pennsylvania, an area where winter weather is formidable. Few would argue that a 390 Mustang Is a good choice for driving in snow and Stec has some thoughts on how the teacher might have dealt with that.
"Where he lived compared to where the school is," Stec said, "is less than a mile. He might have walked to school in the wintertime."
That could explain the Mustang's trade-in to the original dealer after just two years. The next owner was a semiprofessional golfer and Stec said that even with the folding seat and interior-access from the trunk, he likely found it to be impractical for his needs, too, and it again returned to the dealer. The service manager there bought it, he said, and although it was just a few years old, he treated it as a collector car and drove it only in warm weather.
"Dave, whom I bought the car from, wanted the car when the service manager had it," Stec said. "He used to tell me about this car and how the service manager would grease the bumpers and all of the chrome when he stored it for the wintertime. He always knew that Dave liked the car. When he wanted to sell it, he contacted Dave and Dave bought it in '75. It was in immaculate shape."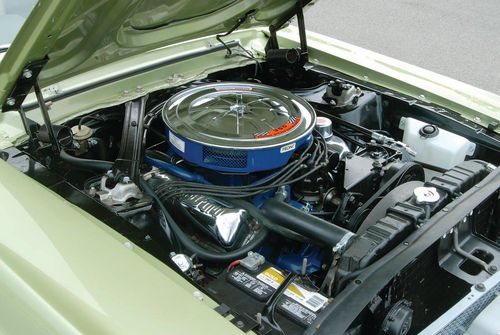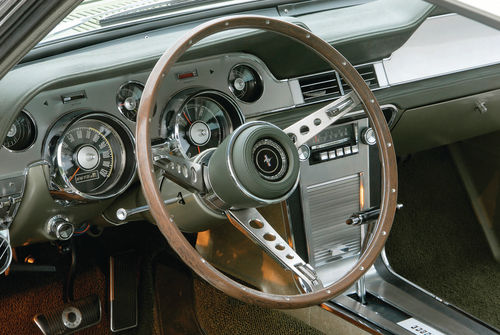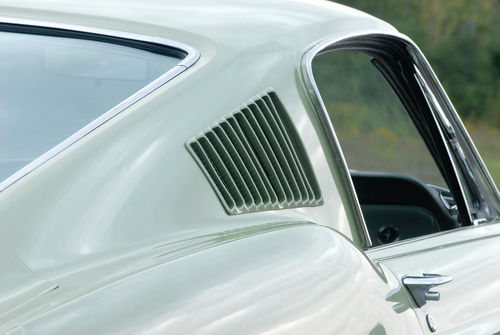 The Pony Then Saw Some Tough Times
By the time Stec bought the Mustang, though, it had gone from "immaculate" to fair condition at best. He explained that Dixon was a trucking owner-operator just as he is and that the demands of family and trucking had forced both of their Mustangs to lower priorities. The feature car found itself stored outside for several years with mostly predictable results, such as factory primer and surface rust showing on the roof, but it might have been far worse.
"The sheet metal was all good on the outside," Stec said, "but what happened was that the leaves got into the cowl and with the rain and the mice, it rotted out the cowl which in turn got the floor wet. The floor boards? I had them all sandblasted. There weren't holes, but if you shined a light from underneath, you could see stars and so, of course, they had to be replaced."
He said that despite their tendency to rust, the quarter panels needed nothing more than fresh paint. One fender required a small patch on its heel, rust bubbles on the inner fenders were addressed and some sheet metal was replaced as a precaution.
"It has the original door on the right side," Stec said. "But because the rust on (the driver's-side) door was in the very front lower corner, Mike suggested putting a new door on it. At his suggestion, we replaced that door and the hood and the trunk."
"Mike" is Mike Medvitz of Mike's Auto Body, the Dorrance, Pennsylvania, shop that handled most of the bodywork on the Mustang. By the time the car got to him, of course, the water that had made its way inside had damaged more than metal. Add that to the effects of sunlight during the years when the Mustang was outside and it's easy to see why just about the entire interior needed to be replaced. The vinyl upholstery on the seats was split at the seams and while the carpeting had survived, it had faded to a different color.
Fortunately, neither the moisture nor the sun had caused serious problems for the electrical system. Stec said that Scott Kline of Walnutport, Pennsylvania, researched the car to determine what was correct and reassembled it based on that information. That attention to detail is how he actually knows the car escaped electrical disasters.
"Scott, who put the car together, is a Mustang-Shelby fanatic," Stec said. "There were no switches that were bad. He unwrapped all of the factory harness and inspected every wire. There was only one that he had to replace, a short wire, but the rest of it was still good. He cleaned it up and re-taped it with as close to factory tape as possible in what he can get today.
"So I didn't have a problem with that. In fact, it still has the original gauges that he disassembled and cleaned and put into the new chrome frames."
Surprise! Mustang Replacement Parts Are Readily Available
That he was able to buy those chrome frames shows the support behind a popular car and by any measure, a Mustang Is popular, so finding replacements for the few unsalvageable pieces of exterior trim wasn't difficult. It would've been much the same if the feature car had needed major mechanical help, but most of that work was relatively minor. The transmission, Stec said, received new seals and the rear was given new bearings. The engine was rebuilt, although it had no problems beyond wear. While the car was apart, it received a new gas tank and fuel lines of stainless steel as well as a new brake system.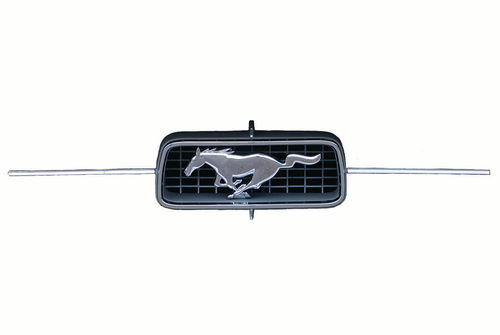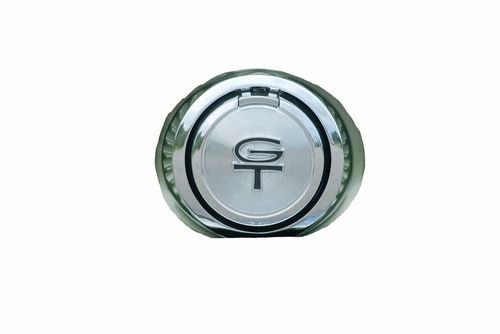 Some Quick Thinking When the Brakes Failed…
Any restorer would likely replace the brake components without hesitation just to minimize risk, but the Mustang was already beyond the risk stage by then. The first hint came when Stec was ready to drive it home from Dixon's house. The car barely ran and its calipers needed to be replaced before he could leave. The three-mile trip was completed without incident and the car went into the garage, but several weeks later, his son, Jeremy—who would later rebuild the engine—suggested taking the Mustang to his garage to begin the restoration. That meant a trip to nearby White Haven, Pennsylvania, and Stec's observation that "there's a pretty good hill" is slightly on the conservative side, so he headed out on New Year's Day with the Mustang preceded and followed in case there were brake problems.
There were…and his back-up plan had a flaw as well.
"I told my son who was in front of me 'watch when we get out on the main road,'" Stec recalled. "'When we're at a stop sign, make sure there are no cars in sight and then take off and I'll come out right behind you.' He came to the stop sign before I did and pulled right out, so there went that part of the theory of having the car in front. A car or two went by and finally I pulled out and my other son pulled out right behind me with my pickup. You pull a little grade uphill and then it levels out and you have a steep grade to go down. As I was coming to his street to make a left, a car was coming the other way. I went to put on the brakes and they failed. I had to keep going and there are more hills. There are only hills after that point.
"I was pulling up on the emergency, which was doing very little, and the handle on the Mustangs is like a T handle and it's plastic. It always breaks and this was broke, so I'm grabbing a stub to pull on the brake and I don't have much (leverage). It wasn't stopping and I saw a snow bank and I pulled across the road into the snow bank."
Once the Mustang was retrieved undamaged, a tow strap to the following pickup kept it under control and the last short part of the trip went as planned.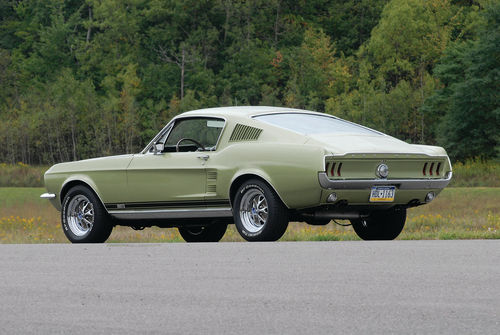 Now It's a Part-Time Driver
The first post-restoration drive in 2011 was far less exciting. Medvitz, Stec recalled, had just finished some final details and called to say it was ready.
"I told him 'the roads are wet. Not until it's dry.' It was July, so I did go down to pick it up maybe at 5 in the evening. Pulling out of the driveway, I was sure there was a car coming somewhere. After I looked half-a-dozen times each way, it felt like it was OK to pull out. I got up the road approximately a mile, mile-and-a-half, and there were cars coming the other way and I came to a spot where there was a washout on my side of the road. I had to go through it, which I was not happy about. After that, it was pretty well uneventful. I took it home, nervous but happy with the car."
Far more important than initial on-the-road nervousness was his belief that he'd fulfilled his promise to Dixon. He recalled discussing with Kline the level of restoration and settling on what would amount to a stage about as nice as possible without becoming a trailer queen.
"I said 'I don't want a daily driver,'" Stec explained. "'It's a little too nice for that…' I want to drive it on occasion for two reasons: First of all, I want to drive it. Second of all, if I didn't, Dave would haunt me because to him, a vehicle was to drive."
In the end, it all worked.
"When his close family members saw the car restored," Stec said, "I was told that they were happy I got it."