Auto Restorer Readers Tell Us About the Ups and Downs of a Long Trip In a Vintage Pontiac, Installing a Tilt Steering Column and Long-Term Ownership of a Ford Pickup.
Traveling for Three Weeks and 4000 Miles In My 1955 Pontiac Chieftain
One of the car clubs I belong to is the CHVA (Contemporary Historical Vehicle Association). This is a nationwide club and once a year there is a National Tour. Last year it was one week in Rapid City, South Dakota, and each day we had a day trip. More than 50 members with their spouses or friends were present.
Classic cars were in abundance and all were driven from their home states to Rapid City. There were nine Chevys from 1956 to a modern Equinox and Corvette, seven Buicks from a '65 Riviera to a '97 Park Avenue, two Cadillacs, a '60 and a '65; two Oldsmobiles, a '65 and an '85; seven Fords from 1956 to 1978, four Pontiacs from 1953 to 1965, one Dodge, a Plymouth, a Chrysler, Datsun and One Karmann Ghia rounded out the vehicles driven to this event.
These cars traveled from home states spread across the nation. There were cars from California to Georgia, including Texas, Kansas, Wyoming, Nebraska, Indiana, Missouri, Michigan, Nevada, Oregon, and Ontario, Canada as well. Tom Price drove all the way from Rapid City, South Dakota—oh wait, he's a local.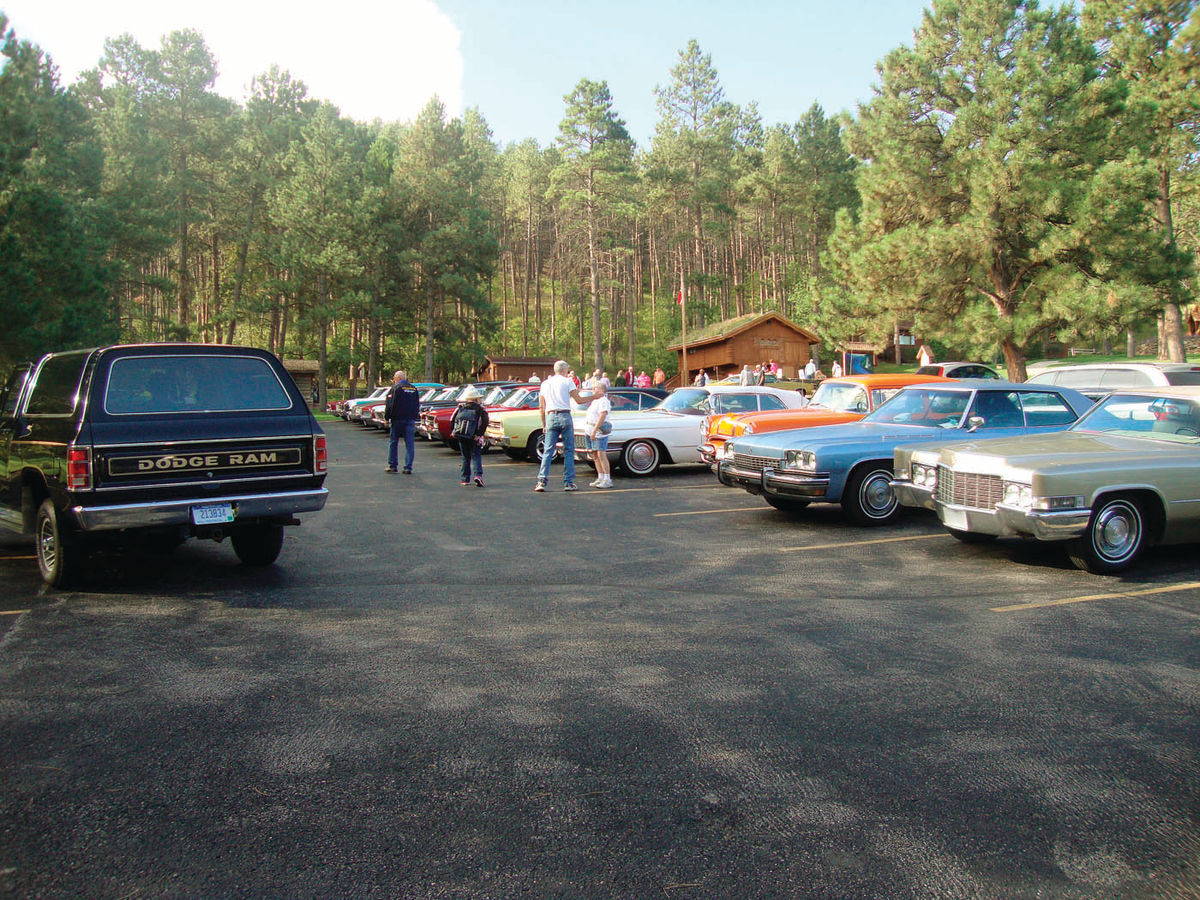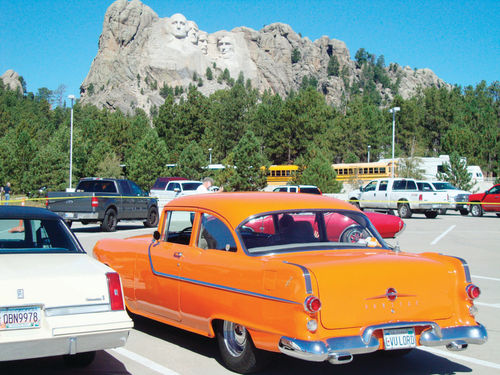 When we were touring, at times our rolling car show would stretch out over a mile on the highways.
As for the tour:
September 7th, we visited Rapid City where we stopped to see their downtown street-corner display of lifesized statues of every President from Washington to Bush. Obama's had not yet been installed.
September 8th, we went to Mt. Rushmore via Needles Highway, Iron Mountain Road and Peter Norbeck scenic highway.
September 9th, we drove to the Crazy Horse memorial which was amazing even in the rain. We then had lunch at President Cleveland's summer White House.
September 10th, we drove into Wyoming to see Devils Tower and watch people actually climbing that steep mountain.
September 11th, off we went to drive the Badlands National Park.
September 12th, a leisurely drive through spectacular Vonnocker Canyon and Spearfish Canyon. Then we were off to Deadwood, South Dakota, where Wild Bill Hickok and Calamity Jane are buried. We were surprised that they hardly knew each other. Jane was in her early 20s when Wild Bill was killed at the age of 46.
September 13th, off to Hill City where we boarded the 1880 steam train for a ride to the historic town of Keystone.
The 14th was our last day and awards were handed out at our banquet. The hard luck award had many nominees with the winner finally decided by group applause. The 1956 Ford involved sure tried to live up to the acronyms Ford is famous for but each and every problem was overcome and last I saw the owners and their Ford were heading back home.
Going the Distance In My Vintage Pontiac
My personal adventure involved getting my 1955 Pontiac Chieftain to the club event and back. My late friend Norm White used to tell me "the adventure is not taking these old cars out; it's trying to get the buggers back home."
This trip almost made me a believer. The first day heading to the event from Northern California to Winnemucca, Nevada, was uneventful except my add-on cruise control doesn't like hilly country and kept turning off on steep hills.
The second day when I got on the Salt Flats in Utah I saw my first 80 mph sign and stepped up my pace a little more than usual. I pulled into a rest stop east of Salt Lake City and three of the CHVA club members were there as well. I decided I may as well go along with them; safety in numbers seemed a smart thing so far from home. One of the cars was having battery or charging system problems as they had to jump start it, but the '66 T-Bird involved started and off we went.
On a long straightaway on Interstate 40 the T-Bird suddenly hit its brakes and pulled over, the '65 Riviera stopped as well and that is when I found out that drum brakes on a '55 Pontiac don't like to stop fast at highway speeds. I stood on the pedal and moved over to the empty fast lane and finally stopped a good 300 yards past where they had stopped easily with their disc brake-equipped cars.
For the rest of the trip my brake pedal felt soft and required extra pumping to stop. I had the brakes bled but the problem persists to this day.
OK, I'm thinking if I drive carefully we will make the rest of the trip. So we then stopped for gas at one of the first stations after a long drive and it was a zoo. Only one pump per island and there were cars, trucks, campers and motorhomes all trying to get to them. I got in line behind a guy who pulled up to the pump, got out and walked into the station. I waited and waited and finally backed up to get to another pump but that put my filler on the wrong side. You guessed it; I washed my back fender in gasoline, taking off my fresh wax job. Now I'm rattled and pulled over to use the restroom before leaving.
Returning to the car, I reached into my pocket to get inside—no keys. I couldn't believe it…I had locked my only set of keys in the car. The station loaned me some slim jims; all they did was chip my paint. I finally went to a guy with a camper who was getting gas and asked for a wire coat hanger. He had one and with a flat blade screwdriver fished the inside door handle up and the door opened.
The rest of the trip was without problems—or was it? I noticed a small spot of oil after moving the car during the door lock escapade. At the next fuel stop the spot was larger. The next morning at my motel there was quite a large spot of oil coming out under the front of the engine. I checked and added a quart of oil and drove on. After that, at each stop for fuel it needed at least a half to a whole quart. Now I'm concerned.
Finally I arrive at the hotel and it again marked its spot with a small puddle. However, for the next week driving to all the events described above I only had to add one more quart. Maybe normal driving decreases the problem and the spot was now not consistent.
Well, the club tour is over and we are on our way to Nampa, Idaho, to visit our niece and her family. But now with the highway driving the problem has returned with a little more ferocity. I'm watching my gauge and when it starts flickering I stop and check and it's a quart-and-a-half down in only 100 miles. Bottom line is it took about 12 to 14 quarts of oil to finally get back home. I have not done any testing yet but I think that 80 mph, 110-mile run may have damaged my rings as crankcase pressure is so great now it is pushing the dipstick up and oil is coming out wherever it can.
My Poncho left his mark pretty much over the western United States.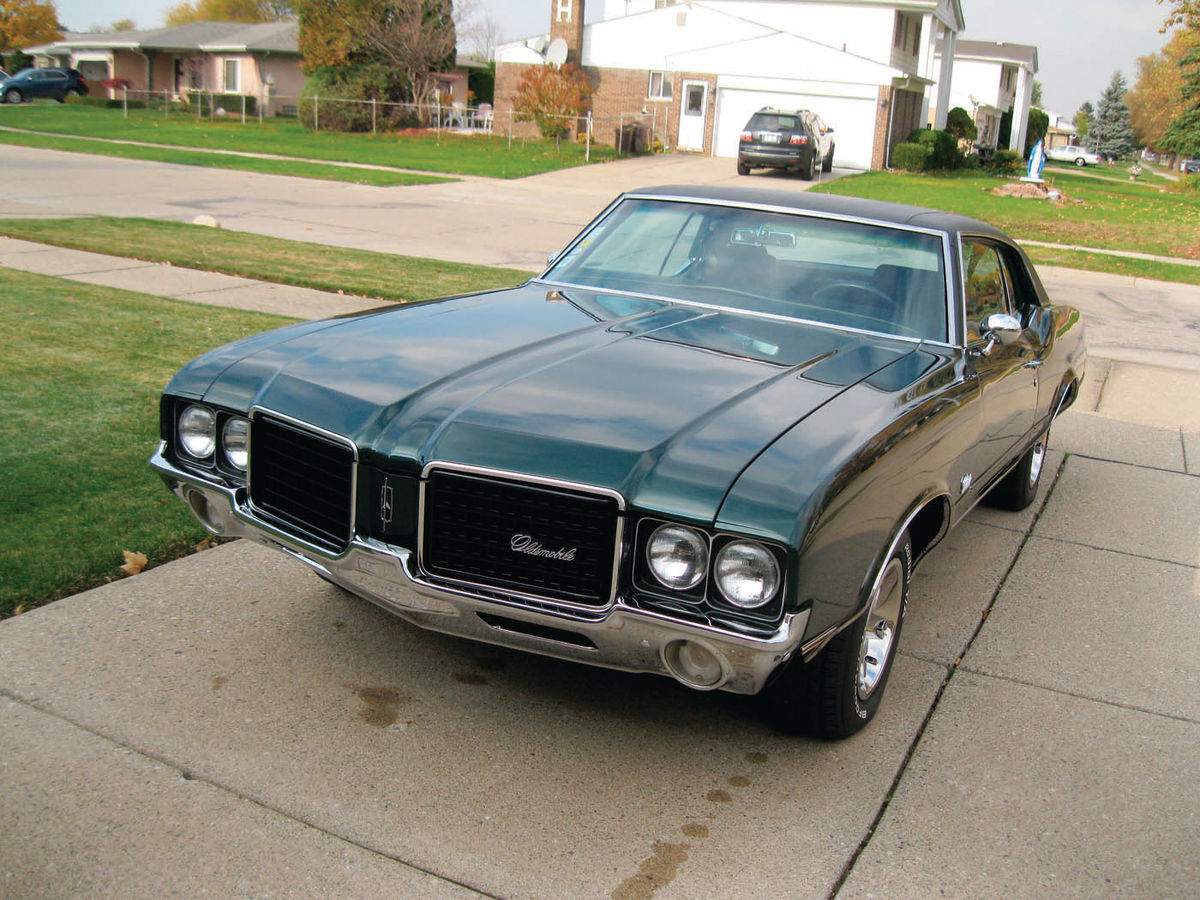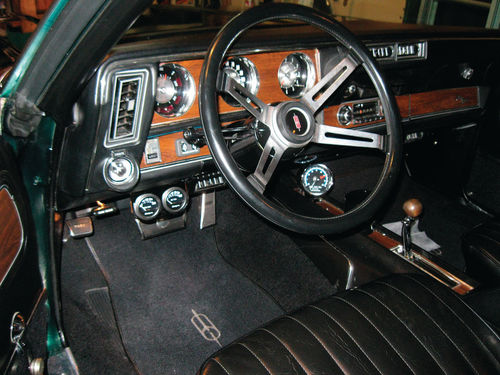 Now, months later, I still haven't figured out the crankcase highpressure problem. If the readers have an idea on how to determine the cause of the pressure problem on my 389, I'm all ears.
It runs great but has wiped out the rear main rope seal, and lifts the dipstick up an inch after driving any distance and leaves a puddle of oil when parked.
Rich Gabrielson
My Tilt Steering Column Project
Hi, my name is Clay Cook and I have been taking AR for about four years. In May of 2011 I purchased my '72 Olds Cutlass Supreme, twodoor hardtop 350/350. Well, several of your articles have helped me in the last four years when I ran into problems and I'm sure thankful for that. As you fellow classic car owners know, "There is always something!"
Well, it was early in June 2016 and my car was running good and the cruise season was just getting into full speed. I'm sure some of you can relate with this… "I needed a project!"
I am tall and I always had a hard time getting in and out of the car even with the bucket seat all the way back. The steering wheel was just too close to the seat. I bought some "seat extenders" which gave me another inch back, but the steering wheel was still too close.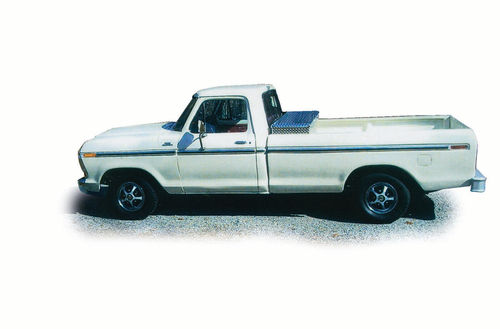 So I decided to start looking for a tilt steering column to install in my Cutlass. I priced new ones for $800-$900 and I would lose the locking feature of the steering wheel. I know they usually have a good swap meet at the Oldsmobile Homecoming held in Lansing, Michigan, in June, so I thought I would look for a used one there.
The day of the Homecoming was a hot sweltering day. I walked around for awhile and found a junkyard steering column, but I wanted something better than that.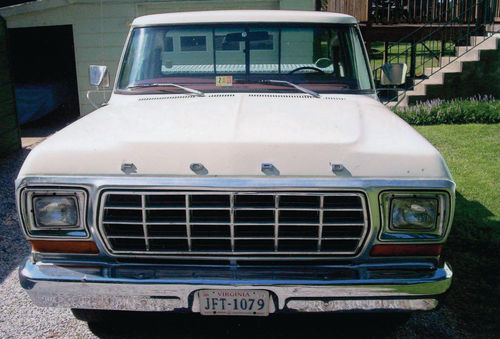 I was telling my friend Brock about it and he took me right over to where a guy was selling GM tilt steering columns, reconditioned, painted and in a plastic bag for $425. Brock said he had installed a tilt steering column in his car and it wasn't too bad. Well, anybody that knows Brock knows that he is a very good mechanic. So talking to him encouraged me and I decided to go for it! I didn't buy the column at the show, however, because it was too hot to carry it back to my car.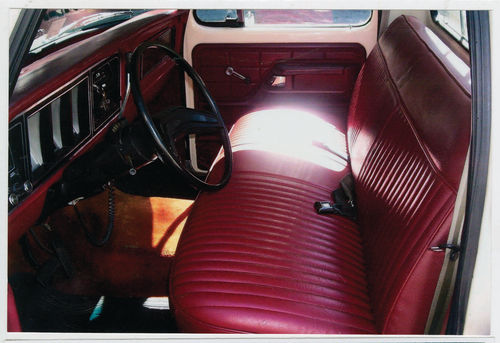 So I called the vendor a few days later and ordered one. He was located in Wisconsin so it took about a week to get the part shipped to my house in Michigan. I went online and watched several YouTube videos of "How to Install a Tilt Column" and it didn't look too hard.
But when I started taking the old one out, it fought me every step of the way. One of the problems I had was I couldn't remove the 11/16" bolt at the bottom of the steering column near the firewall. It was under the brake booster and hard to get good access to it. Well, I tried an impact wrench and 3/8" hand impact ratchet. It would not budge, so I finally cut the bolt with a Sawzall.
Well, I got the old column out and the new one had arrived, so I laid them on my ping-pong table next to each other to compare them.
The next problem was I wanted to use the old ignition cylinder so I could use the same key in the new column. The old column had the type of ignition where you have to take the top of the column apart and punch a casting out deep in the column. You guys that have done it; know what I mean? I tried and tried and I couldn't get it out, so I took it to a Corvette shop in nearby Troy.
The nice guy there got it out in five minutes and wouldn't take any money for it.
Well, I took the new column apart, but I didn't have to, because the ignition cylinder just snapped into the new column. But by taking the new column apart, I messed something up and the shaft at the top of the column sounded like it had gravel in it when you turned it. So I called the steering column vendor, Chuck. (We were definitely on a first-name basis by the time I got the project done.) He said, send it back! So, I sent it back and that stopped the project for about two weeks.
When I got it back I said, I won't touch it this time, I will just put it in. Well, I put it in and got the "neutral switch" adjusted so it started only in Park and Neutral. Now I'm in the home stretch.
I'm trying to connect the column to the shaft in the engine compartment near the firewall and it happens again. The shaft at the top is all loose and sounds like gravel. I'm mad now and take it out and send it back again, which puts me on hold for another two weeks.
Well, I get it back and by now I'm losing confidence in the new steering column and my ability to complete the job.
Surprise, I got it in and everything works and, most important of all, I can get in and out of the car a lot easier.
But then, after the project took me all last summer, a friend asked: "Why didn't you just get a smaller steering wheel?" I had never thought of that! HA!
In any event, the next time I want a project, I will do it in the winter so I don't have the car out of commission all summer.
Well, I learned a lot and other than a few phone calls and the ignition cylinder portion, I did it by myself, but it was a BIG project.
Clay Cook
I've Had My Truck Since 1983… and Will Keep It On the Road
I bought my 1979 Ford F-100 in 1983 and have put about a halfmillion miles on it since then. When I found the truck in Rice, Virginia, it had 17,000 miles. It now has about 508,000 miles and still runs like it's brand-new.
The truck's first 302 cid engine went for 300,000 miles and the second 302 has been under the hood since then. When it came time for the second engine I had the truck restored inside and out. That included paint and body work by Taylors Body Shop, and restoration of the seat by Wayne Rice. Both are in Cumberland, Virginia.
The truck also had a second round of paint and body work when I was hit in the rear by a police car in Farmville, Virginia. That did a lot of damage but I decided to keep the truck and have it restored again.
When I bought the truck it had a camper shell on it and I drove it to bluegrass festivals and camped in it a lot. It no longer has the camper shell but I still drive it all the time and if something goes wrong I fix it and keep driving.
If and when the current engine goes out, I will replace it and continue to drive this truck. I believe that we need to keep the old cars and trucks running and in use because when they are gone, there won't be anything like them on the road.
Clyde Garrett Farmville, Virginia