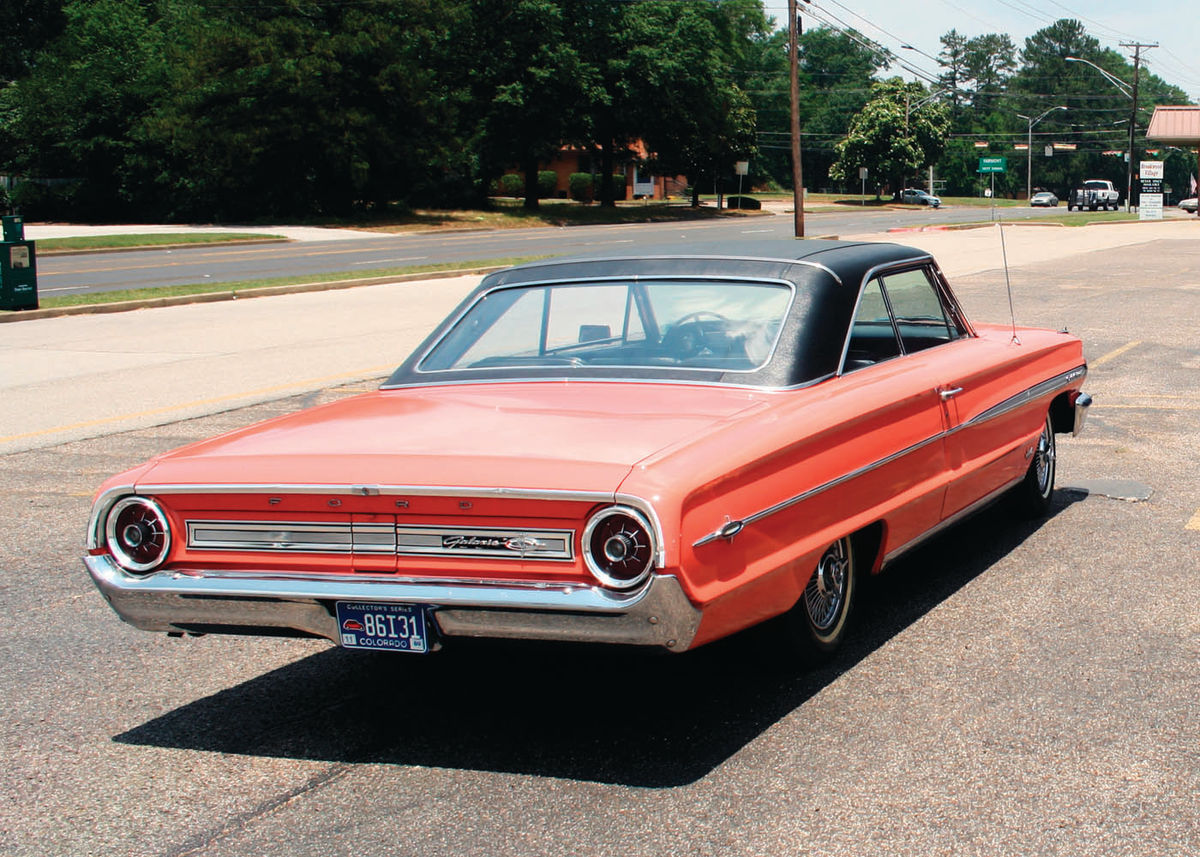 After Waiting for 30 Years, He Got His Special Ford and Set About Getting It Road Ready. Now, About That Uncommon Color…
In May of 2010 I purchased a 1964 Galaxie 500 XL twodoor hardtop. After a threedecade wait, I finally owned one. Money and space constraints had gotten in the way until then.
My search had centered on a Pagoda Green version, but while browsing the ads on the web, one seller's car caught my eye because of its unusual color, a sort of salmon which was unfamiliar to me on a '60s Ford except for the 1964 Thunderbird.
Much to my surprise, this car had been painted a special order color, Samoan Coral, a standard offering for the T-Bird that year. There was a time when a customer could order a car with atypical features such as paint colors not on the official color pallet and equipment not listed as an option. As examples, I am aware of a 1962 Galaxie two-door sedan painted Goldenrod Yellow, a 1955 Ford color. Another example of what could be done back in the day is a 1966 LTD with bucket seats and console, standard issue for the Galaxie 500 XL, but not even an option for other full-sized models that year. Still one more example of this practice is another 1966 model, a Galaxie 500 XL with a 427/four-speed painted Coventry Gray, a shade used by Mercury that year.
Fords like these also had a vehicle identification number (VIN) plate attached with out-of-the-ordinary coding. The DSO (District Sales Office/ Domestic Special Order) code had extra digits after the two-digit code for the district when special equipment was ordered. DSO codes have been stamped into truck patent or VIN plates since the mid-1950s and were stamped on car plates from the mid-1950s through the 1957 model year. Starting about March of 1962 Ford Motor Company's DSO codes were again stamped on VIN plates on a fairly regular basis although some were left blank. It is not especially uncommon to see some 1963 and even 1964 models without a DSO code.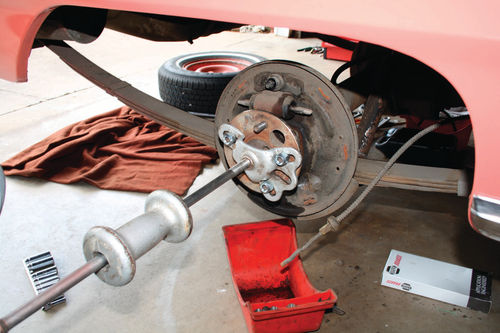 A two-digit DSO code indicates the car was ordered by a dealer without any special equipment or features. A DSO code with more than two digits indicates the car was ordered with special equipment or features that were not normally available for that model. The first two digits still represent the District Sales Office from which the order was made. In the case of a special order paint color, the space for the paint code was left blank—even when a code existed for the color as is the case with my 1964 Galaxie 500 XL. Paint code "L" denoted Samoan Coral on the T-Bird as well as for Mercury, though that division chose "Bittersweet" as the color's name. Samoan Coral/Bittersweet was not offered again, by the way.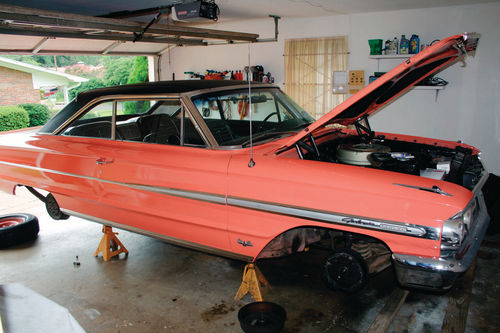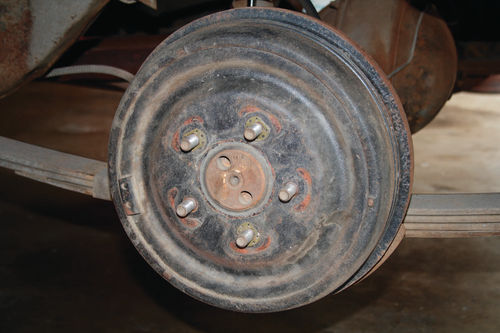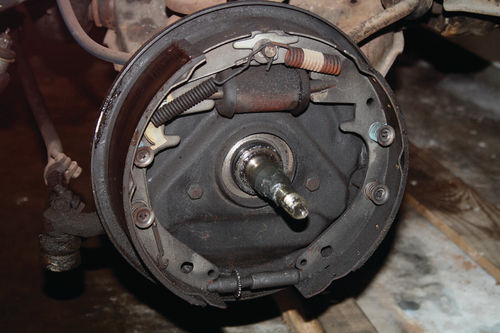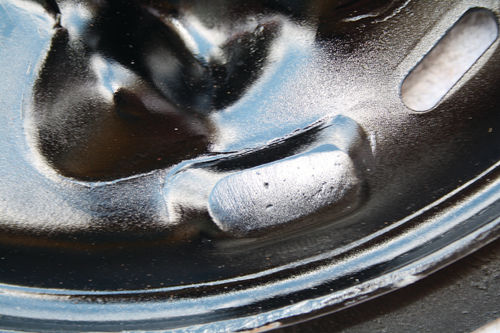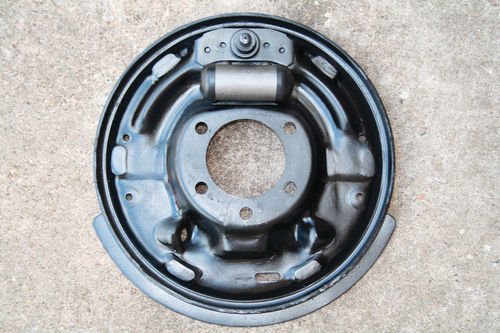 During the spring, Ford offered a "Springtime Special" promotion in which Samoan Coral was among the choices publicized. Even the cars built during the promotional period had a blank space for the paint code on their VIN. So far, my car is the only one I have come across that was built prior to Ford's sales promotion, having a build date code representing November 6, 1964.
My car is further distinguished by its black vinyl top; all others known to date have a white top in either vinyl or as a contrasting paint color with two exceptions—a 1964 Galaxie 500 fourdoor sedan and a Galaxie 500 XL fourdoor hardtop that were painted a solid Samoan Coral.
A Space-Age Name
The "Galaxie" nameplate arrived partway into the 1959 model year, bumping what had been the top-ofthe-line Fairlane 500 series to second place in the Ford hierarchy. It was distinguished by a formal roof with relatively wide C-pillars similar to those of the four-passenger Thunderbird.
By 1962 the series was renamed "Galaxie 500" with the numerical addendum alluding to the 500-mile races held by NASCAR. Professional racing was used to help promote automobiles at the time; some people liked the idea of owning a car which resembled the one which had won the big race. The adage, "Win on Sunday, sell on Monday," was found to be true among the major manufacturers. Ford was all-in and sponsored race teams throughout the 1960s.
In keeping with that approach, in 1963 Ford launched its "Total Performance" campaign. Their slogan proved to be a source of embarrassment for a brief time when Ford lost the prestigious Daytona 500 held on February 23, 1964. Plymouth finished 1-2-3 and a Dodge finished 5th; only one '64 Ford made it into the top five. (However, the Chrysler products were powered by the new 426 Hemi, an engine not yet available to the public.) Someone at Chrysler Corp.'s Highland Park, Michigan, engine lab rubbed salt in the wound by producing lapel pins mocking Ford's ad slogan with, "Total What?" In the end, it was a question Top: The Ford Galaxie 500 XL, with just over which should not have been asked as Fords crossed the finish line first in 30 Grand National events while Dodge won 14 and Plymouth 12.
Now, back to that "Galaxie" name… For 1962, at about mid-model year, Ford upped the ante with the Galaxie 500 XL, a bucket seats and console model with all-vinyl upholstery with an exclusive interior. Not only were the bucket-style seats and console part of the model's standard equipment, but also included were unique door panels accented with bright Mylar as were the seats. The 500 XL was offered as a two-door hardtop and a convertible that year. For 1963 and 1964, the four-door hardtop body style was added to the series.
Other standard features included a V-8, automatic transmission, bright metal-trimmed pedal pads, and special identification emblems.
The Galaxie 500 XL sold well through 1964 before slipping in popularity. It rebounded for a while near the end of the 1960s when Ford made the bucket seats and console equipment an option for what was then labeled simply, "XL." The XL was dropped with the end of the 1970 model year.
In the Garage With My Ford
Other than a repaint in the original shade, the featured car is all original; at the time of purchase it had traveled only 54,205 miles. Less than 5000 miles have been added since.
While it was not a car intended for everyday driving, I still expected it to provide reliable transportation. The third owner had kept the car in the garage of his Denver-area residence for 16 years (the inspection sticker had expired in 1996), thus helping to keep the mileage low. The next owner performed a little work to get the Ford running then soon offered it for sale.
Having been acquainted with the various syndromes old cars can acquire, I knew filling the fuel tank and hitting the pavement was not all that was needed to enjoy the car. I have limited mechanic's skills, but have a friend with superior skills who was even willing to perform a house call. So with the help of another friend I placed the car on four jack stands in my garage and removed the wheels.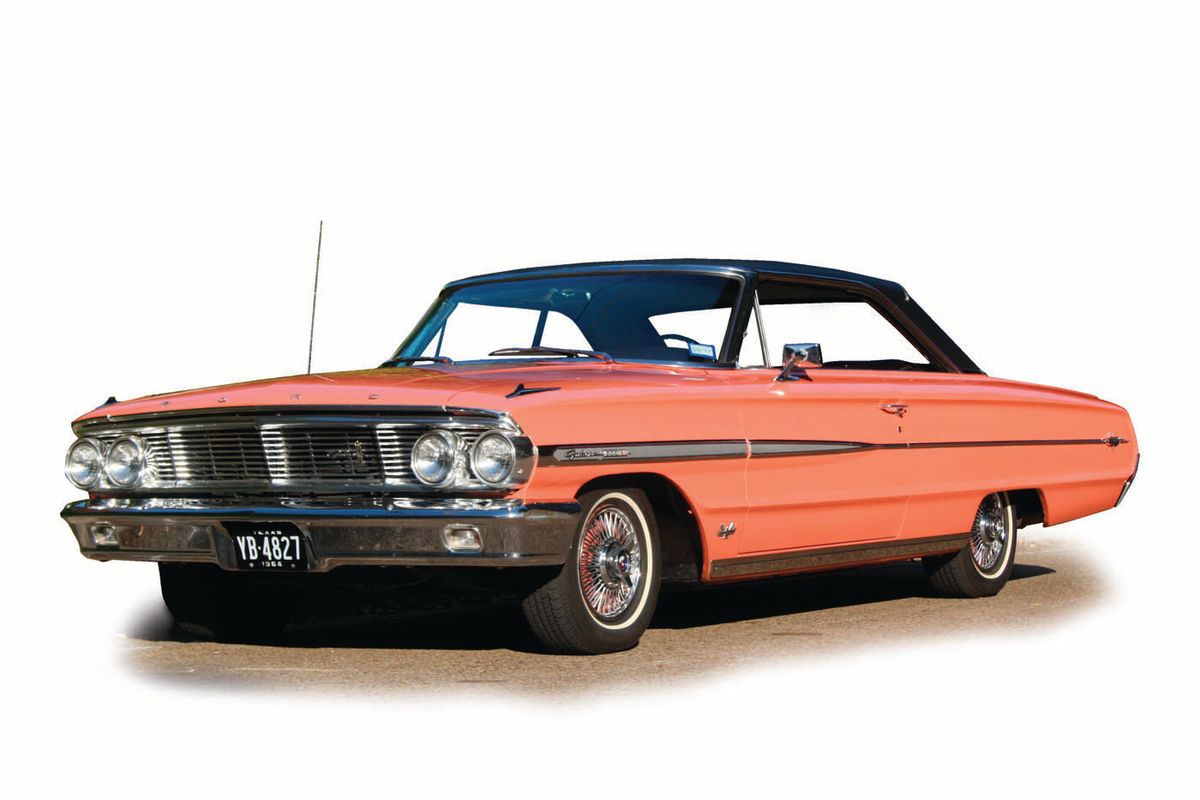 Getting the Car Road Ready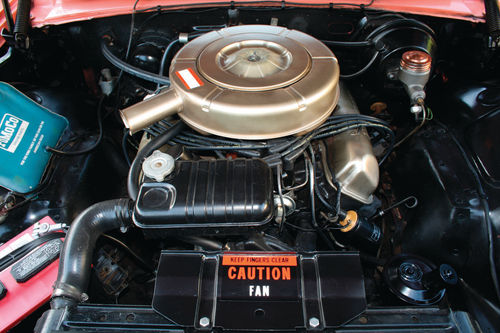 There were several areas needing attention—some tasks selected were to satisfy my personal requirements for reliability while others were mandatory. (In the end, nearly all of the work proved to be necessary.)
Upon receiving my car, I noted the Gates brand four-ply tires mounted on the rims. Gates Rubber Co. had gone out of the tire business in the early 1970s! The original owner was an executive for the company which also explained the presence of Gates belts and floor mats.
But before I drove to the tire store for a new set of tires, the carburetor needed to be overhauled. That job had not been properly performed in the past as shown by the reversed jets in the Ford 4100 series carburetor. Kits are readily available through major auto parts suppliers, but I recommend purchasing an overhaul kit from Dayton Parts Co. in Dayton, Ohio, to obtain high-quality components.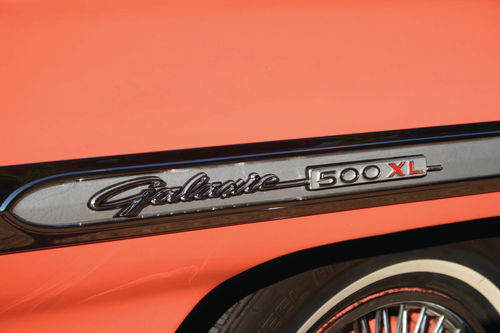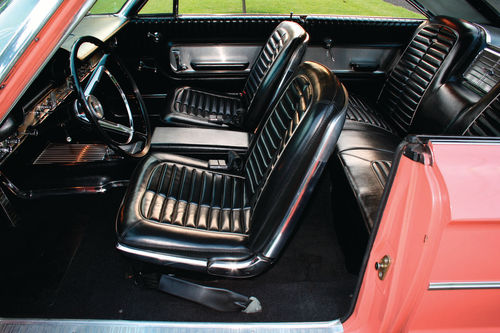 Also on the priority list before getting tires was a complete rebuild of the brake system with the exception of the power booster which was working well at the time. About three years later, though, it had to be replaced with a remanufactured one. (I kept the core which is original to the car and is, of course, re-buildable.) Fortunately, replacement linings, wheel cylinders, a master cylinder, and hydraulic brake hoses are still easily obtainable through major auto parts retailers. I also kept the original single-reservoir master cylinder and the wheel cylinders which can all be repaired with stainless steel sleeves if the need ever arises.
One important point regarding the brakes on the full-sized '64 models is that station wagons, high-performance versions (390 Police Interceptor and 427-equipped), and police vehicles had three-inch wide front drums while others had 2.5-inch wide drums. Rear drums were 2.5 inches wide on all versions. Front and rear drums from 1960 through 1968 fit and are available through vintage Ford parts suppliers. Fortunately, all four of mine showed very little wear, thus none of them needed replacement.
To my surprise, the backing plates needed work. My reaction, though, was simply due to ignorance on my part rather than something unusual. The brake shoes move against the backing plates resulting in wear which can eventually interfere with smooth motion. My mechanic noted the problem and welded-up the worn surfaces then ground them smooth. They were then further freshened with black paint.
Once the wheel cylinders, three hydraulic brake hoses (only one in the rear), and master cylinder were installed and the master cylinder filled with DOT 3 fluid, air had to be bled from the entire system.
As noted, the power booster was replaced at a later time because of a small vacuum leak. The Midland type used by the '64 Thunderbird was also the type used on the full-sized Fords. A rebuilt one along with a new check valve was obtained through Larry's Thunderbird & Mustang Parts.
New front wheel bearings were installed, too. They are inexpensive and with the drums off about as easy a job to perform as there is. They were packed with fresh grease. Do not over-tighten the retaining nut; too much torque will result in the bearings overheating while driving. Torque it snugly to properly seat it in place then back off about a half-turn.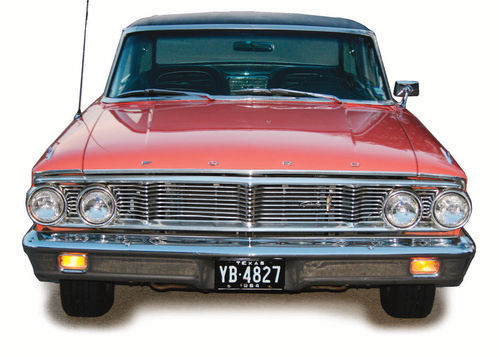 New rear axle seals ensured the fresh axle oil would stay put. The third member or "pumpkin" must be removed to thoroughly clean the housing, although a drain plug was provided. (According to Ford Motor Co., this oil did not normally need replacement, but engineers who made that statement were not considering the possibility of halfcentury-old cars still being on the road.) Removal also required the driveshaft to be disconnected. I had planned for fresh grease to be applied to the bearings of the U-joints at each end of the driveshaft. However, inspection showed the grease had dried out so long ago that the bearings had worn out—so much so that the bearing surface almost looked splined. Therefore, new U-joints were installed in front and back. The replacements have fittings to allow grease to be applied with a grease gun. If I had not had the bearings of the U-joints checked, the driveshaft could have eventually sheared off due to a seized U-joint.
Turning to the Engine and Transmission…
An inspection of vacuum lines in the engine compartment revealed no problems. Transmission fluid looked clean and the level was correct. Oil leaks were found, though, in just about every seal for the engine which is not particularly surprising on a half-century-old car even with low mileage. At some point the seals and gaskets for the rear main, timing cover, and rocker arm covers will need to be replaced, but for now keeping a periodic watch on engine oil level will ensure not running with too little. Tightening the rocker arm covers did reduce leakage around those gaskets at least.
As noted, a look at the transmission fluid level revealed a full level and clean fluid; the car had shifted well as I drove it home from where it had been delivered. So, no servicing was required. The Cruise-O-Matic still performs well.
Radiator and heater hoses were replaced as were the very old belts. A NAPA store near my residence was able to supply the replacements. Radiator coolant was clean and freshened with anti-corrosion additives.
Very recently, I had the fuel pump replaced; its check valve was not working, thus allowing the fuel to drain well back into the fuel line causing difficulty when trying to start the engine after sitting idle for a few days. MAC's Antique Auto Parts stocks the fuel pump.
Later Tasks
After the mechanical work was completed, I left the car on its jack stands to freshen the appearance of the wheel wells by a thorough cleaning and some chassis black paint. (I even repainted the third member with red oxide primer while it was off.) Additional cosmetic work included restoring the painted surfaces of the "Galaxie 500 XL" emblem on the rear of the car positioned below the deck lid and to the right side. The black-out paint had numerous chips as did the red, white and blue insignia.
The shop which replaced my tires had to order the new set which took a day to arrive. While waiting I was able to take the bare wheels back to my house to clean them. Unexpectedly, they were painted body color. Ford typically painted wheels body color only on cars without optional wheel covers. Cars ordered from the factory with wheel covers had their wheels painted black. Since the Galaxie 500 XL came standard with wheel covers, they normally would have been painted black. I don't know why the wheels on my car are body color. I have seen one other Samoan Coral 1964 Galaxie 500 XL with body color wheels; it was listed for sale on eBay a few years after I purchased mine. That car was sold by the second owner. I asked about the wheels and he replied that they were coral when he bought the car. However, all other Samoan Coral Galaxie 500s and 500 XLs I have seen have black wheels.
Other cosmetic issues included dented outer headlight bezels; NOS replacements were found at bargain prices. They generally are not inexpensive, though the inner ones are not particularly pricey since they are more common. A couple more pieces of trim in back need replacement. One of them is the rightside trunk molding. The left and right are now reproduced and sold as a set through Mac's Antique Auto Parts. Also reproduced are the left and right extension moldings that wrap around the tail lamps.
The engine compartment needed some freshening. The gold paint used exclusively on the air cleaner and rocker arm covers of the 390 is available in spray can form through MAC's Antique Auto Parts.
More recently, I had the body color sanded and buffed. It had been repainted once around 1980. At that time, it was evidently judged as just a used car by its owner; the paint was clearly very inexpensive as there were numerous sanding scratches and even trash in the paint. However, color sanding and buffing produced a very nice finish. (For more on color sanding and buffing, see this month's Mechanic on Duty on page 6.)
This car gets noticed. Most people love the uncommon color combination as do I.
1964 Ford Galaxie 500 XL two-door hardtop
General:
Front engine, rear-wheel drive
Engine
Type: Cast iron OHV V-8
Displacement: 390 cu. in.
Bore & Stroke: 4.05 x 3.78 in.
Compression ratio: 10.6.:1
Carburetor: 4-bbl.
Power: 300 hp @4600 rpm
Drivetrain
Transmission: Cruise-O-Matic
three-speed
Rear axle ratio: 3.00:1
Suspension and Brakes
Front: ball joints, coil springs,
hydraulic shocks
Rear: leaf springs,
hydraulic shocks
Steering: Power assisted,
re-circulating ball and nut
Turning diameter: 41 ft.
Brakes (f/r): 11 x 2.5 in. drum
Wheels: 14 in.
Resources
Ford Galaxie Club of AmericaP.O. Box 429 Valley Springs, Arkansas 72682-0429 galaxieclub.com
Dayton Parts Company
1191 Turnbull Bay Road New Smyrna Beach, FL 32168 daytonaparts.com
Larry's Thunderbird & Mustang Parts
1180 California Ave., #B Corona, CA 92881 larrystbird.com
MAC's Antique Auto Parts
6150 Donner Road Lockport, NY 14094 macsautoparts.com