"SMOKEY AND THE BANDIT" ...Updated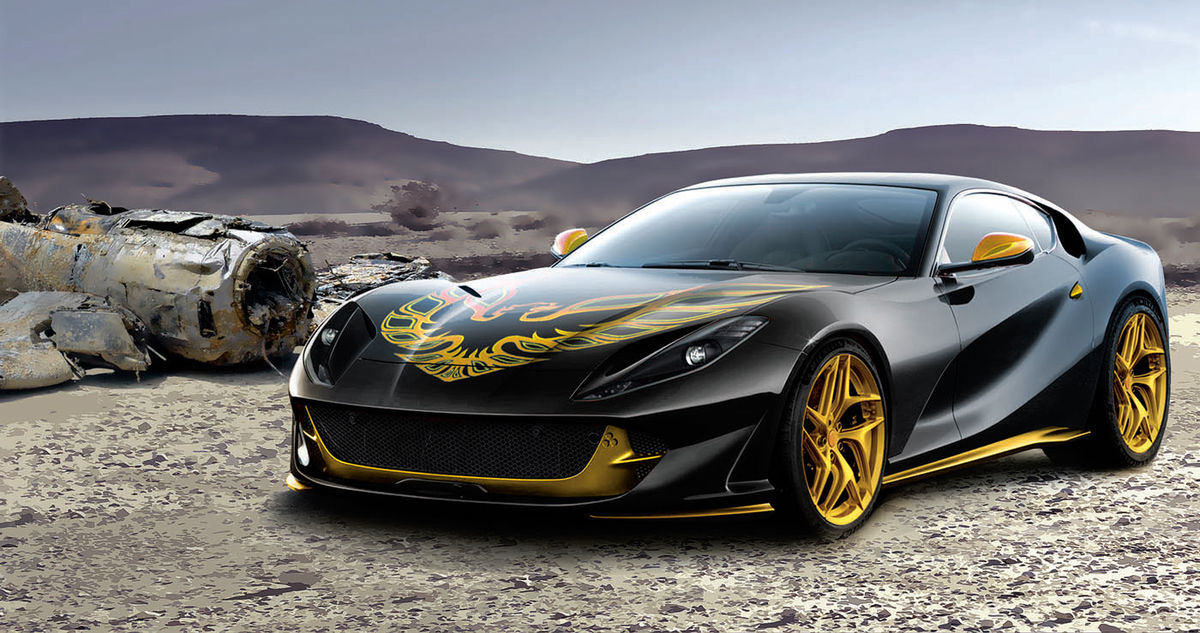 If the Legendary Car Chase Flick Were Produced Today, What Types of Vehicles Would the Filmmakers Use? Here are Some Possibilities.
In case you still don't believe that time flies faster than a Firebird, consider this—it's been 40 years since "Smokey and the Bandit," one of the all-time, best-known automotive action films, first came to the silver screen.
You remember that flick, don't you? It starred a black 1977 Pontiac Trans Am and featured a number of people in strong supporting roles including Burt Reynolds, Jackie Gleason, Sally Field and Jerry Reed.
The plot was fairly simple, amounting to an extended car and truck chase from Texarkana, Texas, to Atlanta with a lot of roaring engines, smoking tires, police cruisers crashing into things or soaring into rivers…and all of it punctuated with loads of "good buddy" talk on CB radios along the way.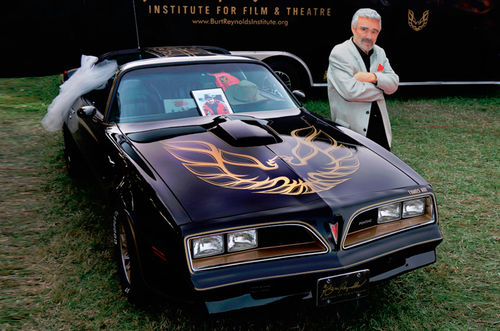 It starts when a wealthy Texas father and son (named Big Enos and Little Enos Burdette) decide that they want 400 cases of Coors beer on hand in Atlanta so they can "celebrate in style" when a stock car they are sponsoring wins an upcoming race. The catch was that due to marketing restrictions at the time, Coors couldn't legally be sold outside of 11 states west of the Mississippi River and the closest supply was in Texarkana.
The Texans then approached Bo "Bandit" Darville (Reynolds), a trucker with a reputation for being a leadfoot driver and offer him $80,000 (40 years ago when money was still worth something) to head over to Texarkana and bring back a truckload of contraband suds. Furthermore, delivery must be made within 28 hours.
Bandit accepts the challenge and recruits his pal Cledus "Snowman" Snow (Reed) to drive the truck while he diverts the attention of lawmen along the way by speeding ahead of the 18-wheeler and getting the cops to concentrate on catching him. One cop who had a major role in the chase was Sheriff Buford T. Justice (Gleason) who had a personal interest in catching the Bandit because he had picked up Sally Field who had decided to run away rather than marry Buford's son.
As you no doubt know, the Bandit's car of choice for this adventure was a black Trans Am with gold trim. To this day, many people still identify that vehicle as a "Smokey and the Bandit car."
But even though the movie is still considered to be an automotive classic, we have to keep in mind that the Bandit's original run took place four decades ago…
So, What If Someone Did a Remake Today?
Interestingly enough, it was Carspring, a British "online used car dealership" that gave some thought to the 40th anniversary of this all-American movie and wondered what vehicles would be featured if Smokey and the Bandit were a present-day film. The company came up with several possibilities and then produced illustrations depicting those modern-day road racers.
Here are their selections, all of which, not surprisingly, are much more powerful than any vehicles from the '70s:
The Bandit's original 1977 Trans Am had a 400 cid V-8 under the hood rated at 200 horsepower and 325 lb.- ft. of torque.
The Pontiac Division was shuttered by General Motors in 2010 so there aren't any contemporary Trans Ams, so Carspring took a current Chevrolet Camaro and fashioned it as a Pontiac product, which makes sense since the two pony cars were GM "cousins." The current Camaro can be equipped with a ZL1 6.2-liter supercharged V-8 rated at 650 horsepower and 650 lb.-ft. of torque and has gone 0-60 mph in 3.4 seconds. No doubt the Bandit could make the trip much faster with that kind of motivation.
But what if the Bandit decided that since there aren't any new Firebirds around, he'd go with an import instead a domestic ride? Maybe he'd select a new Ferrari 812 Superfast which is billed as "the most powerful and fastest Ferrari in the marque's history." After all, the car comes with a 6.5-liter V-12 rated at 789 horsepower and 539 lb.-ft. of torque. Ferrari claims a 0-62 mph time of 2.9 seconds and a top speed of 221 mph.
If the Bandit didn't have a Ferrarisize wallet, maybe he'd select a Honda Civic Type R with a turbocharged 2.0-liter four that puts out 306 horsepower and 295 lb.-ft. of torque. It comes with lightweight bucket seats which Honda says "keep you in place during hard cornering," something that would come in handy while fleeing the lawmen. The car also has three driving modes, comfort, sport and R, which retune the suspension, throttle and steering to match the level of performance you want.
Since the Bandit was a trucker by trade, maybe this time he'd be more comfortable racing cross-country in a Ford F-150 Raptor. Its twin-turbo 3.5-liter EcoBoost V-6 is rated at 450 horsepower and 510 lb.-ft. of torque. Its aluminum-alloy body makes it 500 lbs. lighter than its steel-bodied predecessor and it has Terrain Management System settings to tune the vehicle to changing conditions including street, mud and sand, something that might come in handy if the Bandit decided to go offroad to elude his pursuers.
Or maybe the Bandit would like to do some trendy motoring and get behind the wheel of a Jeep Grand Cherokee Trackhawk. Its supercharged 6.2-liter V-8 is rated at 707 horsepower and 645 lb.-ft. of torque, resulting in a 0-60 mph time of 3.5 seconds. And to help him as he'd be greatly exceeding all posted speed limits, Fiat Chrysler Automobiles says the Trackhawk's "race-inspired seat bolsters grip you during high-speed maneuvers, keeping you in place and in control of every curve," while its "sophisticated raceinspired cabin," entices a driver "to tap into your primal urge for speed."
Updates for the Hauler and Pursuit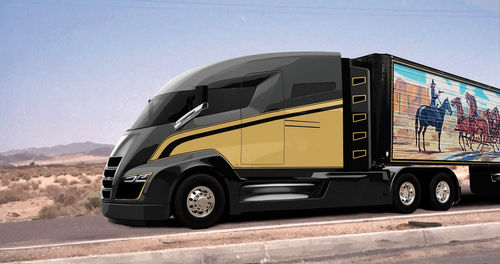 Naturally, the Bandit isn't the only one in line for a modern set of wheels in honor of the movie's 40th anniversary. The Snowman hauled his contraband Coors with a Kenworth semi in the original movie but Carspring sees him as a thoroughly up-to-date eco-conscious trucker of today piloting a Nikola One Electric semi that's hydrogen-powered with 100-percent electric drive. The bulletshaped ultra-aerodynamic truck isn't on the road just yet, but the company says they are coming soon and has signed a distribution and maintenance agreement with Ryder. The 1000-horsepower truck will have a range of 800-1200 miles and be able to cruise at 65 mph.
That leaves us with Sheriff Justice whose ride was woefully outclassed in the movie's chase sequences as he was behind the wheel of a 1977 Pontiac Le Mans which quite possibly carried a 301 cid twobarrel V-8.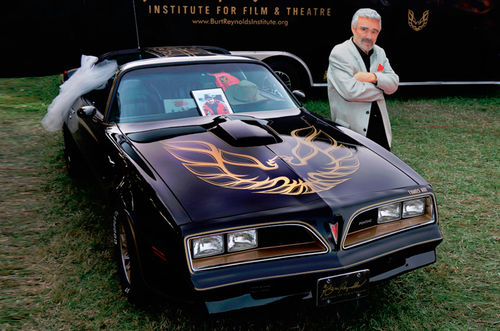 This time, however, the playing field would be much more level as Carspring envisions Buford T. Justice teamed with a Dodge Charger Hellcat that has the same supercharged 6.2-liter 707-horsepower V-8 found in the Jeep Trackhawk. Only the lighter Dodge shaves a tenth of a second off the 0-60 time, hitting the mark in 3.4 seconds.
There's no doubt about it, the action would be much more intense with modern vehicles, but with the megahorsepower discussed here, the participants had better hope that there'll be numerous gas stations located along the way.
What's In the Truck?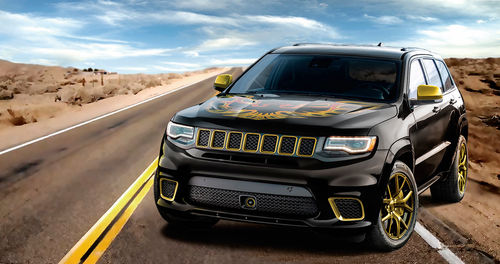 All of this leads to one question… what would the Snowman be hauling in a modern version of the "Bandit" tale. Coors has been available nationwide for years now, so if the wealthy Texans wanted a load of that brew for their celebration, the local party store could take care of their needs.
So maybe this time the Snowman's truck could carry some truly precious cargo…like a load of vintage Trans Ams bound for an important highroller auto auction.