"Take Another Little Piece of My Porsche"... for $1.76 Million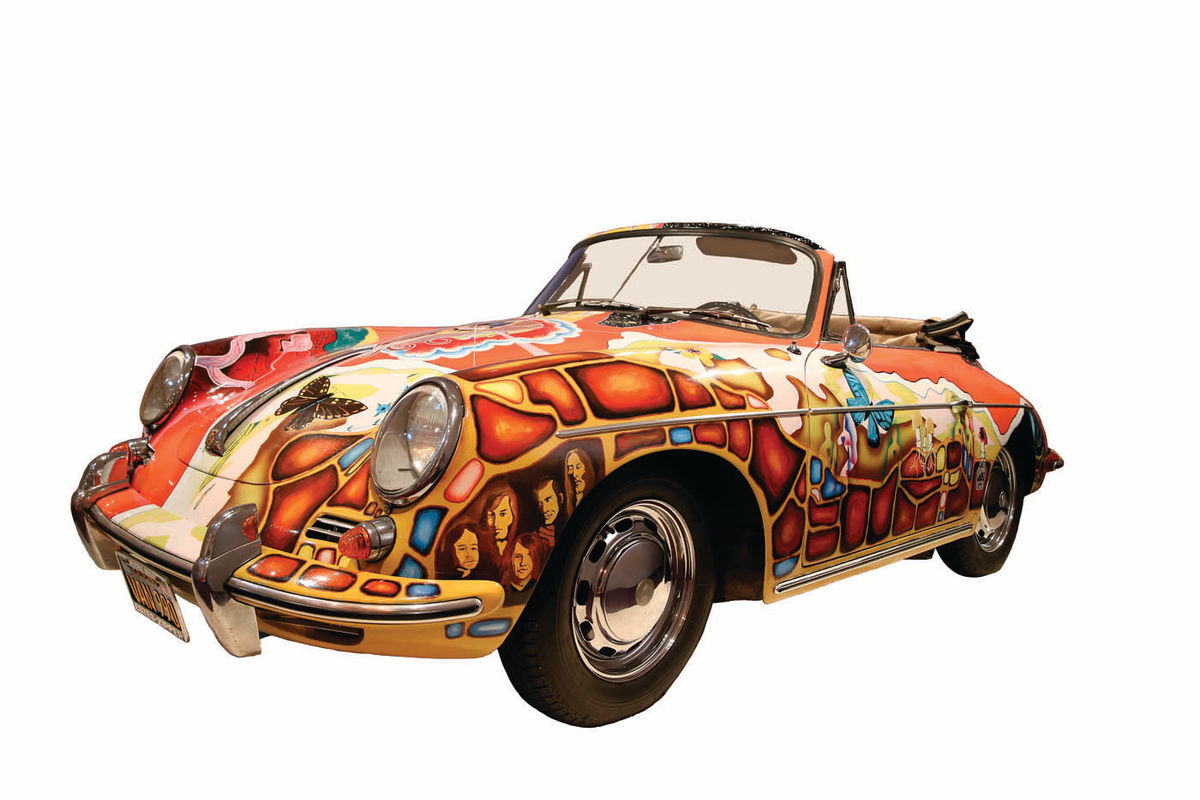 IN ONE OF her famous songs, the late rock star Janis Joplin implored:
"OH LORD, WON'T you buy me a Mercedes-Benz? "MY friends all drive Porsches, I must make amends."
Ironically, Janis also owned, drove and very much enjoyed a 1964 Porsche 356 that had been so personalized for her that the car was immediately recognized by fans wherever she went in the San Francisco and Los Angeles areas. It was not at all uncommon for her to return to the car, her sister Laura said, and find a note from an admirer under a windshield wiper.
After the singer's death from a drug overdose in 1970 at age 27, the cabriolet, seen on this page, continued to be a part of the Joplin family for nearly half a century until it recently was put up for auction with RM Sotheby's. A pre-sale estimate of $400,000 to $600,000 was made for the famous car, but after "a spirited bidding contest" between seven would-be buyers, the Porsche went to a new home for $1.76 million which Sotheby's said is a record for any Porsche 356 sold at public auction.
That's a lot of money for a 356, to be sure, but then this car has a story that could easily be turned into a made-for-TV movie.
Janis had already made a name for herself in the West Coast counterculture music scene of the '60s when in 1968 she spotted the four-year-old Porsche at a Beverly Hills dealership and purchased it for $3500.
The cabriolet's Oyster White paint job didn't suit her personality, so for $500 she commissioned an artist and roadie with her band to cover the vehicle with a psychedelic mural. His finished work, which he called "The History of the Universe," included portraits of Janis and her fellow band members from Big Brother and the Holding Company; Janis' astrological sign, Capricorn; a green valley with mountains and a brown roadway, a rainbow, the sun, birds, butterflies, and on the hood was an imposing representation of "The Eye of God." In other words, it was the type of artwork that was quite popular among young people at the time.
Janis then put the flamboyantly decorated car to good use as a '60s daily driver, her long hair and colorful clothing fluttering in the breezes as she drove along.
Before long, however, the easily spotted car was stolen and the thief camouflaged it with gray primer. But when the car was recovered, the primer was removed and the mural, which had been clear coated, was intact.
After that, Janis continued to drive her special car and, in fact, it was parked near the door of the motel room where her body was found some 45 years ago.
Her manager then took the car to New York where he loaned it to friends and clients until Janis' brother and sister retrieved the vehicle in 1973.
By the early '90s the car was showing its age, so two artists were commissioned to put a new finish on the vehicle and, working with period photography, recreate the vehicle's mural. The restored Porsche made an appearance at the Pebble Beach Concours d'Elegance and was loaned to the Rock and Roll Hall of Fame for two decades before it was put up for auction.
As a final important touch before the sale, Sotheby's shop, RM Auto Restoration, returned the numbers-matching drivetrain "to running and driving order."
If she had lived, Janis would have turned 73 last month and you just have to wonder... would that 356 still have been her daily driver...instead of a Mercedes-Benz.