Auto Restorer Readers Discuss More Experiences With Automotive Lifts Along With Traveling In Vintage Vehicles and Naming Their Favorite Rides.
One Lift's for Restoration and the Other's for Storage
Just to add to the conversation about home garage lifts.
I have two Quality 4-post lifts...one that I use mostly for storage (a '66 Chevelle and a '55 Bel Air) and one I've done four or five restorations on so far.
My main lift is rated at 9000 lbs. and my storage lift is the less-expensive 7000 lb. version. I think working with either would be fine for most folks.
Painting cars with the lift in place is challenging for me due to the 4 posts... but so far so good. It does make for a mess on the lift though (along with all the primer and stripping and sanding, etc.).
There's plenty of room to work under a car that's on the lift as well. Again, one has to watch their head and the posts.
Quality lifts are certified and I've not had any issues with either. They are priced quite reasonably. Their brochures can be reviewed at qualitylifts.com.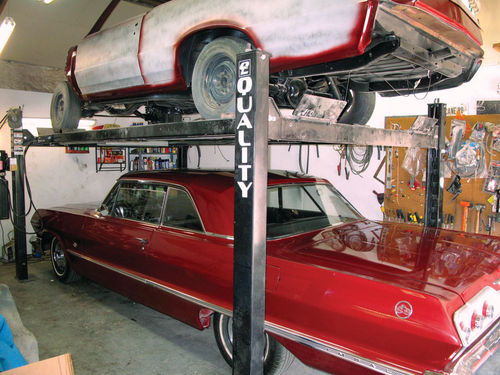 Both lifts were installed by CEM Lifts of Post Falls, Idaho. And CEM lifts can
be reached online at cemlifts.com
CEM installed both of my lifts quickly and inexpensively!
Really enjoy the magazine...it solves a lot of problems!
Cary Griffin Florence, Montana
Editor's note: That's Cary's 1963 Chevrolet Impala SS on the cover. It's a barn find with a 327 V-8 and a 4-speed. He recently finished the restoration work.
I Have a Two- and a Four-Post Lift
This letter is in response to the question in the May edition from reader Curt Kooiker regarding automotive lifts.
I built my garage back in 2001 and installed two lifts, a 4-post 7000 lb. lift I purchased new from a company called Perfect Park and a 2-post 9000 lb. lift manufactured by Eagle Lifts which had been used in a tire shop and was seven years old at the time. The 2-post lift was installed and checked out by a lift service technician/company.
The most important thing to note when purchasing a used lift is making sure the cables and all wearable components have had proper lubrication and maintenance. The tire shop that
had owned the Eagle lift replaces its equipment every seven years to ensure a safe shop and reduce the possibility of equipment downtime during a busy day.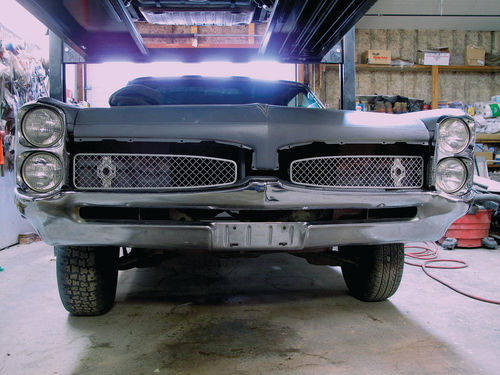 The Eagle lift had been properly maintained, and since it is imperative that a 2-post lift be installed perfectly level I made the decision to have it professionally installed. Back in 2001 the installation was only $250 and was completed in less than three hours.
I call the 2-post lift my service lift which is where I do 99% of my automotive work. I have a bad back and even for simple jobs like spark plug replacement I typically place the car on the lift to reduce bending over. The Eagle lift is an asymmetrical model and based on my experience I would stay with an asymmetrical model for the ease of opening the car doors when the vehicle's on the lift.
As noted, I purchased the 4-post lift new. I installed it myself which took a full day working alone and using my shop/engine crane to lift the heavy parts. The lift is not bolted to the floor (it does not need to be), and it can be moved using the wheels which came with it. The issues with the 4-post lift is the ramps are very wide—18"—and then you have to use a bottle jack to lift the tires off the ground in order to perform any tire/brake work. The 18"- wide ramps also cover a great deal of the underside of the car.
However, for quick "drive on" car storage the lift is great.
I have attached pictures of my shop which is located behind my house in a residential zone. The shop is smaller than I really wanted but the size was limited by local zoning regulations.
As you can see in the pictures, the 2-post lift actually extends above the ceiling but the safety trip wire is 3 inches below the ceiling. Therefore, the low ceiling really does not limit the usefulness of the lift. I am 6' 3" inches tall and I can easily walk under the car when the lift is in the completely raised position. FYI: The safety wire shuts off the hydraulic pump if the roof of the car hits the wire, thus protecting the car from damage if for some reason the lift does not stop at full height.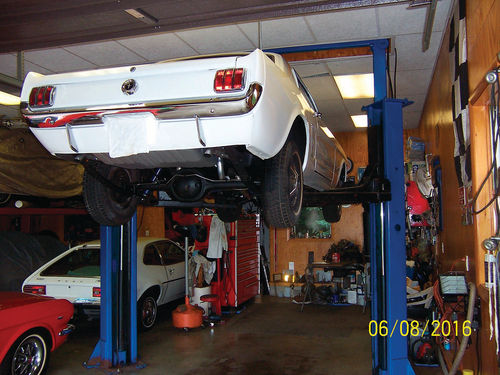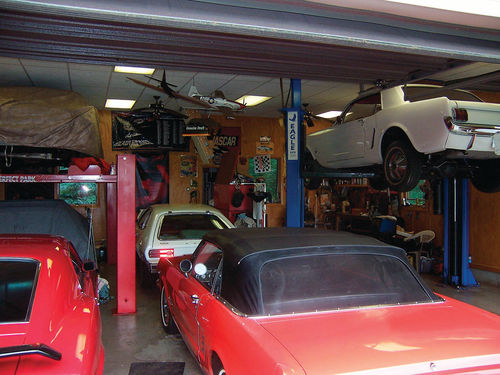 I certainly would consider another used lift. Installers and lift service companies typically have some available or know where you can find one.
Personally, I would stay away from unknown brands. The lifts I would look at today would be:
#1 Mohawk
#2 Rotary
#3 Forward (Rotary's lower-cost brand)
#4 Bend-Pak Good luck with your lift purchase. Paul Messier Via email
Some Things to Consider Before, When and After Your Ramp Is Installed
I wanted a shop big enough to store and work on my two vintage cars. Furthermore, it had to be adequate for a lift.
In 2009 I found a young contractor with no related experience but a good attitude and reputation. So the shop was built with an area 45 by 16 feet to store and work on my cars in tandem. There is some additional area for a workbench, etc. I couldn't find specs for a lift space but we made the concrete floor five inches thick and the ceiling 14 feet high. A 220-volt outlet was installed for a lift. I could do all this because of a "golden handshake" I had received from my employer.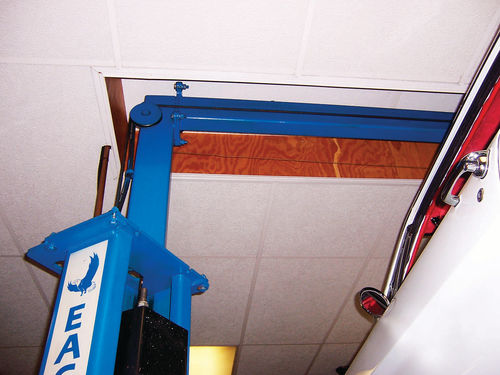 Let's back up to circa 1954-60 when I worked in several gas stations and an auto repair shop. I had a lot of experience working under "grease racks" of the era which had two I-beams running inside the tires of lifted cars meaning the bottoms of the tires were lower than the beams.
In that era home lifts were unknown so working under cars meant jacking, adding stands, and going under on a creeper. That, of course, is a lot of work and can be dangerous. The shop I worked in similarly had only one lift, primarily for grease jobs. After a time I realized that there is a tendency, especially by amateurs, to fail to jack up a car high enough to comfortably work on them. So getting a lift was my goal.
I spent quite a bit of time researching lift ads to find what I wanted but was frustrated in getting information that was easy to digest and compare. One problem was that the ads said that at least two strong people were required to assemble a lift and it was necessary to have a forklift to unload an unassembled lift from the delivery truck.
Well I don't have a forklift or a capable friend but I thought I'm clever enough and have enough tools and equipment to assemble a lift on my own if I could just get one delivered and on the ground. I was told I could get one delivered to a local freight terminal but that didn't fit the program.
So I finally just picked an ad and called. My call was to Best Buy Automotive Equipment of Temecula, California (bestbuyautoequipment.com). I had never heard of this company but the ad looked good and the man I talked with was helpful. He sold me on having the lift delivered and set up by their crew. The charge for this was $800, but when compared with delivery alone and the difficulty to assemble the lift it turned out to be a bargain. The delivery itself would have been more than half of that charge. The total price including delivery, setup and California sales tax was $2939. This was three years ago.
The lift I bought is described on the invoice as a "Car Park 8 plus steel ramps." I bought an extra long and extra high model as someday I might buy a Series 75 (limo body) Cadillac to go with my 1949 Series 62 convertible that weighs more than two tons and is a bit long. The car I might park under the Cadillac is a 1965 Ford Econoline Van which is more than six feet high. I haven't tried putting this underneath yet.
The paperwork says the lift can handle 8000 lbs. The weight of the lift alone is nearly one ton. It has four columns and casters that allow the lift (without a vehicle) to be moved around the shop floor. The casters are easily installed and the lift will raise itself onto the wheels for relatively easy moving.
The delivery crew missed the scheduled date but came a few days later. Some of the parts were bolted onto a special frame on the delivery truck which was backed right to the assembly area in my shop. I could see hydraulic lines under an upside-down runway that were not capped and had fluid pouring out. (Later I mentioned this to the sales agent and he said they had tested some of the new lifts as there had been some hydraulic problems. I wonder if my lift was a repo. I saw nothing else to suggest this.)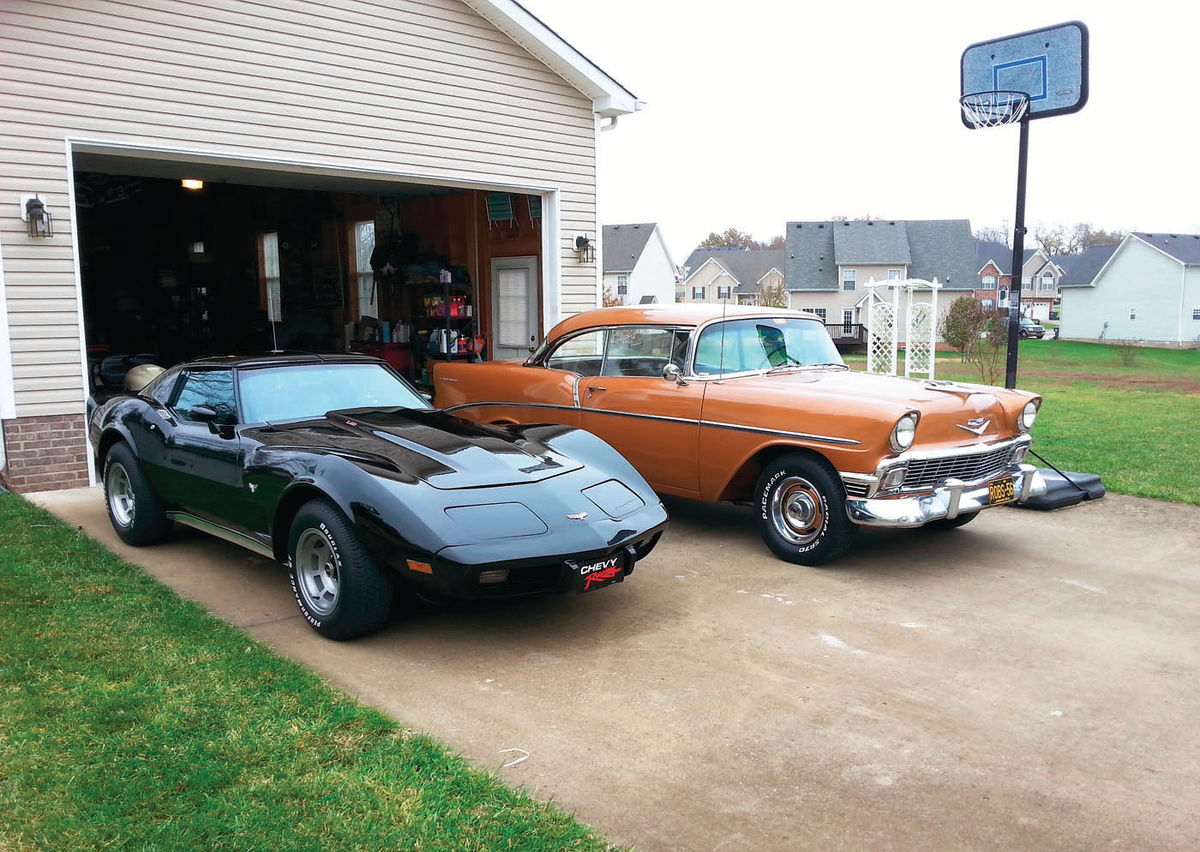 Anyway, two beefy men set up the lift within two hours. I could tell it was all they could do to move the runways to their final position. The lift has a fluid reservoir tank of about two gallons which was overfilled given that there was already fluid in the under-runway cylinder. So there was a problem removing excess fluid from the system because these men didn't have the equipment and supplies to handle the problem. They also were not prepared to handle all of the packing material. The lift comes with a loose piece designed to go between the runways and have a jack placed on it to raise a part of a lifted vehicle or hold an oil drain pan. When this cross piece was being installed it was apparent that it was too wide to slide between the runways. One man said to call the company which I did and a slightly shorter one was delivered a few days later. Now I have two.
The lift only needs 110 volts. The lift's cord is only about two feet long so I had to buy a six-foot extension which had to be at least 12-gauge to handle the 20 amps required. I finally found the right cord for about $28 at Full Compass Systems, Ltd. of Madison, Wisconsin (fullcompass.com).
The lift is raised by hydraulic fluid pumped to a cylinder under one of the runways. The cylinder is attached to four cables which run to the tops of each column. After a few ups and downs I was carefully inspecting the lift and saw that one of the cables was rubbing a rubber hydraulic hose that already had visible damage. I took photos which I sent to Best Buy Automotive along with a description of the problem. The installers should have found this problem before they left. Best Buy said they could not come back because this was more than 30 days since the installation (about 45 actually) but a new hose would be sent. A hose was sent but it was too short as it probably was for the standard model and mine is bigger. I didn't follow up on this as I was able to move the hose away from the cable by adjusting one of its fittings. (I will have to keep an eye on this.)
The lift has steel ramps to drive a car from the floor onto the lift, about a four-inch rise. The ramps are just over three feet long and weigh about 40 or 50 lbs. each and are easily lifted on and off.
The job I wanted to handle with the lift was replacement of the rear main bearing seal on my Cadillac as it had a substantial leak. Yes, it's a lot easier to work on your feet compared to working on your back but there are some unforeseen differences. I used a bending-beam style torque wrench which requires looking up at the tension scale from underneath when tightening main bearing caps and I couldn't get 100 ft.-lbs. of torque while standing under the car as my body was in the wrong position to put that force on the end of the 18-inch breaker bar. So I had to lower the car nearly to the floor and go under on my antique wooden creeper to get the right leverage. Another unexpected problem is that I keep bumping my head on the runways which are lower than what I had experienced in the past. So now I wear a hardhat.
Having said all of the above, I love my lift. I didn't and still haven't checked out my lift with the Automotive Lift Institute. To me the steel and welding looks to be excellent but I'm just a curb-stone mechanic. And I have no idea where it was made.
Michael Snyder Paradise, California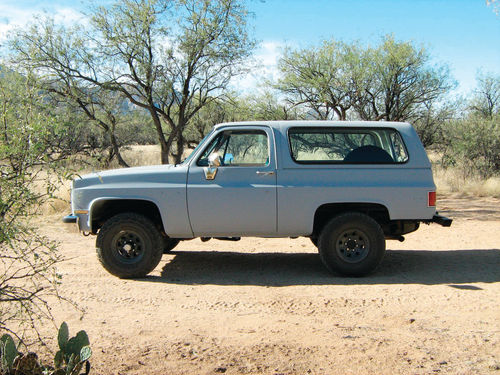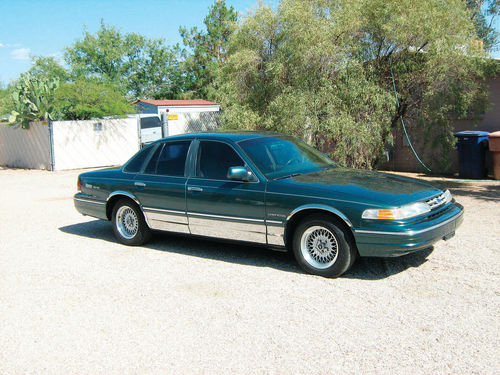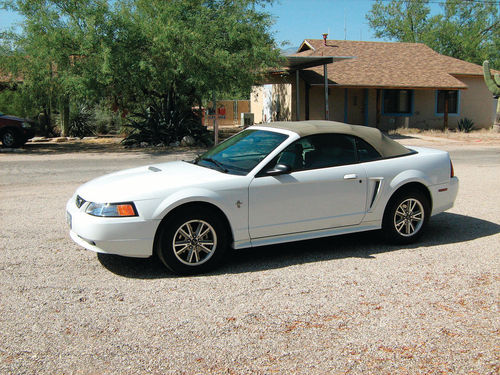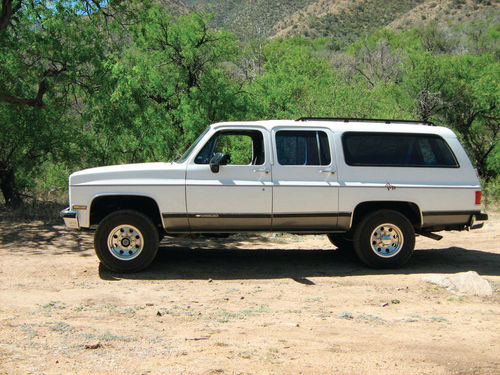 We Tour With Our Vintage Cars
Sure enjoyed the article in the July issue about Bruce and Bert Rauch seeing a lot of the USA in their vintage MGA. It is good to hear about folks actually getting out their classic and vintage cars and driving them some distances.
My wife and I have toured much of Tennessee, Kentucky and Missouri in both our 1956 Chevy 210 2-door hardtop and '77 Corvette. Both cars are drivers, not show cars. I feel that it's better to get out with your vintage automobiles instead of letting them stay locked up in the garage.
Always look forward to each issue, there is something neat to learn or read about in this neat hobby of restoring vintage iron.
Keep up the good work.
Robert Nebel Clarksville, Tennessee
I Was Wrong…They Didn't Leave the U.S.
Thanks so much for sharing my comments on 4-post lifts in the August issue…but I made an error.
The PerfectPark 7000 is now made in Burleson, Texas, by Gemini Auto Lifts (geminiautolifts.com). They are not made outside the U.S. as I stated. I believe they were made in Missouri when I bought mine, and I knew they had moved.
Mitch, the guy I bought my lifts from 17 years ago moved to Texas too, and is still involved at Gemini. I spoke with him just a couple weeks ago to help me troubleshoot one of my lifts that finally broke after 17 years. (That's what I get for bragging about them.)
The motor of the hydraulics unit failed after I accidentally allowed the oil reservoir level to get too low. An odd failure. It was a new one to them too.
Greg Corcoran Longmont, Colorado
We've Named Our Collection of Cars & Trucks
I very much enjoyed the June article about Melvin Horton's Camaro and the names he gives his vehicles. My wife and I have done that with some of ours also. For example:
Our '81 Chevy pickup is Freddy. She owned that truck when we met and just liked the name for some reason.
The '76 Pontiac Catalina is Big Blue. It's a very big car and has a beautiful blue paint job.
Our '84 Chevy 4x4 pickup is Point and Go. With lockers in both axles it goes where you point it.
The '88 full-size Blazer 4x4 is Triple Gray. It has a light gray body, medium (smoke) gray grille and dark (charcoal) gray wheels.
Our '90 Chevy Suburban ¾-ton 4x4 is Big Bertha. What can I say, it's big.
The 2001 Mustang convertible is Sally, from the song "Mustang Sally."
We recently bought a 1995 Ford Crown Victoria. She is Miss Victoria. Thank you for a super magazine.
George Boyd Via email
I'm Very Pleased With My Backyard Buddy
You had an excellent answer concerning lifts in the May issue of my favorite magazine, Auto Restorer. I would just like to add that I have a Backyard Buddy which I got in 1988. It has had a 500-mile move, helped me work on my everyday vehicles as well as do refreshing work on a '66 Plymouth Belvedere 2-door hardtop and a '72 Road Runner.
It survived with no damage when my foot slipped off the brake while driving on and hitting the front wheel stops with enough force to move the whole lift eight inches forward.
Can't say enough good things about this unit. I only regret that I didn't purchase it sooner.
Richard Thornton Greenville, Maine