Feature Restoration 1913 Maxwell-Briscoe Model 40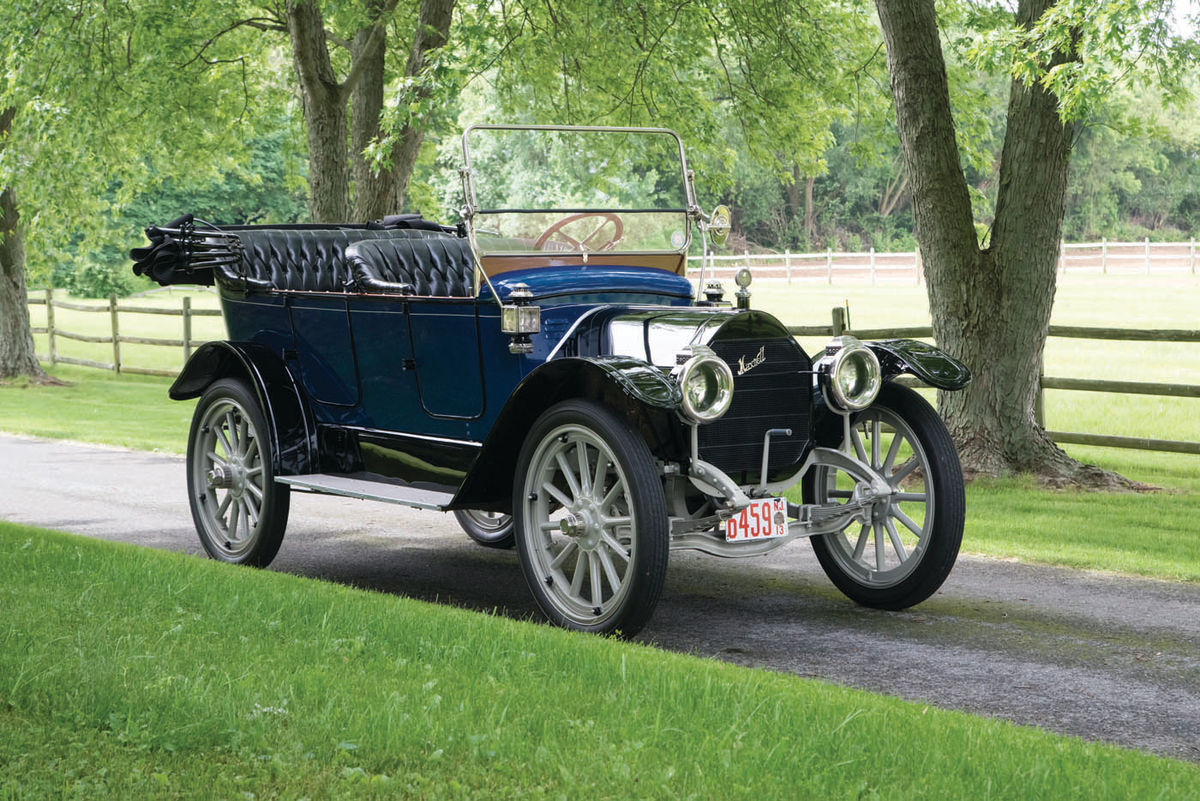 It Has the Power to Perform As a Touring Car…But You May Not Want to Rely on the Acetylene Starter System.
K Karl Darby's 1913 Maxwell was a close match to the requirements that he'd settled on before he bought it nine years ago.
"It was a car that caught my eye because it had a larger engine," Darby explained. "It had a 40-horsepower engine, it was a touring car. My wife likes to have doors and so it had to have doors, as opposed to a '10 or an '11 or before that that had no doors. Also, it had to be a car that could fit three people in the back seat so that I could take people along on tours."
The car, formally a Maxwell-Briscoe Model 40, has a past that in several aspects lies somewhere between slightly complicated and slightly mysterious. Darby recalled that he found it in St. Louis after seeing it advertised both in magazines and online.
"It turned out that I knew a previous owner who is here this weekend," he said during this year's Beautiful Brass Cars tour in southeastern Pennsylvania, "and it was his car a long time ago, in the '80s. He sold it to somebody in New Jersey, then the car went out to St. Louis which is where he had bought it back in the '80s. It ended up back out in St. Louis for sale and then I bought it from the guy in St. Louis.
"And the other part that I liked about the car is that it's one of two cars left. There's only one other Model 40. It's in the Swigart Museum (in Huntingdon, Pennsylvania)."
The Case of the Mysterious Nickel
The museum's car isn't identical and that's where the mystery enters the picture, as Darby explained that there's reason to believe his car is Maxwell's 1912 show car.
"It has the nickel finish—all nickel— all the way around the car," he said. "The one in the Swigart Museum has the brass finish. You didn't put that nickel on unless you wanted to have a show car and we have period photos of the car with that on it."
His car's serial number identifies it as the 19th to come off the line for the model year, but he said the numbers cover Model 30 and Model 40 roadsters and tourings, meaning that some of those built earlier were likely Model 30s. If so, that places the feature car closer to the start of the year's run.
"Either way," Darby said, "they put the nickel finish on and that made it more expensive or more showy than any of the other ones. The rest of them would've been just brass, like the one at the Swigart Museum."
When Four Cylinders Meant Performance
Regardless of the possibility that Darby's car once held celebrity status, it was built at what was a difficult time for Maxwell.
The company had been established in 1904 by Jonathan Maxwell, whose work for both Northern and Olds had provided solid experience in the young automobile industry, and Benjamin Briscoe, owner of a successful sheet metal business and a major investor in Buick. The new firm took over a Tarrytown, New York, factory that for several years had built the Mobile, a derivative of the early Stanley Steamer, and began working on a short test run of 12-horsepower two-cylinders before launching full production of the two-passenger Model L tourabout and five-passenger Model H touring for 1905.
The Model L's $750 price tag placed it below that year's two-cylinder Buick Model C at $1250 and just above the $650 single-cylinder Curved Dash Olds. The Model H listed at $1400, but that was upscale rather than high-end as the least expensive Packard at the time was the four-cylinder Model N runabout for $3400.
Total 1905 production topped 800 cars and so it's not surprising that the company expanded its lineup the following year with the addition of several new twins as well as a 40-horsepower four-cylinder touring, the five-passenger Model M. The Model M was priced at $3000, but Maxwell advertised that "no car at any price can surpass this latest product of the Maxwell Doctrine…Made to surprise the man who thinks that foreign cars must be the best because they cost the most."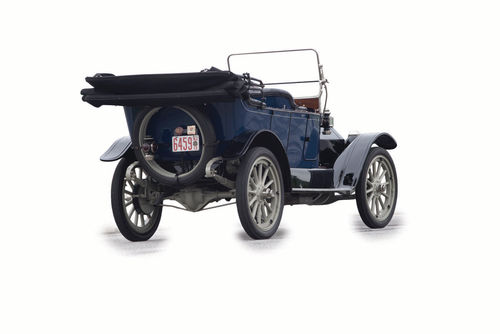 Whether the new Model M changed the minds of those loyal to foreign cars is at best difficult to know 111 years later, but its sales apparently convinced Maxwell that adding a four was the right move, as it continued to offer twins and fours into 1912. Twocylinder cars—like their single-cylinder contemporaries—were living on borrowed time when the Model M was introduced and even motorists faithful to the small engines had to concede that the future was approaching.
Maxwell didn't forget those true believers, though, and an ad for its 1910 range that focused on the fours reminded them that "our model 'A.A.' 12-horsepower runabout at $550… costs less to own than a horse and buggy." Maxwell had been cutting back on the twins to the point where the AA was the sole offering in 1910, but anyone who had somehow overlooked that trend needed only to read the ad. Beneath illustrations of the 30-horsepower four-cylinder roadster and touring, the $1500 roadster was described as "a car even better than our four-cylinder 30-horsepower roadster of last season at $1750. A car even better than the model which ran 10,000 miles over country roads without stopping its engine. A car even better than the Maxwell that was driven by Mrs. John B. Ramsey and her three women companions from New York to San Francisco. A car even better than the Maxwells which won first and second places in class D of this year's Glidden Tour. In short, a car that combines Maxwell reliability with style and luxury."
The final twin was the 16-horsepower Messenger roadster in 1912 with the other end of the scale occupied by the 36-horsepower Special four-door touring. For its $1480 cost, a driver could have bought two of the $625 Messengers and had enough cash left to cover their routine maintenance for quite a while. He still would have had two two-cylinder cars, though, but given the Maxwell twins' solid reputation then as now, that would not have been a bad thing. The company knew that and was neither embarrassed by its small cars nor ready to simply abandon them. A 1911 ad for the 1912 Maxwell line explains that the Messenger "with numerous refinements is beautifully finished in dark blue, with light blue wheels. Every manufacturing year has seen a shortage in these cars. It is unquestionably the greatest utility car ever designed for merchants and physicians." The ad is notable for more than its affirmation of the company's confidence in the two-cylinders, as it was placed by the "Maxwell-Briscoe Motor Company, Division of United States Motor Company."
A General Motors Competitor?
Mostly unknown among those with only a casual interest in automotive history, United States Motor Company was more than just another of the hundreds of wild schemes that appeared—and quickly vanished—in the industry's early days. Instead, it was a plan put together in 1910 by Benjamin Briscoe to gather a number of manufacturers and combine them into an empire comparable to General Motors.
Maxwell-Briscoe obviously was one of the components, but others ranged from Brush to Columbia and totaled an incredible 130 different companies, according to Fiat Chrysler Automobiles, the descendant of Maxwell. Via its acquisition of Columbia, United States Motor also held the Selden Patent but Henry Ford's successful challenge to the patent's validity in 1911 wiped out whatever value it had to Briscoe's conglomerate. (George B. Selden received a patent on the automobile in November 1895. If it had stood, manufacturers would have had to pay royalties to the patent holder on all cars they sold.)
The ad mentioned above also included "something about the United States Motor Company. Buyers in 1912 will insist upon cars made by substantial concerns that are long past the experimental stage and whose cars will not decrease in value because of the inability to get parts or the fact that the company is no longer in business. The United States Motor Company, now considered the leading builders of automobiles in this country, has capacity to manufacture 35,000 cars for the 1912 season. The company has a capital of $42,500,000. It employs 14,500 men in 12 manufacturing plants throughout the country, with 27 branches and 1800 dealers to care for your car. Its guarantee, therefore, is worth something." It sounded wonderful, but by September of 1912, the United States Motor Company was in receivership.
Briscoe went on to build a car bearing his name and Maxwell survived with a move to Detroit. After concluding a deal in 1917 to build cars at the Chalmers plant and sell the Chalmers at Maxwell dealerships, according to FCA, Maxwell found itself with a backlog of cars and deeply in debt in 1920.
Equipped With an AcetylenePowered Starter System
Another reorganization placed Walter P. Chrysler in the chairman's seat in 1921 and by 1924, Maxwell was building Chryslers. The last Maxwell was produced in 1925, but the nightmare surrounding the failure of United States Motor Company was one reason that the feature car was part of a low-production year.
"I've seen sequential serial numbers that only went up to about 250," Darby said. "I found a Maxwell 40 registration and it was (about) 249 and mine's 19. They couldn't have made too many. And that included the 30 roadster and touring car, the 40 roadster and touring car and the 22, which was a different car."
Another reason, he continued, was that his car—like many others—was old-fashioned in a very important and practical sense.
"The difference was Cadillac came out with the electric starter in 1912," he said. "(The feature car) did not have electric headlights; it did not have an electric starter. It had an acetylene starter. It was a hand-crank car, you still had to get out and crank it and in 1913, that was archaic. Nobody wanted it."
The 1913 Handbook of Gasoline Automobiles lists the Model 40 and the Model 30 as each having a "selfstarter." Setting aside the question of how well it works compared to an electric starter such as the Cadillac's, it's certainly more complicated.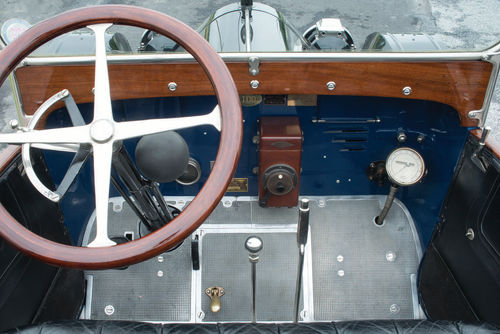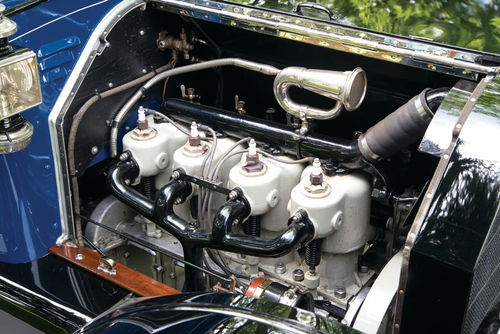 "I don't have it hooked up" Darby said. "This round dial on the dash to the left of the coil box and above the oil sight glass is connected to the acetylene tank that's under the chassis. It's plumbed into the intake manifold and so what you did was push the button and it'd put a shot of acetylene into the intake manifold. Whatever valve was open got acetylene into that cylinder and then the part I'm not really sure about, I think you had to have a crank. You had to crank it once in order to get that cylinder to close the valve and then you would push the button on the coil box, which was a buzz coil that ignited the (acetylene) as the spark plug would fire off."
What could possibly go wrong?
"The problem," Darby said, "is that it would also fire off inside the intake manifold and blow up the manifold."
While he admitted that he's actually considered making the system operable, he also pointed out that his car starts easily enough and he doesn't mind crank-starting it. In a sense, though, the physical challenge in starting a Maxwell like his is a minor point, as he said the chance of finding one isn't good. The story is about the same for a four-cylinder Brass Era Maxwell in general.
"Most of the people who have Maxwells are the one- and twocylinder guys," Darby explained, "so they're really the smaller cars. They're very popular in the one- and twocylinder world because they're highhorsepower cars. There's not a lot of the larger Maxwells."
It's Not Like Buying and Owning a Mustang
Like any unusual car of any era, the best approach to acquiring one is to become part of its world. A hobbyist who wants a Maxwell comparable to Darby's would be beyond lucky to stumble across an example that's for sale. With that in mind, he'd be best advised to connect with the large organizations such as the Horseless Carriage Club of America and the Antique Automobile Club of America as a starting point and later for information and expertise. Looking for a 1913 Model 30 might slightly improve the odds of success, but other than those few that are already on the road, one that becomes available is likely to be what could only be described as a project.
"There are some Maxwell 30s around," Darby said, "but they're all in pieces. It's a chassis and a block, a bunch of parts, that's really all you're going to get."
Most of the differences between the 30 and the 40 would probably have little real-world effect on the enjoyment factor. The 40 is a left-hand-drive car and the 30 is right-hand-drive. Each uses a threespeed transmission, but the 30's is a progressive design and the 40's is selective. The 40 rides on a 115-inch wheelbase, nine inches longer than that of the 30, but the larger car's engine produces 40 horsepower as compared to the smaller car's 30. That difference, of course, is an important one and it weighed heavily in Darby's buying the feature car in 2008.
"Really," he said, "the big reason I bought it is because it's a highhorsepower car. A 40-horsepower car is relatively big in this group. When I was going on the hills today, I just cruised right up them. I was doing it in third gear. I never downshifted. I could just open up the throttle and let it run and it would pull, and that's exactly what I wanted out of the car."
It was a good, running car in 2008, but it had problems and he was aware of them.
"It was in about as good shape as a running—probably a No. 3 or No. 4—car would be," Darby recalled. "It needed paint, but that didn't bother me and I knew that it had engine issues even when I bought it, but that didn't bother me either because I like doing engine work. I like doing the mechanical work."
He was at first prepared to live with the paint as it was and then changed his mind, so as long as the hood was disassembled to be painted, its hinge was re-nickeled. The rest of the nickel needed only minor attention.
"This is the same as when I got it," he said. "I buffed it. I didn't re-nickel it."
The engine, though, was a completely different matter and one that realistically couldn't be overlooked.
"The problem was that in order to build a camshaft for this," Darby explained, "it's a three-quarter-inch steel rod and then you pin the cam lobes on. What happened was one of the cam lobes came apart and the pin came out or it spun. It actually broke and spun, so someone tried to reinstall the cam and drilled it and pinned it in the wrong spot, so it was out of time.
"It ran fine on three cylinders and then the fourth one was 'boom.' I knew that going in, so I knew what I had to do and I like stuff like that. I like things that need to be repaired."
He also said that he likes T-heads, shortcomings and all.
"They're horribly inefficient," he said, "and they're one of the worstpolluting engines because they never successfully burn the charge completely. A terrible engine, but it was the way that you'd build an engine in 1909 and by 1913, that was very dated."
Since the Maxwell's T-head was designed without a water pump, Darby said that he added one after trailering the car back home to Stockton, New Jersey, following a 2012 tour in Colorado marking the HCCA's 75th anniversary. The tour, he said, provided all the convincing he needed.
"It was 105 degrees out there," he recalled. "This car doesn't have a water pump, it has thermosyphon and the one thing I wanted to do was put a water pump on it, which I did. The water pump that you see in there is not original. That's off of a '50s something. I found it at Hershey. I made it fit. It was the right size."
It was a modification that solved the overheating, but by eliminating another modification made by some previous owner, he improved the car for the type of touring on which he'd be driving it.
"I didn't do anything to the rear," Darby said. "I changed the tire size and put the correct tire size on it. It had larger tires, a little bit taller and a little bit wider, and I put the originalsize tires on so that way, I was actually changing the ratio in the rear. It made a lower ratio for the rear end because I used a smaller tire diameter, which makes all the difference when you're up here in the hills.
"An inch, that makes a big difference. Now, the guys in California and in the Midwest, they want the taller tires because they have long runs. They have prairies. It's all flat, but when you get into the hills, you really want the low ratio. And it did quite well today, it just takes off."
A True Driver
The Maxwell hasn't covered many miles for him yet because he has other Brass Era cars.
"I drove it in Colorado for that one tour," he said, "and pretty much after I got it back, I took it apart. So I really haven't driven it a lot. I've driven it in Oklahoma for quite a few miles and then came here. This is really the second outing for the car."
That's already enough, though, to show him that the Maxwell meets his expectations.
"I expected it to be a good driver," he said. "I expected it also to handle the roads and to make the turns easily with the tall tires because it's got 36x4 wheels and tires. With that large diameter, you roll over the potholes. You roll over the bumps more easily and the rolling resistance is less."
Add that to its other pluses and it's not difficult to see that the Maxwell was the right car for him.
"It's definitely a keeper," Darby said. "All of my other cars are roadsters, so I really want a car that I can take other people in. And I don't feel like doing this to another car again. It's not going anywhere."