Can I have better brakes and keep an authentic appearance?
Question:
I have a restored 1957 Chevrolet 210 four-door and I want to keep it as original-appearing as possible, but the brakes are really marginal in today's traffic. People have suggested one of those kits to convert the car to disc brakes, but I don't want a big vacuum reservoir and dual bore master cylinder up on the firewall where everyone can see them, and I don't want to change the wheels to accommodate the disc brakes. Is there anything I can do to make the car stop a little better without spoiling its authentic look?
Answer:
It is true that those big vacuum chambers and all the plumbing that goes with a modern dual bore master cylinder and proportioning valve do look out of place on a tri-five Chevrolet, but they make a big difference in the stopping power of the car because they help to eliminate brake fade, and, in the event of a leak, total brake loss. Also, kits are available that allow you to keep your original wheels, and you can buy stock-looking wheels from Wheelsmith to accommodate disc brakes.
You can reduce your braking effort by rounding up the parts for an original, correct power brake setup and installing it, but it won't give you any more stopping power, nor will it prevent brake fade if you ride the brakes down a long incline and heat them up. Installing sintered metallic brake linings will help reduce brake fade, and they will last longer than the standard ones if you can find a set of them.
Another thing you can do is see that everything in the car's braking system is in top shape by making sure the master and wheel cylinders are fresh and leak-free, and by changing out the brake fluid, which should be done at least every two years anyway, though few people do it. You should also make sure the brake linings are not badly worn, contaminated with grease, or burned and glazed. If the linings are still good, you can scuff them up with sandpaper to break the glazing and get them to bite a little better.
If you are still not happy, you may be able to find a set of backing plates, wheel cylinders, linings and drums from a heavier car from the same manufacturer of the same period and install them. That is what hot rodders did in the old days before disc brake kits. I don't know the specifics, but brake backing plates and shoes from a Buick, Oldsmobile or Pontiac may bolt right on, or fit with a little adaptation.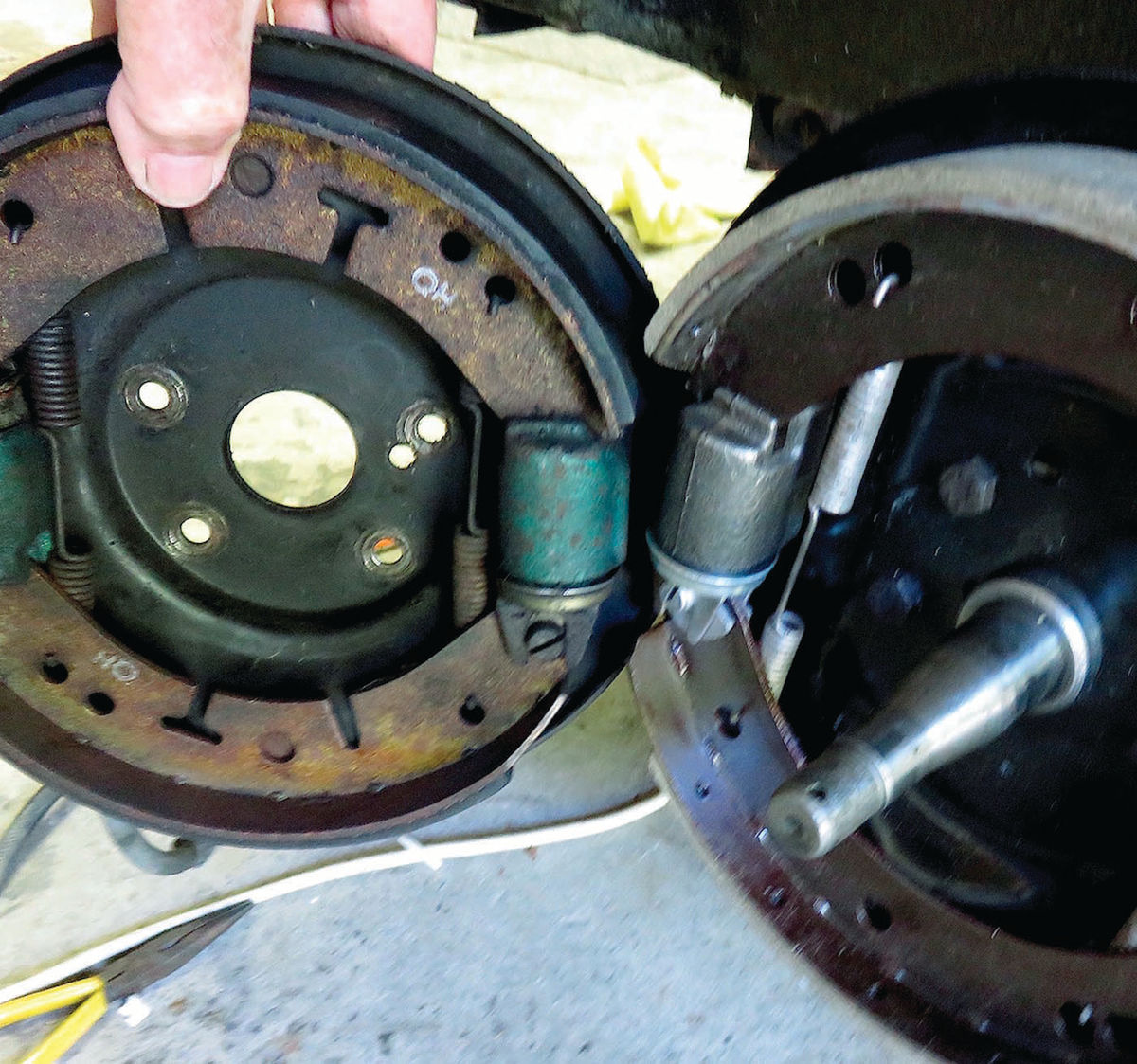 Big Buick finned drums and backing plates were popular with the old school hot rodders because they would bolt on, and they didn't fade as easily. These additions will increase the braking surface, and will have the same bolt pattern as your wheels, but will make your stopping power significantly better. And they will not be obvious on the judging field in a show.
Bigger brake drums don't help in the event of total hydraulic failure with a single-bore master cylinder though, but that is a rare occurrence if the system is maintained properly. Also, later dual-bore master cylinders from '60s Chevrolets are easy to fit, and won't look too intrusive sans the vacuum canister and proportioning valve.
But also keep in mind that no classic should be driven like a modern car anyway. They were not designed for it, and you risk an accident if you try fierce braking or following too closely on the freeway.
Below are two contacts you may find helpful. Eckler's will have everything you need to outfit your Chevy almost any way you want, and can provide expertise on how to install it.
Parts:
Eckler's Classic Chevy 5200 S. Washington Ave. Titusville, FL 32780 classicchevy.com
For stock-looking wheels, try:
Wheelsmith 1601 W. Commerce St. Corona,CA 92880 Orders: Tech: thewheelsmith.net