Racing Uphill at the LEADFOOT FESTIVAL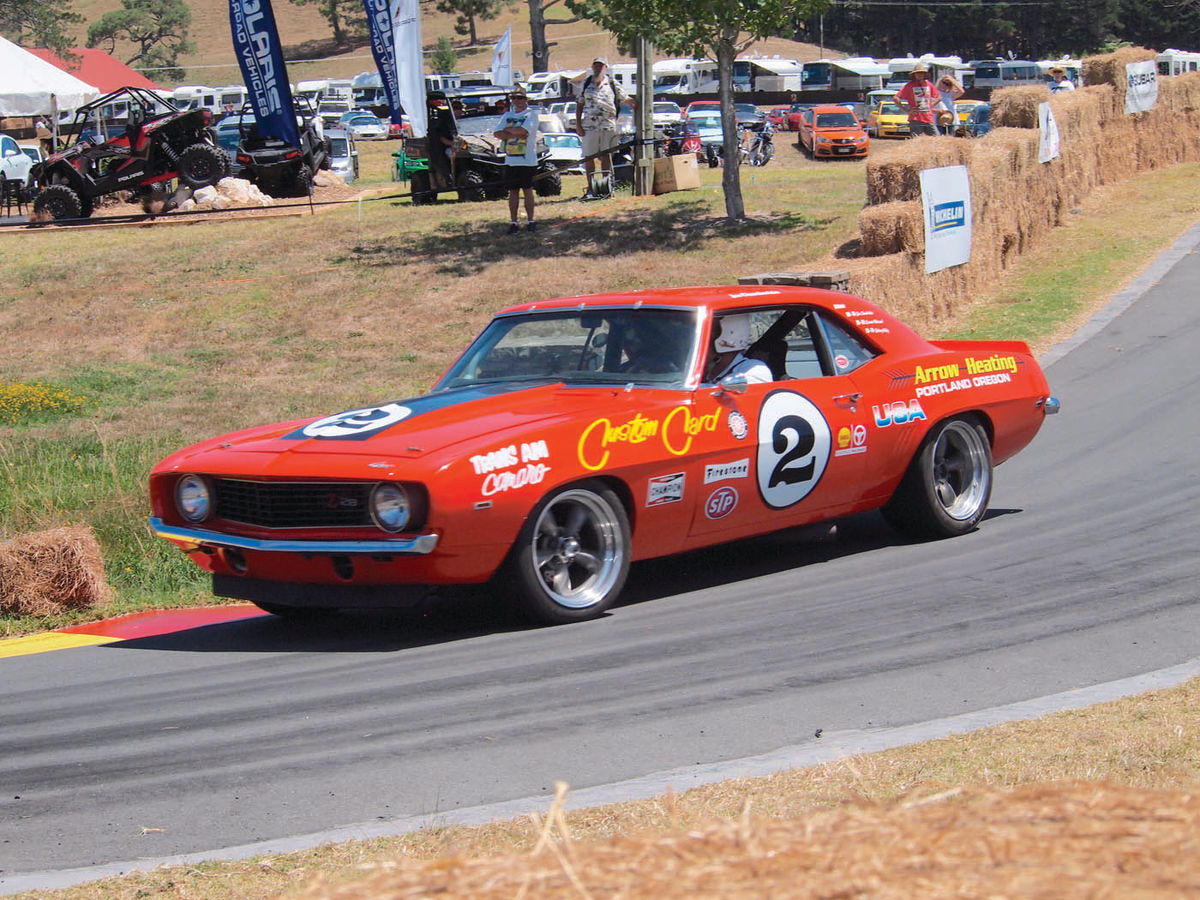 This Annual New Zealand Hill Climb Draws Participants From Around the World, Including Numerous Century-Old Race Cars.
What started a few years ago as an afternoon of goofing around for rally champion Rod Millen and some friends has grown into an annual destination for racing fans and car buffs from around the world. Called the Leadfoot Festival, it's held on Millen's farm on New Zealand's Coromandel Peninsula. Millen has semi-retired here after his championship racing career that included a record-setting run at the 1994 Pike's Peak International Hill Climb in an 850-horsepower Toyota Celica.
The Leadfoot meet actually got its start when Millen and a group of friends in New Zealand's racing and motorhead fraternity started getting together to see who could set the best time up Millen's mile-long "driveway." That trip includes twisting through woods, over hills, and up a steep switchback to his house at the top overlooking the Pacific Ocean.
Car buffs soon came out of the local garages to stand around in the paddocks and watch well-known racecars and drivers take a shot at Millen's uncommon driveway. Among them at this year's sixth hill climb was American racing champion Al Unser, Jr., also known as Little Al, though he is by no means little. He got that moniker by winning sprint car races at age eleven when his father Al senior was cleaning up at Indy. This year at the Leadfoot junior drove a beautiful 1915 Stutz Indianapolis racer that lapped Indy at 98 miles per hour when it was a brand-new vehicle a little over a century ago.
It Evolved Into an Organized Event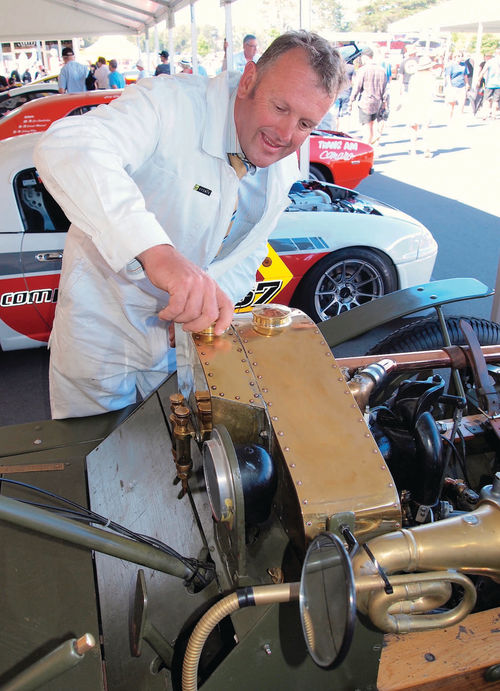 The event started as—and to an extent still is—a very eclectic gathering, but now big names, such as Little Al, and priceless rally and racecars from every period show up by invitation only. I attend partly because New Zealand is a great place to be during the northern hemisphere's winter, but especially because you see cars there that you see nowhere else.
Six years ago Millen, being the astute fellow he is, saw that he and his wife could turn an afternoon of beer, barbecue and bravado into a moneymaking endeavor. So he has set up excellent facilities and invited vendors, sponsors and spectators to enjoy the southern summer event.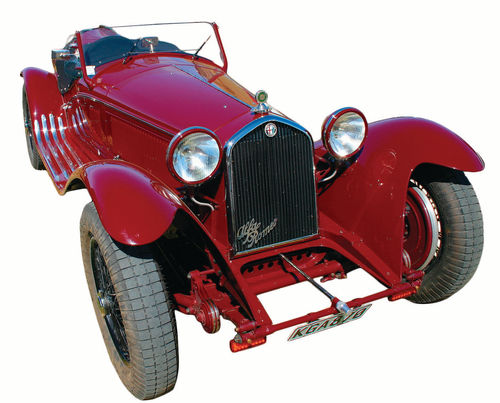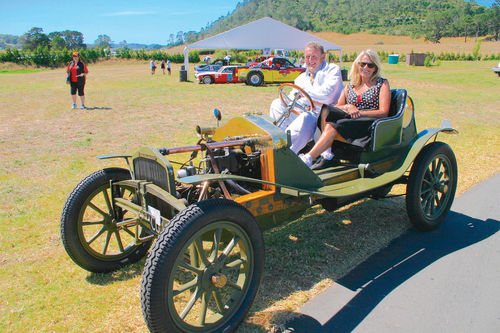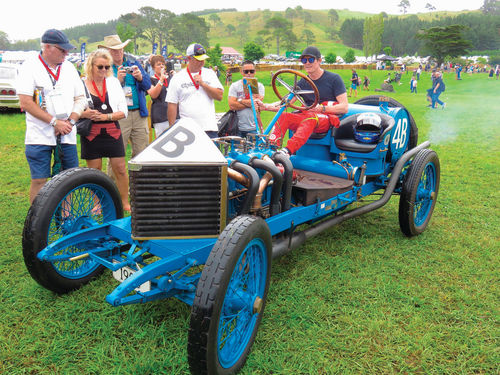 Many young upand-comers as well as seasoned drivers from New Zealand, Australia and the U.S. show up and throw around their race-tuned Audis, Peugeots, Subarus and Bimmers. But what makes the event special for vintage car buffs is the number and variety of older race cars, classics and modifieds that come out as well.
What's Under That Chevy's Hood?
This year a 1938 Chevrolet Coupe with a Ford Y block engine, and an unrestored beat-up '41 Willys Coupe with a Chevy 283 small-block for power took to the hill with dispatch. There also was a beautifully restored 1936 Ford five-window with a later, blown 89A Ford Flathead in it. And there was a beautiful mid-'30s Riley special sporting a De Havilland Tiger Moth inline sixcylinder aircraft engine laid on its side and mounted front to back. The exhaust ran out the top of the hood and was sculpted around and down in a very interesting fashion.
Still On the Track After 111 Years
Rod Millen even brought out his 1906 Darracq that he purchased from fellow Kiwi Wallace McNair who had restored it. It is the only car to survive from the very first French Grand Prix at Le Mans held when the Darracq was a new car. It didn't win, but it did go on to victory in the Vanderbilt Cup race in New York the next year, driven by Louis Wagner and averaging 65 miles an hour on dirt roads over hill and dale. It was later to become Sir Malcolm Campbell's first Blue Bird thanks to its French racing blue paint job.
This Darracq was actually small and light for its day. At the time the British magazine AUTOMOBILE said: "The little car, with its fragile wire wheels and peculiar-shaped radiator looked anything but a match for the huge juggernauts that had gone before it." The "little" Darracq had one of the smaller engines too…a four-cylinder, displacing a paltry 908 cubic inches and putting out 100 horsepower.
Sometime during or shortly after World War I the car was sold to a New Zealander serving overseas who wanted the engine out of it for a speedboat. The fellow shipped the car home, but the boat never got built. Instead the motor was pulled out and adapted to run a backup generator at a printing plant in Christchurch.
Almost a century went by before McNair—a well-known restorer of Sunbeam racecars—discovered it and began looking for the rest of the car. He was able to locate much of it in New Zealand, and recreate and import the rest.
A Legendary Stutz Takes the Hill
And as if that weren't spectacular enough, the star of this year's show was the previously mentioned 1915 Stutz. It came in third at Indianapolis that year, and won the 300-mile Astor Cup race as well. Then in 1919 it came in second at Indy, which was quite a feat.
Stutz was by that time known as "The car that made good in a day" because the first Stutz racer built for the Indy 500 in 1911 came in eleventh that year. You might say "So what" but not when you find out that the car was designed and built in just five months and was shipped to the race untested. Also remember that in those days, Indy was an endurance race, and many competitors didn't even finish. And keep in mind that the little Stutz was up against thundering mighty Mercedes' and Marmons. Eleventh was enough to establish Stutz' performance reputation. And by 1915 three Stutz racers, including the one at the Leadfoot, qualified at 98 miles per hour plus.
Seeing and hearing the staccato bark of this restored survivor on loan from the Southward Museum near Wellington was a thrill with its 296-cubic-inch fourcylinder T-head four-valve-per-cylinder engine at full song. But the cherry on the top that really made the occasion special was that the car was piloted by none other than the above-mentioned Little Al, two-time Indy winner and sixtime winner of the Long Beach Grand Prix. Little Al drove the Leadfoot with a perpetual grin, and stated to all that he was having the time of his life.
Old Yeller Unleashed
Hard on the heels of this singularly special run came another iconic American racecar, one that's especially memorable if you grew up in Southern California in the '50s (as I did).
This was a special built by a fellow named Max Bankowsky and his wife Ina, and dubbed Old Yeller II. Old Yeller is the perfect moniker for this do-ityourself racer because it is a real junkyard dog of a machine, and Bankowsky built a couple of them over the years.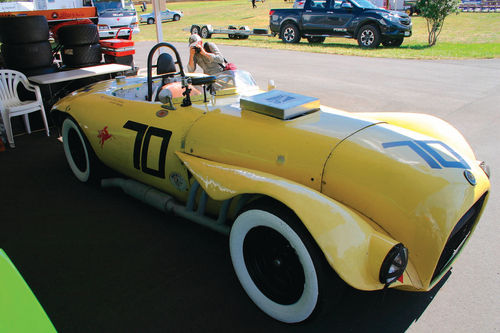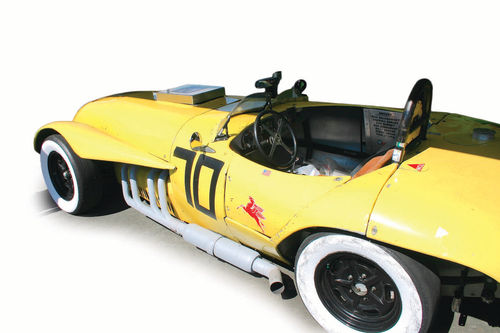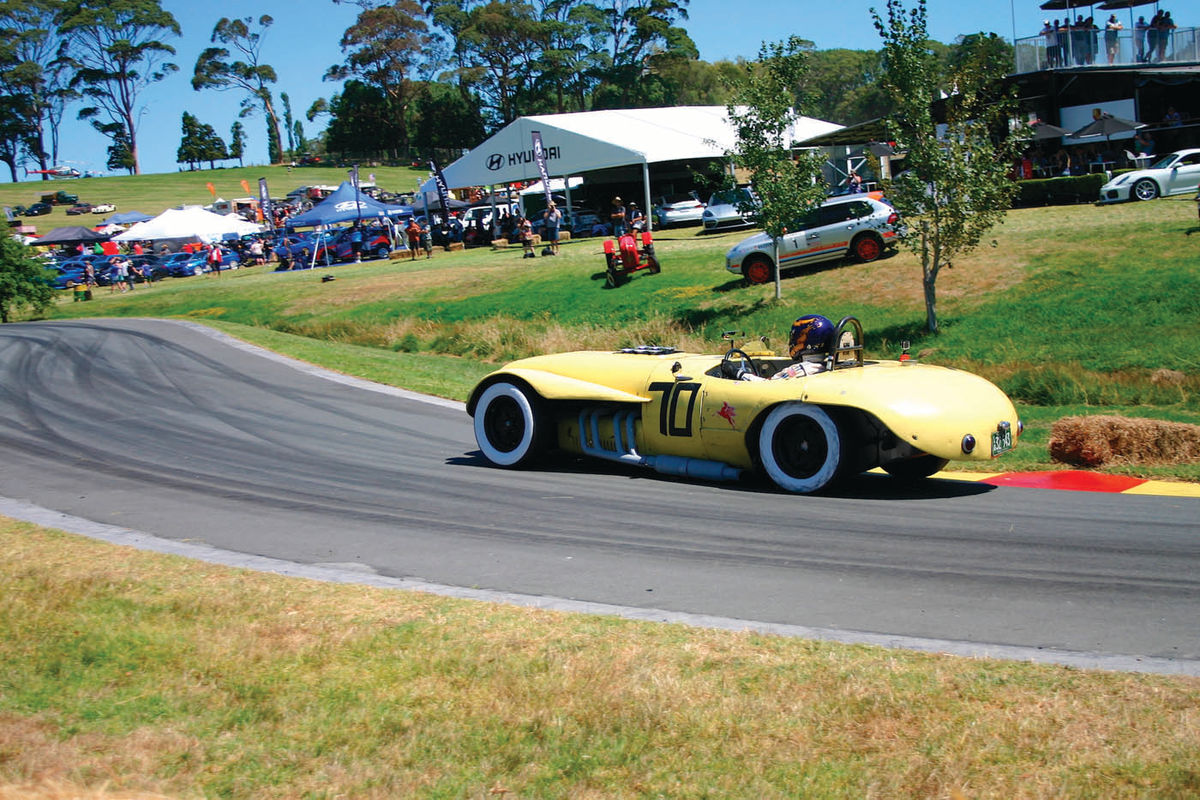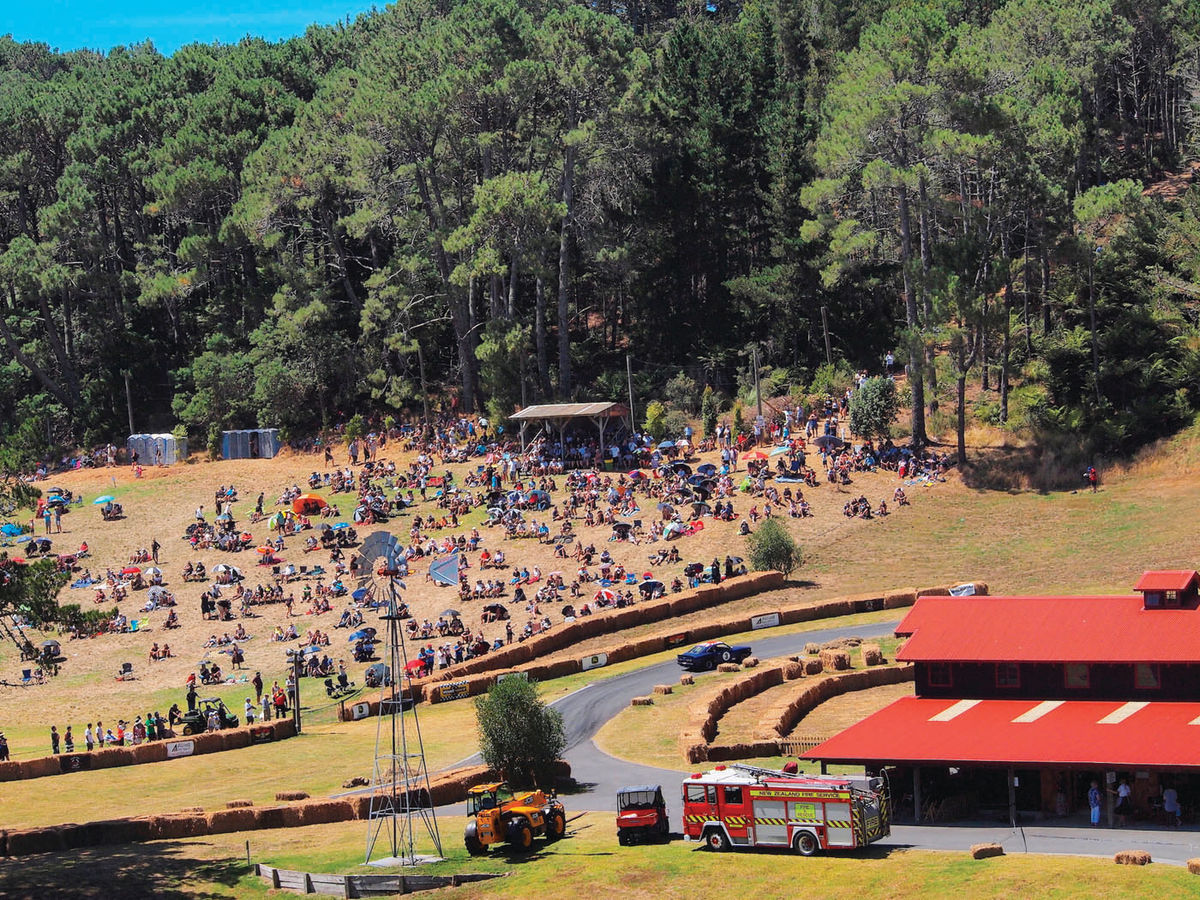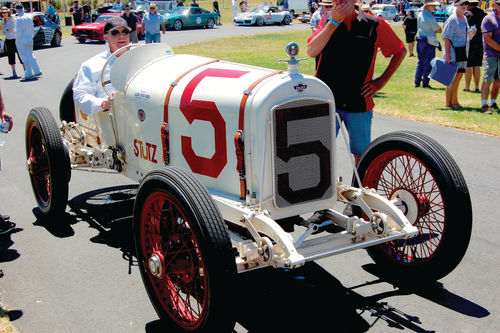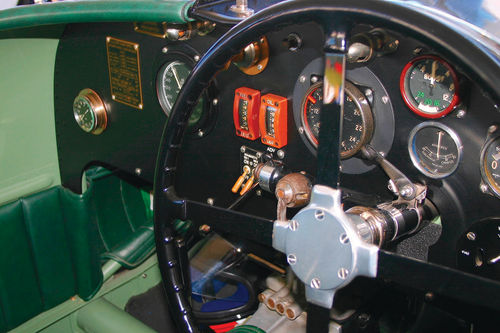 For his second one, he chalked the outlines of its tubular chassis on his shop floor and then Ina started welding the tubing together while he hit the junkyards for additional parts. What makes the car so potent is its 401-cubic-inch Buick nail head engine. That was coupled to a Jaguar transmission and a Studebaker rear end. The body, which is ill-fitted and lumpy as a result of being pounded out of old Coca-Cola signs, along with its funky whitewall street tires, makes it look like a real do-ityourself backyard special.
But what a backyard special it is. When it debuted in 1959 it promptly rubbed the European racers' noses in it. Old Yeller thundered past factory-prepared Ferraris and Mercedes 300 SLs, Maseratis and Jaguars, and ruined the party for the "tea baggers" as the owners and racers of such high-end British and European cars were known at the time.
Old Yeller II was a barroom brawler running street tires when everybody else was sporting expensive Dunlops and Pirellis. But Bankowsky didn't want to spend the money for such frippery, so in order to get tires that were wide enough for the job he had to liberate them from old Packards and Cadillacs, hence the whitewalls. It was a common hot rodder's trick in the day too.
Driven By a Long-Time Fan
Old Yeller II is presently owned and raced by Ernie Nagamatzu, a retired dentist who hung around Max and Ina's Hollywood Motors shop as a kid and became good friends with the Bankowskys. Nagamatzu acquired the car after it had been campaigned by the likes of Carroll Shelby, Dan Gurney, Bob Bondurant and others, and has been racing it ever since at places like Laguna Seca and Goodwood in England as well as the Leadfoot Festival here in New Zealand.
We can be thankful that Dr. Nagamatzu has kept the car on the track for all to see. I remember in the early 1960s at Riverside when everyone stood reverently as Old Yeller II thundered by because it showed that Yankee ingenuity could beat the best Europe had to offer. Old Yeller II and Dr. Nagamatzu took their class this year too, over 50 years later.
A Remarkable French Racer
Another amazing early vehicle was the French 1907 Sizaire et Naudin cover car. (It was named for the founders of the manufacturing company, brothers Maurice and Georges Sizaire along with Louis Naudin.)
This was very likely the first car to have independent front suspension, and was also equipped with a three-speed transaxle and variable valve timing too. This little racer proves just how far ahead the French were before World War I. It was equipped with a 1460cc single-cylinder engine with a long stroke and a bore big enough to require two spark plugs for an even burn.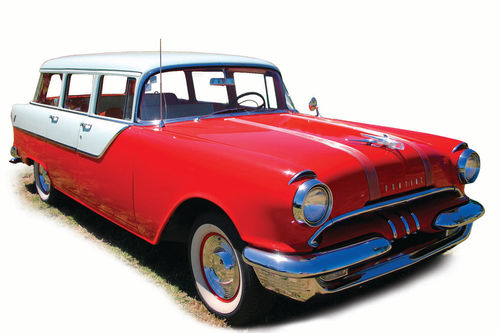 A Kiwi named R.O. Dixon purchased the car new in 1907. It was then raced in the pre-World War I years in New Zealand, and then disassembled for other purposes. By 1950 its engine had been put into a 130-year-old Mauri trading canoe, and its hood expropriated for a doghouse. Then a fellow named Bob Turnbull tracked down the pieces and restored the car, completing the process in 1965.
The ancient machine, now piloted by Allan Dippie, came by at Leadfoot chugging a thin blue line of smoke as it went, but it was surprisingly fast with its three-speed transaxle consisting of one pinion and three ring gears, with the pinion moving in or out to change speeds.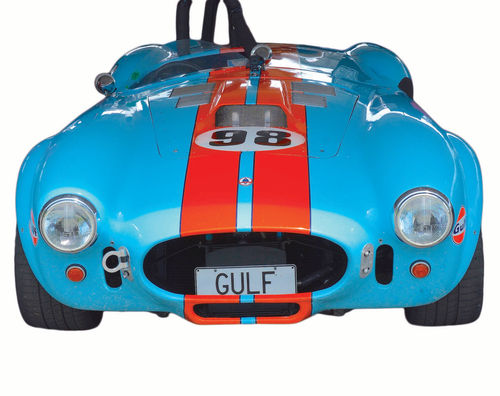 Wait 'Til Next Year
There is only space to talk about a few of the cars that show up for this event, including swoopy vintage Lagonda V12s plus every sort of British sports car from all eras, and offroad and hill-climb specials, so I concentrated on the most historically significant. But just about every kind of classic and collectible can be seen in action during this two-day event held here in one of the most naturally beautiful spots in the world. The area rivals Big Sur in California, but is not as exclusive or expensive.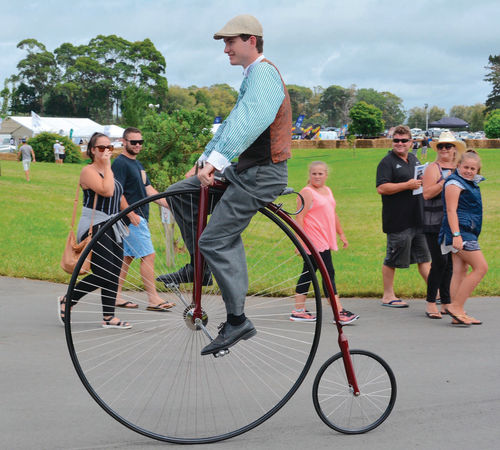 We drank in the sounds and smells of the day, scarfing American hot dogs and sodas as we watched, and I was left nursing a sunburn to prove it. I am also considering the purchase of a hearing aid after listening to those monstrous American V-8s, thundering antiques and screaming highly stressed turbocharged Japanese engines as they powered the parade of magnificent machines up Millen's hill.
Now if you will excuse me, I need to try to finagle a press pass for next year's event.