Auto Restorer Readers Talk About Their Personal Car of the Year and the Importance of Driving Vintage Vehicles…and One Tells Us of a Time When He Encountered Queen Elizabeth on a Regular Basis.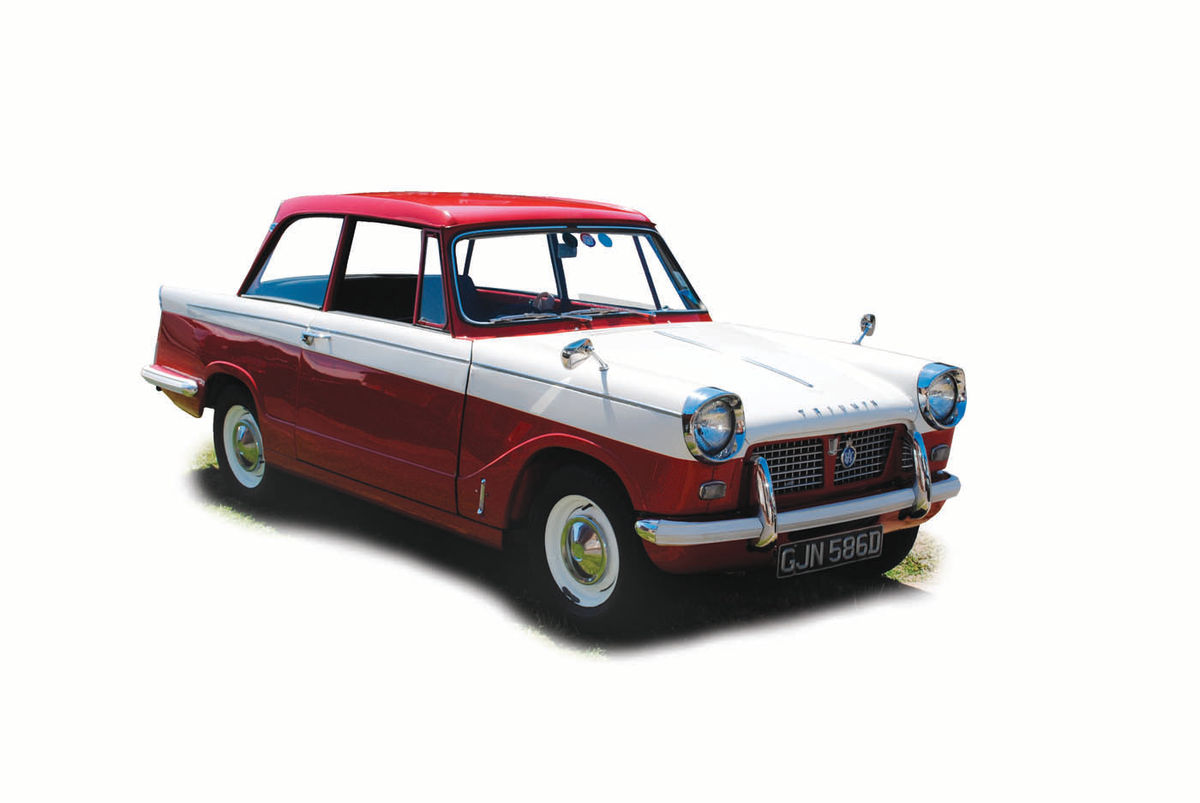 Let's Drive Our Vehicles and Work to Keep the Hobby Alive
Editor's note: In the June Letters section a reader described what he called a "disturbing" trend among younger people…they drive vintage cars on salty roads. That led to reader responses in the November and March issues and the debate continues here:
Ted, In your last issue you asked if anyone wished to join the debate about whether we should drive our old cars...whether it be during winters on salty roads and during rain events or just during the good season. I wish to opine, if possible...
Let me share a couple stories of real, honest-to-goodness Car Guys (cap letters on these guys) from my life.
The first is an early retiree who recently sold me some spare car parts not needed (hopefully) for his pristine '64 GTO convertible. He restored this 41,000-mile beauty some 36 years ago and has only driven it an average of 400 miles per year since then! That's right, only 12,000 miles since he was a young man in his early 30s. He appears to have great fears of rain and other drivers and excessive mileage. He has not gotten to experience the exhilaration of what a GTO can do not only for one's self, but for others who see and hear it!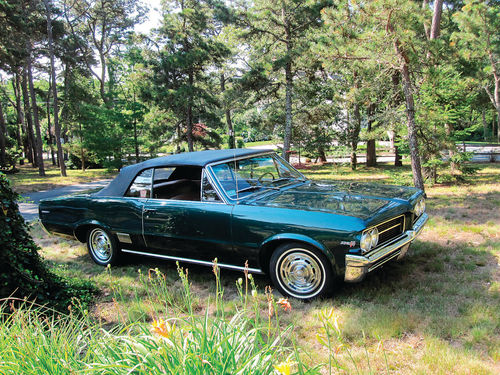 Another older car guy friend is about the same age, though not retired and has several older cars but has had his same car for about 40 years, a late '30s Ford from his days in high school. He, unlike the last guy, drives it EVERYWHERE during the non-salt season and has well over 300,000 of personal miles on his ride all over the east coast to shows and friends every summer season.
The third person is my uncle, a fully certified car nut who came of age hotrodding in the '50s. Both before and after retirement he would most often be found in his garage rather than out on the road. Many afternoons you could catch him sitting on a chair, drinking a beer and listening to his 8-track '50s music while he gazed upon his recently waxed '40 Ford Deluxe mild hot-rod…all the time with a huge grin on his face, and not from the beer!
My uncle, unfortunately, found a small lump on his knee last year, was mis-diagnosed and passed on nine months later from sarcoma, an extremely aggressive tumor.
Now, all three of these fine men were/are certified car guys if not car nuts. But I can truly say that only one of them has gotten to enjoy his ride to the fullest.
I write today for two reasons: One, to make sure that we realize that as we get older, as we retire, we need to be fully realistic about how short life actually is. We might all make the average age of 85, but many, like my 6' 4" uncle, unfortunately will not. You need to enjoy your car the way it was meant to be enjoyed: on the road, not in some heated, dust-free garage under fluorescent lights.
Move forward FAST, rain or no! (Just refrain from salty roads if you can.) Let's resolve to move along the roadways until we can do so no more. Let's look less upon our classic cars as "investments" than as a piece of automotive history to be shared. If you want an investment, look to stocks. You want fun, look to classic cars!
Which brings me to the second reason that I write today. It is no secret that our hobby has aged. Old car guys are just that...getting older each year.
In order for that '40 Ford or '64 GTO to remain on this earth as someone's prized possession, there MUST be younger ones behind us to not only care FOR them, but to care ABOUT them. We need to have the cars out to shows, on the roads, all season or good weather off-season to spread our hobby among the teens and 20-somethings.
In these days of Ubers and self-driving cars, we need to do what we can to "seed" the next generation of Car Nuts, and the only way to do this is to DRIVE our vehicles and SHOW them and to always ENJOY them!
Remember, we are only the caretakers for these fine machines. Without a new generation of Nuts, we will have accomplished nothing more than delayed their demise in junk and scrap metal yards. Let's NOT let that be the fate of either our Hobby or our fine classic cars!
Now, Take a kid out for a FAST ride in that old car of yours and watch the grin on his face for the sign of a "future Car Guy." It might even put a grin on your own face!
Thank you, Ted. I don't know if it is worthy to print such stuff...but I hope so. The hobby is getting older. I have noticed a trend around here in New England of rich car guy/collectors opening museums for their collections to protect them for the future. That's not how they should be protected or enjoyed. But perhaps these guys with lots of cash just don't have lots of kids or nephews or nieces.
In any event, thank you for still publishing the best classic car magazine in America: Auto Restorer. I have subscribed since my thengirlfriend got me a subscription in 1997 when I first bought my rust-bucket '64 Le Mans Convertible. I have every single issue cataloged for reference and have gone back to them many times over my 19 years of ownership.
And YES, my car is still a Le Mans, not a GTO, and to boot, the original owner picked a rare '64 Chevelle color at the Framingham, Massachusetts, plant and had it painted Bahama Green! It's one rare Le Mans!
Thank you again...
Steve Masse Lowell, Massachusetts
That's Steve's Bahama Green Le Mans on the opposite page.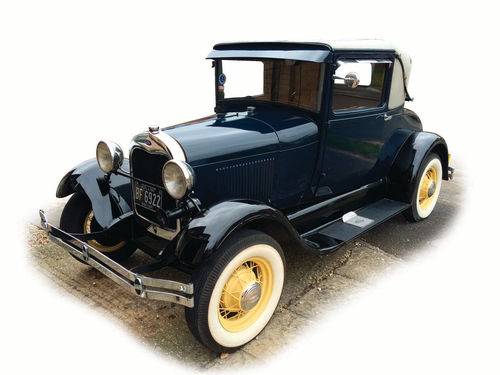 Memories of England's Queen Elizabeth Behind the Wheel
Hi Ted… I'm a UK subscriber and really enjoy the magazine. The December article on the Queen's birthday brought back memories ("Happy 90th Birthday to Her Majesty, the Mechanic").
I used to work in Windsor and park my car near the back gate of Windsor Castle. On my way back from lunch I would regularly see the Queen drive herself out of the gate pursued by her no doubt annoyed police escort, and yes if you waved she would wave back.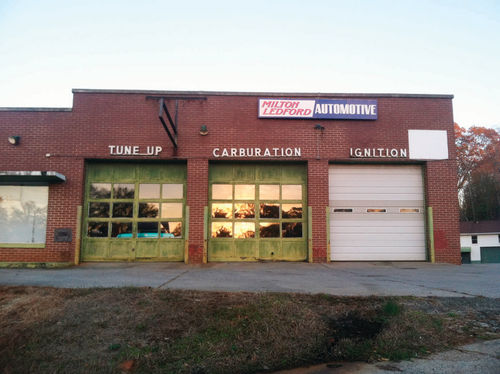 I'm not fond of the wheels that came with it when I bought it and I'm actively looking for a set of OEM wheels from your side of the pond. I contribute to the hobby by providing podcast/Internet interviews around the UK Classic Car scene for a small radio station in Atlanta. I've also been interviewed for The Muscle Car Place podcast as I'm a bit of a Henry Ford buff!
Kevin Flood Reading Berkshire UK
Kevin's Model A and Triumph can be seen on this page.
One Retro-Looking Service Station
Ted… After reading your October column on service stations of the past, I'm thinking you'll get a kick out of the photo of this establishment. One just doesn't see the terms posted on this shop used much in today's automotive market.
The shop is in Marietta, Georgia, and is open for business although I've not patronized them so I can't tell you their history. The building sits on a hill at an intersection and I just happened to notice the signage one day while waiting for a stoplight.
Eddie Lewis Metro Atlanta
The shop advertising tune up, carburetion and ignition service can be seen on the previous page.
Here's My Car of the Year…
Another Editor's note: In my January Rearview Mirror column I noted that in these days of multiple car and truck of the year awards, everyone's favorite ride is the true award-winner. As it turns out, a number of readers agree with me.
Hi Ted… In the summer of 1981 I was driving a truck making a delivery at Lankford Buick in Norristown, Pennsylvania. As I pulled into the lot, I spotted a Firethorn '76 Chevy Laguna S-3 on the end of a row. It had nonfactory stripes, rallys with whitewalls, and I couldn't take my eyes off of it.
After completing my delivery, I found a salesman to get the keys. I left a $25 deposit to hold the car until that evening, and I returned to the dealership after work to drive it.
I then left another $750 to seal the deal since I had known from the second I saw it that I would own it.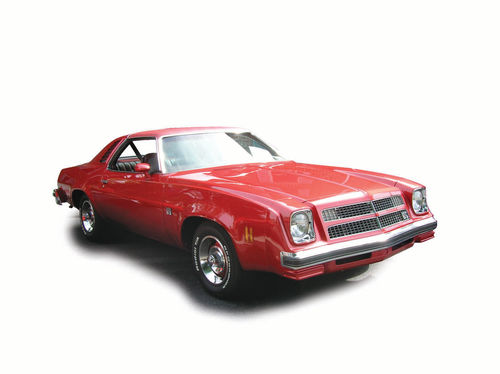 On July 14, 1981, it became mine. Despite having owned more than 70 cars over the years (and counting), this is my favorite one. The car was repainted once in 1993. It has the original 350 V-8 with a 2-bbl. carb and the engine is untouched internally except for a new timing chain and gears. It has swivel buckets, but a column shifter.
I did not buy the Laguna nor have I kept it, expecting the value to skyrocket. I still own it because I love looking at it and driving it. It truly is my "Car of the Year". No, make that the "Car of My Life".
Clark Pyewell Nottingham, Pennsylvania
That's Clark's Chevy Laguna at the bottom of this page.
Thanks Ted, I knew I had a winner, and you just confirmed it (actually you nailed it). I think meeting your criteria for Car of the Year is the best and only standard. Now I'm headed out to my garage and my Ranchero.
Don Stiver Forest City, North Carolina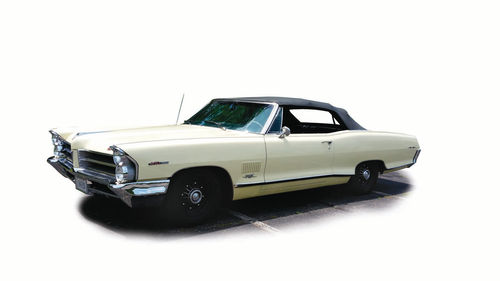 Don's 1966 Ford Ranchero can be seen on the Letters pages of the February issue.
I am working on a 1998 Chrysler Concorde with the 3.2-liter V-6. While not a collectible and not a vintage that Auto Restorer would normally cover, it is my "Car of the Year" as defined by Ted Kade in his January Rearview Mirror column.
Ed Colaianni Westchester, Illinois
That Cover Car Looks Like Mine
After seeing the cover of the April 2016 issue, I just felt compelled to send you a few pictures of my two cars.
The first is the 1965 Pontiac 2+2 convertible that my father bought new in 1965. (He ordered it just the way it stands.) It is identical to the April cover car, and seeing that photo made me do a double take.
The Pontiac has been in our family ever since my father brought it home. One thing that is different is the tires; the cover car has whitewalls while mine has black walls, 8.55s from the factory. It does have the 421 H.O. engine with TriPower, power brakes, no power steering and single-speed wipers.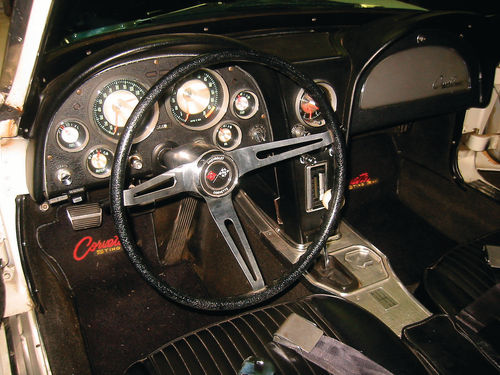 I did have it at a Pontiac Nationals show and other owners of the 2+2s thought it was really rare to have these few options with no power steering. Well, my father and mother were both quite short and my dad was told that this would be a handful of a car for them to handle and he should think about power steering. My dad's comment was "how much horsepower does the power steering take?" to which the dealer stated "7 to 8 horsepower."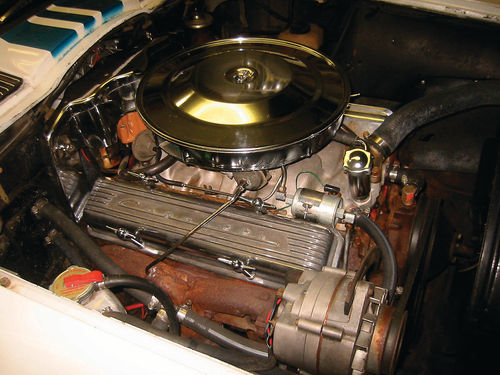 My dad said "#@#$ the power steering" and that's how it was ordered. I was there for the whole deal.
The second car was a graduation present from my father in 1963…a '63 Corvette split window coupe, 340 hp (which I still have).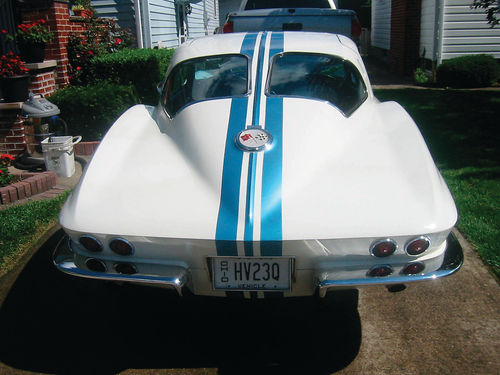 A story that I'd like to share is I raced my father one Sunday morning. At that time he drove a 1962 Bonneville convertible 389 with Tri-Power. I did the number on him with my Corvette and he ordered the 2+2 on Thursday of the same week.
I just thought you'd like to hear the story of my two favorite cars that I hope will stay in the family long after I'm gone.
Keep up the good work; I really enjoy the articles and the magazine.
Larry Schrader Lancaster, Ohio
Larry's Pontiac and Corvette can be seen on this page.