1928 Whippet Model 96 Cabriolet Coupe: Feature Restoration
If You Want an Uncommon Pre-War Car, Patience Is Valuable. You Need It While Searching for the Right Vehicle and For Parts Searches Afterward.
Asking a car's owner to call when he's ready to sell isn't always as naively futile as it sounds…even if the phone doesn't ring for a long, long time.
"My next-door neighbor's son came to me one day and said 'are you interested in a Whippet?' said Richie Demberg, owner of the featured car. 'My father's friend has a coupe that he wants to sell.'
"I said, 'I don't even know what it looks like. I'll have to go and see it.'"
Demberg was already in the hobby then and so he knew that it was worth the trip from his home in Westtown, New York, to Chicopee, Massachusetts, to see the Whippet for himself. When he got there, he found a green coupe with black fenders, liked it and made the deal. But that wasn't the end of it because the coupe wasn't the only Whippet there. Tucked into a corner of the garage was a cabriolet coupe.
"I said 'what are you going to do with that one?'" Demberg recalled. "He said 'oh, I'm going to restore it someday.' I said 'If you ever decide to sell it, give me the first call.'
"It had to be, I think, 15 years later, maybe 20, that I got a phone call and he said 'I'm selling everything. If you want it, you've got first crack.'
"I remembered the car, but I told him: 'I've got to go back and look at it. Fifteen years later, I don't know what it is.' I went back there where it sat in the corner of the garage where I'd seen it 15 years earlier and so I bought it. He gave me a whole bunch of parts with it."
The seller had kept his word about making the call at least in part because knowing he couldn't restore it himself, he wanted the cabriolet to go to a good home. Demberg had proven that he qualified by asking for the call in the first place and showing that he liked Whippets as much as the seller liked them. That level of interest isn't difficult to understand. Whippet had a short life, being built from 1926 through 1931, but thanks to its place in John North Willys' empire, its family history goes much further.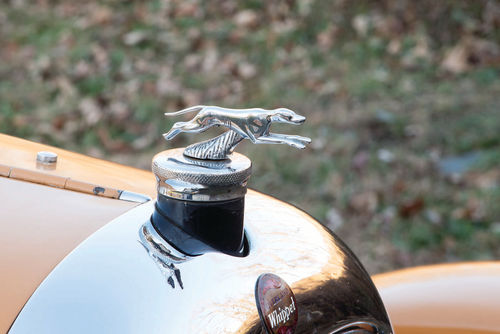 Before the Whippet, There Was Overland…
Overland was established in 1903 as a division of Standard Wheel and built a handful of single-cylinder runabouts that year. It expanded with twins in 1904 and the next year brought out a second, larger twin as well as a four. But Overland was spun off from Standard Wheel in 1906 and had the good fortune to make a connection with Willys. As a new car dealer, Willys showed supreme confidence in Overland by agreeing to take all of its production. Granted, that amounted to only 47 cars in 1906, but the deal led to a major order for 1907 and a solid deposit. Overland seemed headed for great things and it might have gotten there if not for the 1907 panic which stopped the company dead in its tracks.
John Willys solved the problem (and protected the $10,000 deposit he had made) by taking control of Overland and turning it around. The recovery was impressive, as Willys was able to move production from Indianapolis to what had been the Pope-Toledo factory in Toledo in 1909. The company was now Willys-Overland and soon rose to second place in the industry behind Ford. But in what was almost a repeat of the earlier financial problems, Willys' company found itself hit hard by the recession following World War I.
Willys-Overland recovered and for 1923 changed the Overland's focus from its effort to compete with the Model T Ford by the addition of a slightly upscale model, the Overland Red Bird, calling it "America's first lowpriced English-type car." It was a nice deal for a car costing $750 or an easily affordable $10,535 in today's dollars.
That Willys had gambled correctly was proven by not only his company's turnaround, but also by the addition of a six-cylinder model for 1925. The Overland Six would be promoted as "a car for men—fast, powerful, substantial. A car for women—beautiful, richly appointed, easy to handle."
In spite of all that, Overland's end was approaching. Although it would reappear for a single year in 1939, the Overland was phased out in 1926 and the Whippet was phased in. The move wasn't the eggs-in-one-basket risk that it might seem, as the company's top line, the Willys-Knight, was unaffected.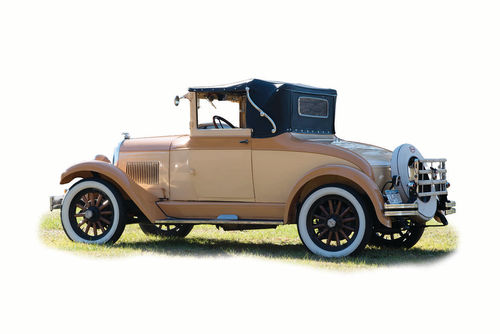 An Early Entry In the Small-Car Market
The new Whippet was small—its wheelbase was one-quarter-inch longer than that of the 100-inch Model T— and its 134-cubic-inch four produced 30 horsepower while Model T's was good for 20 horsepower from 177 cubic inches. An early ad touted the benefits of being small by boasting that "today—for American women a new kind of motor car delightfully easy to drive, easy to park…different from anything you've ever known before."
That same ad noted selling points that would appeal to nearly any driver. "Just a little pressure with your foot," it promised, "and big, sturdy four-wheel brakes stop this car in a fraction of a second…14-foot curb space is all that's necessary (for parking), which is much less than the space required for the conventional type of car. The Whippet will do 55 miles an hour…no light car ever hugged the road like this before… stopwatch tests show that it accelerates up to 40 miles an hour 18 percent faster than other light four-cylinder cars…30 miles on a gallon of gasoline…over 1000 miles on a gallon of oil." It didn't hurt that the Whippet was a buy at prices from just $645—$8898 today.
The company's strategy worked, resulting in 110,000 sales during the first year of Whippet production and enabling Willys to brag that "the perfected Whippet has proved to be the 1928 sensation in the light car field."
The Short Life of the Whippet
The frugal Whippet should have prepared Willys well for the Great Depression whose onset was just ahead, but it didn't work out that way.
Instead, the Whippet vanished in 1931, the year after Willys' poorly timed introduction of an eight-cylinder model, only to return in spirit as the 1933 Willys 77 with its 48-horsepower four and 100- inch wheelbase. The larger Willys didn't return for 1934, leaving the 77 and its descendants to carry on alone until just before World War II when the Willys MA jeep went into production for the military and carried over into civilian production after the war.
Even the last Whippets were relatively old by the time the war broke out but a Whippet had an advantage that made holding onto it almost as patriotic as sending it to a scrap drive. The car's frugal fuel economy began to look very good in the face of gasoline rationing and while it's hard to know for sure, the feature car might well owe its existence to its service on the home front during the war.
After the Purchase, an Engine Swap Was In Order
When Demberg bought it, the cabriolet coupe was solid and ran, but he decided against taking chances.
"I'd had the engine on the coupe rebuilt," he explained. "I had it out, I had a machine shop redo everything on it and the engine in the cabriolet was supposed to have been rebuilt, but I didn't know who did it, so I swapped engines. I put the one I knew in the cabriolet. I'd had aluminum pistons and everything else done to it. I put the one from this car into the coupe."
The rebuild was slightly more involved than that sounds, as it began with Demberg's taking three blocks to a rebuilder he knew from other projects. There was also the plus side of working with an experienced shop.
"I took the blocks over and I said 'take the best one and rebuild it,'" he explained. "I had a bunch of pistons and rods and all but he said 'take them back. I don't even want them. I'll get aluminum pistons and I'll put them in. The only thing I won't be able to do is pour the babbitts.' I sent them up to The Babbitt Pot (Fort Edward, New York). He poured them; the machine shop told me how many thousandths he wanted them. He put them in and line-bored them and was done.
"I probably gained 10 horsepower on it. I can go up the hills in third gear. It moves right along."
Some Spare Parts Work; Others, Well…
That type of engine work might not be quite as easy as it sounds since not everyone is able to have the necessary Whippet parts in hand. Finding them, of course, isn't impossible and as with many cars of the Whippet's time, the reality is somewhere in the middle.
"Bearings are pretty easy if you have the number," Demberg said. "Seals are harder because they just don't make them anymore. I haven't had to worry about that. Head gaskets? I've got an extra one sitting on the shelf because I found it at the Hershey swap meet. You do accumulate stuff in case you need it. I've been lucky in that area."
Some came from a disassembled parts car and others were in a package deal, but as every restorer accepts, no plan is perfect. Demberg knows all about that, thanks to having accidentally engaged the Whippet's starter before the engine had completely stopped.
"I hit the key to turn it over with the starter while the flywheel was still spinning," he confessed, "and snapped that little bolt on the spring in there. I got it home, took the starter out and I had another one and I put it in. Same number, same everything on it, but it wouldn't work. It worked on the bench, but it wouldn't work on the car. They must've changed the length of that stroke where the gear goes against the flywheel and it just wasn't meshing. It was spinning, but it wasn't meshing. I fixed the bolt and put the old one back in."
Knowing the Right People Can Be Helpful
For any car but those popular enough to support a reproduction industry, the parts supply will eventually dry up. Demberg learned about that firsthand when he sold a switch to another Whippet owner and almost immediately needed to replace the one on his own car. That kind of problem or at least the fear of it, he said, is keeping parts in storage as owners are reluctant to sell and face the growing difficulty and cost of acquiring replacements.
"That's what happened to a lot of stuff," he observed. "Guys aren't letting it go and it's not showing back up on the market…unless they die."
But what about those aluminum pistons? Demberg described them as "the best thing I ever did" and said that a good machine shop would likely be able to find them, but there are other considerations that call for a different kind of special expertise.
"The engines are pretty easy to rebuild," he said. "The biggest thing with that is that the generator works off of the timing chain and the distributor is on the back of it, so if you want to pull that for any reason, you've got to either buy or have a special tool. The little inspection cover in the front of the pan—not the oil pan, but the timing chain pan—you take that and you put a gear in there, a shaft with a gear on it, so you're picking up that chain when you're pulling the other one out. Once you pick that chain up, it's not going to drop and you're not going to lose the teeth (from) where they belong. I've never had one out, but that's what you've got to do and coming back in, same thing, just reverse it."
While he hasn't needed that tool, he knows that replacing the rear brakes calls for removing the wheels and that calls for a puller. He didn't have it and after driving 300 miles to borrow one, he found that the loaner was the wrong size. Its owner, though, had a friend with several Packards and a good supply of tools.
"We were digging through these milk crates full of wheel-hub pullers," Demberg said, "and we came up with three that measured about the size we needed. I borrowed them, took them home and one of them was right. Of course, I cleaned up the threads and everything else. It fit and I popped them right off, but without that tool, I was dead in the water."
The lesson?
"Those are the connections you need," Demberg said, "to keep this stuff going."
Be Ready to Really Search For Certain Parts
Besides the connections and the above-mentioned part numbers, sometimes it just comes down to patience and he knows about that, too, after having tracked down a gasket.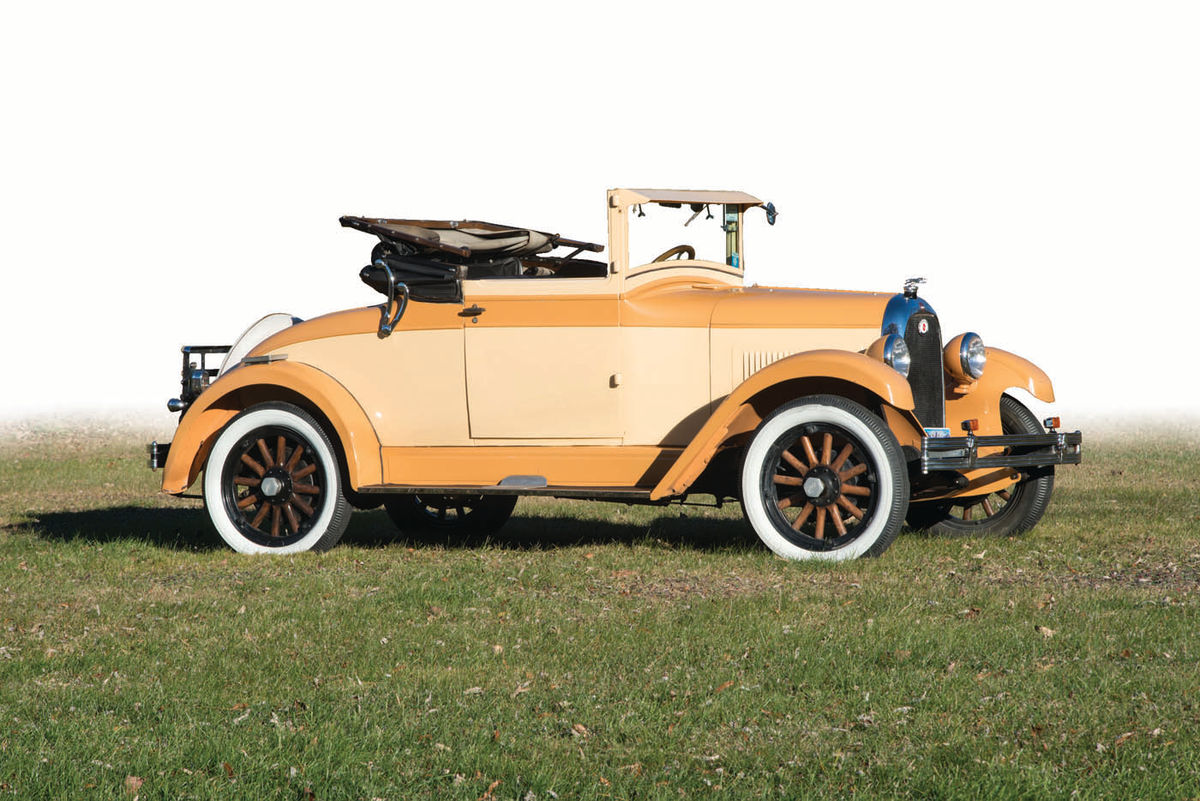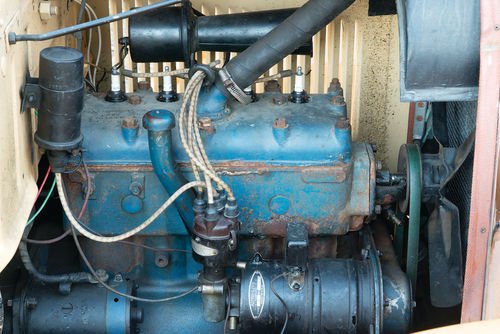 "It was a weird gasket that was a little difficult to make, to cut one," he said. "I went up to the parts place and I said 'this is what I want.' The guy said 'see that cabinet back there? It's full of maybe 10,000 gaskets. Without you giving me a number, I'll tell you what I'll do. I'll let you go through it.' I went through every single drawer and every single envelope and I found very close to what I wanted and I took two of them. But he couldn't help me without a number and that's what you're up against."
Like the requirement for a certain tool to carry out a specific job, searching without part numbers isn't unique to Whippets, but it is something to keep in mind when considering a project car that's not complete or when looking for spare parts. Finding body parts for the feature car would probably have been equally challenging, but fortunately, the body was solid and needed not much more than to be stripped and painted. Demberg and his son did the work in a friend's body shop and while the Whippet was originally dark blue with black fenders, a photo of a contemporary car caught his eye. He liked the combination of colors, so he took the photo to a local paint shop and asked whether it could be matched.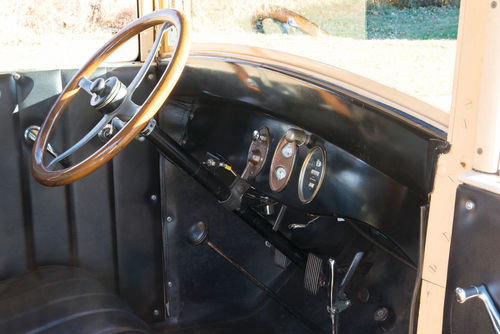 "He mixed me up a small can of paint," Demberg recalled, "and at that time, that was like $40 for a can. I didn't like the shade. After about the third or fourth one, I said 'I can't keep on doing this. I'll have a fortune in it' and so after the fourth can, we settled on what we've got now. I like it."
The car's color-combination helps it to stand out, but rarely are those who notice it able to identify it.
"Most people think it's a Model A Ford," Demberg said, "all the time. Then they'll come and look at it and say 'Whippet? What's a Whippet?' Not many know. Well, you don't see them. If you go to a show, you might find one in the bigger shows."
He Enjoys His Whippet… But Not Often Enough
Like nearly every hobbyist owning anything from a single-cylinder Cadillac to a 440 Road Runner, he knows he doesn't drive his car enough. He drives it in some parades and to cruises in nearby Middletown, but it's been trailered to Willys-Overland-Knight Registry national meets. One of those meets was in Maine and that provided the opportunity for several 100-mile days of touring mostly without incident, so he'd trust the Whippet to take any reasonable trip in stride with the only considerations being traffic and range.
"It doesn't have a big gas tank," Demberg said. "It doesn't hold much, so you've got to watch what you're doing, but I'm not afraid of it. The only reason it died on me up in Maine was because I have a pressure regulator on it and the ethanol ate the diaphragm out of it. It was working, but it was just shooting gas all over the place. Luckily, I went to NAPA and said 'I need a regulator.' I showed him what I wanted and he said 'I don't have one, but I'll have it to you by four this afternoon.' I put it in that night and we were ready to go the next morning."
The regulator's presence is a good hint that an electric fuel pump is not far away. While the Whippet was built with a vacuum tank, Demberg said the car used an electric pump when he bought it. Since it worked well, he chose to keep it instead of searching for the correct system to replace it. He also kept the sealed-beam headlights that had been installed, even though the original reflector units came with the car and he still has them. Like the fuel pump, they're an improvement that can be removed with little difficulty and in the meantime, they make the Whippet better as a driver, as do the turn signals.
"I only put the directionals on this year," Demberg said, "because you put your hand out the window and everybody thinks you're waving at them. I did that because I needed it."
Time constraints and lots of workrelated travel limit his opportunities to enjoy the Whippet, but they don't eliminate them. He doesn't bother looking for an excuse.
"I jump in it and take it a couple of miles or whatever," he said. "I don't even have to get a cup of coffee. I'll go."
A collector car from the postwar era has advantages such as being better at keeping up with traffic and offering more interior room, but while Demberg acknowledges them, they're not enough. He's happy with the Whippet.
"I like the car because it's not a common car," he said. "It's a pre-war car and that's what I've always liked, so it fits me."