1979 Oldsmobile 98 Regency
It Comes From a Time When Detroit Was "Downsizing" Its Vehicles. But Make No Mistake, It Still Has That "Big Car" Feeling.
George Simon was keeping an eye open for any one of several postwar Oldsmobiles before a few good reasons combined to convince him to buy a 1979 98 Regency four-door sedan.
"I was really looking for something a little bit older," he explained, "either a '49 or a '50, mid-'50s or maybe even early-'60s, but I had had a '78 88 Royale that I'd bought new and I'd run that car for 13 years and 98,000 miles and I'd put only $1200 worth of repairs into it. So I said 'you know, you can always get a good one, you can always get a bad one, but the chances are that this is a decent car.'"
A Brand With a Lengthy History
Maybe you can't always get a good one (or a bad one), but enough interesting Oldsmobiles were built over the badge's long life to make hoping for a decent car like Simon's worthwhile.
Oldsmobile's earliest ancestor, P.F. Olds & Son, was formed in 1880, three years before Ransom Eli Olds went into the business with his father and brother and five years before he bought his brother's share. In about 1887, he built a three-wheeled steam car and followed up with another in 1892. His first gasoline-powered car came in 1896, the Olds Motor Vehicle Co. was established in 1897 and an experimental electric was built in 1899. It all wound up in Olds Motor Works in 1899 and would continue until 1908, when it was acquired by William C. Durant for his General Motors Corp.
But long before it had become a part of General Motors, the "Oldsmobile" name had appeared in 1900 and was applied to a vehicle familiar today even to those for whom a car is purely utilitarian. The single-cylinder Curved Dash Oldsmobile was built in several forms from 1901 through 1907.
By 1908 Olds was building fours and sixes…but a flathead V-8 was introduced in 1916.
The V-8 instantly placed Oldsmobile in a select group that included Cadillac, Peerless. Oakland, Daniels and several makes mostly forgotten a century later, but the V-8 was dropped for 1924 and Olds built only sixes until 1932 brought a flathead straight eight. With its flathead six, it now had the combination that would see it into 1948, but along the way, it introduced a feature whose descendants are with us today, the Hydra-Matic transmission of 1940. The Hydra-Matic was advertised as having "no gears to shift! No lever to manipulate. Simply set the control in 'HI,' and gears shift automatically!" Those who didn't quite understand were told that there was "no clutch to press! No clutch and no clutch pedal with Hydra-Matic Drive— no work for your left foot to do!"
However, as commendable as the Hydra-Matic was in both innovation and function, it's improbable that anyone thought of those pre-war Oldsmobiles as thrilling cars. That was to change in the post-war years.
Rocketing to Success
Olds made up for lost time in the post-war world through a two-phase effort beginning with "the first of the Futuramic cars—the Series '98' Oldsmobile for 1948." The Futuramic look was obviously modern with its slightly curved windshield, its low, smooth lines and its slabsides broken only by reminders of what were once totally distinct rear fenders.
Then in 1949 Futuramic styling was extended to the entire line and Olds announced its "new 'Rocket' engine!" The Rocket was a 303-cubic-inch, 135-horsepower overhead-valve V-8 that replaced the 257-cubic-inch straight eight with its 110 horsepower. The V-8's length and weight were less than the older engine's and it could rev higher. Furthermore, Olds promised that "for the future, the 'Rocket' opens up new vistas of high-compression efficiency."
Like Cadillac's modern V-8 introduced that year, the Rocket was ready for what would become known as the Horsepower Race. By 1953, it was good for 170 horsepower; by 1957, the now-371- cubic-inch Rocket could be optioned for up to 312 horsepower.
The horsepower climb went on and as Detroit rolled out compact cars, the basic big-engine-small-car pattern became its route to muscle success, spotlighted in 1964 at Olds with the 4-4-2 package.
"Now ready to put more muscle and hustle into your everyday performance needs," ads promised. The 4-4-2 did that with equipment including a 330 V-8 producing 310 horsepower and for the rest of the muscle car era, the 4-4-2 remained a contender with its high point being the 370-horsepower 455 in 1970.
Olds was wrapped up in performance during those years as was the rest of the industry, but it also found the inspiration to come up with something very different…the Toronado. With its front-wheel-drive, 385-horsepower 425 V-8 and highpriced exclusivity, the aggressively styled coupe was America's first fullsize front-wheel-drive production car since the Cord.
Add the Toronado to Oldsmobile's other achievements such as HydraMatic Drive, the original Rocket V-8 and the 4-4-2, and it might be less than obvious how George Simon's 98 Regency—a four-door sedan, no less— could possibly fit into that group. But it does indeed fit and to understand why, it's necessary to go back a few years before it was built to 1973.
Gas Prices and Downsizing
In October of '73, Middle Eastern oil-producing countries imposed an embargo on the United States that triggered price hikes in gasoline and diesel fuel. The embargo ended that March, but prices remained high and those who were around then remember gas lines, odd-even sales days, limits on purchases, "no gas" signs, the 55-miles-per-hour national speed limit and conspiracy theories. And with that, the average pump price went from about 36 cents per gallon in mid-1973 to about 65 cents per gallon in 1975, according to the U.S. Energy Information Administration.
More important than the exact prices, however, was that the spike triggered criticisms of large vehicles as being irresponsibly wasteful of what was increasingly seen as a rapidly dwindling resource.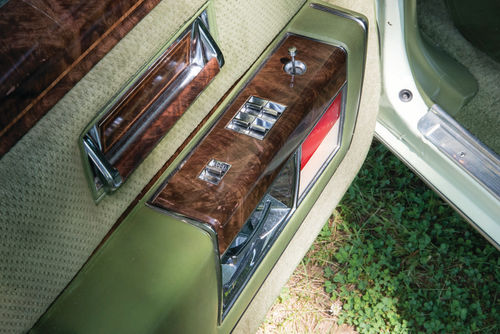 Compact cars acquired a new following and Japanese automakers improved their market share in the United States, but GM was planning a different approach and in 1977 it would introduce full-size models barely larger than their mid-size brethren. The "downsized" 98 rode a 119-inch wheelbase compared to the Cutlass sedan's 116 inches and overall lengths were 220.4 inches and 215.2 inches respectively. The clearest comparison, though, was with the 1976 98 with its 127-inch wheelbase and its 232.2-inch overall length. The 98 Regency four-door went from 4673 pounds to 3840 pounds and it didn't take a rocket scientist to realize that less weight means less fuel consumed.
Advertising cited "the challenge: to build a luxury car that meets the demands of the times we live in. The achievement: the 1977 Oldsmobile 98 Regency. With the kind of uncompromising comfort, quiet, and stability that today's luxury buyer needs—plus the unexpected luxury of improved fuel economy."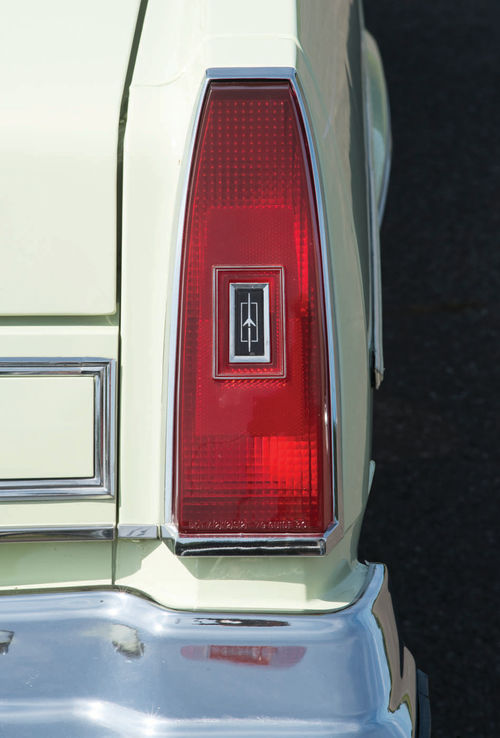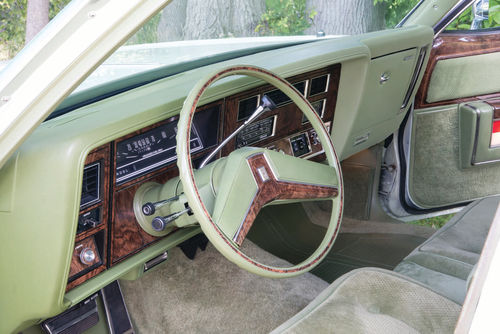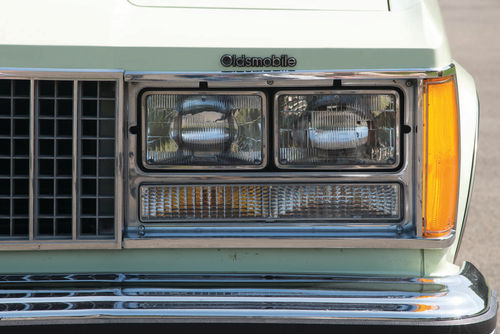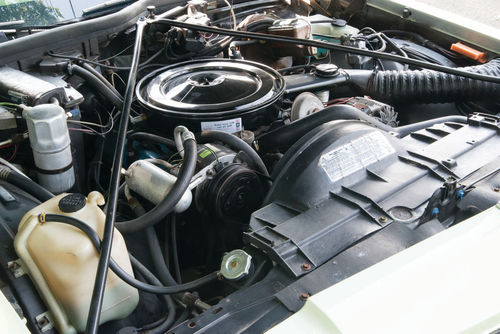 Fortunately for Oldsmobile (and the other GM divisions whose large cars had been similarly downsized), the driving public responded in a positive manner. At Olds, sales went from 891,499 in 1976 to 1,135,909 in 1977 and the 98 Regency four-door from 55,339 to 87,970 in the same period.
GM had made its point and the '79 feature car remains almost identical to a 1977 model. It was now "a beautiful marriage of luxury and logic—designed to reflect your good taste, engineered for the needs of our times."
Low Mileage and Nicely Restored
"It was one of the cars that you hear about," Simon said of his Regency and the way he discovered it. "It was literally owned by a little old lady who bought it brand-new. I think it was in North Carolina. I bought it two years ago with just a hair over 25,000 miles on it and now it has just a little over 27,000. Between the little old lady and me, it went to a dealer in Florida."
Even with that low mileage, he said, it had needed paint and a new vinyl top, so the dealer took care of that. He also went through the brakes, replaced the radiator and the air conditioning compressor and made several other repairs. Add to that Simon's experience with his 1978 Royale and despite the feeling that the asking price was too high, he decided to learn more about the car.
Simon's home in Vestal, New York, is more than 1000 miles away from the dealership, so he just called for information. It probably would not have gotten much further if the dealer had just told him about the car and stopped, but instead, he made a significant drop in the price. Simon resisted the temptation initially, but after a few days, he called again and asked more questions about everything that had been done to the Olds. As he listened to the rundown, he did the math, realized just how much had been spent on it and decided that buying the car would make sense.
"The price that he was asking," Simon recalled, "even the lowered price, while it was still high, wasn't all that bad."
Simon was convinced and after looking at photos the dealer had provided, he took the chance and bought it. He had the Olds delivered to a mechanic in nearby Binghamton.
"It had to be state-inspected anyway," Simon explained, "so he looked it all over and he said 'George, I cannot find a thing wrong with this car.' That gave me a good feeling...there wasn't anything that was going to cost me an arm and a leg to fix."
So what was his mechanic's reaction to the car?
"He was very happy," Simon recalled, "because he has bought cars that were supposedly very good and they weren't."
Driving In Your Armchair
The Olds really was as good as it had seemed to be—the only significant repair since has been another new air conditioning compressor—and the May delivery date for the car meant that Simon was able to begin driving it and enjoying it immediately.
Following some local driving, its first real trip was about 160 miles to Batavia, New York, with no problems. It's been on other trips and combined with the in-town driving, it's shown Simon that few can identify it and most of those who see it say "nice car" and leave it at that.
It's also shown that the Olds is a good choice for a long day on the road. A 1977 ad speaks to that by explaining how "'loose-cushion' look seats support you in armchair comfort. Headroom and rear legroom are increased. New body and engine mounts help isolate the interior from road and engine noise. New more absorptive sound-proofing material under the carpeting and in the ceiling liner insulate the passenger compartment."
"It's a very pleasant car to drive," Simon observed. "There is a certain amount of support to the seats but they're not hard buckets like today's cars. They're comfortable.
"The button-and-tuft seats in the 98s are no different than some of the fancy mattresses we buy. They're the same pattern."
Becoming Attuned to the Car's Suspension and Vinyl Top
The soft suspension contributes at least as much as those seats when it comes to a good ride and he said that softness would require about the biggest adjustment on the part of a modern driver, particularly as the Olds tends to nosedive in hard stops. Like its lack of antilock brakes, that's something a driver develops a feel for and the feature car doesn't spend all of its time parked in a garage, so Simon is used to it. He's also got his basic plan for taking care of the Olds.
"I will maintain it," he said. "It's probably going to get 1000 to 2000 miles a year and so it'll be regular maintenance. Obviously, keep it clean. It doesn't go out during the winter in upstate New York."
He's already started by using 303 vinyl protectant on the top.
"I put it on last fall before I covered the car up," he said. "I did a little bit of research and it seemed as if that had the makings that would do the job. I put it on and it gave just a very, very slight gloss to it. It's supposed to protect it from the sun's rays and all of that. At this point, considering the car is garaged most of the time, I'll probably put it on once a year, not the same day as, but just before I cover it up."
Some Olds Shopping Tips
Not everyone will be as lucky as Simon was in finding a full-size Olds or other GM car of the time having few needs beyond routine care. Chances are better that the car that's found is going to have higher mileage and require at least some attention, but he knows from his 88 daily driver that at least one potential annoyance is waiting.
"The brakes are good," Simon explained. "It has front disc brakes and the biggest problem with the brakes was that I had to redo the rotors about every 5000 miles."
That's far from a deal-breaker and in fact, there aren't many deal-breakers for an Olds like the feature car or any of its corporate almost-twins. One might be the 350-cubic-inch diesel, an engine with a reputation almost certain to scare any enthusiast. Its problems were no secret, but those examples that were properly maintained and properly treated often led fairly long lives. Those that didn't make it were typically replaced by 350 gas engines, but a 350 diesel in running condition today has clearly had the right kind of care and most likely, drivers who understood diesels.
While the list of all engines available during the production runs of these cars is long, those with problems are generally known and can be identified through basic research. Beyond that, routine tune-up parts and maintenance items should present no problem, meaning one of these cars might be a good choice for someone thinking about an interesting older driver. Emissions components might be a bigger challenge requiring hunting and then building up at least a small stock. Simon knows that they might not be the only parts to find and set aside.
"I would start with small trim parts," he explained. "Right at the moment, I wish I could find the 98 emblems that go on the wheelcovers, because they were specific on the 98s. The 88s had the rocket embossed into the wheelcovers. I found one of those."
The interior's woodgrain and chromeplated trim are other items that could be difficult to replace. Simon recalled that those on his 88 were nearly perfect when he sold it after 13 years of ownership, but the youngest of these cars is now well past 13 years old and its trim is not likely to be as good. It's the same situation when it comes to the exterior trim, but with an additional wrinkle in the form of the flexible plastic filler panels, such as those behind the bumpers. With nearly all of the trim pieces, badges and lenses, the problem of parts that look right is probably going to be a bigger concern than it would be on many other cars because of the sheer number of variations on the same body.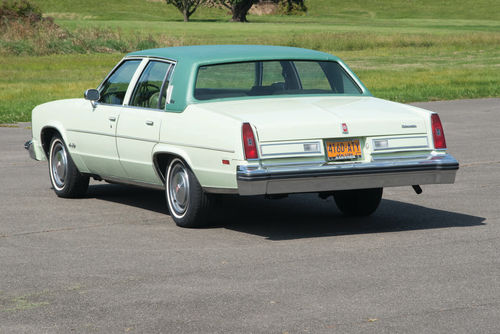 All of that presumes, of course, that the car is in good enough condition to merit serious consideration. Rust is a reality and fortunately, most of it develops in areas that are both typical and visible, such as the rocker panels, quarter panels, wheelwells, lower doors and lower fenders. Less obvious points include the edges of the hood and trunk lid, the area above the rear axle and the sheet metal surrounding the windshield and the backlight. A lumpy vinyl top isn't proof of rust beneath, but it's a good indication that something under there needs to be investigated.
Expecting a LongTerm Experience
The 1970s are often held up as a decade in which American cars weren't exactly outstanding, but Simon has his own thoughts on that.
"Considering my experience," he said, "I was OK with the late '70s. I was advised to get nothing newer than a 1980 because after that, everything became even more electronic."
As he said, when he was considering the Regency it seemed like it should be a decent car. His instinct has since been proven right, but…
"It would still be nice to have the early- '50s, mid-'50s Olds or something like that," he said. "If, for instance, a mid-'50s Oldsmobile came along, I would have a hard job deciding whether I would keep the '79 or would I sell my Lincoln or would I sell the Thunderbird or not. It basically comes down to garage space. That's why there's only one Lincoln now instead of two."
Realistically, though, the Oldsmobile is going to be around for a long time.
"Probably," Simon observed, "and I say that because I've had my '56 Lincoln for 31 years."