Feature Restoration 1979 PONTIAC TRANS AM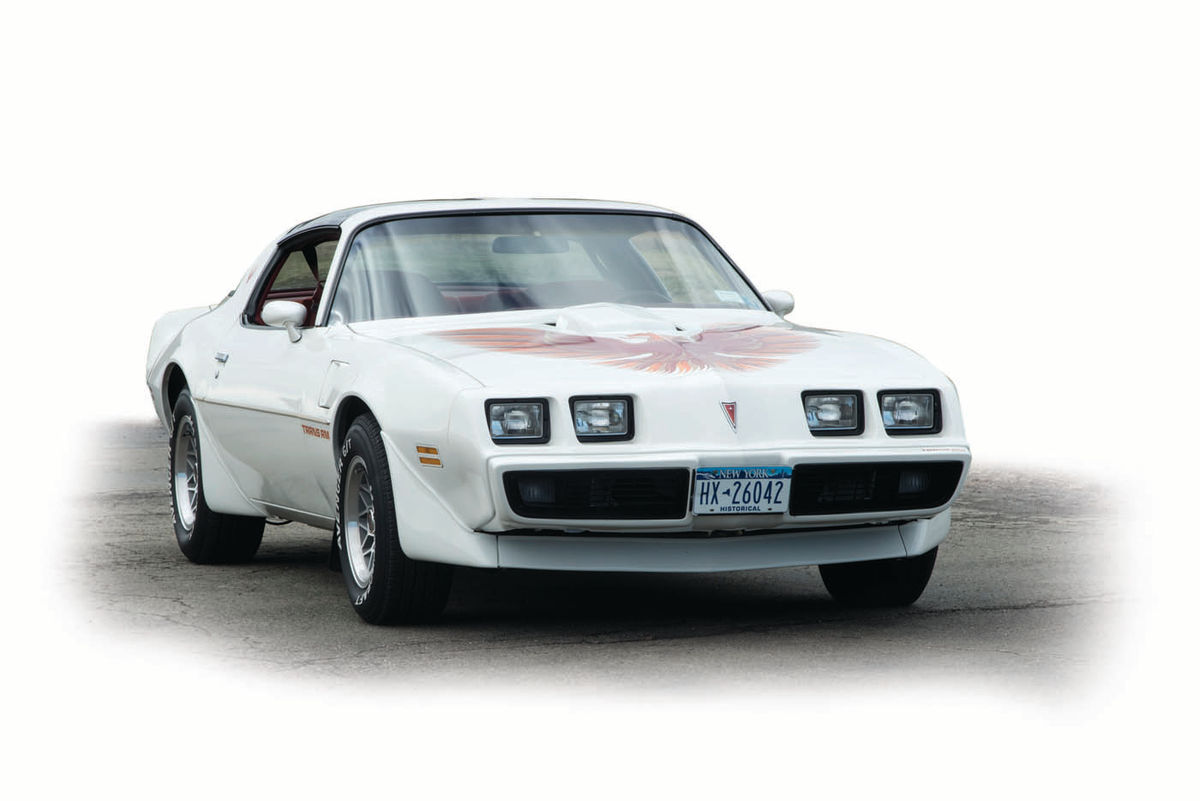 By the Late '70s the Pontiac Pony Didn't Have Much Muscle, But It Still Had a Lot of Flair.
Collectors miss out on cars for every reason from being unable to make a deal to arriving too late with cash in hand…and only the genuinely lucky ones are given second chances.
"I was house-hunting," recalled Steve Kunze, whose 1979 Trans Am is featured here, "and that was the first time I saw the car. I showed up on time and of course my girlfriend was fashionably late, so before the owner showed me the house, we were standing in this four-car garage. Right away, I was interested in the house.
"There was a covered car and I asked the owner 'is that a Camaro or a Firebird?' He pulled the cover back on a Trans Am. So as we negotiated for the house, I tried to get the car, but he said 'I'll never sell the car.' He was like 'I'm throwing in the tractor and all of this other stuff,' so we came up with a price and I got the house."
That was in June of 1999 and while he now had his house in Binghamton, New York, there didn't seem to be much reason to hope that he could somehow end up with the Trans Am, too. Five years later, however, that possibility suddenly became very real.
"I was working at the Broome County Airport," Kunze continued. "I worked with his brother. They were pulling the big jets out of Elmira, Ithaca, Binghamton, so he was getting transferred. He asked me 'do you want to buy Dave's car?' I said 'well, he moved to Florida. I don't want to go to Florida to get a car.' He said 'It's at my house in the pole barn.' That was less than five miles away, so I went up and looked at it. He told me what Dave wanted. I tried to talk him down, but I felt it was worth it."
Undoubtedly, a lot of people would have felt the same way and bought the car because despite the 301 V-8—not the most popular engine—it's a Trans Am. That places it on a fairly long list of interesting Pontiacs built after the division reinvented itself.
It Started as a Companion
The roots of Kunze's Trans Am go back to the Pontiac Buggy Co. whose only automotive product was the Oakland, introduced in 1907. Three years later, Oakland was part of the new General Motors that William C. Durant was assembling and as GM grew, its management studied approaches to expansion. A logical plan called for eliminating gaps in the existing product line so that the owner of an entry-level Chevrolet could move up gradually and smoothly to a Cadillac, a progression ensuring that that Chevy man would have no reason to abandon GM even temporarily.
The answer was a series of "companion" cars to fit between members of GM's existing lineup. In Oakland's case the companion, introduced in 1926, was called the Pontiac. (By way of background, Oakland is the name of a county north of Detroit. Pontiac, the largest city in Oakland County, took its name from a tribal chief of the 1700s.)
At $825, the newly introduced Pontiac would lessen the jump from that year's costliest Chevrolet, the $765 landau sedan, to the most basic Oakland, the $975 roadster, and a lesser jump should increase sales. It did exactly that with 76,000 Pontiacs out the door in the first year. The downside was that Oakland sold only 56,000 and things grew worse from there. Oakland faded as Pontiac took off and after only 13,400 sales in 1931, Oakland was gone. Well, almost.
Since Pontiac had relied exclusively on six-cylinder flatheads, 1932 saw the addition of a barely modified version of Oakland's V-8 to round out the range. But sales were disappointing and a straight-eight flathead replaced it for 1933.
From Inline Flatheads to Muscle Engines
After its brief experiment with the initial V-8, Pontiac tried nothing so exotic and instead held to its inline flatheads. They were good engines, but after World War II it became clear that they'd need to be replaced. The industry had returned to production of civilian vehicles as quickly as possible after the war and any engine that actually ran would sell in that car-starved market. But everyone knew that the day would quickly come when competing through innovation would be necessary once again.
Cadillac and Oldsmobile took the lead in engine innovation in 1949 by launching overhead-valve, oversquare V-8s to replace their flatheads. The new engines were unrelated in any way other than their pistons' strokes measured less than their cylinders' diameters, but both offered better efficiency with the potential for further improvements. It was the future and other manufacturers soon followed their lead, leaving Packard and Pontiac in 1954 with the last American flathead straight eights.
The two caught up in 1955 and at Pontiac that meant a 287-cubic-inch V-8 returning 180 horsepower in basic tune or 200 optionally. Sixes were gone and in retrospect, that certainly hinted at what was about to become a consuming emphasis on performance at the division.
Just five years later Pontiac's 389 was producing up to 345 horsepower, but the idea of building cars to go fast was about to take off in two directions that could not have been more different. The 1961 Super Duty package placed a TriPower 348-horsepower 389 at first and then a 405-horsepower 421 in Pontiac's full-size body just as the Tempest arrived.
The new compact might have slipped under the radar as being more interesting than remarkable if not for its engine choices. The base 194.5-cubicinch four—half of a 389—produced 120 horsepower, but 140- and 155-horsepower versions were optional and for those who preferred a V-8, Pontiac offered Buick's 215 that also returned 155 horsepower.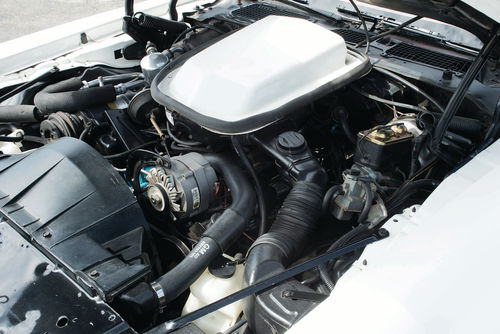 Full-size performance cars went on, but only for a time as Pontiac and others gave increasing attention to smaller models. The Tempest by 1963 no longer offered the Buick engine and instead listed Pontiac's own 326 with 260 horsepower, a car that would be far better remembered today if not for what followed in 1964…the GTO.
An option package for the Tempest Le Mans at first, the GTO almost instantly achieved icon status with its 348-horsepower Tri-Power 389. It certainly inspired a range of competitors to produce what would come to be known collectively as muscle cars and while that was happening, Ford was pulling off a success of its own with the first Mustang. Conceived as more sporty than high-performance—at first, anyway—it shared one big point with the GTO in that its success triggered competitive entries, only in this case it was in the pony car category. Among those pony competitors was Pontiac's entry, the Firebird.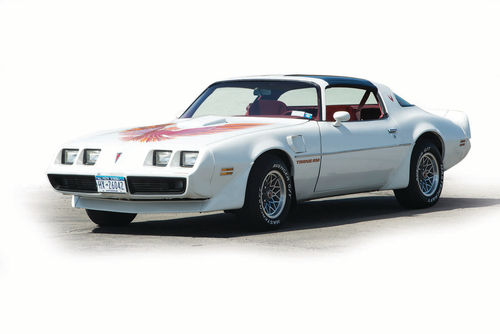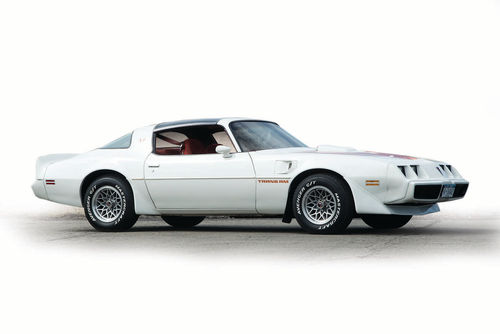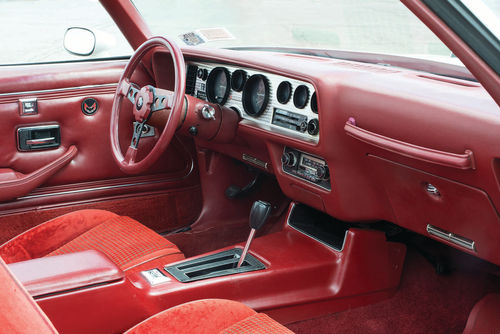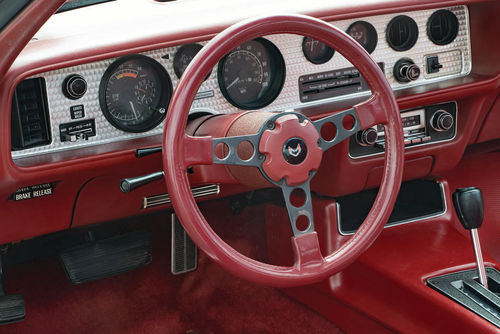 A Pontiac Pony Car
Introduced for 1967, the Firebird wore long hood-short-deck proportions not unlike those of the Mustang, but it relied on roundness and soft edges instead of the Mustang's straight-line angularity.
Muscle cars by then had made their presence felt by almost banishing full-size performance models and no less importantly, by convincing manufacturers to apply their concept of a big engine in a small body to the similarly sized pony cars. Potential Firebird-owners found themselves with choices that ran up to a 325-horsepower 400.
Since the automotive industry has always believed that more is better, Pontiac continued that tradition by introducing the Firebird Trans Am late in the 1969 model year. The package started with a Firebird 400 and added better suspension and steering, power disc brakes at the front, a spoiler and engine choices up to the 345-horsepower Ram Air IV 400. All were white with blue trim and all but eight of the 697 examples built were coupes. The low number can be misleading, but is likely attributable to the late introduction as well as the fact that leftovers were sold as 1970 models before the true 1970s arrived.
When those cars finally did appear, no one seeing them could have imagined how long the basic body would serve, but with a European influence providing a long, low look more akin to some exotics than to mass-produced twoseaters, the Firebird and Trans Am were a world apart from other American cars except for their Camaro relatives. The sheet metal was smooth and clean, broken only by a functional hood scoop and fender outlets. The bodycolor Endura nose with hints of chrome around the openings was restrained and even the front and rear spoilers didn't mar the effect. The Ram Air IV 400 produced 370 horsepower, but in a hint at what was to come, when the Trans Am returned for 1971 its biggest engine was the 455, yet it provided 335 horsepower.
The slide downhill was beginning not just for the Trans Am, but for muscle cars as a group. The term was not yet in common use, but a version of what today would be called "political correctness" was painting muscle cars as mildly evil and dangerous. Insurance premiums were climbing, federal regulations were impacting performance and psychologically damaging was the auto industry's change from using gross horsepower ratings to net figures. The former are higher because they're obtained from an engine without its accessories and the latter, with accessories in place, are both more accurate and lower. When combined with changes to meet the new regulations, the result was less horsepower and numbers that magnified the drop. By 1974, a Trans Am's 455 was down to 290 horsepower and two years later it produced just 200 horsepower.
The 455 was finished, but no one can say Pontiac didn't try and the following year saw a 200-horsepower 400. For the 1979 model year, the 400 could produce 220 horsepower, but as mentioned above, Kunze's car was built with the 301 and that generated only 150 horsepower.
The loyalists could take some small comfort in the fact that Pontiac had managed to update the body that was now a decade old without destroying the overall look. The aero nose was new and different that year, but there was still no overlooking a Trans Am because it retained the shape and visual identity that had combined so successfully with its performance. That might explain the reluctance of the feature car's previous owner to sell it to Kunze as well as his approach to taking care of it.
A Chance Encounter With the Car's History
"It had sat for about five years," Kunze explained, "but he had about a mile-long driveway. He said 'in the summertime, I start it and drive it down the driveway. Every once in a while, I sneak up and down the road with it at night.' So it started right up, it didn't smoke or anything and when we agreed on a price it was back in the garage where it had sat five years earlier."
Once he had it in its old home, Kunze found the original window sticker and warranty material that showed the car had been sold in November 1979 with 4200 miles on the odometer. He took that to mean that it had been a demonstrator and that the 301 had made it a less-than-easy sell, but not until he had the Pontiac at a local show years later did he learn the details.
It began when he noticed that one spectator was spending a lot of time studying it and continued at the restaurant where he and some friends stopped on their way home from the show. The spectator who'd been so interested in the car asked about it and looked it over again.
"He saw the 'Sellars, Owego' sticker on the trunk lid," Kunze recalled, "and he said 'I'll be damned. My dad owned the dealership and my brother and I were salesmen there. That was my demonstrator...' I said '4200 miles?' He said 'yeah, we couldn't sell it.'"
When the eventual buyer did appear, the salesman told Kunze, he got a deal because he had cash and—possibly more significantly—the dealership wanted to move the Trans Am.
Kunze said that he's never learned why it was ordered with the 301 and although he hasn't found the build sheet, he does have a copy of the dealer order form. The engine, however, does help to separate those who know Pontiacs from those who really know Pontiacs
"Some guys can figure out that it's a 301," Kunze said, "because in that year, the 400 was a four-speed-only car and then you had the 403 Olds or the 301 with the automatic. It's obviously not an Olds, but on the window sticker it says '6.6, 403' and they don't look over in the column for the $179 delete for the wheezy 301."
No Problems With That 301
The 301 might be wheezy, but it's been mostly problem-free in the 40,000 miles he's driven it. It now shows about 108,000 miles and he's replaced the radiator, alternator and water pump, none of which say much about the engine itself. He said it's appeared on at least one list of "worst engines" and he tried to sell his spare online for $100 before offering to give it away with no takers. While he's never seen any 1979 Trans Am with a 301 besides his own, it was available in other years and other models. Owners of those cars have told him of experiences similar to his, he said, which suggests that the disparaging comments aimed at the 301 might not have a lot of basis in fact.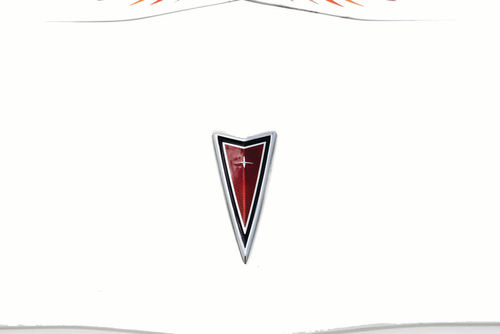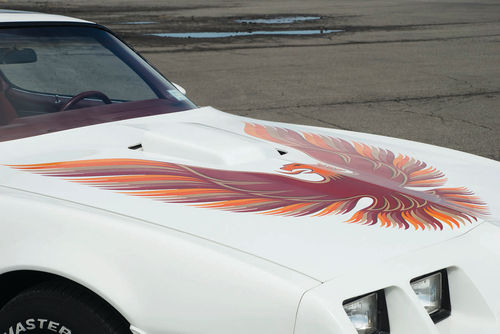 "Everybody who had one that I've talked to," Kunze explained, "said 'it wasn't fast, but it ran forever.' This engine still sounds good. I do have an exhaust manifold leak, but it's very smooth, the choke has always worked really well. As far as starting, no problem. A little cold-stumble, but no, I wouldn't be afraid of going anywhere with it. They're stone reliable."
Beyond that reliability, the 301 has another point in its favor in that no part needed to keep it running is likely to be hard to find.
But Kunze said one aspect of automotive necessities definitely has changed for the better over the years since he bought the car. "When I first got it," he said, "the aftermarket? I don't think you could get full fenders or full quarters, but now you can get pretty much any body part you want for that car. They've really ramped it up. They're really supported by the aftermarket now and I think that's because of the prices of the '67 to '73s. It's kind of like the Camaros. They skyrocketed so much that people started looking and there's some value in these later cars."
Watch Out for Leaks
The combination of increasing value and growing parts availability does, of course, raise the matter of clones and tribute cars. They're fine as long as they're acknowledged as such, but the problem arises when a seller leaves out that detail and the potential buyer hasn't done enough homework.
"With Pontiac Historic Services, with the VIN and the code tagging, you can find out whether it's real and how it was built," Kunze said (PHS Automotive Services, Inc., phs-online. com; 586/781-5164).
If the Trans Am proves to be correct and at least mostly complete, rust is the next concern. Kunze said there are few surprises and anyone familiar with GM cars of the time will know where to look. He pointed to the bottoms of the fenders and quarter panels as well as the edges of the wheelwells, the rocker panels, the structural sections above the rear axle and the body area around the rear bumper mounts. The front section of the floorpan at the toe board is another potential problem, but he said trunk floors—even on otherwise badly rusted cars— seem to survive well.
A T-top car always inspires those who see it to ask about leaks, but it's not always the T-top that's at fault. A discoloration on the dashpad is reason to look more closely.
"You've got to watch on some of them," Kunze said, "especially where the VIN is on the dash. Sometimes that lower windshield area'll leak and that'll affect the cowl, but it's got to be a pretty bad car overall for it to go there.
"Same thing in the back in the lower corners, you can look in. You've got to kind of look into the corners (of the backlight). You can see it."
But then, sometimes it is the T-tops' fault."I don't purposely go out in the rain," Kunze said, "but if I get caught in a thunderstorm, it's a big pain in the neck. Mine leak in the forward corner and I keep towels in the car. It's a nuisance because when I start driving, the passenger side wants to drip on my arm or on the armrest and the other drips right on the seat. I imagine that over time, probably a daily driver back in the day, I'm sure that could've affected the floorpans."
Ensuring that the drains are open would seem to be the simple solution, if not for one flaw in that reasoning.
"There aren't any," Kunze said. "I could be wrong, but there's nothing I know of that's in that roof structure that sends it down the A-pillar. I've never seen a drain hole on them."
Instead, he explained, the tops ride in channels and when everything is properly adjusted, they theoretically direct water out over the side window.
"I've played with trying to move the windows in," he said, "but it seems that that front corner just won't. They come in to a piece of plastic trim that comes up to that front corner and it gets down in that corner and it's drip, drip, drip. It drives you insane."
What might never occur to someone who hasn't done research and talked to owners is that another type of damage is possible.
"I've seen a couple of T-top cars that must've been ridden hard and put away wet," Kunze said. "The B-pillar is cracked from the car twisting so badly, but somebody's had to really, really hammer on it."
A Car for Today's Highways
Few are likely to drive a Trans Am that way today, but it's definitely not a car for those who prefer to remain in the background. Kunze said other drivers wave, blow their horns or just yell "nice car" on the road and when he stops somewhere, most who see it immediately try to guess its year. Others just ask, want to know how long he's owned it and then talk about the ones they've owned.
Most apparently understand and don't tell him that he shouldn't drive it so much which is good because there's only one thing that has stopped the Trans Am from making regular distance trips.
"If it wasn't for my insurance," Kunze said, "I wouldn't have a problem getting in it and cruising down (Interstate) 81 at 75 miles an hour. It's comfortable with the seats and it's a little stiffly suspended, but it's something I could take across the country, no problem."