Restoring a 1940 Packard One Twenty Sedan, Pt. 3
Before This Packard Could Return to the Road, It Needed a Few More Components…Like an Engine & Transmission, and Rebuilt Suspension & Electrical Systems.
THE ENGINE FOR our featured 1940 Packard One-Twenty was missing from the car. Luckily, it was at another location several miles away and easily obtained.
Not too surprisingly, the original engine — which had been sitting idle since the early 1970s — was seized. The aluminum pistons had oxidized as a result of being exposed to water over the years. Nelson Bates, the Packard's owner, poured olive oil into the cylinders to get the pistons loose. After two days of soaking in olive oil, the pistons could be removed.
The engine block was sleeved and standard-size NOS pistons were installed. However, this led to a glitch. Nelson bought the rod bushings and bearings from Egge Machine Co., but found the rod bushing was too small for the wrist pin. He used a machine shop to make a set of the correct-sized rod bushings. In retrospect, Nelson believes he could have avoided this problem by buying their pistons which come with wrist pins. He suspects Egge's pistons have multiple applications and are therefore not exactly the same as the OEM type.
Another change from OEM is in regard to the timing gear. Kanter Auto Products was the source for the new timing gear and chain. (Each is sold individually, but Nelson recommends changing the gear even if it appears to be in good condition when the timing chain is replaced.) The timing gear used by Packard is about a quarter-inch thicker than the one supplied by Kanter.
A new timing chain & gear set will not last long if the oiler flange is improperly reinstalled. This mistake is an easy one to make since it can be installed 180 degrees away from the correct position. The oiling hole must point down to provide oil to the timing components. Nelson has found engines where the oiling flange was installed backward during a rebuild, so this needs to be inspected prior to running a rebuilt engine.
Another critical matter involves the coolant distribution tube in the engine. As the name implies, it literally distributes coolant throughout the engine. This brass tube often is left out during a rebuild, says Nelson, who emphasizes that the coolant distribution tube is "absolutely necessary for proper cooling of the engine." He also noted that he has sometimes found steel versions inside older rebuilt engines. The steel type was a Plymouth part which coincidentally fit the Packard engine.
Problems With the Rebuilt Engine
Nelson's engine was sent to a rebuilder who was seemingly qualified to perform work on a Packard. Unfortunately, he was not good enough. Nelson had driven his restored One-Twenty only about 50 miles when his chief mechanic, Russell Chandler, suggested the valves needed to be readjusted as they seemed to be sticking. After removing the valve cover, metallic particles were found in the oil. The valve guides were improperly sized and the valve springs were not properly shimmed. The engine was taken out again and dismantled and this revealed still additional problems — the engine's oil galleries had not been cleaned thoroughly prior to the rebuild and — for reasons unknown — the connecting rods had hammer marks on them. The block was cleaned and the rods replaced. With properly sized valve guides and correctly shimmed valve springs, the reassembled engine ran like a Packard should.
Nelson and Russell believe very strongly that the cleaning process should be extremely thorough to help ensure long life from an engine rebuild. Russell has his own way of accomplishing this. He uses a wire brush from a gun cleaning kit connected to a drill. Each gallery is cleaned many times to make certain they are free of contamination. Once each oil gallery has been cleaned the block is then further decontaminated in a boiling vat.
Nelson uses a magnetic drain plug on both the engine and the transmission. He says this "serves as a good monitor" of wear.
Dealing With the Heat
The heat riser valve in the exhaust manifold is another important matter to address. It is no longer needed for the purpose of developing a full heat range from cold to operating temperature because fuels of today are made "hotter" and do not need the warm-up like the old leaded gasoline did. Blocking off the heat riser should be done for certain in hot climates (like in Texas) because it creates a major problem if it sticks open. If this happens it will burn out the exhaust manifold and even possibly the intake manifold. Nelson noted the scope of the problem of damage to the exhaust manifold: "They are made of cast iron; they are hard to repair. If cracked they need to be welded with a high-nickel content welding rod. They should not be brazed. The intake and exhaust manifolds are bolted together. This worked fine with the gasoline of the era."
In another move to dissipate heat from the engine, a larger exhaust system was installed at the suggestion of mechanic Russell Chandler. Classic Exhaust supplied a 2¼-inch diameter pipe shaped like the original for this.
Shifting Into Overdrive
Getting the engine right is only part of what must be done to transmit power to the rear wheels. The transmission installed on 1940 Packards was the R-9 but Nelson decided to make his car more roadworthy and chose to rebuild an R-11 with overdrive for his car. The R-11 was issued about 1950 and is a "much better transmission than the R-9," says Nelson.
Like the engine, it needs to be thoroughly checked when being rebuilt. The synchronizers can appear to be fine when inspected visually, but in fact are not necessarily right.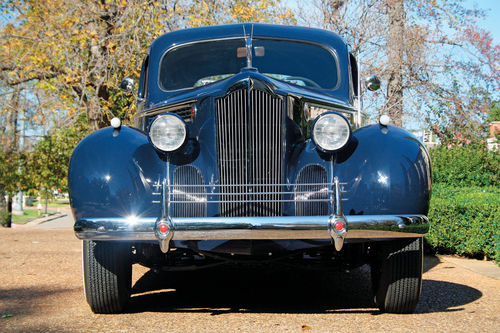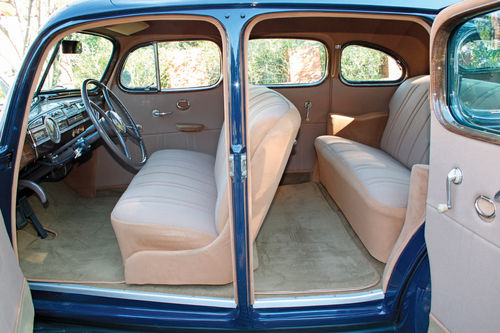 The column shift linkage for these Packards can be a little tricky at times. When new the linkage worked well, but as it wore the holes where the links joined together became oval shaped. To improve the smoothness of operation, Nelson installed a heim joint which has a ball and socket arrangement.
Hmmm, a Packard Should Ride Smoother Than This…
Packard Motor Co. performed much experimentation on automotive suspensions from the late-30s into the '40s. Nelson has noted the various changes made in Packard suspensions from year to year during this era. He says the basic Packard suspension design is still in use today, though of course the old knee-action shocks have long been replaced with tubular models.
The car's old front coil springs were fine and just needed their appearance restored through sandblasting and powder coating. New bushings for the tie rod ends are available from Max Merritt Auto. The car's knee-action shocks were sent away to be rebuilt by Five Points Classic Auto Shocks in Santa Ana, California. Incidentally, the knee-action shocks were named such because they flex in a manner similar to a human's knee joint.
Upon first driving the car, Nelson noticed the ride was not as smooth as it should have been. The longitudinal leaf springs in the rear of his Packard had lost some of their rigidity over the decades — something that no doubt was accelerated by the presence of a heavy diesel engine left in the car's trunk for an unknown number of years.
After dismantling the leaf springs, corrosion was removed via sandblasting each leaf. However this negated the heat treatment given to the springs when they originally were made, thus further degrading them. Instead of making a new set of springs, Nelson found another means of restoring the smoothness to the ride — heavy-duty coil over shocks were installed. Mechanic Russell Chandler suggested this fix and it worked very well.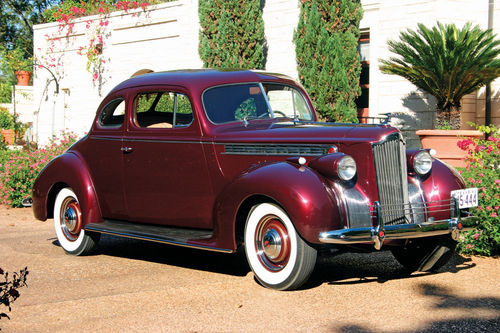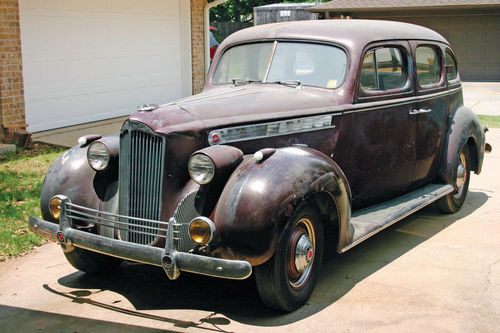 To restore the cosmetic appearance of the leaf springs, each was powder coated to its original gloss black finish.
All the spacers between the leaves had to be replaced. But they are the same as those for a '60s Mustang and Thunderbird, making replacement a simple matter.
As for the Panhard rod (a type of sway bar) it required new bushings at each end, but had a bit of additional complexity to it due to a type of hydraulic shock which had to be rebuilt.
Electrical Systems
As an electrical engineer, Nelson had no problem with designing a few upgrades to the electrical system of his 1940 Packards. He left his One-Ten with a six-volt system, but decided a 12-volt system would be better for his One-Twenty.
Changing the field windings of the Autolite generator upgraded it to 12 volts. What may be surprising to many Packard enthusiasts is the fact that Packard Motor Co. produced a 12-volt system; it is listed in the Packard parts book as well as old Autolite catalogs. Nelson suspects the 12-volt electrical system was intended primarily for commercial vehicles. (Packard produced taxis for many years.) However, at the 100th anniversary of Packard celebration in Warren, Ohio, in 1999, Nelson saw a non-commercial 1940 One-Ten which was equipped by the factory with a 12-volt system.
The car's lighting also received some important and interesting upgrades. Nelson's brother, Warren, removed the glass lenses from the Guide sealed beam headlights and transplanted them to a modern reflector. A set of H4 Halogen bulbs was installed, too. (Incidentally, Nelson's OneTen is equipped with headlights made by Corcoran & Brown, so Packard acquired headlights from more than one source.)
Tail lights are the stanchion type which also are listed in the Packard parts book without a specific model association. Their presence often makes for interesting conversation at Packard meets because the stanchion-style tail lights are generally thought to have been used on the "senior" Packards only. Obviously, Packard used a variety of tail lights at this time.
To obtain a brighter glow from the tail lights, Nelson installed LEDs. He sometimes drives his car at night so he wanted improved visibility.
The instrumentation on the One-Twenty needed restoration too. Nelson found that Williamson's Instruments in Chester, Arkansas, provided competent service; they restored the amp meter, gas gauge, odometer and speedometer.
Another notable upgrade to the electrical system of Nelson's One-Twenty was the installation of a Teflon-coated ignition cable placed inside the ignition shield to add protection to the cable. He has found cases of broken ignition cables giving Packard owners long-term headaches because the problem was not found for some time.
As an Aside…There Were Packards With A/C
Some may be surprised to learn that Packard offered air conditioning as an option beginning with the 1940 model. Packard's air conditioning system — dubbed Weather Conditioner — was developed by Bishop & Babcock Manufacturing Co. of Cleveland, Ohio. Packard fitted a 1939 Packard with the system and found it to be practical, thus it was offered initially at a price of $310 for all of the 1940 models. The unit was modified during the model year which led to a price cut to $275, but from the spring of '40 it was limited to the so-called senior cars. For '41, the option was reinstated for the One-Ten series.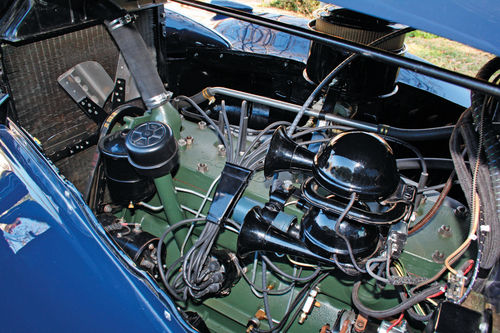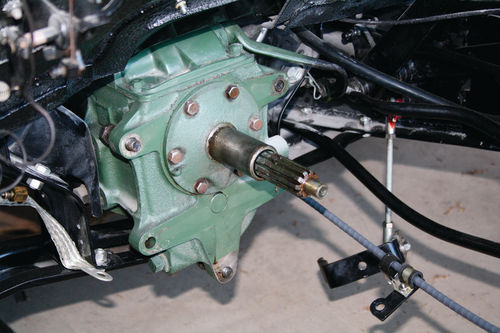 Cadillac also released factory air conditioning as an option that year. But as you might expect, both pioneering systems had their faults. After automobile production resumed following the end of World War II, Packard dropped air conditioning until the 1953 model year. An estimated 2000 pre-war Packards were equipped with the option.
Packard's 1940 sales literature said, "Cooled by mechanical refrigeration in summer and heated by the same unit in winter, 1940 Packards set a new standard in motor car comfort. By means of this latest Packard 'first,' the air inside your car is not only cooled or heated to the degree you may desire, but is also filtered — cleaned of pollen and dust — and, in summer, dehumidified."
As noted last month, the feature car has an optional heater, but it wasn't equipped with A/C.
The Road to Being a Packard Enthusiast
The foundation for Nelson's interest in all things Packard began during childhood at about age 11. In 1950, his brother, Warren, purchased two identical 1932 Packard 900 Series Light Eights.
Both cars (which Warren still owns) have an unusual history because they were used for bootlegging. One of the Packards had bullet holes in it and contained some definitely non-original equipment such as chain sticks (a handheld weapon also known as nun chucks).
These two colorful Packards were being stored in the basement of the Lee Hotel in Clarksburg, West Virginia, when they came to the attention of Warren. The owner of the local newspaper had acquired these cars after "their life of crime" had ended, and Nelson and Warren's mother worked for the newspaper. She told Warren about the cars which he soon purchased.
Warren and his younger brother went to work on the car without the bullet holes and Nelson's first task was to blow into the fuel tank to create fuel pressure long enough to get the Packard running.
These were not the only other Packards that came into Nelson's life over the years. Several others were in the neighborhood including a 1938 Series 1601 four-door convertible and a 1940 One-Twenty Series 1901 two-door convertible. More significantly, the brothers' uncle, Jack Fitzpatrick, owned a 1940 One-Ten. Nelson remembers that car for a very memorable reason — its presence at a family picnic on August 6, 1945. "We were listening to a portable radio when the music was interrupted by the voice of Edward R. Murrow," recalled Nelson. "He announced the news of the dropping of the atomic bomb on Hiroshima, Japan."
Eventually most of those Packards became just a memory for Nelson as he went to college and Warren went into the Army.
But later in life, Nelson found a 1940 Packard One-Ten which caught his interest — especially after some close inspection. It had all the characteristics of the 1940 One-Ten his uncle Jack had owned! It was even sold by Pringle Motor Co. where his uncle had worked.
Nelson gained a lot of experience bringing his One-Ten back to pristine condition. And now his son, Todd, has caught the Packard "bug." He owns a 1940 Packard One-Ten four-door sedan which he plans to turn into a driver.
Evidently, the Bates family "Packard business" will be ongoing for some time.
RESOURCES — PARTS
Classic Exhaust Inc.
805 Pro-gram Parkway
Geneva, OH 44041
John Ulrich
4184 Garden Lane
El Sobrante, CA 94803
Max Merritt Packard Parts
235 Terre Haute St.
Franklin, IN 46131
SMS Auto Fabrics
350 S. Redwood St.
Canby, OR 97013
Williamson's Instruments, Inc.
2018 East Front Ave.
Chester, AR 72934
CLUBS
The Packard Club — Packard
Automobile Classics
PO Box 360806
Columbus, OH 43236-0806
Packard International Motor
Car Club
302 French St.
Santa Ana, CA 92701