NOW YOU CAN OWN A "NEW" GT350R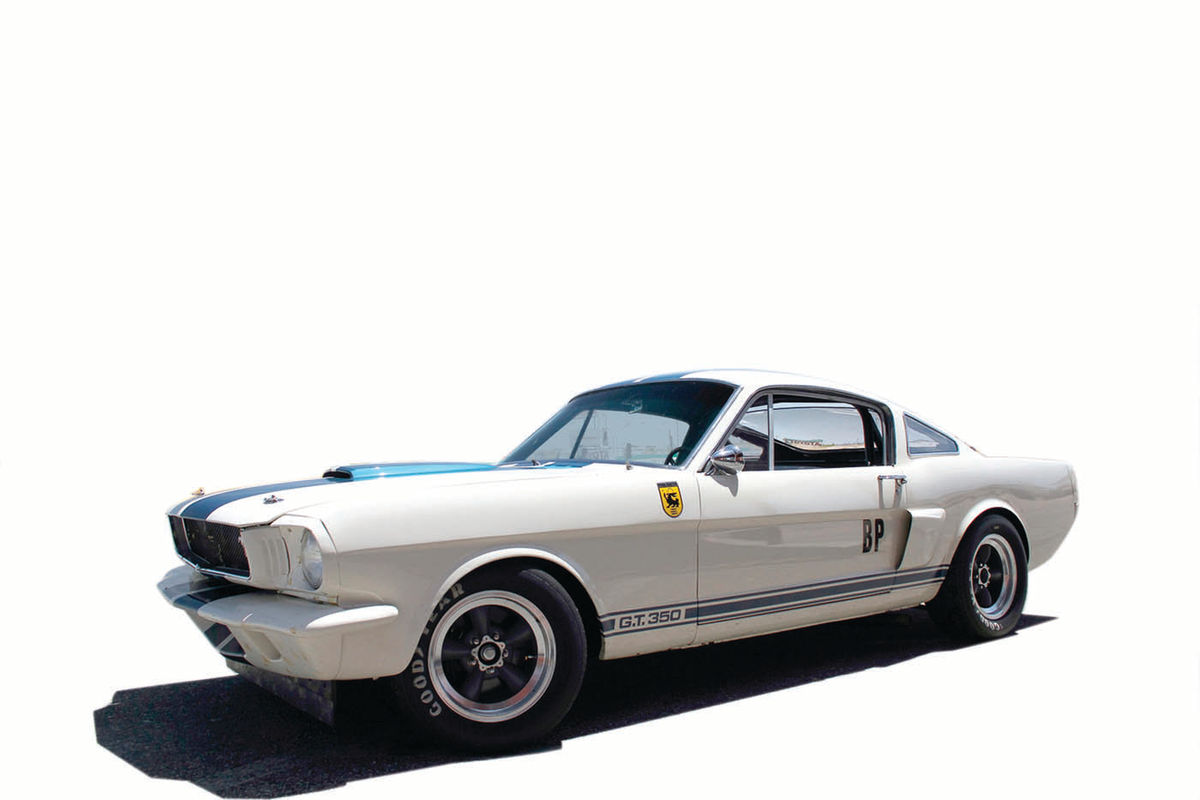 Some of the Folks Who Built the Original Ford Shelby Cars Have Reunited to Build More. But Hurry Because Production Will Be Limited.
If you've always regretted the fact that you missed out on the original limited build of the 1965 Ford Shelby GT350R racecar, you're getting a second chance to own one of the high-performance vehicles more than a half-century later.
There'll be another batch of these ponies available because the group who built the first series of Shelby American racecars based on Ford's '65 Mustang Fastback has begun production of another limited series of the famous racers in Southern California.
Only 36 of these special cars will be built and you could say that they'll even be better than their ancestors because they'll incorporate several experimental enhancements from Shelby American designer Peter Brock. These upgrades were in the works in 1965 but weren't implemented then due to time constraints. Also, be aware that there's nothing shady going on here… These vehicles, known as "continuation" cars from the first run, are licensed by both Carroll Shelby Licensing and the Ford Motor Co.
So why are they only going to build 36 of these "continuation" cars now? Well, of the 562 Ford Shelby GT350s built in the 1965 model year, just 36 were officially designated as competition models; this was denoted by the "R" in the Shelby serial numbers.
The Early Mustang's Transformation
To get a real feel for this performance pony, let's go back 53 years to 1964 when Shelby American started with the new-to-the-automotive-market 1965 Mustang 2+2 and proceeded to convert Ford Motor Co.'s mild-mannered Mustang into a racer that dominated circuits all over America.
"Much like Carroll Shelby's original Cobra, the 1965 Ford Shelby GT350R changed the performance car landscape," said Jim Marietta, CEO of the Original Venice Crew, the group building the cars. "By adapting lessons that the Shelby team learned racing Cobras and Daytona Coupes, our Crew at Shelby American took the Mustang and turned a 'mule into a racehorse' as Carroll Shelby would say."
Time for the Next Phase
"Three of us who created the first Shelby GT350Rs at the Venice, California, race shop reunited in 2015 for a very special project," Marietta continued. "We agreed to build the 'R' model that we envisioned in 1965, but couldn't produce then due to time, expense and other restraints."
The Original Venice Crew (OVC) is comprised of former Shelby American employees Peter Brock, Jim Marietta and Ted Sutton.
For their new project they began with a 1965 Mustang Fastback equipped with a 289 cid V-8 engine and Borg Warner 4-speed that was the basis for the original Shelby GT350. This time, however, Brock finally had an opportunity to refine and integrate some of the components that didn't make it into the car 53 years ago. These include a redesigned front valance, refined Plexiglas rear window and Plexiglas quarter windows. The OVC Crew also incorporated an experimental Ford Advanced Vehicle independent rear suspension designed at Ford in 1964 and originally intended for this model.
"The revised shape of the windows improves the car's interior aerodynamics by promoting better airflow for driver comfort while the new front valance has a much closer identity with the original Mustang front-end while increasing the efficiency of airflow to cool the engine," said Brock. "While these changes may seem subtle, they combine with the new suspension to dramatically change the character of the car."
Taking It To the Track… and the Public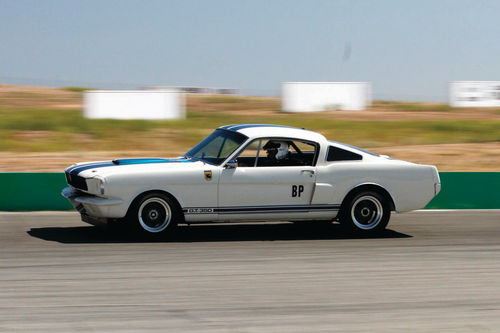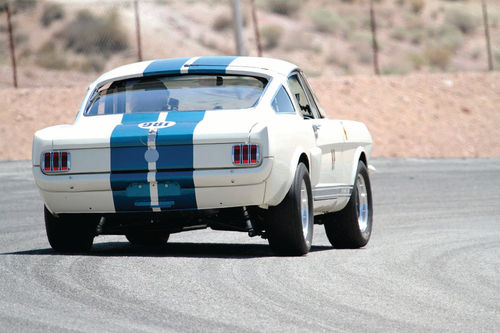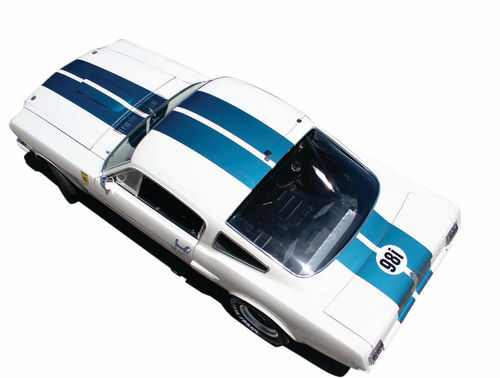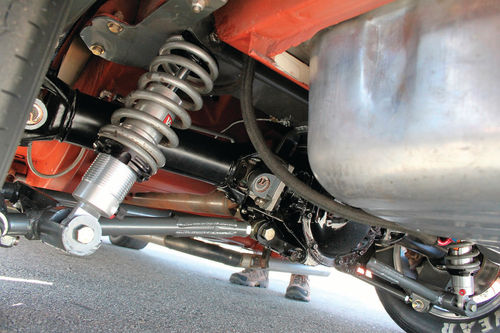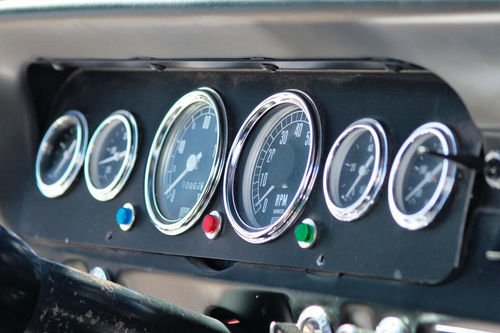 Competition testing of the current project car was conducted at Willow Springs Raceway in the spring of 2015. The test team included Vince LaViolette, Shelby American's current test driver and Rick Titus, son of Shelby Trans Am winning driver Jerry Titus. Former Shelby American driver and Le Mans winner John Morton was recruited to help develop the car's suspension and refine its handling.
"During track testing, people began to ask if the car was for sale," said OVC's Ted Sutton. "After a landslide of inquiries, we decided to see if there was a good case for offering a limited run of them."
While evaluating the program, OVC secured licenses from Carroll Shelby Licensing and Ford Motor Co. to build the cars. This allows OVC to badge them accordingly and give each a Shelby serial number. Documentation for the cars will be submitted to the Shelby American Automobile Club Registry as well as the official Shelby American Registry administered by Carroll Shelby International.
The new company's plans call for putting the car into production before the end of the year. Each OVC-built continuation Ford Shelby GT350R will be authentic from its Spartan race-bred interior to the mechanicals and cosmetics. Each car will feature a competition prepared cast iron block engine supplied by the Carroll Shelby Engine Co. which will be coupled to a period correct 4-speed transmission with an authentic Shelby shifter. The car bodies will be fully reconditioned 1965 donors, not reproductions, and built to 1965 competition specs before installation of the new Brock-designed front valance, refined rear window and quarter glass. They all will wear a finish coat of Ford's iconic Wimbledon White paint.
Production of the cars will be in Southern California, just as Carroll Shelby and the OVC team built them in 1965. Since the continuation Shelby GT350R cars begin with a 1965 donor, they can be raced as well as registered for street use.
The first car in this run was given a public debut at events during the mid-August Collector Car Week on California's Monterey Peninsula. Several members of the OVC team also were on hand to reminisce and talk about the new Shelby.
Those who weren't in Monterey to see the car but are interested in a Shelby from the OVC can call 424-346- 3664. Additional information also is available at www.ovcmustangs.com.
But before you decide to put your currentMustang up for sale and set your sights on one of the new GT350R cars, be aware that they are not inexpensive. The MSRP for one of these special cars is around $250,000.
The price and limited production number also lead to a couple of interesting questions regarding these vehicles. That is, will people actually drive these cars…or will they hold them in storage for a few years and then sell the ponies at auction in search of a profit.