That Mystery Car Was the first "GEEKMOBILE"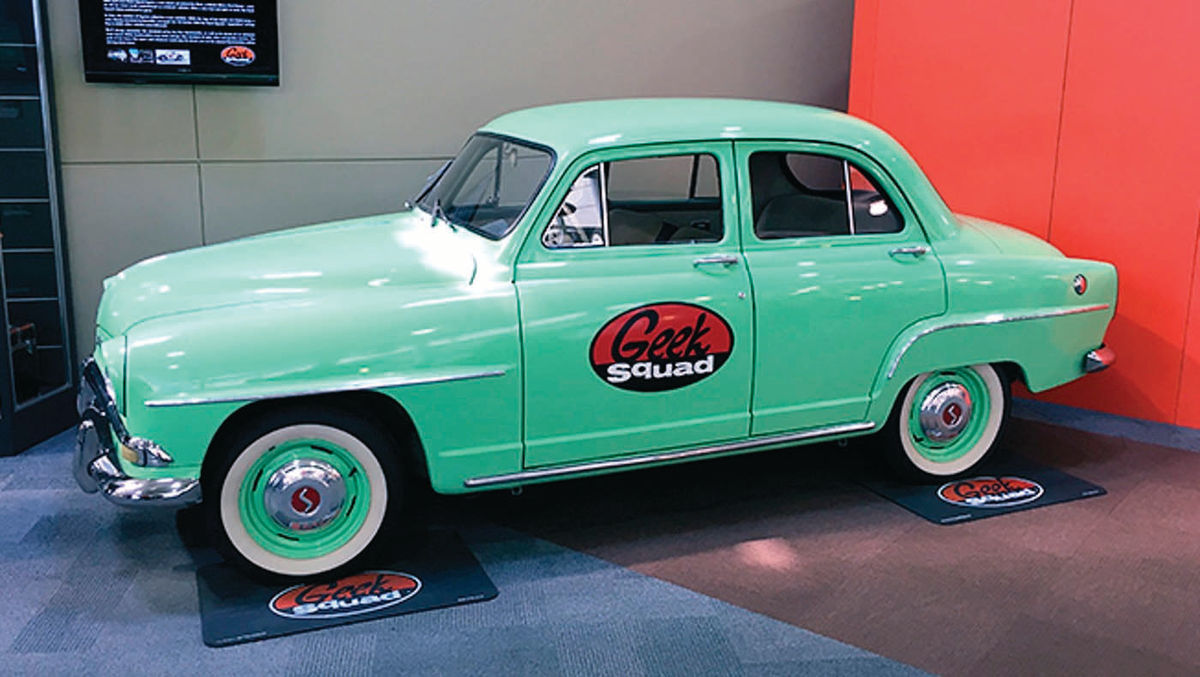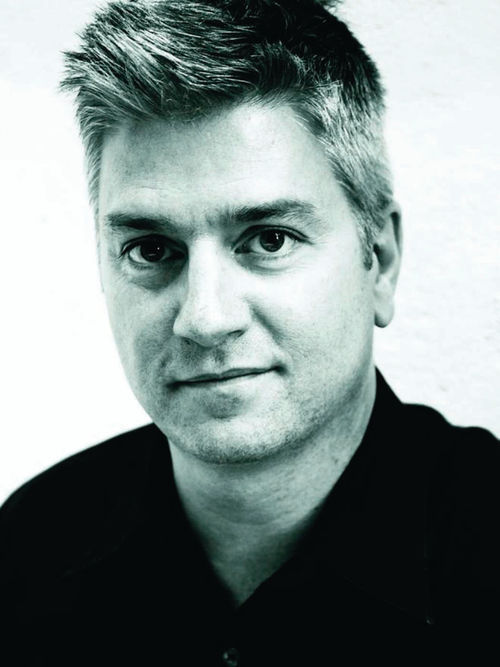 Lately, the Simca Aronde Has Become a Regular Visitor to Our Pages. Here's Another Take On That "Mysterious" French Car.
Editor's note: In the July issue we ran a reader's photo taken in Germany in the early '60s that featured a small boy standing near the front quarter of what the reader termed a "mystery vehicle."
"Can anyone identify the model of the car…" he asked. We quickly heard from several readers who recognized the car as a late-'50s Simca Aronde from France. We also received several photos of an Aronde sedan which we ran in the September issue and subsequently were sent an image of an Aronde Kombi (station wagon) which is on this month's Letters pages. As we were hearing about the identity of the "mystery vehicle," AR contributor John Gunnell encountered a very interesting Aronde himself. We asked him to share his Simca story with us and here's his report:
In the past few weeks this Auto Restorer contributor encountered some computer problems. First, the on-off switch on a less-than-yearold laptop stopped working. We had it "fixed" by a local shop, but shortly after bringing it home, the problem occurred again. Not wanting to go back to the same shop this time we took it to The Geek Squad tech department at our nearest Best Buy store.
Behaving like an old car in a dealership service department, the laptop worked fine for Tyler—the Geek Squad agent. He could not find anything wrong with it and there was no charge. We headed back home and sure enough, as soon as we opened it, it started acting up again. We took it to Best Buy a second time. The same thing happened. This time Tyler told us to contact the manufacturer as the laptop was still under warranty.
Since we really needed a computer and the first laptop was no longer reliable, we bought another one as a backup machine. We took this one home and started loading Microsoft Office and got hacked by a very skilled con artist. The new computer went back to Best Buy again and this time a Geek Squad agent named Luke fixed it.
Another Mystery Vehicle
After Luke got the laptop sorted out, he showed us a few tricks to avoid future problems. During his tutorial, he brought up a photo of a mid-'50s imported car that we didn't recognize right away.
"What kind of car is that?" we asked. "That's the first Geekmobile," said Luke. "That's the car the founder of the Geek Squad used to run around in fixing computers in Minneapolis."
The car in question—a French-built 1958 Simca Aronde—is now part of the Best Buy history collection. We thought that might be an interesting topic for a future article.
Lo and behold, the next day we received our subscriber copy of the September issue of Auto Restorer. And there on page 4, in the "Letters" section, were five photos of Simca Arondes. Upon closer inspection, we read about the partial photo of such a car that Auto Restorer reader Dave Clark had published in the July issue. Suddenly, we knew the perfect place to send a Simca Aronde story.
The First Geekmobile
Different cars have been used in the Geek Squad business, including a 1960 Ford Falcon and a 1973 AM General van. And as the Geek Squad gained recognition, the air-cooled Volkswagen Beetle became a Squad icon and was dubbed the "Geekmobile"—a name patterned after the Batmobile of TV and movie fame.
But it started with the Simca.
According to a "Celebrity Drive" article in a 2011 issue of Motor Trend, the founder of the Geek Squad was Robert Stephens, who originally was a Chicago art student in the late 1980s. In 1990, he switched to the University of Minnesota and changed his major to Computer Science. Four years after that, he took $200 and started the Geek Squad as a local company fixing home computers in the Minneapolis metro area. Today there are thousands of Geek Squad agents in the U.S., U.K., Mexico, Spain, China and Turkey.
The Geek Squad's earliest mode of transportation was a bicycle but the first car was the above-referenced 1958 Simca Aronde 1300 Elysee four-door sedan. At that point the Squad had not adopted its now-trademark black-and-white color scheme. Instead, the Simca, as acquired, was a sort of mint green color, although the orange-and-black Geek Squad logo appeared as a large door decal.
Stephens bought the Frenchmade car in 1994 from a classic car dealership in Minneapolis and, as noted, it still survives today as a tribute to the company's beginnings. He originally paid $2200 for it and the Simca was used for both transportation and advertising purposes. Like Carroll Shelby painting his first Cobra different colors to make the industry think he had a fleet of them, Stephens had little tricks he used to generate maximum publicity. For instance, he would have agents drive the car near major sporting events at slow speed to maximize any free exposure.
Design, Not Nostalgia, Scored Here
Stephens told Motor Trend that he loves vintage cars. "I was born in 1969," he said. "If you think about it, American car design died in 1969 because the 1970s were just abhorrent and the gas prices in 1973 killed design."
He stressed, however, that nostalgia is not an influence behind his passion for vintage vehicles. He said he was too young at the time to remember the cars that are his favorites today. "I'm living these cars for first time," he stressed. "I'm not reliving the experience."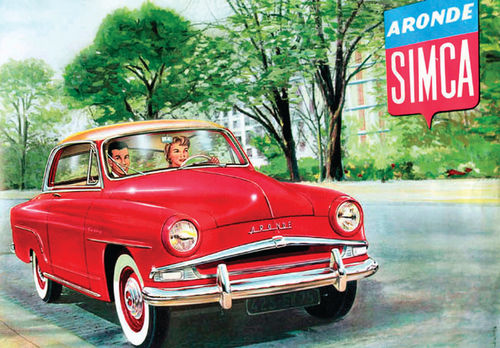 To Stephens, the Simca was "like no other car," the most uncommon-looking little car he'd ever seen.
"It looked like a Studebaker," he said. "It's green, it just stands out, and I put a Geek Squad logo on it. It was the first concept of using a vehicle as advertising."
Stephens loves pointing out that the car is very French because it has seven ashtrays, but no seatbelts. "It still runs like a pussycat," he was quoted as saying. "Your lawnmower has a more powerful engine, but it's a beautiful little car. I have the sentimental value. I've got it in my clause at Best Buy: 'That's mine!'"
Early Plans For a Simca Fleet
Shortly after he got it, Stephens drove the Aronde in a parade in Minneapolis. Based on the attention the car received, he became interested in outfitting his company with Simca service vehicles so the agents would be instantly recognized. That idea came to a quick end, however, when he ran into a man who worked on these cars and offered him a Service Manager's job. The man politely declined, saying that it would be a monumental task to keep a fleet of Simcas on the road for such a purpose.
Still, Stephens' free advertising concept worked so well that he retained the approach with the AM General van and the black-and-white 1960 Falcon. In fact, that Ford with its "Blues Brothers" paint job set the stage for the color scheme used as the Squad moved on to vintage air-cooled Beetles.
Stephens sold The Geek Squad to Best Buy stores in 2002, but stayed on for a while as Chief Technology Officer (CTO). As for the 1958 Simca, it wound up in the lobby of Best Buy's Richfield, Minnesota, Headquarters.
In later years, Geek Squad agents drove New Beetles. In 2016, Best Buy announced a plan to use nearly 1000 Toyota Prius hybrids to serve as new Geekmobile vehicles. The new Geekmobiles wore an updated logo and represented a move to keep the Squad's image in step with ever-changing technology.
The Simca Aronde
Now, about that French car itself: SIMCA stands for Societe Industrielle de Mecanique & Carrosserie Automobile. Early on the French automaker manufactured a sports model patterned after the 550cc (33.5-cid) and 1100cc (67-cid) Italian Fiats. It was begun in 1936 mostly as an assembly plant making Simca-badged Fiat Topolinos.
By the mid-'50s, the Fiat connection was just about gone, although the 1221cc (74-cid) Simca engine's design still showed an Italian influence. In this time period, the company enjoyed a growth spurt and held about a 12 percent share of the French market.
The Aronde was Simca's first original design, a modern postwar sedan bowing in 1951. There was also a station wagon and a coupe was added in 1952. The four-door sedan sold for under $2000 in the U.S. and could do 75 mph. It used a 51-hp version of the 1221cc overheadvalve, in-line four.
For 1955, there was a new model, the 90A Aronde, with a larger, morepowerful 1290cc engine. The four-door sedan came in Deluxe and Elysee versions. The latter was the fancier model with a $1745 price tag. This model was offered through 1958. The final Aronde, the P60, went into production in 1958 and was built through 1963.
Specifications: Simca Aronde 1300 Elysee four-door sedan
Year 1958
Price $1745
Engine 1290cc In-line, OHV Four
Bore x stroke 2.91 x 2.95 in. (74 x 75mm)
Compression ratio 6.8:1
Horsepower 48 @4800 rpm
Main bearings 3
Valve Lifters solid
Carburetor Solex 1-barrel
Weight 2053 lb.
Production 189,010 (all 1958 Simcas)
Wheelbase 96.2 in.
Length 162 in.
Width 61.3 in.
Front tread 49.2 in.
Rear tread 49.4 in.
Tires 5.60 x 14
Drive Rear wheel
Transmission 4-speed manual or Simcamatic auto
clutch