FORD VS. FERRARI… THE MOVIE
In the post-war years Enzo Ferrari and his bright red racers totally dominated the 24 Hours of Le Mans endurance run to the point where the Italian automaker notched six victories in a row from 1960 through 1965.
So it came as no surprise when Henry Ford II, grandson of the original Henry and CEO of the Ford Motor Co., expressed an interest in buying Ferrari's company and folding its expertise into Ford's performance and motorsports programs. After all, Ford knew that a high-performance image couldn't help but boost his company's products in the eyes of 1960s consumers.
Negotiations proceeded to a point where the sale appeared certain. But then Ferrari insisted that he retain control over his motorsports operations and that, as they say, became a total deal breaker.
Well, Henry II was a person used to getting his way and he wasn't about to just chalk this one up to experience and get back to business as usual. Instead, he decided to beat Ferrari at his own game and see to it that the Italian automaker did not extend his streak of victories at Le Mans to include the 1966 race. That event, he decided, would belong to the Blue Oval.
And there you have the basis for the movie "Ford vs. Ferrari" that will be released by The Walt Disney Studios on Nov. 17.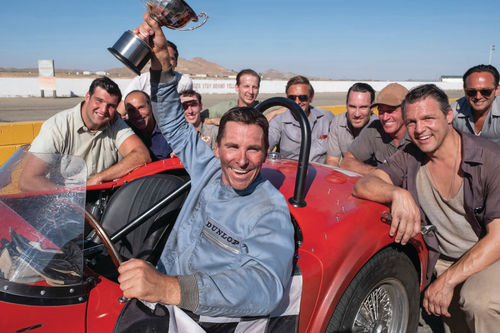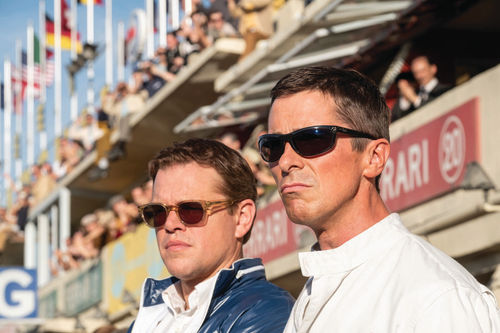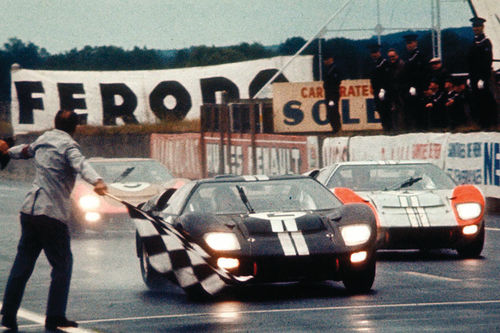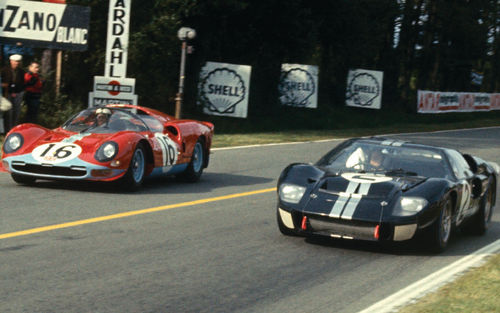 Ford linked up with race car builder Carroll Shelby among others to develop the company's GT40 Mk II for the upcoming Le Mans race with Shelby as a natural since he'd already used Ford 289 and 427 cid V-8s in his Cobra cars and had built the popular Shelby Mustang GT350.
Shelby, in turn, brought in British driver and race car builder Ken Miles to help tune the car and be his lead driver. Miles piloted a Shelby American-prepared Mk II to victory in the 1966 24 Hours of Daytona and followed that by winning the 12 Hours of Sebring.
Moving on to Le Mans, it was Ford's turn to clearly dominate the field that year with the eight GT40s the company had entered, including three from Shelby's shop.
In fact, the two 330 P3s entered by Ferrari didn't even finish the race while the GT40 Mk II, powered by a Ford 427 cid V-8 rated at 485 horsepower, proved to be fast and reliable, two traits necessary to win a grueling endurance race.
Toward the end, Miles was in the lead and on his way to becoming the first driver to win the world's three biggest endurance races in a single year. But two other of Ford's GTs were running in second and third place and Ford executives told Miles to slow down so the trio would cross the finish line simultaneously. But in doing so, the number two car, driven by Bruce McLaren, was declared the winner because it had started the race some 60 feet farther back in the group, thus denying Miles his "triple crown" of endurance racing.
(As an aside, that winning car was restored decades later and featured on the cover of our November 2016 issue when it was driven by contributor Don Sherman at the Road America track in Wisconsin.)
We've not seen the film so we can't give it a thumbs up or down but we've watched the trailer a few times at https://youtu.be/ I3h9Z89U9ZA and it looks like the movie might be fun. Does it stray from the truth? More than likely, as it does carry one of those "Based on an incredible true story" cover lines that Hollywood uses to let you know that, after all, this is meant to be entertainment and not a documentary. And we can't check with any of the principals for comment as they've all passed, including Ken Miles who was killed a few months after the Le Mans race while testing another Ford car at Riverside International Raceway in Southern California.
But Matt Damon comes across well as Carroll Shelby, even wearing his signature black cowboy hat, Christian Bale's accent and attitude fit Ken Miles and Tracy Letts fills the bill as a blustering Henry Ford II. Furthermore, Damon and Bale seem to play off of each other very well.
Once the film comes out, however, we'd like to hear from readers who've gone to see it. This is your chance to be a film critic…let us know what you think of "Ford vs. Ferrari." –Ted Kade, Editor