Behind the Wheel of the FORD GT40 MKII That Won Le Mans 50 Years Ago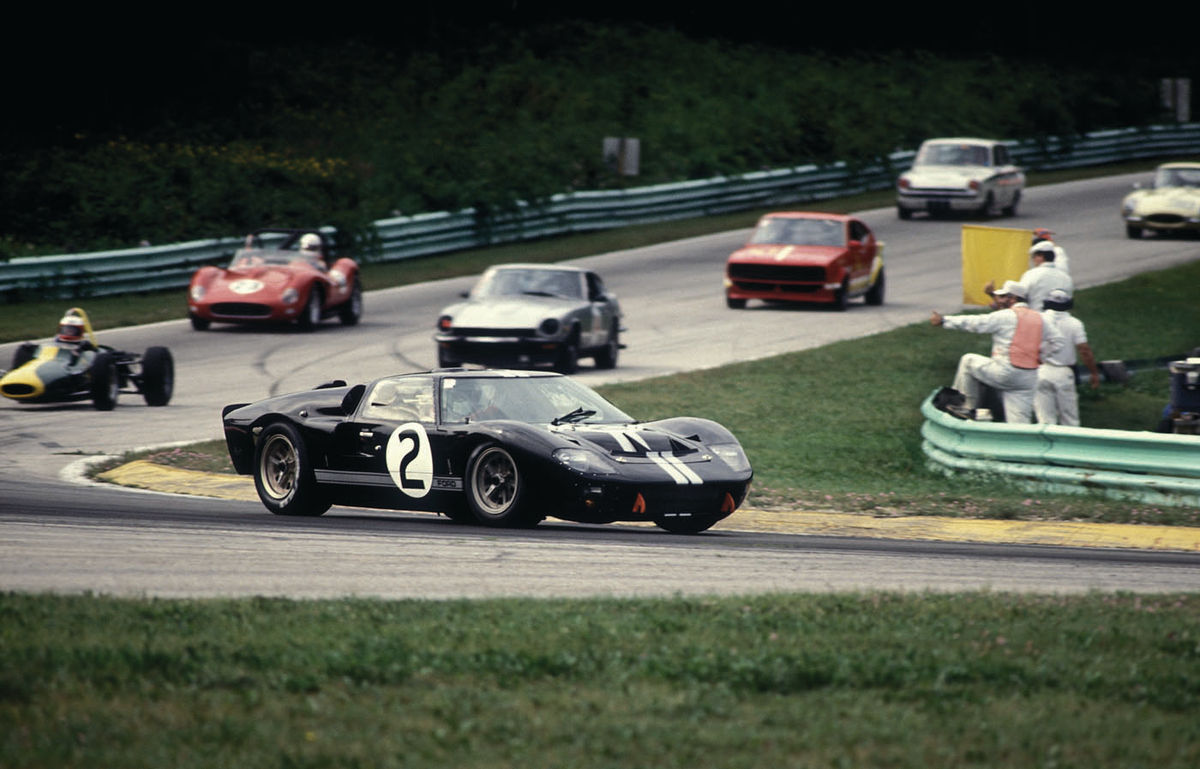 There Was a Time When Even Winning Race Cars Were Merely Tools, Frequently Cast Aside When They Lost Their Competitive Edge. Fortunately, This Historic Ford GT Has Been Restored…and We Took It On the Track.
Editor's note: In the August and September issues we talked about this being the 50th anniversary of Ford beating Ferrari with its famous GT40 race cars at the 24 Hours of Le Mans. We've also discussed Ford's winning return to Le Mans this year with an updated GT race car and the company's plans for a $400,000 limited edition street legal version of the car.
Since then we've learned that Auto Restorer contributor Don Sherman drove the original Le Mans winner at the Road America course near Elkhart Lake, Wisconsin. We couldn't pass up this opportunity, so here's Don's account of the car's up and downs over the years and what it's like to be behind the wheel of this historic vehicle.
In January of 1966, Shelby American's California shop took delivery of a bare chassis P/1046—the 45th GT40 MKII out of Ford Advanced Vehicles' 87-car Slough, England, production run. Due to friction between FAV and contractor Shelby, the P/1046 identification plate was not included with the car.
Upon completion by Shelby, 1046 was campaigned at the 1966 24 Hours of Le Mans by Holman & Moody. In the hands of Bruce McLaren and Chris Amon, it qualified fourth in the 55-car field, two seconds behind the polewinning GT40 driven by Dan Gurney and Jerry Grant.
Before the 24-hour race was half over, Ferrari's 14-car fleet was parked. Overheating stopped Gurney and Grant at the 17-hour mark. With two hours remaining, the GT40 driven by Ken Miles and Dennis Hulme passed the McLaren/Amon car for the lead. However, in an ironic turn of events they didn't win the race. When Ford racing boss Leo Beebe orchestrated a three-abreast photo finish, officials awarded the laurels to the McLaren/ Amon effort because they started the race 63 feet farther back on the grid.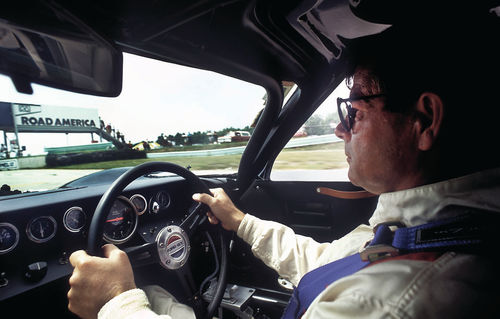 With McLaren at the wheel, the blackand-white #2 GT40 seen on these pages was appropriately the first to take the checkered flag when Miles in the #1 blue-and-white car backed off.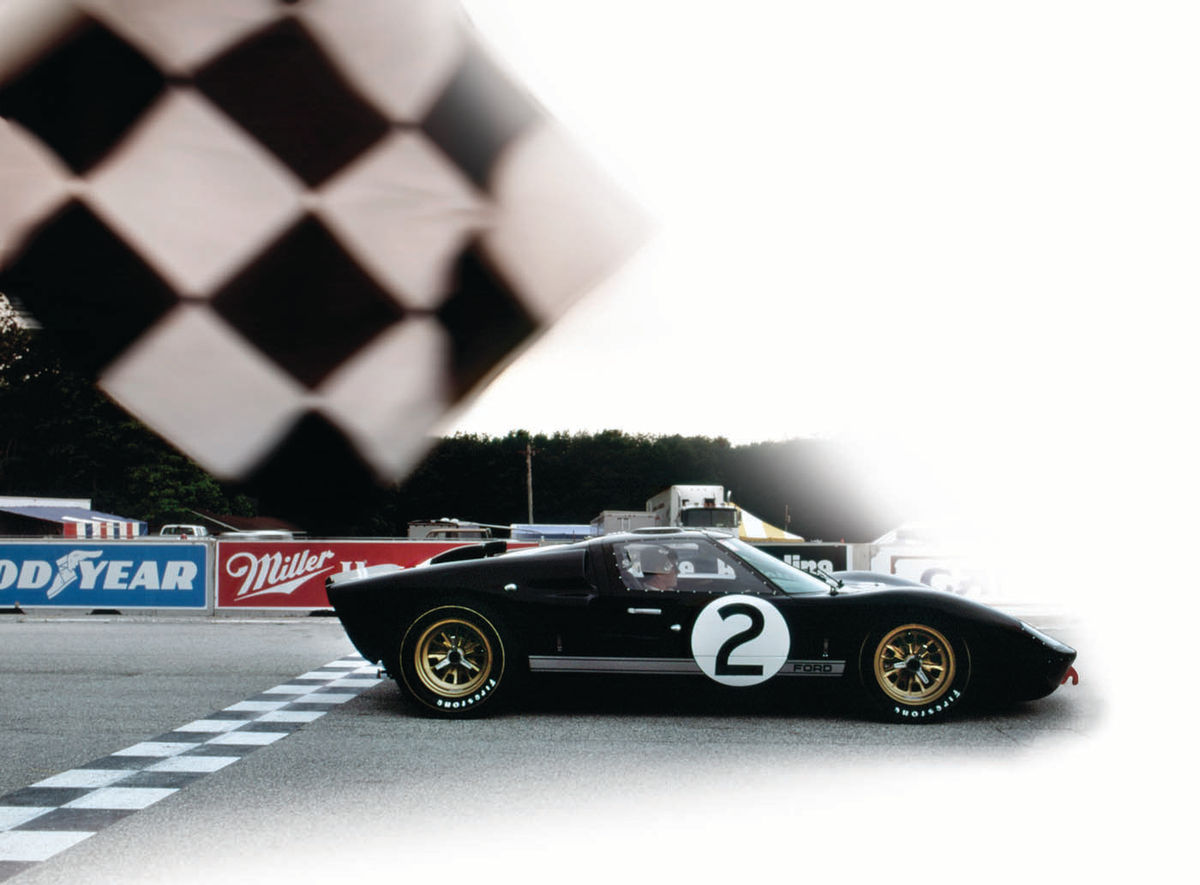 Some Bad Times Followed the Quick Fame
Regrettably, 1046's glory was short lived. Following stints as a test mule, Holman & Moody prepped the car for the 1967 Daytona 24-hour race where it dropped out, along with five other Ford entries, with transaxle failure.
After a few more test sessions, 1046 was demoted to parts-donor status. It was subsequently sold, then handed down through four successive owners. Incredibly, one of those owners had 1046 prepped for street duty with license plates, air conditioning…and metal-flake paint.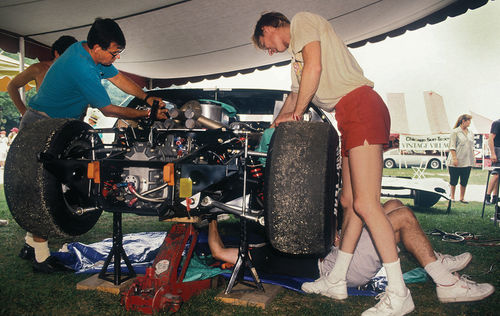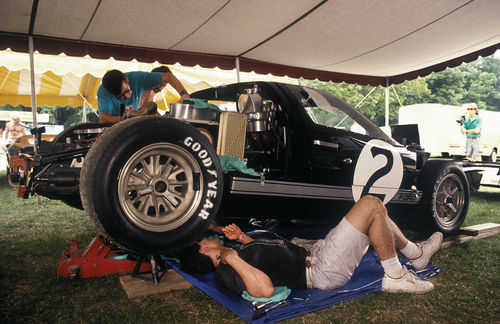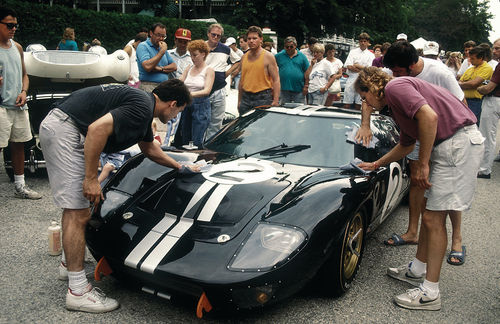 Back On the Track Again
In 1983, Wisconsin car enthusiast George Stauffer discovered 1046—still with no identification plate—stored in a crate in Ghent, Belgium. GT40 expert Ronnie Spain studied the find for two days using period photographs, finally concluding that this was without doubt the 1966 Le Mans winner.
Stauffer restored 1046 to factory specifications and campaigned the car in vintage races for nearly three decades.
In 1991, he magnanimously offered me seat time in his prize during a Road America lunch-hour touring session. By hustling the car into pole position before the green flag waved, I was able to enjoy several full-throttle indulgences without raising the ire of officials or fellow tourers.
I found the cockpit surprisingly comfortable thanks to the Gurney roof bubble, liberally ventilated upholstery, and the panoramic visibility provided by a wraparound windshield. Pedals were located for easy heel-and-toe operation, a tall shift lever was spotted on the right fuel-filled sill, and the near vertical steering wheel made this the perfect place to enjoy long driving stints. (Editor's note: Measuring in at somewhere between 6 feet 3 inches and 6 feet 4 inches tall, race driver Dan Gurney could not fit into the GT40 cars, so a "bubble" was fabricated into the roof to accommodate his uncommon height. This addition, for obvious reasons, came to be known as the "Gurney bubble.")
Comparable to a Mustang…
The torque-rich 7-liter V-8 bellowing behind my shoulder played nicely with the wide-ratio fully-synchronized Top Loader 4-speed transaxle.
On the driving difficulty scale, I'd rate this track star comparable to a current Mustang GT. I found mild understeer turning into tight bends and perfectly predictable neutrality with liberal doses of throttle on exit.
It's clear why the Ford crew had no difficulty topping 200 mph down the Mulsanne straight lap after lap. The blue oval brand's 1966 strategy—ample piston displacement, easy to manage driving dynamics, and laboratoryproven durability—was perfect for snapping Ferrari's six-win streak at the Circuit de la Sarthe track in Le Mans.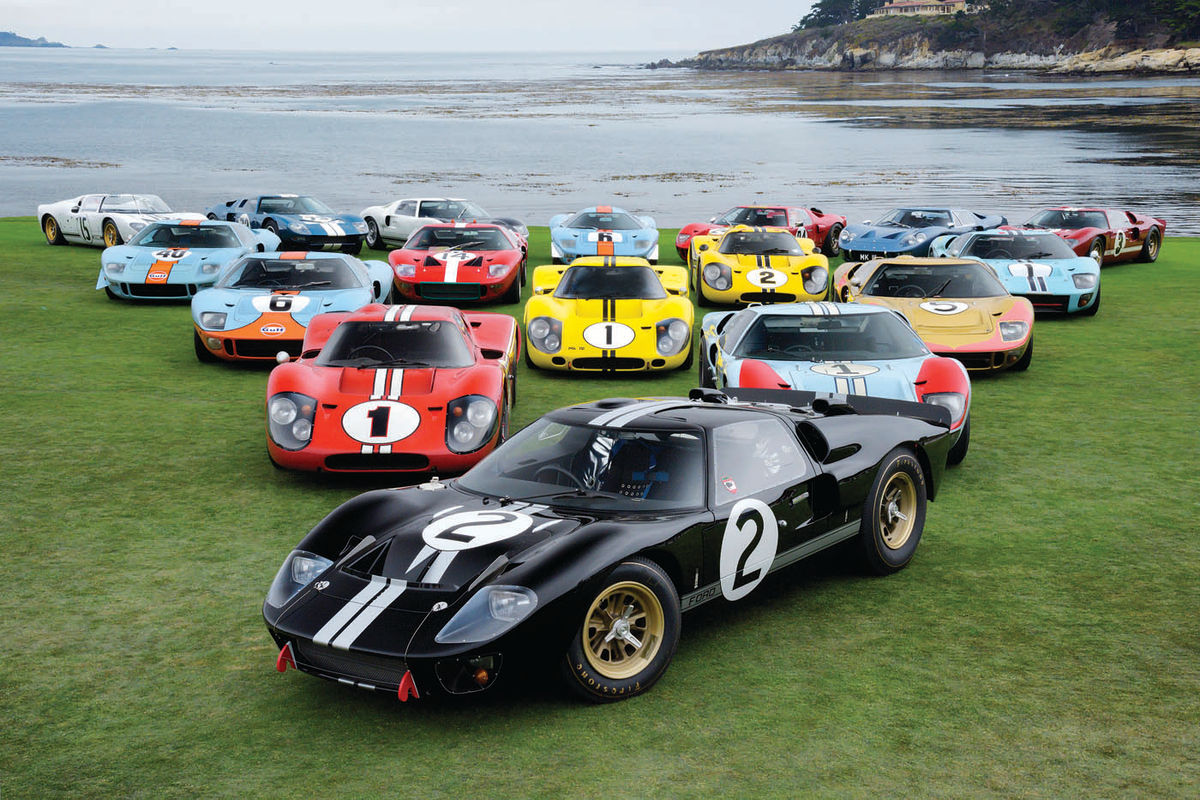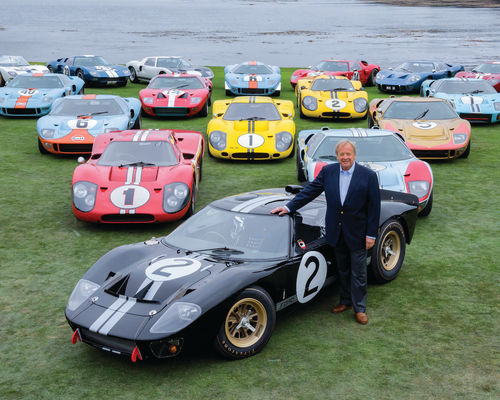 Back to Le Mans to Celebrate
Fearful that continued exposure to vintage racing aggressors would eventually prove disastrous, Stauffer sold 1046 to New York car collector Aaron Hsu in 2010 for more than $1 million. Hsu sold it last year for a reported $22 million to race driver and team owner Rob Kauffman. Following yet another restoration, this time by the Rare Drive shop in New Hampshire, 1046 was shipped to France to participate in the golden anniversary of its win, proudly wearing its identification plate at last.
At Le Mans this year the Ford Chip Ganassi Team USA rose to the moment, scoring first, third, and fourth place finishes (18th, 20th, 21th overall) with new Ford GTs in the LMGTE Pro class. Reprising a distant moment of history, a Ferrari 488GTE wedged into a second-inclass finish behind the #68 Ford GT driven by Joey Hand, Dirk Muller and Sebastian Bourdais.
A Pebble Beach Appearance
Editor's note, continued: Along with its return visit to Le Mans, the famous Ford also was in attendance at this summer's Pebble Beach Concours d'Elegance on California's Monterey Peninsula. It joined a gathering of other winning Ford GT40 cars and was a standout at the event. Photos of the historic Ford during its Pebble Beach appearance, including one with Edsel Ford II (Henry's great-grandson), are above.