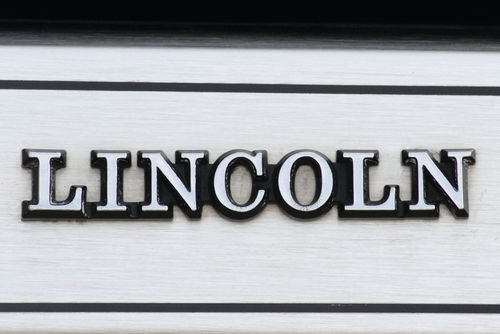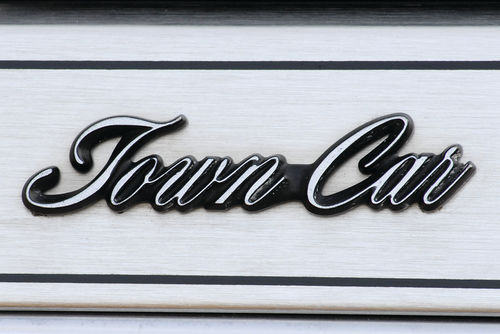 After 12 Unattended Years, It Was In Surprisingly Good Shape. Except for the Surprise When He Opened the Door…
A BARN FIND can be a great thing, thanks to its lack of rust, its overall completeness and the fact that it's not damaged from years of outside storage. Seeing all of those pluses, though, sometimes can require a vision of extraordinary magnitude.
"The first time I saw it," recalled Mike Berry, owner of the 1988 Lincoln Town Car featured here, "I said 'what am I going to do with this?' Those were my exact words. 'What am I going to do with this?' In fact, I couldn't really see it as it was covered with years of dirt. The air shocks were down and the car had sunk down to the ground because it hadn't been started and pumped up. The car was squatting, it was a filthy mess and it was a storage rack."
Old blankets were providing at least some protection to the horizontal surfaces, which were serving as platforms to hold large plastic storage containers. A few more were stuffed inside because the Lincoln is—unfortunately, in this case—a big car with plenty of capacity.
A Continuing Tale of Two Henrys
Nearly all of this Lincoln's ancestors could make much the same capacity claims even if the size and space they offered were meant to provide not a place to set aside goods and possessions, but instead give a measure of luxurious comfort and top-shelf status.
The first Lincoln arrived in 1920, the product of Henry Leland and his son, Wilfred. Henry Leland, who was in his late 70s at the time, named the car for the first person he'd voted for in a presidential election more than a half-century earlier.
Decades before that first Lincoln was built, Henry Leland had already earned a reputation for his complete devotion to precision machinery work, at first for others and by 1890 as a partner in Leland, Faulconer and Norton. Wilfred Leland joined him later that year, Norton left in 1894 and the firm became Leland and Faulconer. That company was contracted by Olds Motor Works at the turn of the century first to provide transmissions and later to produce complete engines.
In 1902 the Lelands' reputation for precision drew the attention of the financial principals of the recently formed Henry Ford Company, which in an earlier incarnation had been the Detroit Automobile Company. The principals felt that Henry Ford, the chief engineer of his namesake company, was moving too slowly in getting production up to speed and they called Henry Leland in to consult. Leland and Ford clashed, and Ford left the company, taking his name with him. The company principals called Leland back, only this time to help with liquidation. Leland, however, soon determined that the company could do better by remaining in business. His idea was to use it to build a car powered by an improved version of the engine he had produced for Olds—a version that Olds had turned down, by the way—and the argument was successful. The company was reorganized as Cadillac and it was to work jointly with Leland and Faulconer to produce a car that had been designed by Henry Ford but now would be powered by the engine designed by Leland, who was a director of the new firm.
Cadillac did well and in 1909 it was acquired by General Motors. Not surprisingly, Leland went with it. He remained with GM until 1917 when the patriotic Leland and his son left to establish the Lincoln Motor Company with a plan to build aircraft engines for use in World War I. But the war ended shortly thereafter and the Lelands returned to the automobile business with the first Lincoln rolling out the door in September 1920.
Riding a wheelbase of 130 or 136 inches, the Lincoln used a 358-cubic-inch flathead V-8 capable of 81 horsepower, which made it fair competition for the V-8 Cadillac and the V-12 Packard in that department. But while the Lelands were known for precision engineering, the styling of the first Lincolns was berated as stodgy and having a pre-war look. Unfortunately, timing once again worked against Lincoln and the tough economy pushed the company almost to extinction, only to be saved when in a turnabout, Henry Ford purchased Leland's company out of receivership in 1922. Not surprisingly, the two Henrys did not bond this time either and Leland and his son remained for less than a year. With that, Henry Ford's son Edsel became president.
From a V-12 to a Road Racer
In the early Ford years, changes were gradual and subtle, with the basic Model L continuing through 1930 when it was replaced with the dramatically restyled 1931 Model K. The L's engine returned for '31 and was now producing 120 horsepower from 385 cubic inches. But while it would climb to 125 horsepower in 1932, that year would bring much bigger news in the form of the V-12 KB series to accompany the V-8 KA. It was the era of multi-cylinder engines, a curious term for V-12s and V-16s, but not V8s. Displacing 448 cubic inches, the KB's 150-horsepower flathead was housed in a car fitted precisely to the luxury market by its size, if for no other reason. Setting aside its 146-inch wheelbase and its almost-three-ton weight, the KB's presence on the road was utterly massive. Its price was massive, too, as what today would be called the entry-level model, the four-passenger Murphy sport phaeton, cost $4300, more than enough to buy 10 Ford Model B roadsters.
In that Depression year, Lincoln built 1515 KBs and that was enough to retire the V-8. From 1933 through 1948, Lincolns were V-12s and although there were definite differences among those engines and the cars they powered, they gave Lincoln the distinction of being the last multi-cylinder American car.
Like the rest of the industry, Lincoln had picked up in 1946 where World War II had stopped it and resumed production with updated versions of prewar cars. At that point, Lincoln was alone among the remaining luxury cars in that it had no eight-cylinder engine to go with its V-12.
Lincoln replaced the V-12 with a flathead V-8 in 1949, but the industry was turning to short-stroke overheads, so 1952 brought both a new body and a new V-8 for Lincoln.
It also brought about an image change. Consider, for example, a 1954 advertisement that trumpeted: "for two years straight, Lincoln won 1st, 2nd, 3rd and 4th places over all stock cars in the Mexican Pan-American Road Race…1912 twisting, tortuous miles of the most exacting test of automotive performance ever devised by man."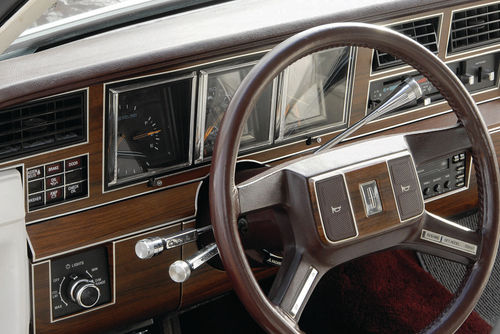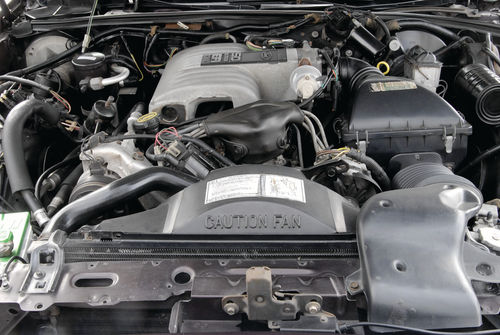 The Road Race Lincolns' reputation remains intact today, but it wasn't the division's only surprise of the time. A complete restyling for 1956 also brought the Continental Mark II, a $10,000 coupe unlike any other Lincoln or, for that matter, any other American car. The Mark II was the very essence of dignity and returned unchanged for 1957 as its final appearance. Restraint in automotive design was rapidly vanishing and the 1958 Lincoln fell right into that trend with slanted headlight pairs, heavy scalloping, unusual roof lines and, on some models, retractable backlights.
The pendulum swung back in 1961, though, and Lincolns became genuinely elegant with slab sides, carefully placed trim and headlights mounted within the grille. Sedans and convertibles were available and all were four-doors with rear-hinged rear doors.
Time to Think Small(er)
By 1976, a four-door Lincoln was 233 inches long (or 19.4 feet, a bit too long for some older garages) and it weighed 5100 pounds.
1988 Lincoln Town Car
GENERAL
Front-engine, rear-drive, sedan
ENGINE
Type Overhead valve V-8
Displacement 302 cu. in.
Bore x stroke 4.0 in. x 3.0 in.
Compression ratio (:1) 8.9
Fuel injection Electronic, sequential-port
Power 150 hp @ 3200 rpm
Torque 270 lb.-ft. @ 2000 rpm
DRIVETRAIN
Transmission Four-speed automatic with overdrive
Final drive ratio (:1) 2.73
STEERING
Recirculating ball, power-assisted
SUSPENSION & BRAKES
Front Independent, coil springs
Rear Live axle, coil springs
Brakes (f/r) Disc/drum, power-assisted
MEASUREMENTS
Wheelbase 117.3 in.
Length 219 in.
Width 78.1 in.
Height 55.9 in.
Weight 4100 lb.
Track (f/r) 62.2/62 in.
Tire size P215/70R15
Fuel capacity 18 gal.
Cadillac had faced the same problem and responded that year with its Seville, an "international-size" model more than two feet shorter than the de Ville. Lincoln then tried a similar approach with its 1977 Versailles. Its size was comparable to that of the Seville and it was almost three feet shorter than the Continental. But Lincoln had made one major mistake in execution.
While the Seville was based on Chevrolet's Nova, it had been so heavily redesigned that about the only visual indications of its origin were in the overall proportions. The Versailles, on the other hand, was based on Ford's Granada…and it looked like a Granada with a Lincoln grille and trunk lid, a design that might have succeeded, if the Granada had never existed.
The Versailles lasted only through 1980, but the reality was that Lincolns needed to shrink and a new smaller Continental four-door arrived for 1980 as the Versailles prepared to depart. By now, the Mark series was up to Mark VI and for the first time (other than late-1950s Marks unrelated to the Mark II), a four door was available. The Mark had been downsized as had the big Lincoln, known at various times as the Town Car, the Continental Town Car and the Lincoln. And those new Lincolns seemed significantly smaller because they were smaller. For comparison purposes, the last big Lincoln, built in 1979, measured 233 inches, used a 127-inch wheelbase and topped 4600 pounds. Its 1980 replacement was 219 inches long on a 117-inch wheelbase and weighed about 3900 pounds. Those figures are about the same on Mike Berry's featured Town Car but even in downsized form there still was a lot of room for stuff and maybe that actually wasn't unfortunate. Maybe it's what saved the stored Lincoln over the years.
"The car ate up all of the owner's storage space," Berry said, "and that's why he used the car for a storage rack with the blankets and the Tupperware tubs. There was no place else in the garage to store their summer clothes or their winter clothes during the other seasons."
It Hadn't Been Prepped for Storage
The Lincoln's garage was in Endicott, New York, and while it had proven useful as a giant closet and storage rack, the owner had parked it 12 years earlier believing that one of his children would want it. None did, but one was a longtime friend of Berry and in 2008 he mentioned that an uncle in France was looking for a Mustang. Berry's Mustang wasn't the right one for the French uncle, but the Lincoln's owner bought it and then threw in the Town Car because he felt Berry would care for it.
The Lincoln had simply been parked with no known preparations. Its battery remained connected and for years the car had been registered so it could be used, but that only happened a few times. Finally, it was mostly forgotten. Berry admitted that his first thought on seeing it was that he wished he hadn't agreed to the deal.
"I figured the hood was scratched and caved in and dented," he said. "The roof and trunk, same thing. I saw it with the air shocks down to the ground and I was thinking 'how am I going to jack this up?' The car seemed like a disaster sitting there like it was when it really only needed to be started up. And taken to a car wash. Both inside and out."
A Growing Condition is Discovered
Cars hidden in barns or garages seem to generate their own dirt, but in this case, dirt wasn't the problem.
"The interior was all mold," Berry said. "The leather seats, the steering wheel were all mold. There was no heat whatsoever in that garage during all those years other than the summer heat. There was no sunlight, either. There were no windows in that garage door at all. So there was nothing in there to kill the mold. The car was green in the white interior and my favorite thing to say is that the steering wheel was furry from the mold and I drove it home that way. I had a sinus infection for two weeks after I got it home. Anyway, it took three months to get the mold completely out of the interior."
Besides the green mold on the leather, he said, white mold covered the dashboard, but the interior's plastic trim and the gauges were fine.
(Editor's note: Various types of mold can be dangerous and even deadly, so if you're not well-versed in mold identification and remediation, it would be advisable to consult with a remediation professional before you become involved with an infested vehicle.)
More Surprises in Store
The windshield wiper blades and some other rubber pieces were dry and hard, there was no trace of mice or other rodents and while the tires needed replacement, they held air. The electrical system mostly worked and like the tires, that was important.
"We touched the battery," Berry said, "a brand-new battery so that we could get the car home, and I turned that key. The (starter solenoid) locked right on and the wires started to glow as the starter was cranking away. It was 'oh, no! Pull the cables off the battery because it's going to burn up!' And I almost did burn the car up in the driveway just trying to get it started to drive home."
The engine had fired almost at once, he said, but he chose to keep it running for the entire 10-mile trip to Binghamton.
A stop at a car wash produced another surprise, this one stemming from the cloth carriage roof.
"I took it right to the car wash and hosed it off," Berry said. "'Oh, it's black' were my words because it (had been) brown, the same color as the car.'"
The dirt was loose, so removing it all required only a large number of quarters.
Even better was the fact that Berry soon found that the Lincoln needed no bodywork. An old repair, he said, was made so well that he found it only because of a mark in the brightwork around a wheel well. Another small trim piece has shed its plating, but replacing either of those would be simplicity itself compared to dealing with the interior. Berry had an advantage in that he's been detailing cars for around 25 years, so he knew where to begin.
"I used a degreaser product that you have under your kitchen sink," he explained. "Fantastik. That really saved the entire interior of that car. It really did a wonderful job. Fantastik and a sponge and a bucket. It had a scrub pad on one side of the sponge and I scrubbed every square inch of the dash, the door panels, the seats and then I got the shampooer out and did all of the carpeting on the doors and on the floor. I have a shampoo machine that you can use for upholstery in your living room and you can take it out and use it in your car. It has a hand wand and basically steam cleans with shampoo. You steam it out that way; vacuum it back out, brushing and scrubbing while you're going with the attachment. I did janitorial work for some years and it all transfers over."
Janitorial work provided more than just the skills for serious cleaning and he pointed to something important and easily overlooked.
"You have to know," Berry said, "what you can and can't use on certain materials."
Some cleaners will discolor or even dissolve certain plastics and others will leave a residue almost impossible to remove if accidentally splashed on glass, while painted or plated surfaces can be damaged and vinyl can be transformed into a sticky mess, but common sense can prevent nearly all of that. Choosing a known, reliable brand is a good first step and the label on any reputable manufacturer's product is going to spell out the appropriate cautions. Through its web site or via the phone, a manufacturer should be able to provide more specific information on proper use of the product and potential problems. Other restorers' experiences can be valuable as can the one recommendation on nearly every cleaning product's label to "test before use by applying to a small inconspicuous area of the material to be cleaned." Berry said that neither the Fantastik nor the Lysol disinfectant harmed his car's interior. The Lysol was used in the ventilation system and on the carpets to finally eliminate the odor.
"This was beyond the old car smell," Berry said. "We're talking rotted food in the refrigerator smell. I don't know why it was so bad, but it was horrible. If you opened the window, it just stirred it up and made it all airborne, so we were probably breathing some stuff that we probably should not have been breathing."
Once They Got Beyond the Mold…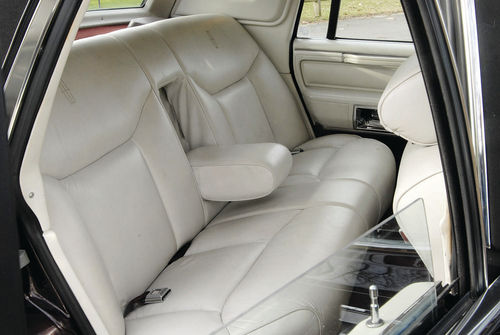 Nothing on the mechanical side measured up to the interior problems, as the sole drama had been the stuck solenoid. That was addressed and the tires were replaced in short order and the only work since has been a new water pump and new brakes all around. The Lincoln's fuel system hasn't needed the attention Berry expected and he said the previous owner must have used a stabilizer in the gas. He's driven the car about 11,000 miles since he got it with 64,000 on the odometer and it's been trouble-free, but not everyone is going to be so lucky.
As a late-1980s luxury car, the Lincoln has trim just waiting to trap moisture and road debris that add up to rust. Berry's car never had that problem, but from looking at others, he recommended checking the wheel wells, the body at the lower edge of the trunk lid, the door bottoms and the quarters. Other potential problems are the front floors, the bottoms of the A- and B-pillars and the door sills, but cars showing significant rust at those points are probably going to be rough overall.
Interiors can have some surprising damage, beginning with the dashboard. A car from a hot climate can be so badly sun-damaged that the top of the dash has been baked and a good tap might take a piece out of the pad. Even in less harsh regions, plastic parts can break, as did the handles for the locks on Berry's Lincoln. Vinyl in door panels loses flexibility so that armrests crack from use and adhesives lose their strength, allowing pieces to separate or fall off. Repairing a bad dash pad is difficult, to say the least, and repairing cracks is only slightly easier. On the other hand, reattaching loose pieces is actually no more than a minor challenge and when it comes to broken plastic, finding a good replacement might be harder than installing it.
Modern Complexities
A 1980s Lincoln is far less complex than a modern Lincoln, but it's still a luxury car and has systems such as climate control, central locking, power windows and power seats.
Repairs might be more involved—and more expensive—than expected, but much of that is balanced by the proven nature of the major components. Under the hood is a 302 and even a Chevy fan will acknowledge that a 302 is a good engine, although thanks to its 150 horsepower, there is a catch.
"It really has trouble climbing hills," Berry said. "If you have it loaded down with four people and luggage in the trunk, you're going to have even more trouble."
In the Lincoln's defense, the same statement could apply to quite a few of its comparable contemporaries. Detroit was trying to recover some performance after having focused on fuel economy and emission requirements; things were improving by the late 1980s, but slowly. The mileage Berry has added shows that the feature car's low horsepower isn't the disappointment it seems to be and the Lincoln's been on its share of trips since its rescue. Reliability is one reason, but another reason is equally valid.
"That car is absolutely comfortable," Berry said. "It's like riding in your living room. It was engineered for its purpose of being a luxury car. It is very luxurious. I would buy it again in a heartbeat."