How -to Time to Boost Your "Showmanship"
Adding Period Touches to Cars Makes Shows More Enjoyable. And, You Might Win a "People's Choice" Award.
IF THERE WAS a trophy for "Most Photographed Front Bumper" at car shows, I would win it every time.
I recently bought a car that is in very nice cosmetic condition except for a small area of flaking on the re-chromed front bumper. So, I decided to temporarily cover it with a 1960 bumper sticker. The best one I found on eBay proclaimed "Kennedy For President." It never fails to bring a smile to spectators' faces regardless of their political persuasion.
By scanning the original and printing it on a magnetic sheet available at office supply stores,I can display it only at shows and not need to worry about it getting ruined in a rain shower.
They're Small but Important Touches
Of course, the cars are the true stars of all car shows, but adding a few items to the display of our vehicles can increase everyone's enjoyment. Placing a few nostalgia-generating items on the seat, in the trunk or near the vehicle will help it to stand out from the crowd.
And don't forget that if you are at a "Show and Shine" event where the trophies are awarded by the popular vote of participants and spectators, you will improve your chances of taking one home by using a little showmanship.
Naturally, the items that we use must "fit" the car. A vintage child's car seat in a GTO would be as out of place as a steering wheel knob (also known as a necker's knob or suicide knob) would be on an Olds 98.
However, to add extra interest to a 1961 Chrysler four-door sedan, I once placed a woman's pill box hat and a pair of long white gloves on the front seat. Magazine advertisements for Chryslers at the time showed most women in this type of attire. A man's narrow-brimmed, 1960s-style black hat and a pack of Old Gold cigarettes added even more to the atmosphere of the era in which the car was built.
Road maps of the proper vintage are cheap but attractive show items. They are best if they are dated. Ideally, they will carry a logo from a gasoline brand that no longer is in business.
Another low-cost display piece is a common magazine of the appropriate time period. Copies of The Saturday Evening Post are always well-accepted and they often contain car advertisements. Other magazines that are no longer published, such as Colliers, also tweak spectators' memories.
Consider Some Accessories and Documentation
Another period item that you might consider for display is a pair of curb feelers. These flexible wires were attached to the front and rear fenders on the passenger side. The noise they made as they scraped across a curb would help the driver avoid damaging his wide whitewall tires. It is fun to hear the guesses from young spectators regarding their function. Furthermore, curb feelers are easily mounted temporarily with spring clips if you don't care to drive around with them installed all the time.
Some display items always attract attention. A copy of the dealer's new car price sticker should be taped to the driver side rear window. It ought to be complete with a list of optional accessories and their prices on any car that was sold new after September 1958 when these labels became mandatory. (That Sticker, by the way, is known as a monroney sticker in the auto business after the late Sen. A.S. "Mike" Monroney from Oklahoma. Monroney sponsored the Automobile Information Disclosure Act of 1958.)
If you don't have the original sticker for your car, watch for one at car shows that you attend. Often, an owner will agree to scan his original one and give (or sell) you a copy.
If your car was a popular make, you may be able to buy a blank copy of the sheet on the Internet. You then need to research the prices of each accessory to build a proper list for your car. National car clubs often have this information available.
Incidentally, if you decide to display your vehicle's original paperwork such as the window sticker, bill of sale or build sheet, consider making copies of them for your display purposes. The originals are too valuable to expose them to sunlight that will cause them to fade. If you scan them to a computer and print them, you can store the originals in a dark, dry place. If the displayed ones fade, it is a simple matter to print more.
If you use a display board to exhibit copies of original paperwork, photos of the restoration or other info, make sure that it is well anchored to the ground. You don't want to try to persuade the owner of the car next to yours how it was all the wind's fault that your sign fell over and scratched his new paint job!
Recalling That Time at the Drive-In
You're no doubt aware that some interesting show props are fairly common. While visiting a large cruise-in, you'll often come across at least one reproduction drive-in restaurant tray, complete with plastic food, hooked onto a car window. Want something a little more rare?Try hooking a drive-in movie speaker, that you can buy on the Internet, onto a window. For an added interesting touch, fray the cord as though you had accidentally driven off with it still attached.
Why Not Dress for the Occasion
Some special interest cars, such as the Model T, motivate drivers to wear period clothing. Flat brimmed straw hats (boaters) and bow ties seem like the natural attire for parades or show display.
A Model T coupe, often referred to as a "doctor's coupe," can receive a practical benefit through the inclusion of a vintage doctor's bag as a display item. The bag can also serve as a glove compartment for your car documents and small tools.
If you aren't inclined to wear period clothes, you might still wear a custom shirt or baseball cap with a unique design. There are standard ones with the logo of nearly any car built…or you can be more creative. I once saw a cap embroidered with an image of an Edsel and a label that read "Bum Rap.
Dealer Items and License Plates
Dealer promotional gifts can be fun items to display. A fuzzy tiger's tail protruding from under an early GTO's trunk lid will bring smiles to the faces of spectators old enough to remember the advertisements of the mid-1960s.
Promotional model cars that enticed potential buyers into the showroom are interesting. An advertisement offering a model to anyone test driving a new car will make the display even better.
Many states now allow "year of manufacture" (Y-O-M) license plates to be used in place of current ones on collector cars.
These are not the common "historic" plates issued by states, but are similar to vanity plates. They usually must be original, in the correct color, and made in the same year as your car. Check with your state Motor Vehicle Bureau for restrictions(usually few) and application procedures (usually simple).
If yourstate has no provisions for year of manufacture plates, you can still legally display an appropriate year plate at shows by replacing your modern one with the old one after you arrive at the show. Using wing nuts on the back of attaching bolts will simplify the transition.
Radio and TV Ads Draw Attention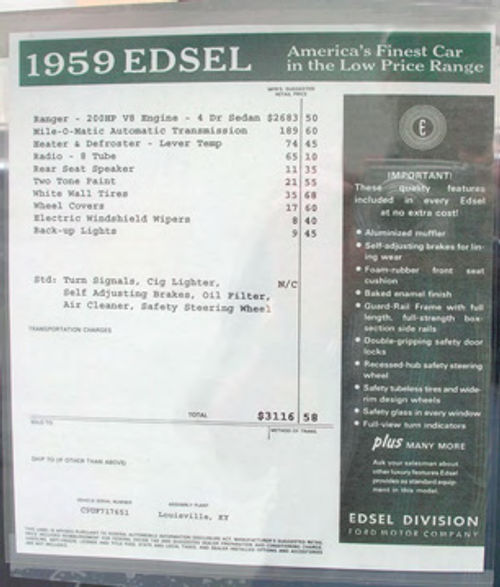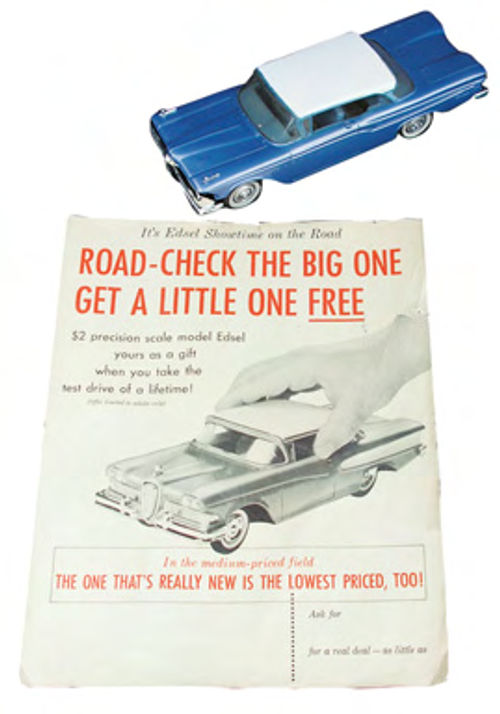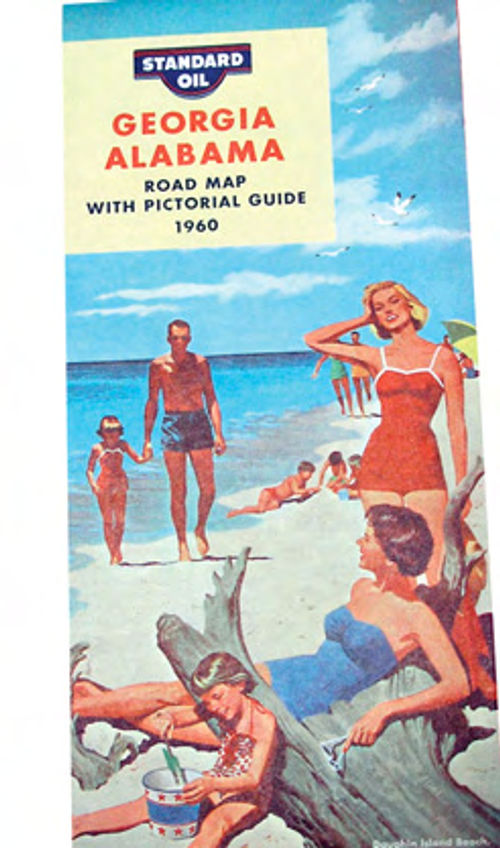 If you are willing to try a more ambitious display project, try recorded radio or TV advertisements. Vendors offering CDs or DVDs of period advertisements for most cars from the 1950s and later can be found on the Internet. Some have been copied so many times that the images are not really clear, but they are so interesting that viewers generally don't care. You will need to rig a playback monitor or use a laptop computer to show them, but they are worth the effort.
After all, a major source of enjoyment for most of us at cruise-ins and car shows are the conversations that our cars generate. And when you use your imagination to find and display items such as those discussed here, you will be adding to everyone's pleasure.
A List of Suggestions to Consider
Vehicle Items: Year-of-manufacture license plates, Portawalls, Curb feelers, Steering wheel knob, Stoplight prism, Restaurant food tray, Bumper Sticker, Drive-in movie speaker, Retro child seat (with steering wheel),Magazine advertisements, Radio/TV commercials.
Paper work: Window price sticker, Owner's manual, Bill of sale, Jacking instructions.
Dealer Items: Promotional car models, Postcards, Matchbooks.
Clothes (worn or placed in car): Hats, Gloves, High School Jacket.
Other Items: Road maps, Cigarette packages, Photos.