A Rare Birthday "Pony" Tale
Many People Have Hoped for a Special Car as a 16th Birthday Gift. Nearly 50 Years Ago That Wish Came True in a Big Way for This Fellow.
IT'S A DREAM that many young boys have shared over the past century or so…in fact, you might have been caught up in it yourself. The dream we're talking about has to do with a rite of passage, a time of moving from boyhood to the status of a young man, complete with new freedoms and a sense of adventure.
This dream, obviously, has to do with cars…very special cars.
Picture this, in the dream you wake up on your 16th birthday, wondering what your parents have bought to commemorate this very momentous occasion. Will it be a couple of new shirts for school? Or maybe an electric shaver because you finally have a real need for one. Or perhaps, since it is your 16th birthday after all, the folks have been extra generous and popped for that special fly-fishing rod you've wanted for so long, or that set of professional-grade skis or the top-of-the-line surfboard that you've talked—and hinted—about for months.
But what you're really, truly hoping for, and since this is a dream after all, anything's possible, is a car or truck of your own—one that will turn heads and put a permanent smile on your face wherever you go.
In your dream you come out of your bedroom and your dad is standing there, a sly smile on his face. "Take a look in the driveway," he urges. You glance out the window and there it is, the high-performance car or heavy-hauling truck built just the way you would have ordered it. You turn back toward your dad and he tosses you the keys. "Have fun, but be safe," he advises.
Just a boyhood fantasy that never had the slightest chance of coming true, right?
Well, actually, something very much like this "dream" did take place nearly a half-century ago involving a customized Ford Mustang. As you no doubt know from reading these pages, the 50th anniversary of the Mustang's introduction is coming up in April. The custom pony car we're discussing here was given to a boy as a 16th birthday gift in December of that year.
Preparing That Special Gift
As 1964 drew to a close, Mustang had been on sale for about eight months, and it was already clear that the car was on its way to becoming one of the biggest new model hits of all time. (Four months later it had topped 418,000 sales, a world record for a new model's first year on the market.)
One of the factors that made Mustang so appealing was the capacity for customers to personalize the car to their own tastes. With three body styles, four engines, 17 colors and other options, Mustang was widely promoted as "The car designed to be designed by you."
And this car went far beyond the usual "designed by you" parameters.
For starters, this Mustang Fastback (seen on these pages) was sent to the Ford paint shop to be coated in a pearlescent white finish with slim blue racing stripes over the top of the body and along the rocker panels.
Other exterior details setting this Mustang apart were a functional hood scoop, chrome trim on the three gills in the headlamp buckets, and fender-mounted rear view mirrors similar to Mustangs sold abroad at that time.
The car's custom cabin had been finished in blue leather with aluminum trim, and a high-performance 289-cubic-inch V-8 was placed under the hood.
Presentation of the "Amazing" Auto
Although the teenager's birthday was December 27, his father decided to have the car ready and waiting for him on Christmas.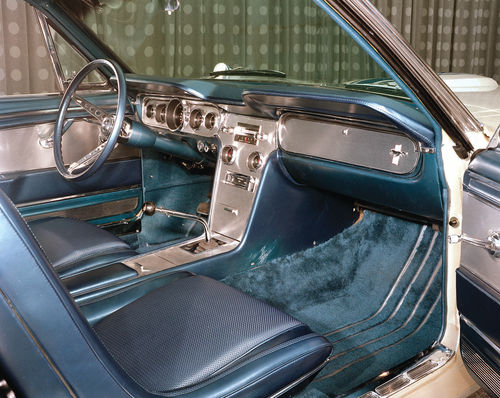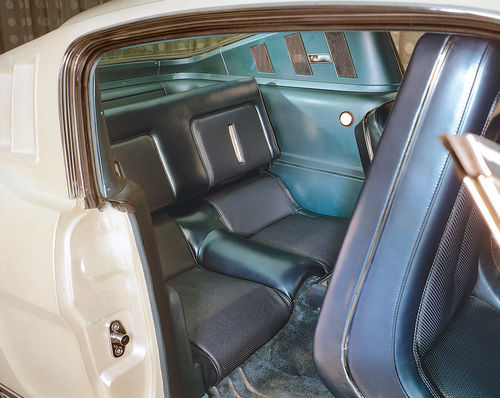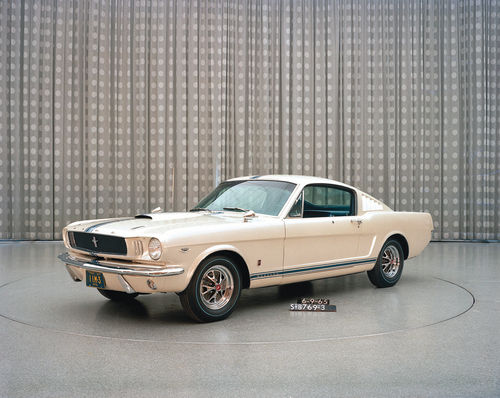 "I came downstairs that Christmas morning with my sisters, and my father indicated I should take a look outside," the then-teen and now 65-year-old man recalled regarding the event. "This amazing Mustang was sitting in the driveway, and I immediately grabbed my coat and shoes and went outside to check it out."
The teen slipped into the custom interior and took the car for a short drive, covering several laps of the driveway in front of the house.
"The rumble of the high-performance 289 was always intoxicating," he said. "I only drove it for a few minutes that first day because there was snow on the ground, but as soon as the roads were cleared, I drove it almost every day."
Here's Where the Other Shoe Hits the Floor
OK, so you know there has to be a major catch to this story. The dad in this tale wasn't just another working guy who wanted to do something special for his 16-year-old son so he drained a major portion of his bank account and relentlessly badgered his local Ford dealer to push this special order through.
No, it wasn't quite like that.
Remember when we were talking about the numerous custom touches added to this car? There was another, more subtle detail many people probably wouldn't notice. The Mustang's rear fuel filler cap, which typically carried the galloping pony logo, featured the initials "EBF II."
That's EBF II as in Edsel B. Ford II, great-grandson of company founder Henry Ford, grandson of Edsel Ford and son of Henry Ford II, who at the time was the Ford Motor Company CEO and chairman.
So that explains how this very special car came about and how numerous distinctive touches that weren't available on production cars were readily applied to this Mustang. After all, people at Ford Motor weren't inclined to say "Sorry, Henry, but I don't have time for that." Or "No, Mr. Ford, I don't think we can be producing a one-of-a-kind vehicle just because someone's turning 16."
Oh, and when Edsel said he took the car for a short run that morning by doing laps on their driveway, keep in mind that he wasn't just going up and down from the sidewalk to the garage. I've seen the home where the Henry Ford II family lived at the time, from a distance of course, and you could get the feel for a car by doing laps on their property.
The Car's Run was Short, But the Memory Lasted
Despite the fact that it was a one-of a-kind car, that Mustang became Edsel Ford's daily driver as he finished high school and went off to college.
But then four short years after Edsel received the custom pony, he loaned it to a friend and the car was destroyed in an accident. Fortunately, no one was hurt (but I'll never understand how someone could loan out a car like that to a pal).
Edsel II went on to receive a bachelor's degree in business administration from Babson College in 1973. He began his career at Ford Motor Company in January 1974 and was elected to the board of directors in 1988, a position he still holds.
As you can easily understand, in the 49 years since he received his first Mustang, Edsel has owned a few others, along with Ford vehicles that had more space for his wife, the former Cynthia Layne Neskow, and four sons.
Still, the birthday gift from decades ago holds a special place with him.
"That Mustang was my first car and one of my favorites," he said. "Seeing the photos that were discovered in the Ford archives (and shown on these pages) brought back many fond memories."
Editor's note: In this 50th anniversary year for the Mustang, if you have fond memories of a Mustang or even some memories that are not so fond, why not share them with Auto Restorer and our readers.