Mixing Young People and Old Cars Is Important to the Hobby. So This Company Is Putting Them Behind the Wheel.
LOTS OF PEOPLE talk about the importance of bringing younger generations into the vintage vehicle hobby…but how many of them would be willing to offer time behind the wheel of their favorite ride as an enticement to the youthful drivers of today?
Interestingly enough, there seems to be no shortage of hobbyists who not only are willing to provide the use of their precious vehicles for this purpose, but they volunteer their time as well to serve as driving coaches for groups of eager young people who have never even been in an older car before.
If you find this hard to believe, consider the Hagerty Driving Experience, a program now in its second year that's sponsored by Hagerty Insurance, the Traverse City, Michigan-based company that specializes in coverage for vintage cars, trucks, tractors and motorcycles.
With the Experience, Hagerty selects a driving venue, usually a large, open parking lot. (This is an introduction to vintage cars, so there's no street driving here.) The company contacts car clubs and other owners in the area to arrange for vehicles and then gets in touch with schools and youth organizations to invite potential future hobbyists to the event.
"What we're doing is putting our money where our mouth is," said Hagerty CEO McKeel Hagerty, whose 1963 split-window Corvette has been involved in the Driving Experience. "We need to demystify the hobby and get young people thinking that some day they can own a classic car…and have fun driving it, too."
Recognizing Some Hobby "Roadblocks"
Hagerty said the idea for the Driving Experience was developed as the company collected federal government research showing that today's young people have much less interest in driving than teens did as recently as three decades ago. For example, the Department of Transportation reported that only 49 percent of 17-year-olds have a driver's license, a more-than 25 percent drop since 1978.
"I was amazed at that," Hagerty said. "When I think about my own experience I couldn't wait for the day when I got my driver's license."
In addition to the growing apathy among young people regarding driving privileges in general, Hagerty said he's concerned that the hobby directly or inadvertently "sends out a lot of signals that don't welcome young people" into the vintage vehicle realm.
For instance, media coverage of vintage auctions generally centers on the latest record-setting, multi-million-dollar sale of a rare Ferrari or the six-figure deal for a special Mustang that's in short supply, thus giving the impression that this is a hobby for the ultra-rich.
"We often send out the wrong signals regarding classic cars," Hagerty said, "and young people are being intimidated."
Opening a Pathway
In addition to negative signals such as publicity that concentrates on six- and seven-figure sales for certain vintage vehicles, Hagerty realized that there's also a much more basic hurdle that must be overcome if young people are to become active participants in the hobby—they need to learn how to work a manual transmission.
"Modern cars have automatic everything on them," Hagerty said. That, of course, includes an automatic transmission. In fact, less than 10 percent of the currently produced cars have a manual shifter and yet that's a technology that's prevalent on many vintage vehicles.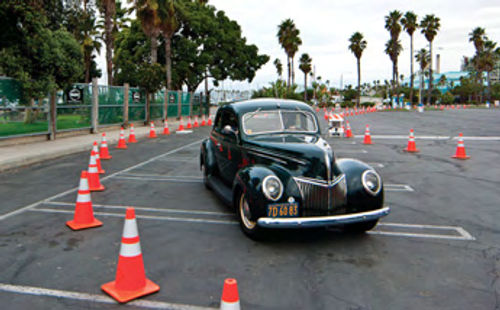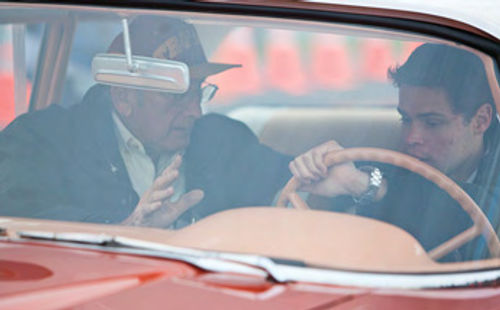 So it only makes sense that when the young people gather for a Hagerty Driving Experience, the day begins with a classroom session that includes an overall introduction to vintage vehicles and specific instruction on manual transmissions. Furthermore, not only are the young people given guidance on the art of shifting gears, they're also shown photos and diagrams of how the transmission and clutch assemblies work so they'll understand what's going on when they're behind the wheel—again, another step in the "demystifying" of vintage vehicles.
At the Wheel
Once they've been schooled in the workings of older cars, the young people—aged 15 to 25—head out to the driving range with the car owners/coaches for some hands-on experience with the vintage metal. So far, the vehicles have included a diversity of makes and eras, ranging from a 1928 Packard Phaeton, 1939 Ford and 1940 Buick, to a 1955 Porsche, 1958 Edsel, 1962 Aston Martin DB4 and a 1973 VW Thing as well as the earlier-mentioned '63 Corvette coupe.
And as you might expect, many of the young guys initially are drawn to the "go fast" cars, Hagerty said, but they soon discover that the others are "cool" as well. The young drivers maneuver their way through an orange-cone course and usually everyone ends up with 30 to 45 minutes behind the wheel. So far, although the program has involved some 150 young people and 40 cars, the only casualty has been a burned clutch. Otherwise, every vehicle has left the Hagerty Driving Experience "unscathed," the company said.
As for the verdict from the students involved, Christian McCormac, 15, of Philadelphia, remarked: "The Hagerty program was awesome.
"When I registered I thought I would learn about driving a stick shift and be driven around in some classic cars. But when I arrived I found out that I would be driving the cars myself. I had plenty of time to drive all the cars, and the owners were really friendly.
"And when I have kids, I can tell them that the first stick-shift car I ever drove was a '63 Corvette."
The first Driving Experience was held on July 8, 2011—Collector Car Appreciation Day—at the Automotive Hall of Fame in Dearborn, Michigan. Among the other events since then was one at the Texas Museum of Automotive History in Dallas, and the Simeone Automotive Museum in Philadelphia. Yet another event is scheduled for Nov. 10 at the Atlanta Motor Speedway, and Hagerty is planning on six more next year.
An Achievable Goal
While the company certainly doesn't expect its Driving Experience to turn every young person who encounters a vintage vehicle into an eternal hobbyist, McKeelHagerty emphasizesthat hitting even a much smaller section of the overall target will serve the intended purpose. "With a national population of some 300 million, we don't need a very big percentage of the population (to keep the hobby alive and vibrant)," he said.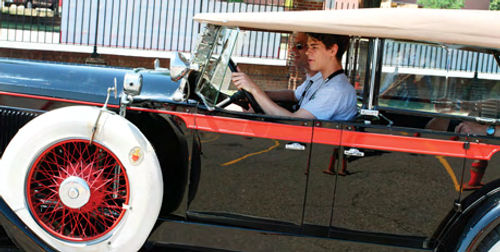 And as further evidence of a potential interest in older vehicles, even among younger people with seemingly different tastes, he offers this story:
"I was driving along in a '60 Cadillac when a kid in an orange tuner car with lights and wings came along," Hagerty said. "He pulled in front of a whole lot of traffic so I could drive by him…and when I did, he was cheering for me.
"I later encountered him again and he said 'Oh, I'd love to have something like that.' The tuner car he had was something he could afford then, but some day that kid will own a Cadillac like the one I had."
For more on Hagerty Insurance and the various youth-oriented programs it sponsors, visit hagerty.com.