Eight Decades For the LINCOLN CONTINENTAL
While Auto Restorer Will See Its 30th Anniversary With the June Issue, the Lincoln Continental Is Observing Its 80th Birthday This Year. Let's Take a Look at the Continental's Early Days and Its LimitedEdition 80th Anniversary Model…That's Already Sold Out.
Sometimes you have to wonder what path Ford Motor Co. would have taken if Edsel Ford had not died in May 1943 and had assumed real control of the company instead of his son, Henry II, who took over in 1945 when the elder Henry stepped aside.
While his father was noted for his engineering prowess, Edsel had a flair for styling and it's said that while Henry was totally occupied with the mechanicals of the Model A, Edsel took charge of the styling and gave the car what some have termed a "mini-Lincoln" look.
It's not that Edsel was unconcerned about the operational quality of a vehicle. In fact, he's been quoted as saying, "Father makes the most popular car in the world. I would like to make the best car in the world—Lincoln."
But given his upbringing as a wealthy young man, Edsel's sense of style came forward in vehicles that made a bold and exciting statement and from time to time he had cars built along those lines for his personal use.
For example, two cars that were said to be among his favorites were aluminumbodied boat-tail speedsters constructed in 1932 and '34. It's said that he had no intention of putting these vehicles into production and that he stored them in a shed at his home where Henry wasn't likely to encounter them if he happened to stop by for a visit.
Then a One-Off Became a Production Car
Speaking of bold style, the first major break from Edsel's formal Lincolns of the '30s was the aerodynamic Lincoln-Zephyr of 1936 with a pointed nose, integrated headlamps and a flowing body. The new Lincoln was powered by a V-12 version of Ford's flathead V-8 and took its name from the Chicago Burlington & Quincy Railroad's streamlined passenger train, the Zephyr. (According to Merriam-Webster, by the way, the definition of the word "zephyr" is "a breeze from the west" or just "a gentle breeze".)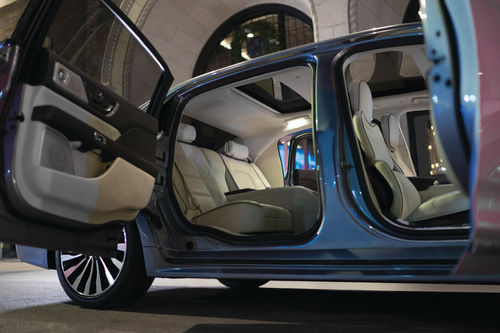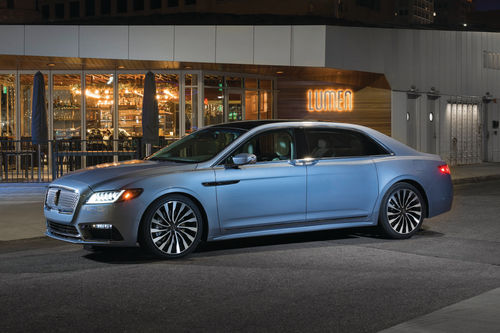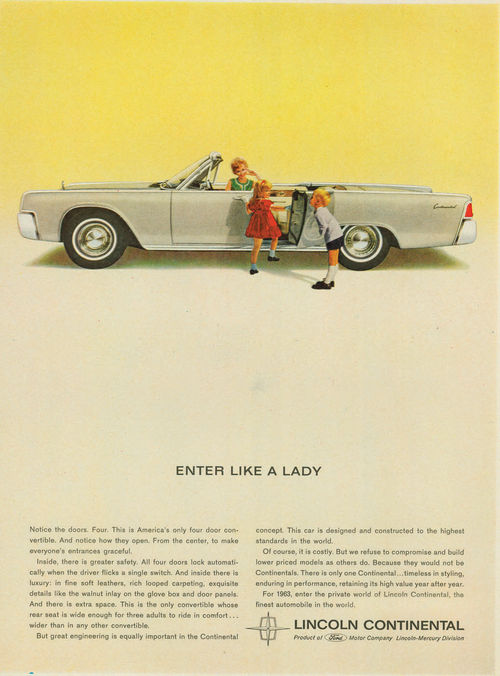 Next we get to the part in our story that has become something of an American automotive legend but apparently is not an urban myth.
It seems that in 1938 Edsel Ford was visiting Europe, as wealthy folks tended to do at the time, and when he returned to Dearborn he brought with him an idea for a luxury five-seat convertible coupe. He intended for the special vehicle to be the latest in the series of one-off cars he had built for his personal use.
Edsel and designer E.T. "Bob" Gregorie, the head of Ford's styling department, used the Zephyr as the base for what became Edsel's original Continental prototype in 1939. The car used a number of parts from the Zephyr but had a different personality with a knife-edge front end, long, low hood and short rear deck.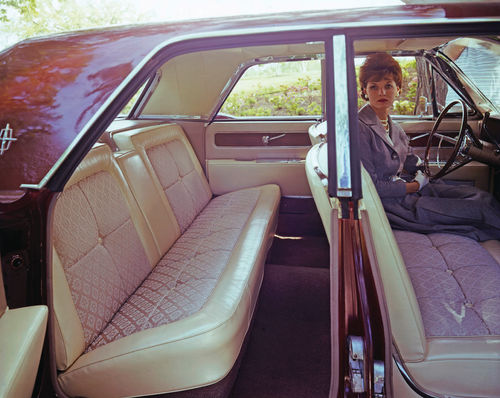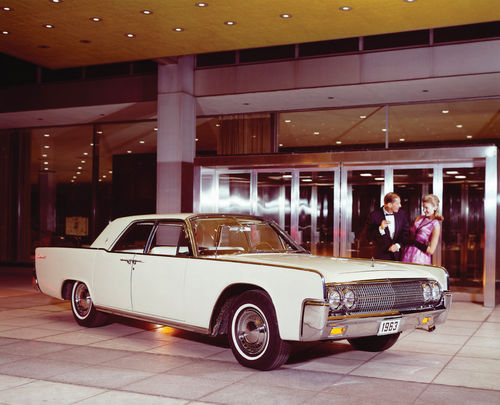 The one-off version was delivered to Edsel Ford at the Ford family residence in Hobe Sound, Florida, in the spring of 1939 and immediately caught the attention of Edsel's well-to-do friends and neighbors. In fact, as the story goes, some 200 of those well-heeled folks were so taken with the car that they placed orders for it with signed blank checks even though it wasn't a production vehicle. But given that level of response, when Edsel returned to work the prototype was modified for production and the car was offered for sale as a Zephyr Continental in October 1939 as a 1940 model.
The 1940 Continental featured a onepiece rear window, round sealed-beam headlights, safety glass in all windows, a power convertible top and a body without running boards for a sleeker look.
The new Continental immediately became Lincoln's image leader and a total of 404 vehicles were produced. The following year it became a separate series from the Zephyr.
Those Center-Opening Doors
Let's now jump forward two decades to 1961 when the fourth-generation of the Continental was introduced.
After the exuberant styles of the late '50s, Ford Motor has said that the "all-new" Continental for 1961 was "one of the cars that began the trend toward smoother, more functional American car designs with less emphasis on the wild, heavily chromed bodywork" that characterized the final years of the previous decade.
The new Continental's slab-sided design incorporated themes from the 1961 Thunderbird "and it was Lincoln's attempt to set up a design hallmark for its cars…" the company said and added that "The full-size Lincoln sedans have carried themes from these formal, yet modern, tastefully trimmed cars ever since."
In addition to its new design work, the '61 Continental was the first massproduced American four-door convertible in a decade. And speaking of doors, this new Lincoln featured "coach doors" where all four opened from the center.
It was a design feature that was promoted heavily at the time. "Notice the doors," one Continental advertisement began. "And notice how they open. From the center, to make everyone's entrances graceful."
A Personal Encounter…
Well, maybe everyone's entrances were graceful but I know of one exit that wasn't…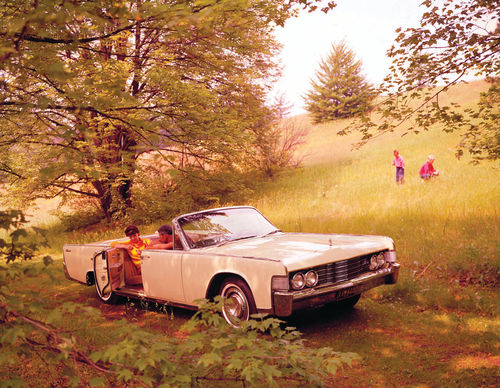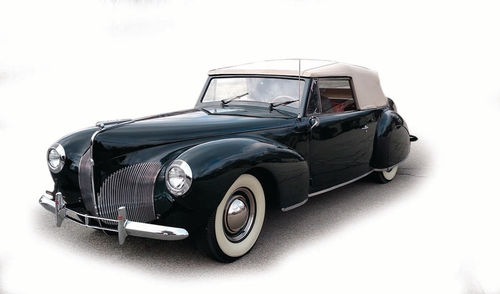 In the early '60s a friend of the family bought a new Continental and brought it over to our house to show off his new ride. I was about 12 at the time and already felt that nothing could be more important than cars, so I readily agreed to a trip through the neighborhood and have to admit that I felt like nothing short of royalty as I rode along in the back seat.
But this was my first encounter with a center-opening door and when I climbed out at the end of the drive, gripped the door handle with my left hand and went to close that heavy metal slab, my left thumb was extended a bit too far and was starting to wedge between the front and rear doors when the intense pain caused me to jerk the door open again. Thanks to a boy's quick reflexes, the only injury I sustained was a deeply bruised thumb tip. But to this day I can still picture the incident and it's something I'll certainly keep in mind if I should encounter the Continental Coach Door Edition that Lincoln is introducing to celebrate the car's 80th anniversary
Return of the Center Opening Doors
Some six decades after the arrival of the fourth-generation Continental, the company is bringing back a modern version of those center-opening doors with a limited run that it calls the Lincoln Continental 80th Anniversary Coach Door Edition.
"The center-opening doors became synonymous with the Lincoln Continental, even though they were only featured primarily in the '60s," said David Woodhouse, design director, The Lincoln Motor Company. "But they struck such a chord that they're still remembered so fondly today."
The center-opening coach doors are a celebration of both form and function, Woodhouse said, as they showcase the interior of an exceptionally beautiful vehicle. The 90-degree opening makes for easy, graceful entry and exit by allowing passengers to turn to sit to enter, then exit the car by stepping forward and out.
"People appreciate elegance and glamour. And they want the easiest way to get in and out of a vehicle. These doors answer to both."
In addition to the special doors, Lincoln says its anniversary edition car provides the refinements and advanced features today's luxury vehicle client desires. From the doors to the seating to the Lincoln Black Label interior, no detail has been overlooked, the company said.
For example, the car's Head-Up display contributes to a custom driving experience by letting drivers choose what information is projected onto the windshield display. The feature is visible even with ambient lighting and when the driver is wearing polarized sunglasses, the company said.
Perfect Position seats adjust 30 ways, and a Revel Ultima Audio experience allows drivers to select one of three listening modes including stereo, audience and on-stage.
The car is powered by a 3-liter twinturbocharged V-6 engine that produces 400 horsepower and 400 lb.-ft. of torque. In addition, three Drive Modes, including Normal, Sport and Comfort adaptive suspension settings, "allow clients to personalize their driving experience."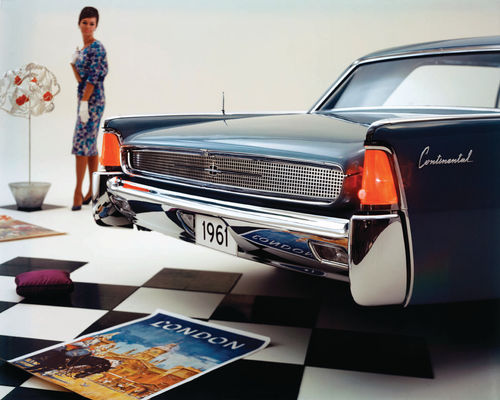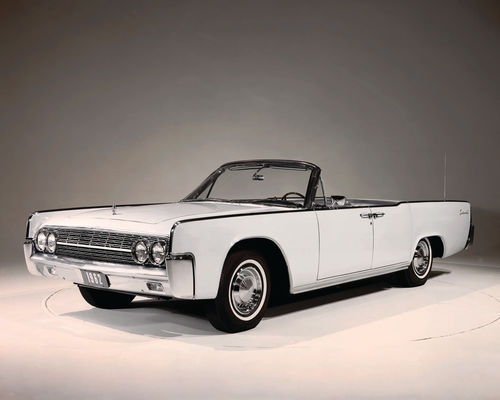 A Limited, Perhaps Collectible, Production
Lincoln has announced a limited run of 80 units of the Continental Coach Door Edition for the 2019 model year, with the production number honoring Continental's 80th anniversary. But before you pull on your hat and coat and head over to your nearest Lincoln dealership, be aware that these $110,000 cars were spoken for within hours after the special edition was announced. As with the original Continental, folks lined up to buy one of the anniversary edition Lincolns as soon as they heard about them, even though the cars are not yet in production and are scheduled to start arriving during the summer months. This quick buyer turnout has caused Lincoln to announce that it's already planning "a limited 2020 version" of the car.
But even with that type of response, still you have to wonder: If we could ask him, how would Edsel Ford appraise this latest version of his Continental…
Would he enjoy it as much as the original prototype that he took onto the Florida roadways some eight decades ago…
What do you think?