A Young Actor and a '50s Movie Helped to Make These Cars Famous. But They'd Have Automotive Star Status Even Without the Hollywood Connection.
What you see on these pages is Dean's Mercury, but we're not referring to the 1949 Coupe that James Dean drove in the famous '50s flick "Rebel Without a Cause." If the image of the brooding actor and his famous ride immediately came to mind, however, it's understandable. That's the car everybody thinks of when you mention the 1949-51 Mercurys.
Instead, our test drive Mercury is a meticulously restored 1951 four-door Sport Sedan owned by a fellow named Dean Starks who has a brake and front end shop in Long Beach, California. Starks restored his example of the marque not so much because he wanted people to see him as something of a "rebel" himself, but because his father's first new car in 1951 was a nearly identical Mercury four-door, and he fell in love with it as a nine year-old kid.
It Looks Showroom-New
Starks' big roomy Mercury has none of the juvenile delinquent mystique of James Dean's ride. It actually is the kind of automobile a young, hip (or should I say hep) moderately well-off man-about-town would have owned back then. Possibly it would have been purchased by a returned veteran who had landed a decent job and wanted to enjoy life a bit after spending several years in the war. It is glamorous, big and roomy, and exudes a cool, sophisticated charisma. I can almost hear Nat King Cole crooning his big hit of that year, "Too Young," on the car's deluxe AM radio.
Dean's Mercury even has the original, correct, single exhaust with which the car was equipped from the factory, unlike most of the '49-51 Mercurys left today that are slammed down, tarted up, and sporting raucous dual straight-through glass packs. These accouterments were added not so much to make the engine breathe better as to give voice to that inimitable flathead rumble that is music to the ears of an old car buff.
Dean's Mercury is truly a best-inshow restoration. Its broad panels are so flawless that they look as if they are made of molten greenish tar. There isn't the slightest hint of orange peel, ripple or waviness in any of them. The chrome is spectacular, and the engine was built and detailed to factory fresh. The very dark metallic Brewster Green paint is stunning and understated. The car is so impeccably restored that I am hesitant even to open the door and get in, but then I remind myself that I have a job to do…
Behind the Wheel
I diffidently slide into the wool broadcloth-covered davenport-like front seat. If I could defy gravity and suspend myself an inch or two above it I would do it so as not to muss things up. The instrument panel looks a little like a period jukebox combined with the controls of a space ship out of the 1951 science fiction flick "The Day the Earth Stood Still." The complete array of analog instruments is handsome and easy to read. I turn the key; engage the starter and the big flathead comes to life after a couple of turns. And in the process it makes that distinctive run-up sound that would be familiar to anyone who was around during the flathead Ford V-8 period.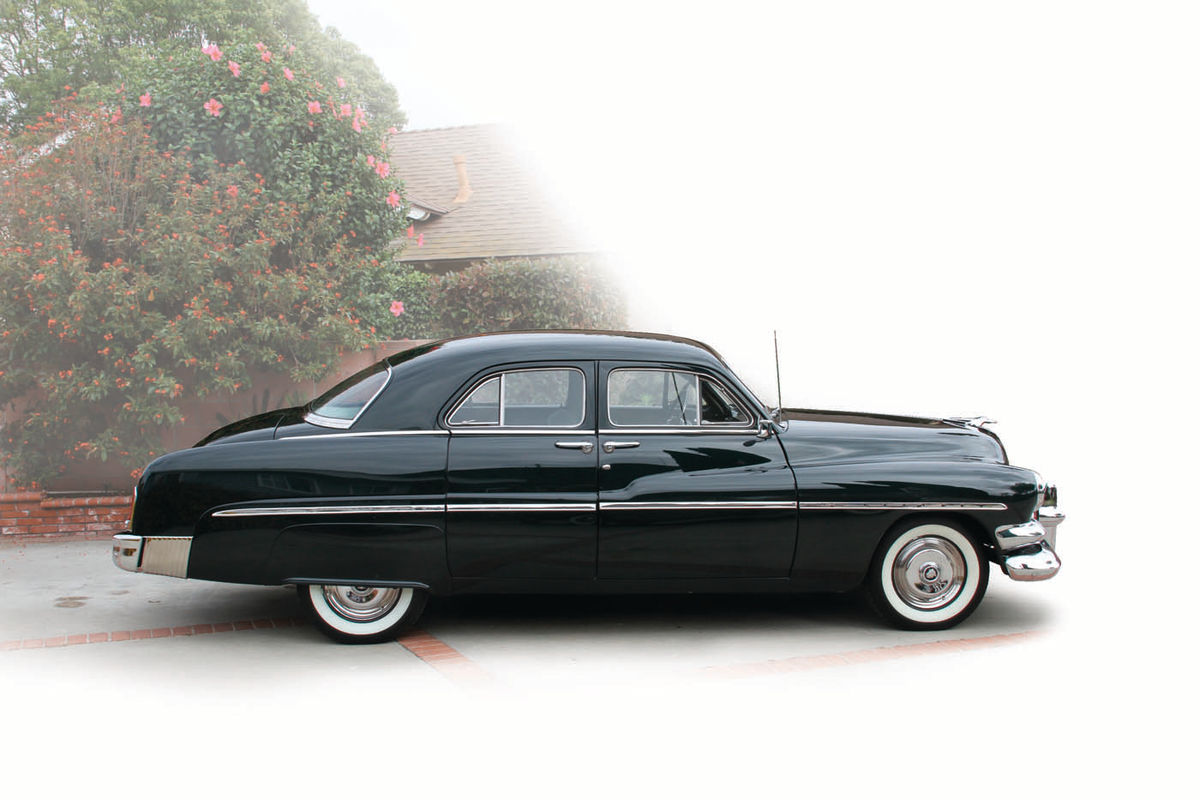 The engine settles immediately to a smooth, almost silent throb with just a hint of V-8 lope to it.
I pull the first-year-offered Merc-OMatic transmission into gear and we glide away. The steering is light for a car without power steering, although the turning radius is fairly generous thanks to its kingpin and bushing front end. The automatic transmission shifts smoothly and crisply as we pick up speed. There is no appreciable body lean when we round the corners, and the car accelerates nicely up to highway speeds.
One for the Road
Dean Starks' Mercury is a quintessential cruiser. It has adequate power, a bigcar ride, and the interior is spacious and comfortable. It would have been the ideal car for getting your kicks on highway 66 back when it was still the Mother Road, as John Steinbeck called it. Only rich folks flew back then, and post-war families raising baby boomers generally took motoring vacations together.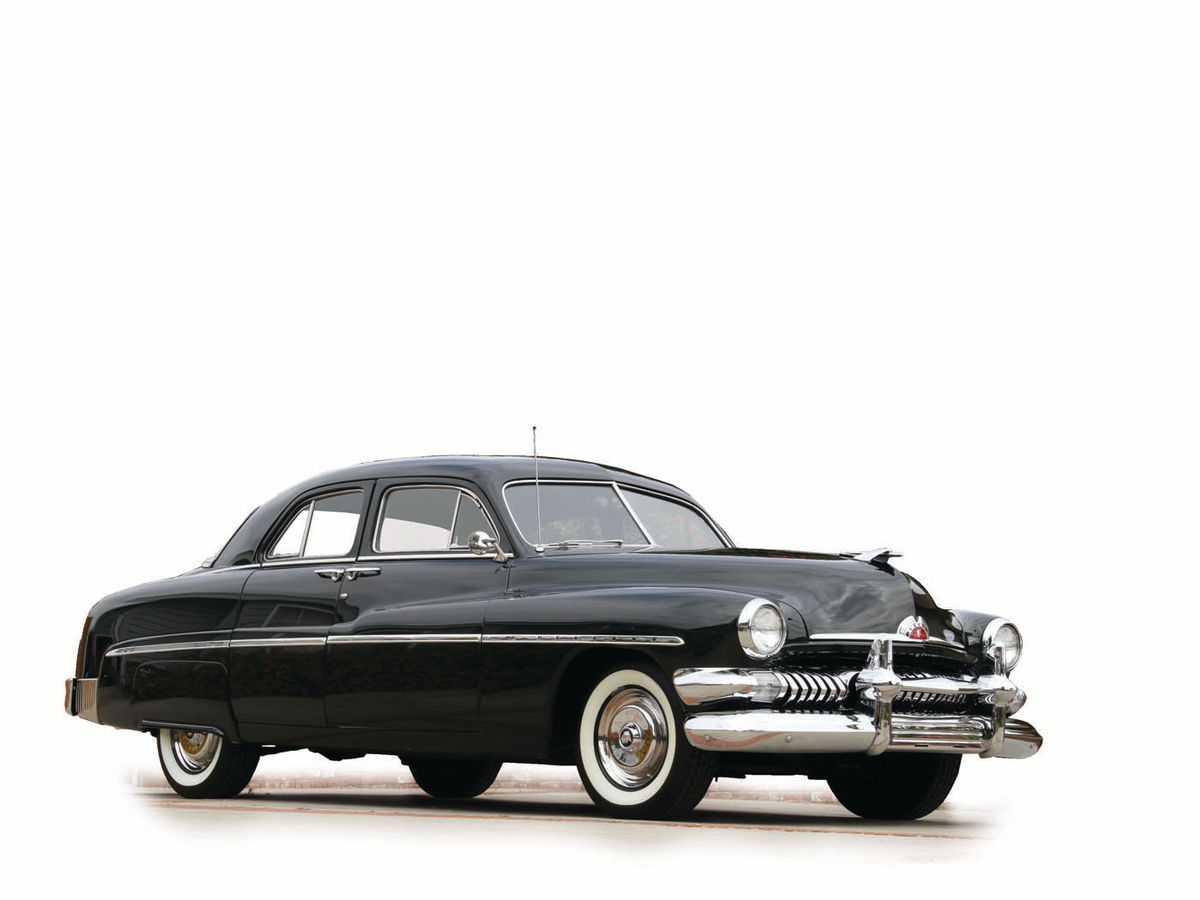 This Mercury was also built in a day when dad drove, and in the process he draped his left arm on the windowsill with the window rolled down because air conditioning was virtually unknown in automobiles at the time. Back then if you stopped at a tourist attraction or coffee shop you would notice all the men with sunburned left arms.
There was no such thing as sunblock, and those also were the days when nearly everybody smoked. Cars like Dean Starks' Mercury had wind wings that could be opened on hot days for extra ventilation and were convenient on cold days, too, because they helped to pull out that exhaled smoke from the cabin and allowed you to toss out your unfiltered Pall Mall butts without rolling down the main window and mussing the hair of back seat passengers.
An Aura All Its Own
The Mercury brand projected somewhat different styling over the years, but during the 1949 to '51 period it was a mid-priced, peppy, coollooking car for people who wanted style and could afford a little more. The post-war Mercurys had a look and feel all their own, though that had not always been the case with the marque.
The Mercury was originally designed to be a lower mid-priced car a la Pontiac, slotted between the Ford and the upper mid-priced Lincoln Zephyr which—along with the Continental—became their highpriced offerings when the big, handbuilt V-12 powered Lincoln K models were phased out in 1940.
The Mercury brand debuted in 1939 with handsome Ford family styling per E.T. Gregorie and Edsel Ford, and it came with a slightly hotter Ford engine that made 95 horsepower. It was otherwise equipped with the by then outdated standard Ford suspension and running gear. However, by 1941 and throughout the '40s, Mercurys were essentially gussied up Fords for people who wanted a little more glitz.
Then the staunchly anachronistic Henry Ford died in 1947, and the company was free to redesign and modernize its entire line for 1949, phasing out his antiquated chassis and suspension systems dating from the Model T era.
It was at that point too that the Mercury became a distinctive car in its own right again. It looked nothing like a Ford and had a style all its own, even though under the hood was the usual trusty flathead V-8, stroked to 4" to bring it up to 255.4 cubic inches, producing 112 horsepower and 206 pounds of torque.
This gave the rather rotund 3730-lb. car a top end of 84 miles per hour, which was faster than most of us would have wanted to go on the nation's typical two-lane highway system before the Interstate was built in the mid-'50s. The big-engine Oldsmobiles and Hudsons of the day could beat the stock Mercury in a red light race, but they didn't have the Mercury's cool image.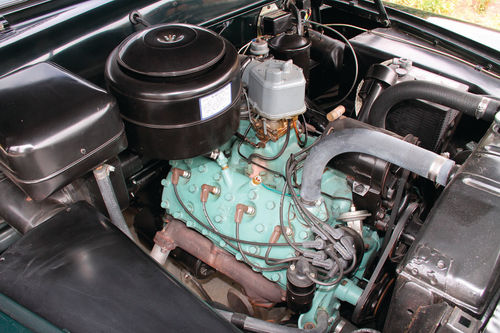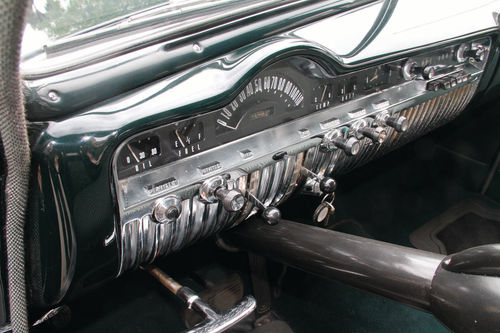 Trust Me; They've Not All Been Modified
By 1951 California customizers had started working their magic on the 1949 and '50 models. But when I say magic I don't necessarily mean good magic. Some of these originally handsome machines were treated to some unfortunate plastic surgery, but then others were sensationally reworked. It all depended on the sophistication and skills of the customer and the customizer, who were pitting their talents and tastes against pros such as Eugene Gregorie and William Schmidt at the LincolnMercury styling studios. As a result, the early '50s Mercurys became the cool cars to have. For the younger set customizing them became customary, resulting in the paucity of straight, stock examples left today.
However, if you do find a good restorable '49 through '51 Mercury, you are in luck because most mechanical parts are not hard to find due to the fact that they generally are interchangeable with contemporary Ford components. An exception here is the rather unique semi-side draft Holley carburetor used in order to get the Mercury hood line lower. It was not used on the Fords.
Granted, the body panels are unique, but as we said before, the engines are merely hotted-up Ford flatheads and in addition, the transmissions, including the new automatic for 1951, are identical to the Ford components with the exception that the automatics had a slightly larger case than the Mercury. Brakes are standard Bendix hydraulic and, though the rear axle housing is different, the gear sets inside them are straight Ford too.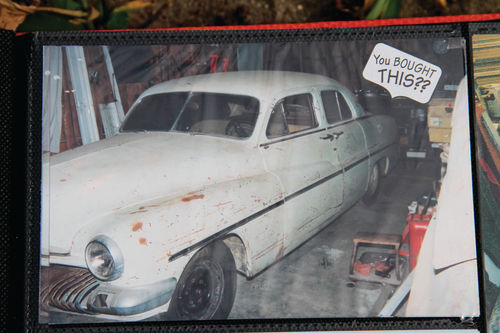 Taking a Closer Look…
Dean Starks' cool Mercury came with the new-for-'51 Merc-O-Matic transmission which is a three-speed planetary type with a torque converter that normally starts out in second gear. But the car was also available with a standard Ford three-speed as well as a standard threespeed with BorgWarner overdrive. Differentials came in three ratios, with the standard three-speed using a 3.91:1 gear set; the overdrive using 4.27:1 gears and the automatic taking a 3:31 ratio set.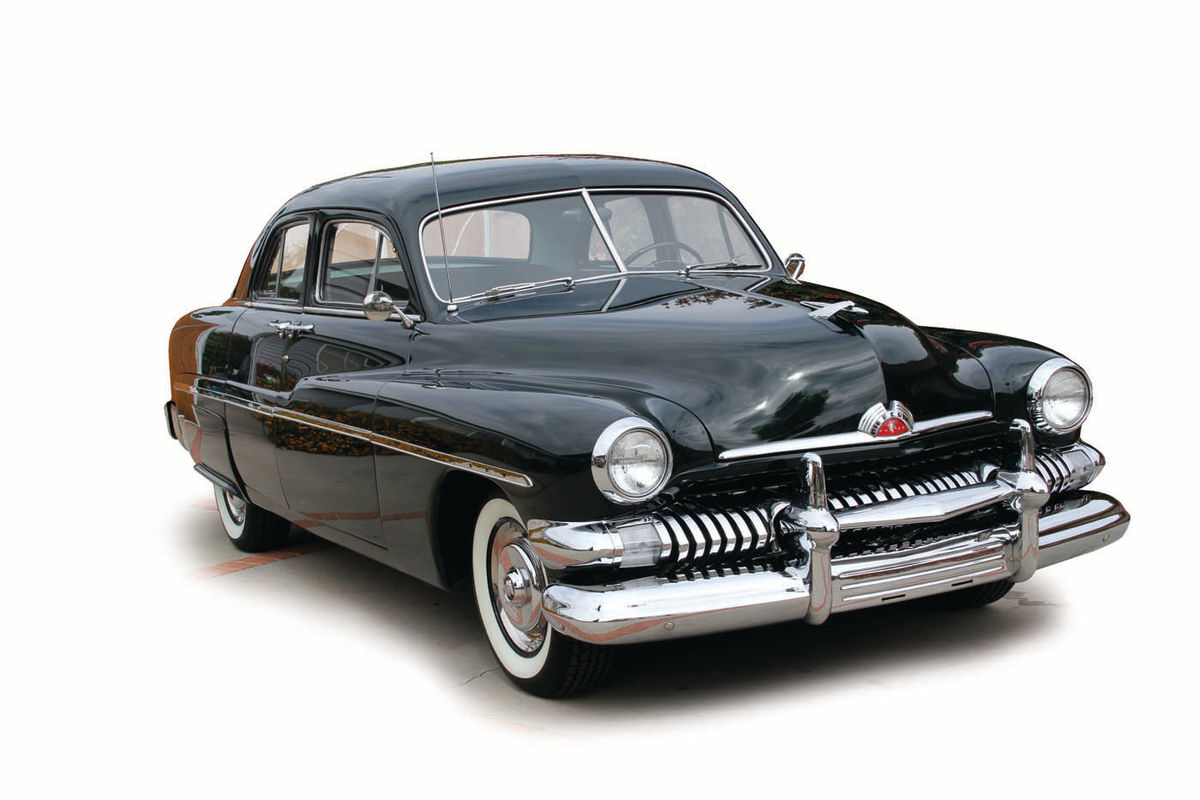 Styling for the 1951 Mercurys was clean and flowing. The wide toothy new grille had the running lights integrated into it. Also, the rear fenders swept back cleanly to new vertical taillights rather than the horizontal ones of the previous two years, and a chrome gravel shield and chrome rocker panels were included, along with wraparound bumpers and new lower rear quarter panel trim to give the car a sleeker-looking profile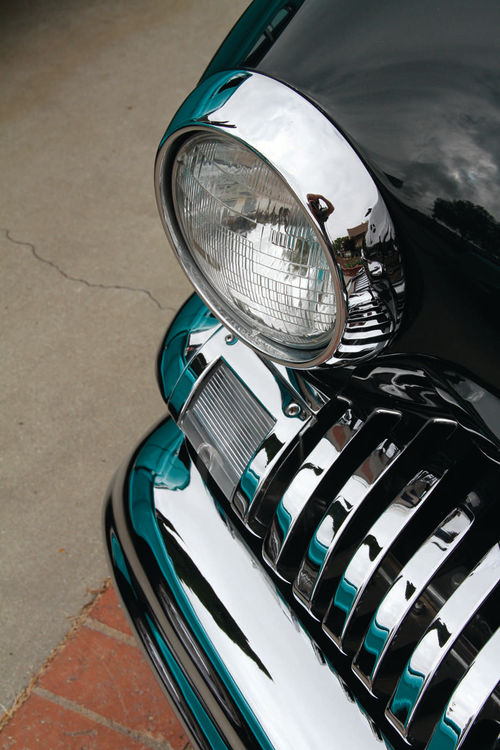 The standard transmissions could be a bit frail when abused in say, contests of speed, especially if the engine was equipped with usual after-market twin Stromberg 97s, Offenhauser heads and a hot cam. However, the automatics were known for being long-lived and durable. On the minus side, the flathead engines also had problems with overheating and vapor lock when pushed beyond their design envelope, especially when the car was lowered, thus restricting the air flow under it.
1951 Mercury Sports Sedan Specifications
Original Base Price: $1895
Weight: 3640 lb.
Dimensions
Wheelbase: 118 in.
Length: 206 13/16 in.
Width: 76 29/32 in.
Height: 63 in.
Front Tread: 58.5 in.
Rear Tread: 60 in.
Engine
Type: V-8 L-head
Displacement: 255.4 cu. in.
Bore and Stroke: 3 3/16 and 4 inches
Compression Ratio: 6.8 to 1
Horsepower: 112 @ 3600 rpm
Torque: 206 lb.-ft. @ 2000 rpm
Carburetor: Holley dual downdraft
Transmission: Automatic 3-speed
Differential Ratio: 3.31
Suspension
Front: Independent, coil springs
Rear: Semi-elliptic leaf springs
Steering Gear
Worm & Roller
Brakes
Bendix hydraulic drums
Front: 11 in
Rear: 11 in
Battery: 6 volts
Mileage: 14 mpg
Wheels & Tires
Wheel Size: 15 x 5.5
Tire Size: 7.1 x 15 in.
Capacities
Fuel: 19.5 Gal.
Oil: 5 Qt.
Right at Home on Memory Lane
Cruising the mid-20th century suburb where Starks lives takes me back to my youth, though I never had a Mercury cruiser. It conjures up visions of blackand-white televisions with 10-inch picture tubes and sitting in front of them with TV dinners on trays. Ideally there would be a porcelain black panther on top of the set with glowing evil yellow eyes. We were regaled with programs like Sky King, Dragnet, I Love Lucy and the Red Skelton show, and we felt that technology just couldn't get much better than that.
There was only one lad in our neighborhood that had such a newer Mercury, and he too had customized it. The thing was so low that he had casters under the rear bumper for going over dips, and even then he had to inch his way over next to the curb to minimize the bump.
Rocky was his name and he lived at home with his folks because all of his money went into his creation. As he would slide by our house after getting off work on the night shift at the local aircraft factory, he would upshift into second gear and back off the engine through his dual Smithys. The neighbors complained, but it was music to my ears. I vowed someday to have such a car but never did. But Dean Starks had perseverance.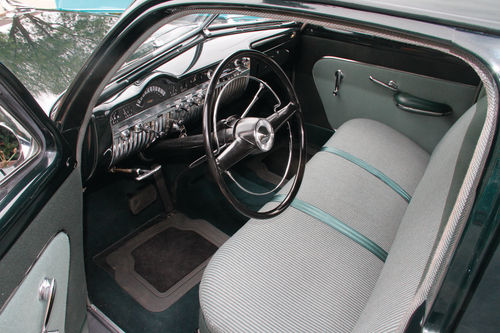 And now that I am—shall we say— more mature, I enjoy Dean's stock Mercury much more than I would a rough-riding, loud led sled. The car is great just the way it came from the factory. It is smooth, quiet, comfortable and roomy enough for the whole family, yet it has plenty of power for highway travel. I am envious that Starks went that extra step and found and restored his own cool Mercury.
Like many of us, Dean is a very sentimental guy, and he has also impeccably restored his aunt's 1939 Pontiac that has been in the family since new. His Long Beach shop works on all kinds of cars, modern and vintage, but at least half of the vehicles in his bays are collector cars.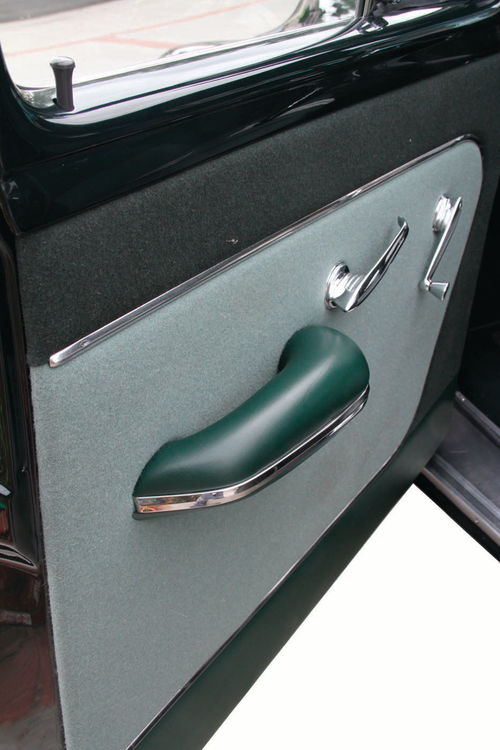 "I still know where to get parts for most of 'em," Dean says, "and I know how to fix 'em." And as you can see from the photos of his cool Mercury, he certainly does. He painted and even made up the wire harness for the car from scratch.
Back to the Future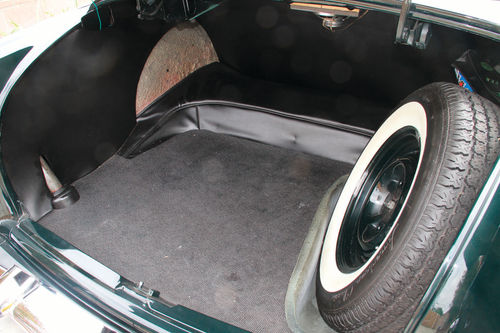 Alas, all good things must come to an end, and I fear I have exploited Starks' generosity as much as I dare.
When we pull into the driveway I kind of miss my Marlboros of long ago, and wish I had one dangling from my lower lip to complete the picture. I also wish I had the Elvis pompadour I once sported and a little Brylcreem to make it shiny, but then the smokes and the hair oil could be a combustible combination.
Sadly, the era of the cool Mercurys passed far too quickly. In fact, that rounded look only lasted three years before Ford went to the more conventional mid-'50s shoebox style.
Mercury built some fine cars right up to its end in 2010, but none of them achieved the notoriety that the cool early '50s cars did, even though the Marquis of the division's final years had much of the same feel, comfort and style.