How -to Low-Budget Vintage Vehicles
You Say You Want a Collectible Car But You're Short on Cash? Then Focus Your Search on Something "Interesting."
I HAVE ABOUT as much chance of affording a $100,000+muscle car,as seen on the TV auctions, as a Yugo has of winning next year's Indy 500 race. However, a few years ago I developed a plan that would allow me to enjoy a series of appealing older cars.
The major mindset that I had to adopt was to think "interesting" rather than "powerful" or "rare."
There are many relatively low-cost hobby cars with a fascinating history or out-of-the-ordinary features that can be bought, maintained and driven at affordable prices even in today's economy. There also is satisfaction to be gained by driving and showing cars that are "off the radar" of many old car buffs.
Begin With a List
I started my new approach by listing several cars that I wished that I had owned. After modifying the list for affordability, it contained a dozen possibilities. Two were very popular cars in their time—a Model T and an early Mustang. Some on the list had an interesting past—a Corvair and an Edsel. Some were big, comfortable boulevard cruisers—an early Riviera, and a big-finned Mopar. There were three newer low-cost possibilities—an AMC Pacer, an early Mazda RX7, and a Pontiac Fiero. There is no doubt but that your list will vary from this rather diverse list of mine!
I expected to own these cars sequentially, possibly with some overlap. I often fall in love with every car that I own and have a difficult time selling it. I discovered that, by buying another one to get enthusiastic about, I could let go of the previous one.
I didn't plan to keep each car more than a year or two. That would be long enough to learn how it drove, how easy it was to maintain, how its systems were designed, and to delve into its history.
I also didn't expect these cars to pay for my retirement.
The old car hobby is unique in that, to many participants, if one doesn't make a huge profit when he sells, there must be something wrong. Fishermen don't expect to make big profits when they sell their bass boats. Certainly, no golfer expects to break even from his hobby. But, for some reason, our hobby is expected to bring in big, life-changing profits from vehicle price appreciation.
Personally, if I come anywhere near breaking even, I'm pleased.
Setting the Budget
When considering how much you can realistically plan to spend on your car, keep in mind that your budget isn't just the purchase price of a car. You also will need to cover the auxiliary expenses of getting the car home, taxes, registration, insurance, and the initial, unexpected work the car will likely require. Leave a monetary buffer in your budget to include these peripheral costs.
The definition of "low cost" as it pertains to vintage vehicles varies greatly among individuals. From my experience, I know it is possible to spend less than $5000 for a fun older car. Your choices will be limited and you may need to look quite a while for an acceptable car, but it can be done.
For every $1000 you add to the budget, your options grow significantly. By the time you reach $10,000 you have a sizable selection to choose from.
As an example, three of the last five vintage vehicles that I have owned cost $5000 or less and the other two were below $10,000.
All five were roadworthy when I bought them and I was not embarrassed to take them to cruise-ins or "Show and Shine" events after a little detailing.
From the financial viewpoint, there is an advantage to begin with cars on your list near the bottom of the cost range. If you improve each car that you own, you should at least sell it for nearly what you paid and can add more money to the budget as your finances allow.
One factor that can increase your budget dramatically is the possibility of choosing a car that can be used as practical, everyday transportation—at least for part of the year. If you can replace a car that you currently own with a useful hobby car, the amount you can afford expands significantly.
Choosing the Right Car
If your budget is truly small, you need to show a lot of flexibility when choosing each car. You may need to accept a body style, engine, or base model that might not have been your first choice.
You may not be able to afford a certain make of car if you only consider the top-of-the-line or sporty model.
One means to keep costs down is to consider a four-door sedan. Any collector car price guide will show that the common hierarchy of body style prices is: convertible, two-door hardtop, two- door sedan, four-door hardtop and four-door sedan. The difference in cost between a convertible and a four-door sedan in the same condition is often a factor of three or four. If money is a major issue, don't ignore the sedans.
In addition to the cost saving, there are other advantages with the sedans. They probably were owned by more conservative drivers who maintained them well. A young driver planning to frequent the drag strip would rarely opt for a four-door sedan.
In your search for a minimum-cost older car, don't overlook the lower cost base model. Top end models, loaded with accessories, have more components that can fail. Keeping things simple helps keep things cheap!
Even though your basic model may seem too plain initially, you can upgrade it to a higher level as your finances allow. Keep in mind that there are some inexpensive upgrades that will make a base model more enjoyable.
Most will benefit from an interior makeover using reasonably priced components such as installing new carpeting and seat covers, repainting metal trim, adding aftermarket gauges, and improving the condition of the steering wheel or dash. Properly applied vinyl dye (actually flexible paint) from aerosol cans can go a long way toward brightening up an otherwise drab interior.
Externally, swapping small hubcaps for wheel covers improves the looks of any basic car.
To fit some cars into your budget, you may need to consider a small V-8 or 6 cylinder engine. Of course, we would all prefer the deep rumble of a big block engine and the push in the back as we plant the accelerator to the floor.
However, if the choice is between driving a six-cylinder now or waiting an undetermined amount of time to afford a big V-8, most people will choose the six. You can always trade for a big-engine model if/when your financial situation improves. In the meantime, you may have more fun than you expected with the smaller engine.
Another advantage of low-cost collector cars is the availability of parts. Many spare parts were originally manufactured for these cars because they were so plentiful when new and they were used for several years. The interchangeability of mechanical components shared among similar models of Chevrolet, Buick and Oldsmobile, for example, also eases the search for replacement parts.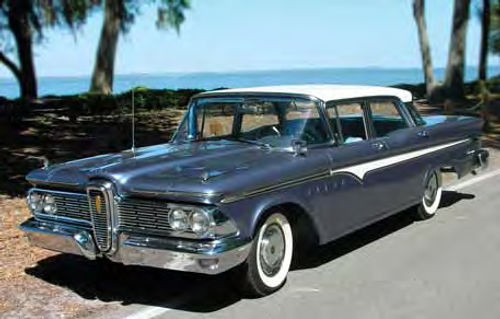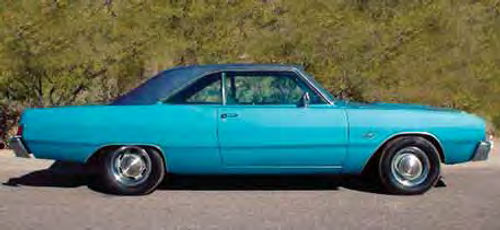 Some of the most popular cars of their time, such as the mid-'60s Chevrolet Impala and early '70s Olds Cutlass make excellent candidates as economical hobby vehicles.
Fuel consumption recently has become another factor to consider when choosing a hobby car. Other costs once overshadowed that expense, especially when one considers the few miles most collector cars are driven annually. However, filling a 20+ gallon tank with $3+ per gallon gas tends to make an impression. If the engine needs high octane fuel, the cost of gasoline is even more of a factor.
Some potential owners take the opposite view that, in times of high fuel costs, purchase prices of big cruisers tend to drop. When the fuel costs later decrease, the market values of these cars increase, offsetting the fuel costs. The validity of this idea depends on one's confidence in the cost of fuel declining appreciably.
Time to Go Car Shopping
Your primary goal is to get a car in good, solid condition. There is an old saying about buying older cars that you should keep in mind. "You will be better off buying the best car that you can afford rather than a cheaper car that needs improving." Avoid "basket cases" (disassembled cars) like the plague.
Nearly everyone planning a restoration, experienced and inexperienced, underestimates the time and money that ultimately will be spent on an improvement project.
It would not be difficult to double the price of the car to improve a "fixerupper." You want your budget car to be drivable and to look respectable at the time you buy it.
A major caution to keep in mind: avoid rust. Do everything possible to identify potential rust problems.
You can do a lot of mechanical work for the price of moderate rust repair. You can count on the hidden damage of rust being more than what you can see. A low-cost car can soon prove to be uneconomical to repair due to structural rust.

Don't Expect It to Sparkle
Remember, we are talking about low- cost hobby cars here.
At these prices, you are much more likely to find original paint that is faded or oxidized than a vehicle with a pristine, show-quality luster. Often, some cleaning and buffing will bring it back to an acceptable condition. You also can give some thought to the growing trend in the hobby to admire truly original-condition cars.
Hopefully, the paint will be good enough that you can avoid, or at least postpone, repainting. It is difficult to justify the cost of a decent paint job on a low-cost car.
Buffing the stainless steel trim and polishing chrome pieces will add some inexpensive sparkle.
Shop In Your Area
When considering low-cost cars, there is a large advantage to finding one near home. The additional costs of buying a vehicle located a distance from you (the pre-purchase inspection and transportation home) can be a high percentage of the total purchase cost of the car.
Assuming your desire to avoid the risk of buying a car sight unseen, you will need to travel to inspect a potential purchase. If the cost is high enough there is a temptation to buy it so the trip cost will not be "wasted." The number and length of these trips will magnify the pressure you feel to buy.
Someone wishing to sell a car with minimum hassle and cost will not want the aggravation of advertising in a national magazine, Web site or online auction. Estate sales are a good source of low-cost cars and are usually local affairs. Another often overlooked source of leads to older vehicles in good condition are the bulletin boards and newsletters of local retirement communities.
Don't overlook local car clubs in your search. By getting the word out that you are looking, you may be pleasantly surprised one day when someone alerts you to a car or truck for sale that you didn't know about.
And before using the Internet to search over a longer distance for a car, you can use it to check the local market.
Craig's List is one site that advertises primarily local vehicles. You also can use eBay's "Local Classified" section to check those close to home. They will be most productive if you live near a large city. You can limit the radius of a normal search on eBay to a specific number of miles and expand it if no possibilities are uncovered within a short range.
The eBay site can be used for more than just searching for a car. It is a great research source regarding what cars of interest actually sell for.
Price guides are of limited value when considering low-budget vehicles and prices in most newspaper classified ads will only list the asking price—not the selling price.
You can find information about selling prices on eBay by searching for the make and year of a car of interest and when the list comes up, click on the "Completed Items" link. It will show all cars of that description that were offered in the previous few days. If they sold, the final selling price is shown. If they did not sell, it will show the highest price bid. This is all good information to know even if you will not be bidding.
Focus Your Attention
Even though your wish list may have a dozen potential cars, it will be more efficient to limit your search to a group of only three or four models at a time. If you search for too many potential rides, you may be overwhelmed at the possibilities and never be able to commit to one car.
That doesn't mean that if a super deal suddenly appears outside your search group that you disregard it, but in general, limit the possibilities to three or four types at a time.
Be a Hands-On Owner
Your enjoyment of owning a budget car will be enhanced if you enjoy doing light maintenance yourself. As you no doubt know—older cars do require more maintenance. But as you also know, the good news is that they are easier to work on than modern high tech cars loaded with electronics. Many small repairs and most preventative maintenance on an older car can be performed by the owner in his garage using relatively simple tools.
And when the time comes to move on to another (probably more valuable) car, you will be better prepared due to all that you learned on your low-cost vehicle.
This plan of owning a series of interesting, low-cost cars has served me well. I have had a blast driving and learning about several fun vehicles and have still been able to pay the mortgage!
Editor's note: There are several things you can do to ensure that your economical older car is a safe driver and to improve its reliability as well. Many are best done soon after you purchase your car. We'll discuss those steps in an upcoming article.
And in the meantime, if you've been enjoying a relatively reasonably priced vintage ride yourself, why not share your experiences and tips with your fellow readers. Send us a note and an image or two of your car or truck for our Letters pages. Don't worry if your vehicle might not be concours quality just yet, this magazine is all about enjoying the metal…even if the car or truck's not quite ready for museum display.