He Enjoys His Car...Even After It Held Him Hostage.
MY WIFE, ANNETTE, and I have always been attracted to old cars that are considered by some to be "oddballs." And keep in mind that we have owned at least 88 cars during our 24 years of marriage.
The first car that we partially restored was a 1959 Chrysler Saratoga we purchased for $500 in our home state of North Dakota—a great place to find some rare cars. A new paint job and body work made it a fine-looking car but an unfortunate accident made us change our mind about the Chrysler.
The car kept dying on us and I found myself at a stoplight facing downhill and I needed to get it jump started. Annette was driving our other car and she turned it around and we had them almost bumper to bumper.
As I was starting the Chrysler, Annette got into position to take the jumper cables off. Well, it started in gear and caught her knee between the bumpers. It was a blessing that the bumpers did not match up very well because it could have been worse.
Still, the accident convinced us that we should sell the Chrysler as we had two young children at that time. Push-button transmission cars of that vintage do not mix well with young kids.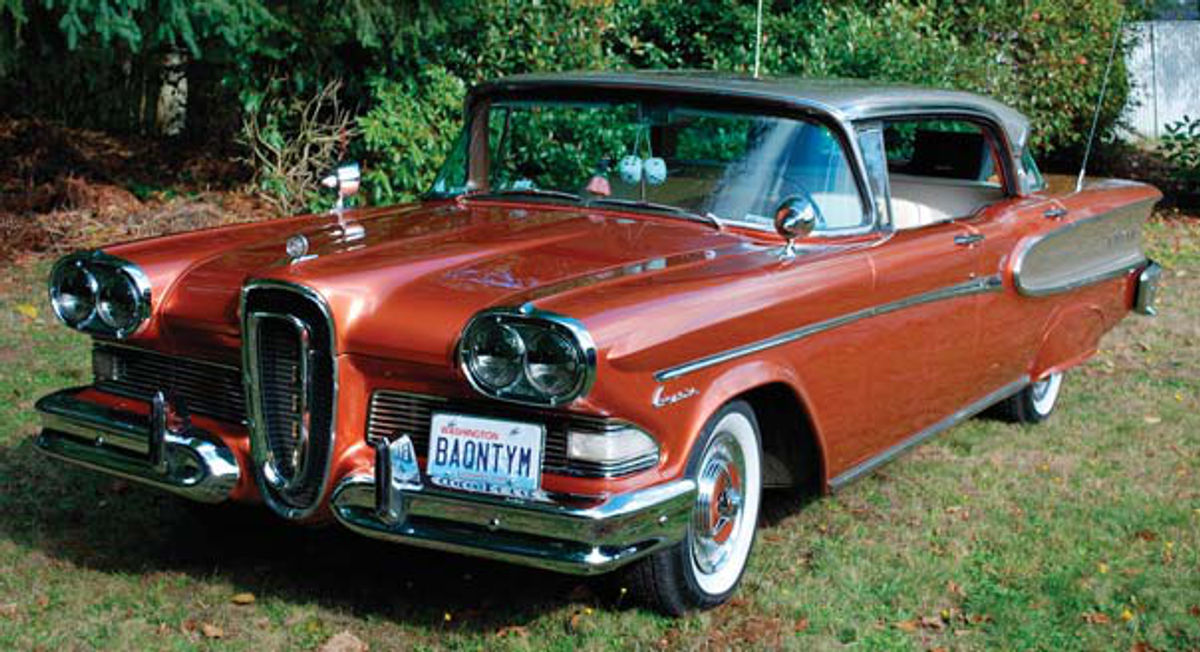 Exchanging a Pontiac for an Edsel
Several years later, Annette and I found this 1958 Edsel Corsair for sale in a neighboring town and we knew we had to jump at the opportunity to get it.
At the time (back in 2000), we had a 1975 Pontiac Grand Prix with a very good engine and an OK body—we traded it for the Edsel.
Oddly enough, our first time behind the Edsel's wheel almost resulted in another accident.
On the way home from the neighboring town where we bought the car, we had to drive around a 10-mile curvy lakefront road (a beautiful drive) and were partway along when I decided to pull over to let some cars pass.
Needless to say we did not realize that the brakes were not so great at the time, so we almost ran into a guardrail. But Ed (that's what we call him) managed to make it to our home and he has been pampered since.
I know what some people are thinking, about how Edsels were not exactly marketplace favorites in their day and considered by many to be among the industry's bigger mistakes. But the way we see it, the Edsel was built way before its time, just like the Tucker and other vehicles. It was short-lived but well worth the effort and it's well worth owning.
An Edsel "Prisoner"
I guess this is as good a place as any to talk about the two times I became stuck in Ed's trunk.
I had decided to take all the chrome off of the car and send it to a place in Canada that re-chromes parts. I was in the process of taking everything off myself and things were going fine, so I climbed into the trunk to access some of the trunk area pieces.
A couple of bolts were hard to turn and when I jerked on them, the trunk lid shut. To add to my dilemma, I was in my unattached garage and not able to call to anyone for help.
It was a good thing that I had removed the back seat, as that was my only way out. It was a tight fit going through from the trunk to the back seat of the car and I wound up being stuck in the back seat/trunk area for at least an hour.
Still, I managed to get out, only to realize that there was another piece that I missed. So I climbed back into the trunk and, yes, I got stuck again. But, since I had managed to get out once, it didn't take me as long to escape the second time around.
Some Helping Hands
We later drove our Edsel from our current home in Washington to North Dakota to get it painted, and we worked with a great person there who does wonderful work on car restorations. Thanks, Kevin Dahl from Wilson's Body and Paint in Cando, North Dakota. (Kevin has since moved on to his own body shop in the same town.)
We left the Edsel there for a year and on the way back home with it my daughter's friend said that the car was going to cause an accident because it looked so nice driving down the road. (We agreed with her reasoning, but certainly didn't want to think about another accident.)
Another helpful spot for us has been an Edsel farm in Beulah, North Dakota, which reportedly is home to the most Edsels in the world, more than 200 of them. The owner, Leroy Walker, is among the nicest people you could ever find and he will help anyone out with whatever they need for their car. Getting some of the parts to restore Ed was so much easier with Leroy's help. Leroy can be reached at .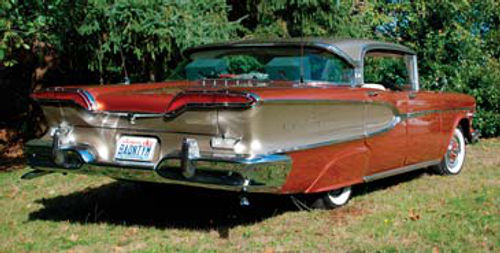 Choosing a Color Scheme
Since I chose the color for my wife's car, we decided she could choose the colors for the Edsel.
Annette knew that we wanted to keep it as close to original as possible, a copper metallic with frost white contrast, so she chose a Copper Firecrest Amber color from the Chrysler PT Cruiser and a Sunblast Silver Metallic color from Ford. The main color of the car was changed from metallic to a pearl coat but the contrast color remained metallic.
The interior is all original, except for our taking the ashtray out and installing a CD player, and putting speakers in the front grille and big speakers (unattached) on the back package tray.
Now people outside the car can experience the 1950s music that blasts out from the grille at the car shows and parades that we attend. In fact, many times people have heard the music and started to dance to it.
The way we see it, you cannot have a classic like this without some of the common tweaking. We have added some original…and not so original things, such as a hula girl on the dash speaker, dice hanging from the rearview mirror, curb feelers, chrome half-moon headlight covers, and the above-mentioned CD player. We added some rearview mirrors from a Mercury and dual antennas to add flair to the back of the car. We put radial whitewalls on it and the driving performance improved immensely. The Coker Tire Co. helped with that. Fender skirts were also added to the car. Again, thanks to Kevin they look fabulous.
Ed is still in need of work but he is by far pulling his own weight, so to speak. He weighs 4720 pounds and has a 410 cid 4V V-8 engine. He was born in Los Angeles, California, on September 20, 1957, and was the 695th of 5880 of that model made. The LA plant made Edsels from early August 1957 through November 21, 1957. It was the smallest producer of Edsels of all the plants that built them.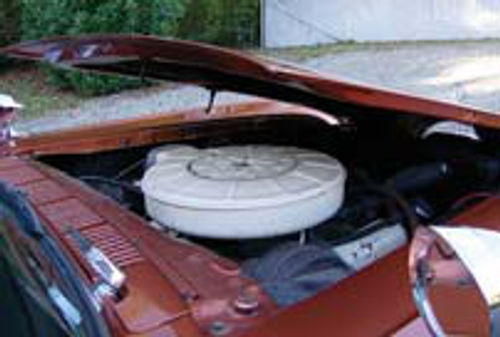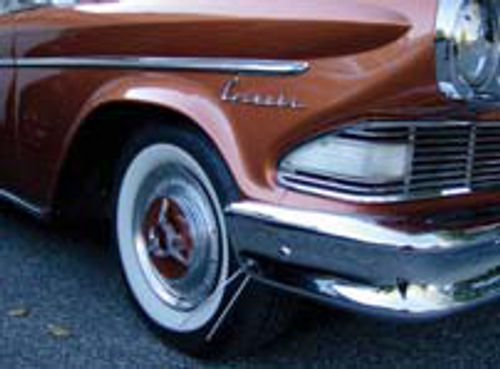 I am glad to say that we have won many trophies before and after the restoration but better than that are the smiles that we get when we drive it on weekends and sometimes during the week when the weather is nice. I might add that we have three girls that are involved with the cars (they come to the car shows as well). You could say it is and has been a family affair.
I am, of course, driving this car as much as I can as well as the other beloved beauties that we have, a 1947 Studebaker Champion (in the process of being restored) and a 1966 Mustang Coupe. All of these cars are meant to be seen and I am going to show them.
And, as you might expect, I have several stories to tell about each one of them.